Have you ever looked at your mortgage agreement or bank statement and felt confused? Or wondered why your student loan balance just wouldn't go down, even when you are paying your bill every month? Then this month is for you.
Only 20% of American adults have received any financial literacy training. Want to get better with money? Here are ten ways you can boost your financial health today!
1. Start Tracking Your Net Worth
You know how much money you make, but how much are you really worth? Your net worth is the best snapshot of your financial health, as it encompasses the lasting assets you've accumulated subtracting the debts and liabilities you have taken on.
Once you know your net worth, it is easy to see how your financial health is changing over time. Build up a stronger emergency fund? Your net worth will show that by increasing. Buy those fancy shoes on a credit card? The debt will push your net worth down.
Calculate and track your net worth quickly, and for free, with Personal Capital! It is how my husband and I stay in the know on our financial health and goals.
2. Set a SMART Financial Goal
What are your money goals? Do you want to get out of debt? Remodel your basement? Save for college or retirement? Whatever your goals are, Financial Literacy Month is a great time to make them SMART.
SMART goals are Specific, Measurable, Achievable, Relevant, and Time Limited. My making your money dreams into SMART goals, you give them a real target and drastically increase your chances of achieving them!
Here's an example:
Typical Money Goal: I want to get out of debt.
SMART Money Goal: I want to pay off $1,000 a debt. I will do this by selling unwanted items from around the house on LetGo, doing surveys on Swagbucks for 30 minutes each night, and babysitting one night a week for the next three months.
Related Content: Turn Off Autopilot & Set Financial Goals
3. Make Moves to Increase Your Credit Score
We all know that our credit scores matter. It can impact our ability to get low-cost financing, secure an apartment lease, or even get a job. But with all this riding on your credit score, what are you doing to keep it healthy?
If you don't regularly monitor your credit score, you can start for free today. I use Discover's Credit Scorecard to check my rating at least once a quarter. It gives me an analysis of each component of my credit score and why it may be helping or hurting me.
Discover's Credit Scorecard provides a true FICO score and is free to anyone, even if you aren't a Discover customer. Keep in mind, services like the Scorecard only use soft inquiries to see your credit score. Soft inquiries, unlike hard inquiries when you apply for a new credit card or loan, have no impact on your score.
Sign up for the Discover Credit Scorecard and start tracking your credit score for free!
4. Play a Money Game with Your Kids
Play-based learning is one of the most effective ways to connect with kids. It gives them a safe and approachable environment to test new skills and gain self-confidence with difficult topics. So, make learning about money fun by playing financial literacy games with your kids!
Learning about money doesn't have to be a lecture. You're more likely to interest your children in finance and investing with some family competition. Try out one of my favorite money games for kids ranging from age 4 to adult to start a healthy and productive financial education!
Related Content: Why Your Kids Need FamZoo (& Not a Debit Card)
5. Protect Your Downside
You have an emergency fund, but what if something worse than a broken water heater happens? Defending your financial health means preparing for the worst, even if it isn't fun to think about.
Term life insurance is low-cost and can protect your family if something ever happened to you. Check in that you have the right amount of life insurance coverage.
If you don't have coverage, apply as soon as possible! Coverage is cheaper while you are younger, so locking in today can lower your rates.
I have life insurance through USAA, but we used Bestow for my husband. Bestow offers fantastic rates and, with two young kids, the perk of not having to make time for a health check was huge! (Just remember to be truthful on all insurance applications. Stretching the truth on your health to get life insurance can void your policy.)
Related Content: 5 Sites That Make Term Life Insurance Easy & Affordable
Long-Term Disability Insurance: A Financial Knight In Shining Armor
6. Have a Money Date
A money date may not sound like the sexiest way to spend your time, but it could absolutely have a significant impact on your marriage. Money arguments are one of the top reasons for divorce and the leading cause of stress in many marriages.
Money conversations are serious, but they don't have to be stressful. You can even make them fun! Set a time this month to talk to your spouse without distractions. Choose an easy topic to start with, like brainstorming some life goals. Take a notepad to a coffee shop and sketch out your ideas. Then, make the next step to start planning what it will take for you to get there.
If even the idea of talking about money with your spouse is making you break out in a cold sweat, consider starting with a letter. Each writing a short note about your money stresses and goals, then swapping, might make things a bit less scary.
Related Content: 7 Money Conversations to Have With Your Spouse
7. Reduce Your Food Spending and Waste
Americans spend 12.4% to 33% of their monthly budget on food. And with the most common overspending complaint for families falling under groceries and dining out, getting control of your food budget could be the first step to freeing up some cash for your other goals.
Now, we all need to eat. But do we need to eat takeout twice a week? Do we need to buy food we will ultimately throw out as waste? Definitely not. In the US, food waste is estimated to be over 30% of the total food supply. And that is just at the consumer level!
Improve your budget by reducing your food spending waste. Simplify meal planning by sticking to easy, healthy meals you know your family loves. Only buy in bulk when you know you will use the product or when you can share with a neighbor or friend. Cook less and eat your leftovers to avoid kitchen fatigue.
It took my husband and I a bit of practice, but we have cut our grocery budget by 50%!
Related content: Our Go-To Family Dinner Recipes
8. Embrace a Frugal Mindset and Get the Best Price
Do you spend money on things you don't need? Or do you pay more than you need to for the things you buy?
Improve your budget and financial status by embracing a frugal mindset. Try questioning every expense for the month and see what things you could go without. Even skipping a few costs, like borrowing that extra-large duffel bag from a friend for a trip instead of buying a new one, adds dollars to your wallet and moves you closer to your goals.
But some expenses, you just can't skip. Groceries, cleaning supplies, a phone charger with a worn-out cord. When it comes to these non-negotiables, make sure you are getting the best price.
Try out free services like Ibotta, Ebates, and Paribus that search out the best deals for you. Ibotta can give you cash back on groceries while Ebates offers cash rebates at hundreds of online retailers. Alternatively, Paribus watches your back after you've already made a purchase. It scans for price changes on items you buy online and gets you a refund if prices drop!
Related Content: An Honest Review From An Ibotta Convert
Finding the Best Cash-Back Service: Ebates vs. BeFrugal
9. Create a Budget that Really Works
Technology has made it easier than ever to maintain a household budget. I've been using YNAB, which pulls in all my transactions automatically, for over seven years. Budget services like Mint and Personal Capital are entirely free! So, why do less than one-third of Americans maintain a budget?
49% of Americans are "anxious or fearful" about their financial well-being. 19% have $0 saved for an emergency while another 31% have less than $500.
A well-developed budget can help you identify where money may be leaking out on expenses that don't really matter to you. And that can make a huge difference. Because saving just a small amount can go a long way.
Sign up for two free months of You Need a Budget or use my free step-by-step budget builder guide to start your budget now!
10. Find Your Financially Savvy Tribe
"You are the average of the five people you spend the most time with." – Jim Rohn
Are your friends always going out for fancy brunch or complaining about not being able to make ends meet? It might be time to find your financially savvy tribe. Luckily, in the time of the internet, it has never been easier to find your people.
Find a group of people driving towards similar goals and motivate each other. If you're in search of your tribe, here are some ideas of where to go: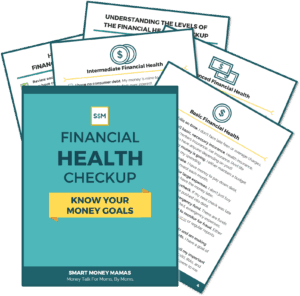 Wondering whether you're doing the right things with money or what you should focus on next? Download our quick financial health checklist and see where you stand!
Improve Your Financial Knowledge Today
The benefits of financial literacy are far-reaching. Money permeates all aspects of our lives. The more we understand the financial world we live in, the less stress we face. The less we argue with our spouses. The more likely it is we can raise self-sufficient, financially savvy kids.
Commit to do at least one thing to improve your financial health. Because every incremental improvement pays dividends.
Will you pledge to do one thing to improve your finances this month? Let me know in the comments!