Today's post is from a guest writer, Michelle Laurey! Michelle has yet to take the dive into starting her own blog (do it, Michelle!) but enjoys writing. She asked to share a post today on the benefits of fighting debt as a couple that she learned through tackling debt with her boyfriend. Take it away, Michelle!
Money is a source of stress for many people as individuals. But it also is a frequent source of grief for couples.
While maybe money cannot buy happiness, it does buy comfort and security.
It can decide when or if you have children, where you will live and more. With this in mind, it is understandable why you and your partner may both feel so passionate about this.
68 percent of couples surveyed in the United States show that it is more challenging and tense to talk about the couple's finances than to talk about intimacy and sex.
It is not surprising that many relationships end because of financial stress and disconnect. Couples must communicate about money and debt regularly to avoid having a wedge in the relationship.
Accept your role in joint financial challenges and try to stay open and honest.
Where to Start?
Many couples prefer to separate their finances. They view the other partner's pre-existing debt as their own and as a problem they alone must deal with. However, you are partners in all areas. You must work closely to discuss past mistakes and to improve your financial future.
It is easy to point fingers, but this is not constructive.
Identify behavioral and money management issues so you can correct them. But approach this with a team mentality rather than a judgmental attitude.
You are in this together.
These are some benefits when you are presenting a united front as a couple while dealing with debt and working on achieving big financial goals.
1 – You Will Learn More About Each Other
You may think that you know everything about your partner, but you may be surprised by how much you can learn through the process of tackling your financial issues head-on.
For example, you can gain a better understanding of how your partner values money and what it means to him. You will also learn about how his personality related to money management and how this differs from your own.
Remember that it is not realistic to expect your partner to radically change his mindset about money, and you may not be willing change yours. However, you both can find a middle ground so that you can achieve your goals together. When you both understand the other's point of view, you can reduce the number of money-related fights that you have.
You can also strategically plan ways to improve your financial status.
My boyfriend and I struggled with substantial debt balances for a while before we decided to finally take the steps necessary to pay off our debts. The process was challenging, but it brought us closer together.
We both had to identify what made us desire certain items, and we also learned about each other's buying patterns and behaviors. This knowledge allowed us both to support each other as we worked to improve our actions.
Although it wasn't easy to do, it ultimately helped us to develop a stronger bond.
2 – You Will Become More Connected
When you fail to talk openly about such a massive issue like money and personal finances, you have a big shadow hanging over your relationship. This will eventually result in a disconnect that may be too difficult for the two of you to overcome.
Talking about money may not feel natural initially. Money is a personal topic that many people feel emotional about. It may have even been a taboo subject in your household growing up. However, talking about money can connect you, and it will eventually become a more natural topic to talk about in an unemotional manner.
Consider that you would not avoid having critical financial talks in a business setting, such as if your business was at stake. This should not be any different when your personal life and your family's well-being are at stake.
Both of you likely have made mistakes that have resulted in the current situation that you are both in. You will both need to be completely honest about your past mistakes and about behaviors that need to be changed. It can be difficult to admit your mistakes, but it will ultimately be rewarding to address a situation that has been kept under the rug for so long.
Through this shared release of stress and through the understanding that you both played a role in the situation, you can come together as a couple.
3 – You Will Reduce Stress
Everyone has a different comfort level with money, but all people recognize the need for a healthy amount of money.
Without money, you cannot have basics, such as food, shelter and more. It's stressful to have more expenses than money to pay them. This condition can affect your health and your mental state. You cannot expect to have a healthy relationship with your partner if you are mentally, emotionally and physically exhausted by your finances.
When a couple is dealing with the financial stress they both refuse to talk about; you will eventually become alienated from each other. Don't hide your behaviors and emotions from your partner as the only way to tackle this source of stress is to remove the wedge between the two of you.
You must have regular conversations about money. This includes identifying a debt reduction plan and working to follow that plan. Set up savings goals and a firm budget should during your first talks and review your progress on meeting those goals.
Stress may not be alleviated right away, but you may find gradual relief as the two of you work together to handle this crucial issue.
It's also comforting to know that someone you love supports you.
4 – You Can Achieve Goals Faster
A common source of frustration is when you set individual goals and cannot achieve them. When couples don't unite on efforts to reduce debts and to save more money, you both could work against each other or sabotage your efforts unintentionally.
This can lead to resentment, anger and the inability to reach goals at all.
Instead of setting individual goals and not getting the other person on board, create goals you both are eager to follow through on. Support each other in your efforts to achieve your goals. Remember to create rewards for reaching specific milestones. For example, when you pay off all your credit card debt, you may take a special trip together.
You can see that this approach to managing money and achieving financial goals can change your entire mentality and deepen your bond rather than creating a huge divide.
5 – You Will Trust Each Other Even More
Tackling a huge debt problem and achieving financial goals that seemed incredibly challenging before are monumental events which can bring a couple together.
You and your partner may be well aware that finances are one of the primary sources of breakups. The fact the two of you tackled this challenge, when so many others have failed because of it, will feel amazing.
Maybe you'll notice how you began to trust each other more because you both came together to achieve something when the odds were stacked against each other.
Life will be more comfortable knowing your partner is a person who truly wants to go through life's tough times with you. Likewise, your partner may feel the same.
Any uncertainties about your relationship may be removed, and you will feel more confident as you build even bigger and better goals.
A Final Thought
Money is such an emotional and private topic. So, it's understandable why couples can get torn apart by them. However, choosing to face these issues can also bring you and your partner together in a deep and meaningful way.
Managing finances and setting goals is essential and working together in these areas can strengthen your relationship.
Happy, committed couples discuss money in a non-confrontational way. They handle money management from a joint approach. They understand they are in this together for better or worse.
When you make a real effort to begin uniting, you will start to see your relationship challenges and your financial stress melt away. And, someday, you will have a wonderful story to tell friends and family.
How do you and your partner work together to tackle money issues like debt? Has it made you closer as a couple? Share your experiences in the comments!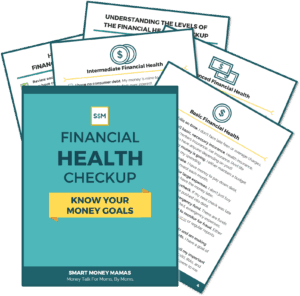 Wondering whether you're doing the right things with money or what you should focus on next? Download our quick financial health checklist and see where you stand!
Michelle Laurey produces stories on finance, entrepreneurship, and productivity. She is a virtual assistant for small businesses. Making a few mistakes with loans and credit cards forced her to expand her financial literacy and change her perspective on money. Outside of her keyboard, she enjoys a good book, healthy food, and bike rides. Reach out to her on Twitter.