I'm a hedge fund investor turned online entrepreneur that helps moms make their money work for them and embrace their ambitions, so they can live their fullest lives.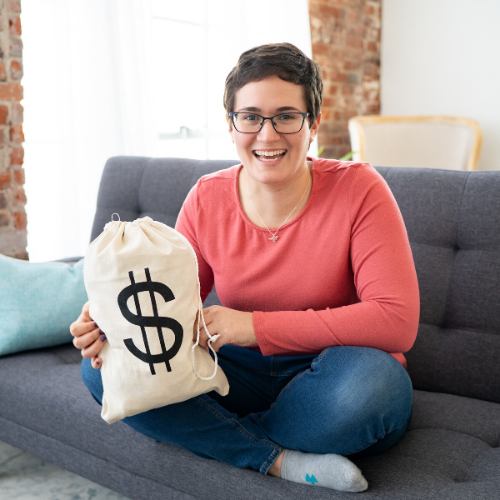 Just a few years ago, I was working a hedge fund job in Boston, investing other people's money and feeling like I was playing dress up every single day.
My job was financially fulfilling, sure, but I never felt like I could truly be myself. I mean, I wore my Carhartt jacket into a conservative investment office everyday in the winter. Not exactly standard attire.
And I struggled with knowing that the job didn't have the social impact I wanted to have.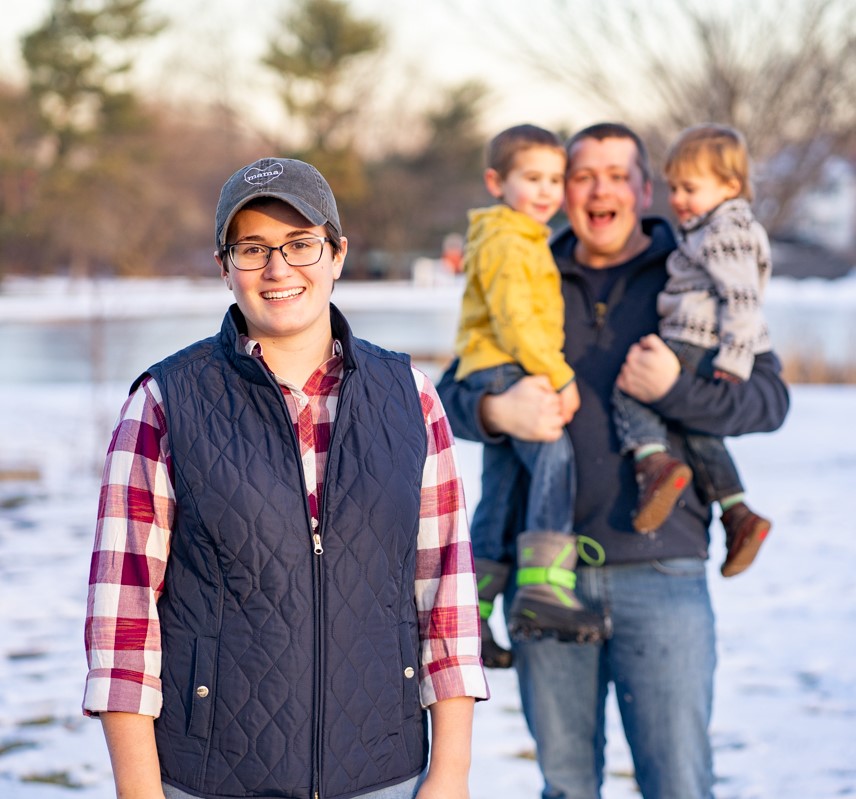 Yet, I didn't know how to quit.
As the breadwinner in our family (my husband is a rockstar stay-at-home dad), with a one-year-old boy and another on the way, how could I walk away from a stable, amazing income to take a shot at something new?
And how could I shed my own limiting beliefs about money – that I was only worthy of love and belonging because I had a successful career and made good money?
So, I decided to start with a passion project instead. I set up a blog in a single evening and asked my Facebook moms group to send me their money questions.
In just two days, we had over 60 questions and I got to work. I wrote an article every day for the first month of the site. And I kept writing. When my little one was sleeping, while I waited for doctor's appointments. 
And I talked to other moms.
I heard about their money struggles. How they had tried budgeting and getting out of debt, but always felt like the advice they got was too restrictive and they fell back into old habits.
How they had big dreams and passions, but didn't know how to afford giving it a shot. Or didn't feel like they had the right to take the shot.
I heard stories of women who lost a spouse and got divorced and were financially devastated. 
I knew we had so much work to do. That moms deserved to be confident with their money, to align their spending with their values, and create the freedom to build lives they loved. Lives that worked for them and their families.
So, when my water broke at 32 weeks with my youngest, after a pregnancy of back issues and endless stress, I decided things had to change.
I opened our budget spreadsheets and I crunched the numbers. How long would our savings stretch to turn this growing hobby site into a full-fledged business? 
The answer: Two years.
After some discussion with my husband, I turned in my resignation at work. I signed the paperwork from my hospital bed.
It was scary as hell and it certainly hasn't always been easy. But I know I am doing the work I am meant to do.
Since that day, Smart Money Mamas has grown into a platform that is changing how moms talk about and interact with money. We want all moms to view money management as a true form of self-care.
We help moms connect with all aspects of their money in a way that lets them overcome emotional blocks, identify what they most want, and create the healthy money habits that will help them achieve their goals while modeling positive money relationships for their kiddos.
Mama, you are a force of nature. You're incredible and valuable and you deserve the world, not just for your kids, but for yourself. We want to show you how to get it.
Where You've Seen Smart Money Mamas
Diversity & Inclusion Statement
Money doesn't work the same for everyone. Some people like to believe that money is  simple math. That wealth-building is a true meritocracy. But that isn't the case.
Moms are acutely aware of gender wage gaps and motherhood penalties at work, but those gaps get worse if you're a person of color, identify as LGBTQ+, or are differently-abled. And gaps in wealth for different groups have been built up over generations by racist and biased policies.
At Smart Money Mamas, we are committed to presenting money and life lessons in a way that acknowledge these gaps. To continuing to educate ourselves and our communities about how we can best close those gaps.
We actively work to present a wide diversity of speakers, podcast guests, and guest writers on the site and, in addition to the obvious step of not allowing hate speech in our communities, work to make our communities more welcoming and supportive for all moms.
If you have questions or suggestions on how we can make things better, you can always email me at chelsea[@]smartmoneymamas.com