So you want to start a blog but have no idea where to begin. Maybe you have heard about blogging, but your mind is swimming with questions. Is Blogger still a thing? How much is it going to cost? Do I need to be some kind of tech guru?
Don't worry! I've been there, and I can lead you through to having your own corner of the internet in just a few hours! (And for less than $4 a month!)
When I started Smart Money Mamas (originally called Mama Fish Saves) in early 2017, I had no idea what I was doing. It was a snowy Boston day, I knew some people made money blogging, but I was mostly looking for an outlet to talk about my passion – family finance. I opened my computer, did a quick Google search, and jumped in blind!
Three years later, blogging has changed my life. I left my hedge fund job to grow Smart Money Mamas into a full-time business. I've re-branded, done a major site redesigns, built a community, faced crazy technical issues, and launched products. I've learned my way around WordPress plugins, social media schedulers, affiliate programs and so much more and I'm still learning every day.
If you're thinking of starting a blog, I encourage you to dive in! I've written this post as a guide for avoiding my pitfalls and to give you a jump start on your blogging journey! Good luck!
The fastest, easiest, and cheapest way to start a blog that you can grow into a business is with Bluehost. Bluehost includes your domain name and hosting for less than $4 a month and automatically installs WordPress for you so you don't have to deal with all the tech mumbo-jumbo. You can be writing your first post in less than 10 minutes.
Why You Should Start a Blog
It's 2020, are blogs still popular? Can they still make money?
Yes. And yes.
There are hundreds of thousands of blogs on the web. And that scares a lot of people off from getting started. But just because there are a lot of blogs already in existence doesn't mean your voice wouldn't add a unique perspective or speak to a specific audience.
You could start a blog to…
Share your knowledge and make money online. Creating content to educate other people on a journey you've already walked or about a topic you're an expert in. A blog won't let you suddenly make six-figures overnight, but you can grow it into a successful business (like I did with Smart Money Mamas.) You can make money through affiliate marketing, ads, selling your own products and courses, and more.
Build a portfolio to grow a freelancing business. Whether it's freelance writing, social media management, or a consulting company in almost any niche, having a blog showcases your knowledge.
Create an audience and personal brand. If you want to write a book, become a paid speaker, or launch a business, a blog can lay the groundwork by allowing you to create an audience that will be excited about your product.
Tell your story. We all have unique histories and experiences. Sharing your story could inspire or help others and help you get clarity on where you're headed. Many people start blogs to chronicle journeys to big goals like paying off debt, building a house, or climbing all the 4,000 foot mountains in New Hampshire.
Improve your writing skills. Writing is a powerful skill and one unlikely to be replaced by artificial intelligence anytime soon, which means it's going to continue to be a valuable skill. Creating a blog and writing regularly will make you a better writer for any kind of writing work you want to do in the future.
I love blogging. While we've expanded Smart Money Mamas in podcasting, video, online summits and more – blogging got me started. It can create so many opportunities and I encourage everyone to build their voice.
Clear, Simple Steps to Start Your Blog
Step 1: Decide Why You Want to Start a Blog – Money or Pleasure?
There are thousands and thousands of bloggers on the web, and many of them have different goals. Some want to transition to writing full time, some want a creative outlet that maybe brings in a few extra bucks on the side, and some just want a place to post pictures of their cats and kids. All are valid missions! However, your goals will determine how you get going.
If you never intend to make a penny from your blog, you can set up a site through WordPress.com, Medium, or Blogger. You won't have your own domain (it will be something like JennysCatBlog.wordpress.com), you will have fewer customization options and these services don't allow ads. BUT it will have that ever lovely benefit of being free. I hear these systems are pretty straightforward to set up once you hop over there. Which is good, because I never went that particular route so can't be very helpful!
If you want to write a blog that lives on its own branded website and that you can potentially make money from in the future, you need to create a self-hosted WordPress blog. The rest of this post will walk you through that process in the simplest way possible.
Step 2: Choose Your Niche – What Do You Want to Write About?
If you want to build a successful blog, your website can't just be a place where you dump all your random thoughts. Very few profitable, long lasting blogs are about what happened to the writer at the grocery store that day or their child's perfect soccer goal. You will want to inject your unique story and experiences, but it has to be more than that. The best blogs have a clear message, help readers solve a problem, and focus on a specific topic.
So, before we dive into choosing a name and getting you set up, think about what you love to talk about. What is a topic that you never get bored of? What is something you think you could teach someone? There really are blogs out there about everything under the sun, so if you are excited about a topic and have the knowledge to share, don't worry that there isn't an audience out there for you.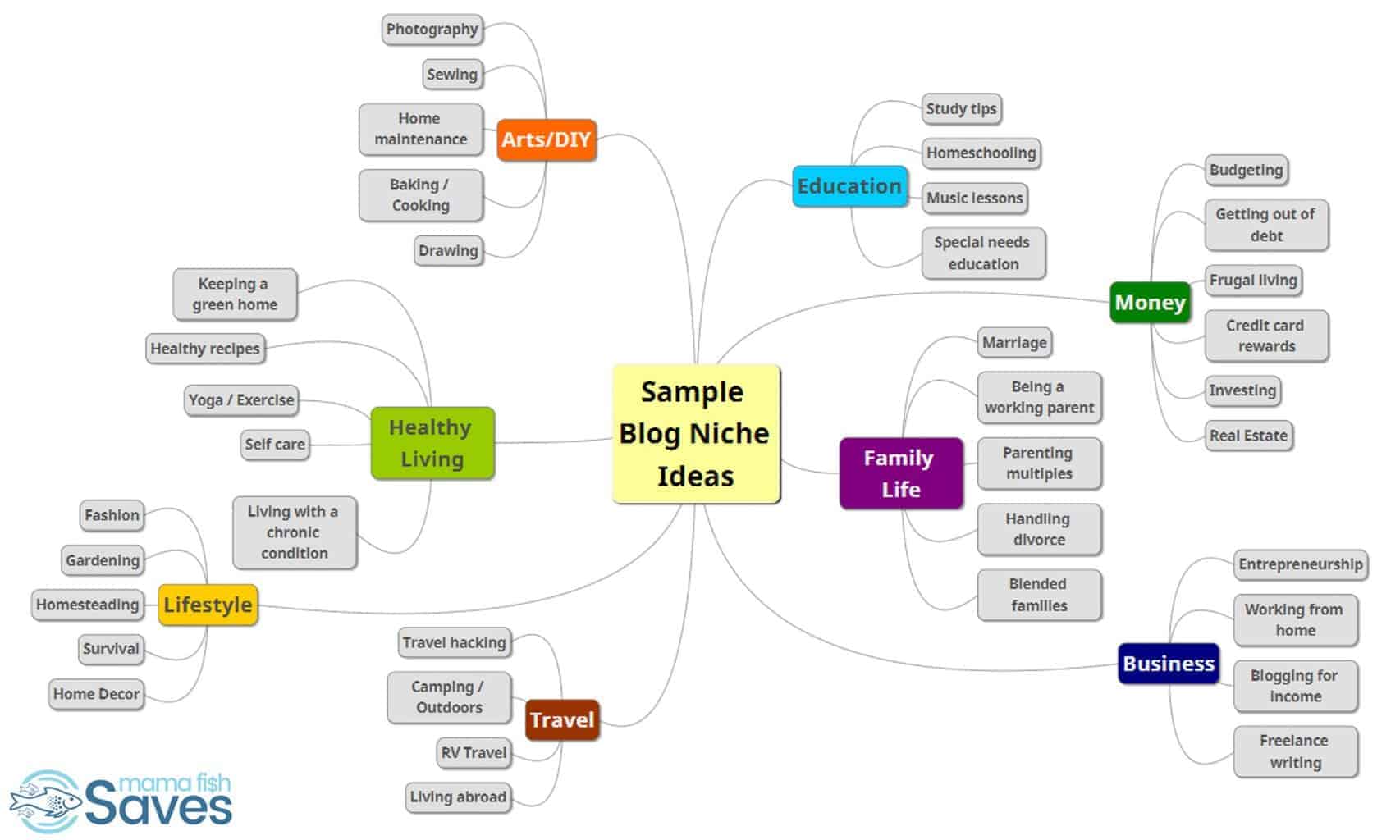 For instance, I love writing about financial wellness and fulfillment for moms. It is my mission to help moms feel more confident with their money and know how to use money to reach their goals and build lives they love. Once I get started talking about money mindset or investing or allowance systems you can't shut me up. Choosing that as my niche has meant that I'm never at a loss for what to write about and I can use my knowledge to help others instead of just boring my husband. A win-win!
Pick a niche that you're passionate about! Then sketch out a few subcategories you could cover in that niche to organize your potential ideas. Once you feel like you have a solid topic you are excited about, move onto the next step!
Step 3: Pick a Name – How Do You Want to Be Known?
Whatever you do, do not rush this step! Your blog's name will be how people know you. It will be the first impression visitors have when they land on your website. You want to make sure that you truly love it and that its message is clear.
Personally, I had to change the name of this site once I really wanted to build it into a business. Mama Fish Saves was our original name and it was cute to me, because it had personal meaning. But it had a big problem – it didn't actually express what the site was about. And that slowed down our growth and prevented us from attracting women who really felt connected to our mission.
I successfully rebranded and, if you needed to in the future, you could too. But it's a total pain in the butt. So, if you can, take the time to choose the right name from the start.
When choosing your blog's name, consider these key tips:
Clear is better than catchy. Not everyone is going to understand the quirky play on words you find adorable. Go with something that kicks off your blog's message.
Pick something short and easy to remember. You want your title to be memorable! Don't use made-up words or slang.
Make sure your name is available on social media, as well as for a domain name. To build a good following, you want to make it as easy as possible for your readers to find you on social media. Use a tool like NameCheckr to see what platforms your potential name is available on!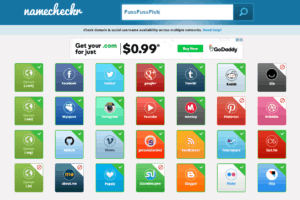 Step 4: Purchase Hosting – Give Your Blog a Place To Live
To some of you, this may be obvious. But just because you have a domain name, doesn't mean it has a place to live and run happily out there on the interwebs. You also need to pay a website host to make your blog available across the web. Your website host operates large servers to keep your site up and running. They also offer technical support during downtime or if you have other issues.
Why New Bloggers Should Use Bluehost
Bluehost offers hosting plans at only $3.95/month and includes your domain name. Plus, it has automatic installation of WordPress. (If you choose Bluehost, you can skip Step 6 of this guide.)
Bluehost is incredibly easy to navigate for new bloggers and offers plenty of site speed as you get started. If your blog is a big success, you may have to switch to a faster host down the road, but that takes less than 24 hours. I've had to do it twice and didn't have an issue either time.
I started this blog on Bluehost and never had an issue with their site speed and service. In fact, I switched to another host when I was told that Bluehost isn't good for larger blogs, and completely regretted it.
Bluehost helped me get my site up and running quickly and easily. I recommend it highly to newbie bloggers who want to get started without massive upfront costs.
Click here to start a blog with Bluehost!
Step 5: Install WordPress On Your New Website – Where You'll Create Content
If you choose Bluehost, this is the simplest step ever. Seriously, Bluehost has made installing WordPress to your domain a one-click process.
I only include the step here in case you choose to go with a different host. There is a multi-step process with some other hosts and you'll have to do it before moving on to design and really getting set up. So, if you do use a different host, make sure you look up their instructions on how to install WordPress first.
Step 6: Choose a Theme – Making Your Site Look Pretty
Now your site is set up and ready for content, but it still looks blank to any visitors. Your first step to making your new blog live to the public is choosing a theme – the pretty shell in which your site is organized.
There are hundreds of amazing free themes out there that are perfect if you are just getting started. Your site may not look as beautiful as you one day imagine it will, but until your site is making some income or you know you want to blog long term, there is no reason to spend money on a paid or custom theme.
First, navigate to your WordPress themes from your Dashboard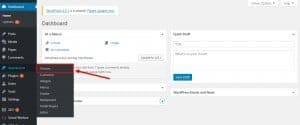 Then, click on "Add New" to see available free WordPress themes
There are typically 4-6 preinstalled themes you could use for your WordPress blog. If you don't like the look of any of them, there are hundreds of free options you can install directly from your dashboard. Just click the "Add New" button to puruse other options.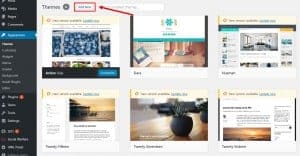 Next, find a theme that works for you using Live Preview, then Install
You don't have to install every theme you like the look of to determine what will work best for you. Hover over options and click the "Live Preview" button for a sample of how that theme could look on your site. Once you find something you like, click "Install" and then "Activate" to customize it for your blog.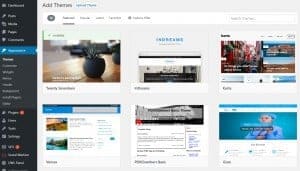 Finally, customize your theme for your blog!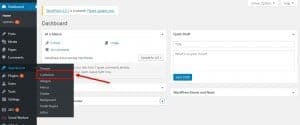 Now, every theme's customization options and organization are different so I won't provide screenshots here. However, most of it is pretty straightforward and you can change things in Live Preview. This makes it easy to see the impact of what you are doing before getting too deep!
Don't get caught up making your site look perfect! No matter how much time you spend, a month, 6 months, or a year down the road you will look back and be shocked how basic your first design looked!
Step 7: Start Writing!
Now that your site is set up, it can be easy to fall into the rabbit hole of all the different tasks that go along with blogging. You could create social media profiles. You could visit Canva or Fiverr and create a custom logo for your new blog. You could set up email lists.
But what in the world are you going to do with all that if there is nothing for people to read on your blog when they get there?
Before you dive into marketing your blog, it is best to get 4-6 posts up on your site as well as an About page. This way, as people start to stumble on your baby blog, they can get a sense of your writing style and what to expect in the future.
And if you are nervous about publishing your first post? Don't be! First off, one of the awesome things about blogging is that you can always edit your posts. Find a typo? No problem! Just do a quick update.
Second, no one is reading your blog yet! This is the time to practice, find your writing voice, and you can go back to use that edit function later as you develop your web presence. I can almost guarantee you that every professional blogger would be embarrassed by their first ever post today. And it didn't hold them back!
Step 8: Set Up Social Media Accounts & Start Sharing
The most amazing thing I've learned about blogging since I started Mama Fish Saves is how incredibly supportive the blogger community is. Most bloggers do not view others as competition, instead, they operate on the premise that a rising tide raises all ships.
Now that your blog is set up, one of the best ways to get your name out there is by starting to interact with other bloggers. Comment on posts from other blogs in your niche, follow other bloggers and share their content on social media, and share your own posts. Traffic won't come immediately, but by getting involved you'll be on the right path.
I recommend choosing 1-3 social media platforms to focus on. There are so many out there that it is easy to spread yourself too thin and not commit fully to any one platform. I primarily spend my time on Instagram, since that's where my ideal target audience spends the most of their time.
My number 2 platform is Facebook, since that is where I maintain our Mamas Talk Money Community.
Pinterest is great for driving traffic, and I highly recommend you build out your Pinterest profile. But over time, you may be able to outsource this task since it's more about SEO and creating traffic than true community building.
When deciding how to commit to social media marketing for your blog, consider where your target audience hangs out and where major content creators in your niche are. Then head over and join the party!
Step 9: Consistently Create Content
Especially early on, the best path to growth and building a brand is to consistently create content. You want to aim to publish a new blog post at least once a week, ideally on the same day each week. Sure, there will be times you slip up and life gets busy. But the more consistent you can be, the more your burgeoning audience will learn to expect your new content at a certain time. Plus, you'll get more practice developing your voice and perspective.
Focusing on your new site and committing regular time for it lays the foundation to monetizing. Once you've built an audience, even a small one, you can start earning money through your own products or courses, affiliate marketing, and numerous other avenues.
And with that, you are off to the races!
Now you have everything you need to get started on your blogging journey and turn your new site into a thriving business.
Blogging is very, very far from a "get rich quick" scheme, but if you write about what you are passionate about, stay consistent and committed, and be patient, the growth will come. Add things like email lists, Google Analytics, ads, affiliates, and your own products as you grow to build your income.
Just remember to take baby steps. Nothing has to be perfect today. You just have to get started! Good luck!
Want more info on crafting your first post, drive traffic, and build an email list? This is the best guide for new bloggers I've seen on the web. Check it out.
If you're interested in starting a blog, share your idea below! We'd love to hear what you're working on!