As online shopping has grown massively in recent years, more and more businesses have popped up to help you save money online. In my opinion, the most valuable of these businesses are cash-back services that put real cash directly back in your wallet. I've been a flag-waving user of Ebates for a long time. But I recently discovered their large competitor BeFrugal. They offer many of the same services, so how are you supposed to choose between the two? After using both for a few months, I thought I would break it down. Here are my thoughts on Ebates vs. BeFrugal for getting the best price for your purchases!
How do Ebates and BeFrugal Really Work?
Ebates and BeFrugal are both cash rebate websites and coupon aggregators. They get paid a fee for referring shoppers to various retailers, and they pass some of that savings on to you! More recently, both sites also work to actively pair you with current coupons to save more.
To activate the rebate, you have to click through to an online retailer from the Ebates or BeFrugal websites. You could also add a browser plug-in for either site. These plug-ins will notify you when cash-back is available and you can activate it without going to the cash-back sites directly!
How do you get paid?
Both Ebates and BeFrugal can pay out your rebates via check or PayPal credit. Ebates also has the option of using a payout to donate to a charity, organization or family member. Alternatively, you can receive your payout via an Amazon gift card at BeFrugal, which adds an additional 1% to your payout.
Ebates sends payments once a quarter, as long as you have earned $5.01 or more in rebates during the quarter. This doesn't include sign-up or referral bonuses! At BeFrugal, you can get paid out once every 15 days if you have a confirmed cash-back bonus of $25 or more. Otherwise, you can get a payout once per month.
Is BeFrugal or Ebates Better?
Ebates and BeFrugal are very similar services, but both have benefits that might make one or the other a better fit for you. From my experience using both, here are the top ways each service wins out.
Where does BeFrugal win out?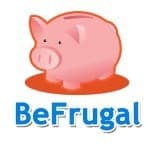 I've only started using BeFrugal in recent months, but the scale of the website has been impressive. There so far hasn't been a store I wanted to shop at where BeFrugal didn't offer cash-back or have coupons I could utilize. Here are my favorite things about BeFrugal, that I haven't found at Ebates.
More Retailers on the Platform
Both Ebates and BeFrugal advertise up to 40% cash-back at their partner retailers. But BeFrugal is partnered with over 5,000 stores compared to over 2,000 at Ebates. If you shop at a wide range of stores, you are more likely to find deals everywhere you shop if you use BeFrugal.
Payouts Can Be More Frequent
BeFrugal offers the opportunity to cash out your rebates every month. While the $25 minimum threshold is higher than Ebates, if you are a frequent online shopper you will likely get your cash sooner with BeFrugal.
More Coupon Offers for Offline shopping
While both Ebates and BeFrugal offer coupons for their partner retailers, BeFrugal is a much larger coupon aggregator otherwise. With printable coupons for over 4,000 grocery stores, 250 restaurants, and over 50,000 online stores you have a lot of opportunities to save outside of cash-back rebates. In addition, all of BeFrugal's coupons are guaranteed to work. If you find one that doesn't work, you can submit a claim for a $5 cash reward.
Join BeFrugal today and earn a $10 bonus!
Where does Ebates win out?
Ebates is a better known service, with a well developed and easy to navigate website and browser plugin. I've used it for a long time and while BeFrugal is also a great service, Ebates has kept its place in my browser toolbar. Here's why!
Lower Earnings Threshold for Payout
At Ebates, you only need to generate $5.01 or more in cash-back before you can receive a payout for your earnings. Even as an infrequent online shopper, you can easily generate the rebates you need to get a check each quarter. Also, their short-term special rebate opportunities often earn $5 or more in one purchase. Every time Ebates offers a Mixbook special, I cash in to order photo books or products as gifts!
Cash-Back Usually Hits Account More Quickly
This is only based on my personal experience, but when I shop through Ebates, the rebate usually hits my account the same day. At BeFrugal, it can sometimes take a few days for the cash-back earnings to move from pending to confirmed. I have yet to have cash-back not come through from BeFrugal, but it is definitely nice to see that the rebate actually worked when I'm still thinking about the purchase.
Easier to Earn Referrals
The value of customer referrals for Ebates and BeFrugal change regularly. Currently, Ebates is offering $15 per qualified sign up while BeFrugal is offering $10. While Ebates rebate is sometimes closer to BeFrugal's more of your referrals are likely to become "qualified" with Ebates. At Ebates, a referral only needs to make one online transaction valued at $25 or more for you to earn your bonus. Something most people do at least fairly regularly. However, at BeFrugal, the referral needs to earn $25 in rebates before becoming qualified. They also have to do so in the first 90 days! That is quite a bit of shopping!
Join Ebates today and earn a $10 bonus!
Cash-Back Comparison at Top Retailers for Parents
I tried to take a sample of some of the largest retailers for parents to compare rates at BeFrugal and Ebates. In these selections, BeFrugal wins out far more often here than Ebates, though not every time.
Keep in mind, cash-back percentages at retailers change regularly, so these are only comparison rates as of January 13, 2018. Check both sites to compare retailers you shop at regularly!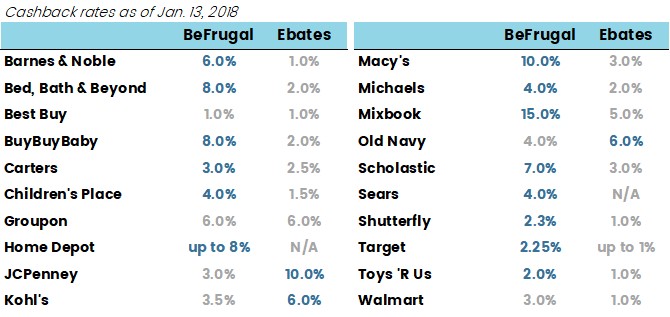 Start Saving More Today!
Personally, both Ebates and BeFrugal have a spot in my browser toolbar. Since the services are free, being able to just click the little browser buttons to see which has a higher rebate is an easy lift to ensure I am getting the best deal. But, if you are looking to choose one, BeFrugal is likely better if you shop at a wide range of stores and are also looking for a source of printable coupons for offline shopping. Alternatively, if you frequently shop at the same set of stores where Ebates has higher payouts and want a site that is easier to navigate, I would sign up for Ebates.
I have to warn you though, high cash-back rates at certain retailers can encourage you to spend more than you intended. Only ever use these services for products you needed to buy anyway. Don't go looking for savings, because you aren't saving money if you are buying something you don't need! Spend responsibly and use BeFrugal and Ebates to ensure you're keeping the most cash in your pocket as possible!
Do you use cash-back services like Ebates and BeFrugal? Which is your favorite and why? Drop a note in the comments, I would love to hear your thoughts!