Do you want to make $20 or more an hour from home, but don't want to take the risk of an MLM, don't think you have the skills to be a freelance writer, or don't have the desire or time to build a profitable blog? Maybe it is time to become a virtual assistant! With the flexibility to work as few or as many hours as you wish, virtual assistants are in high demand. And almost everyone has at least one skill they can leverage to build a profitable side business!
To give you an inside peek at what it is really like to be a virtual assistant, I've interviewed 15 active VAs. These impressive individuals have shared everything from how long it took to get their first client, to how they market, and how much money they make. So, let's look behind the curtain!
What does it mean to be a virtual assistant?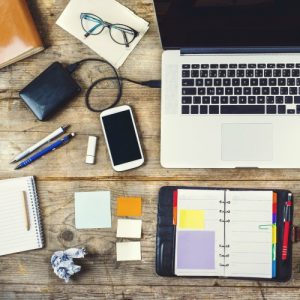 Most people who hear the term "virtual assistant" picture a secretary answering phones and managing some business owner's schedule from home. However, the field has expanded rapidly in recent years to include a wide range of services. These days, a virtual assistant can be anyone who provides administrative, creative, social media, or technical support remotely. Some jobs are short-term and project based. Others require regular weekly or monthly hours.
Can you be a virtual assistant part-time?
Absolutely! 9 of the 15 virtual assistants surveyed either worked outside the home or were stay-at-home parents. On average, all the VAs I spoke to work 20 hours a week on their business. The part-time VAs worked less at just under 12 hours a week.
Being a VA rarely means working 40 hours a week for one client, so you can manage your schedule. Take on the number of clients and projects you have time for. Just be transparent with your clients on when you will be available. You don't want to leave anyone in the lurch!
Who makes a good virtual assistant?
A wide range of people can make great virtual assistants! As I mentioned, almost everyone has at least one skill that is in high demand. There are so many small business owners who can't afford full-time help but have too many projects on their plate. 10 of the 15 VAs I spoke to had no professional experience before starting their businesses!
The essential skills all VAs need is being able to meet deadlines and communicate clearly. By the sheer nature of being a virtual job, you are managing your schedule. No one will be standing over your shoulder making sure you get everything done. And if you can't keep your clients happy you'll have trouble keeping them around!
What services can you offer as a virtual assistant?
Across the 15 virtual assistants, they collectively offered well over 20 different services to their clients! Services ranged from email management, scheduling/calendar management, and bookkeeping to customer service, website management, social media services, and writing newsletters.
The more I spoke to these individuals and my friend Gina Horkey, who makes six-figures at home as a VA, the more I realized the services you can offer are almost endless. If you are wondering which skills you could really get paid for, Gina has a fantastic list of 150+ virtual assistant services you can get paid for today! Check it out and see what would be the most fun for you!
How do virtual assistants find work?
There is a difference between finding work and finding well-paying work. You could easily secure jobs on sites like UpWork or Craigslist, but they are unlikely to pay you what you're worth. So how did the virtual assistants I spoke with find their first jobs?
Finding Your First Job
The most common way VAs found their first jobs was actually via Facebook! Networking in VA groups, creating a Facebook business page for your VA services, and then sharing your new business on your personal page.
A few people send cold pitches to businesses they thought could use their services. This would likely work best if you had experience in a specific skill and could explain in detail why hiring you will benefit the business owner.
Finally, four of the 15 people noted that they got their first jobs through the Horkey Handbook. Gina Horkey, mentioned above, offers a course on 30 Days or Less to Virtual Assistant Success. Through this class and her Facebook group, which you get added to after signing up, Gina manages a database of virtual assistants. Businesses looking for work frequently come to her to find high-quality VAs!
Finding Your Next Clients
After you get started, all the VAs stated that the best way to find new clients is through referrals. Make your first client happy, and they will tell their friends! Just make sure you aren't regularly accepting work you don't enjoy. Because you'll likely end up with more referrals to do that same job!
After that, networking through active Facebook groups, social media, and local businesses can bring in new work. You'll have to do some cold pitching, which can be scary. Just remember, the worst they can say is no!
What do virtual assistants love about their work?
The virtual assistants I spoke to, unsurprisingly, loved the freedom and flexibility their business gave them. They raved about being able to set their schedules, helping their clients succeed, and having unlimited earning potential.
Many of the VAs also noted the increased ability to be creative. Being a VA lets them branch out and do new things and learn all the time. It adds depth and purpose to their work.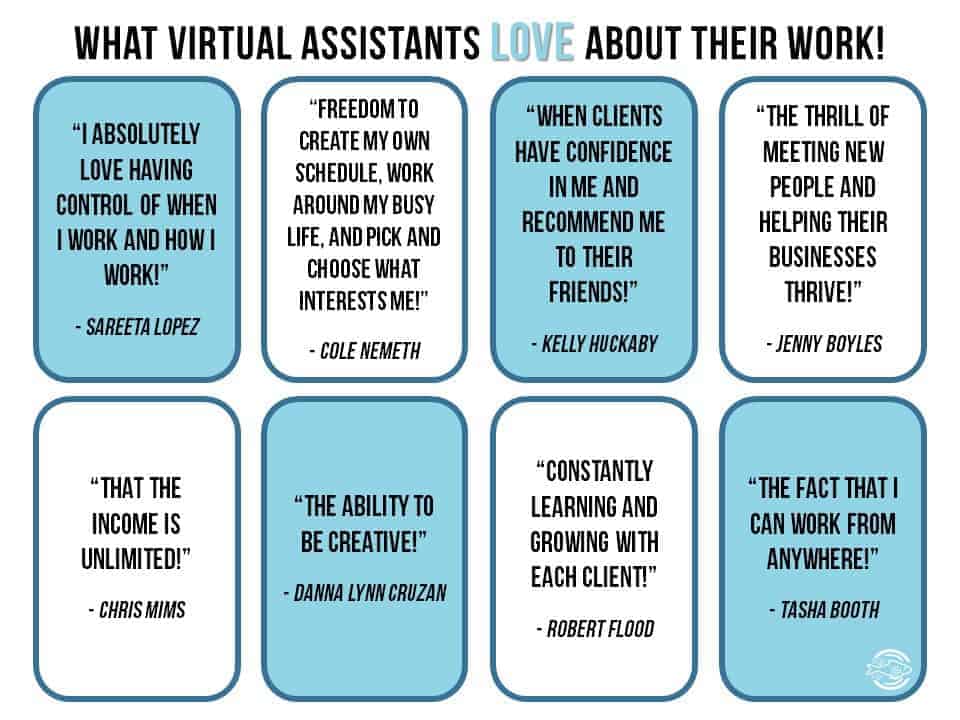 What do virtual assistants find frustrating about their work?
Becoming a virtual assistant isn't like being hired as a work-from-home employee. It really means starting your own small business. As such, your earnings potential is tied to your desire to pitch clients and ask for the pay you deserve.
The main things that frustrated the virtual assistants in the interviews were sending client pitches that never get answered, managing the bookkeeping for their businesses, negotiating pay with clients and focusing on running their businesses. Very few had experienced direct client issues, but clients are almost always looking to get more for less. As a virtual assistant, you'll have to stick to your guns on your rates–you're running a business, too!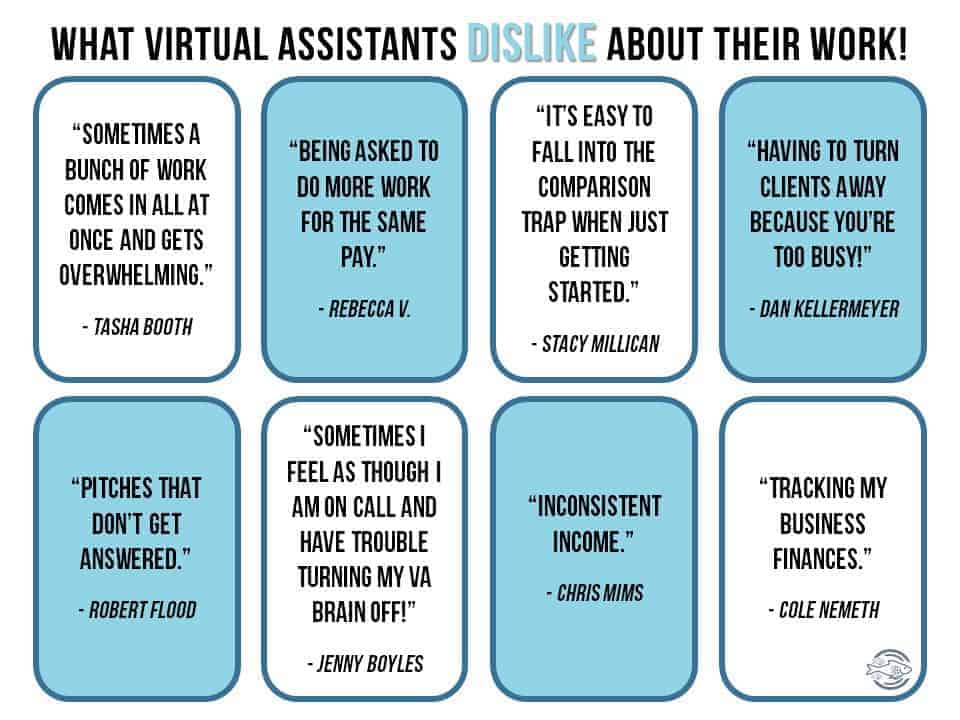 The final thing that came up with about have the VAs was the loneliness of working from home. If you are looking to make a virtual assistant business your full-time job, you will have to make an effort to fit in-person interaction into your daily life. Otherwise, it is going to be just you and your computer a lot of the time!
How much can you really make as a virtual assistant?
Alright, alright. VAs are clearly in high-demand. But aren't there millions of people out there willing to do work for almost no money? It turns out, far less than you think. As businesses are looking for virtual assistants with specialized skill sets, they are willing to pay for high-quality work.
Average Hourly Income
The virtual assistants in my interviews earned an average of $20 an hour, with earnings ranging from $10/hr to over $40/hr. This is actually lower than the North American average which is $35-$50 an hour. Email management and traditional assistant services run toward the lower end, while writing, social media management, and project-based work can pay significantly more.
Interestingly, part-time virtual assistants didn't make a noticeably different hourly rate than full-time VAs. I found it incredible how much these individuals were made by squeezing a few hours of work in on the side. Part-time VAs worked on average 12 hours a week, which at $20 an hour comes to over $1,000 a month!
Costs of Running a Virtual Assistant Business
Unfortunately, hourly income doesn't equal pocketed profit. Even with an online business, there are some minor costs to consider. And you can't forget to pay Uncle Sam!
In the vast majority of cases, the virtual assistants I spoke to noted that after some initial courses they took to get started on the right foot, costs dwindled down to under $100 a month. These expenses included self-hosting costs if they managed their own website to market their business, time management tools like Trello (which does start with a free level), and necessary bookkeeping software like Quicken Self-Employed (to not run afoul of Uncle Sam).
In general, you can keep the costs of a VA business as low as you would like. Some people swear by old-fashioned pencil and paper notebooks to keep track of their projects, find clients through free Facebook groups, and use a free email address. I recommend starting with a high-quality course to learn the ins-and-outs of the business. Then add paid services as you need them, and your income can pay for them.
What advice do virtual assistants have for others looking to enter the business?
All the VAs I spoke to were eager to share their tips on how people interested in becoming virtual assistants could do so profitably and efficiently. The most common refrain was not to undervalue yourself. Virtual assistant services are in high demand. Clients who aren't willing to pay you what you are worth will end up being a strain on your life and will take the position of a really great client out there. Don't be tempted to take low paid work because you are worried there isn't other work out there. There is!
Which leads to the second most common piece of advice: Don't let fear hold you back! Jump in. You can absolutely do this work. You will make mistakes, but that is alright. Take the time to learn and be honest with your clients. VA work is still relatively new, so everyone is learning. Clients will appreciate your honesty and that you owned the problem. Especially if you have an action plan for the solution.
Finally, the VAs wanted you to know you should invest in yourself! It is hard to put out the cash for a course before you have money coming in, but it can mean the difference between knowing how to find great clients and getting frustrated with low-paying work. I agree with this thought process. Just make sure it is a fantastic course! The course I took when I started freelance writing, Earn More Writing, paid itself back when I landed my first client less than a week later. Crazy!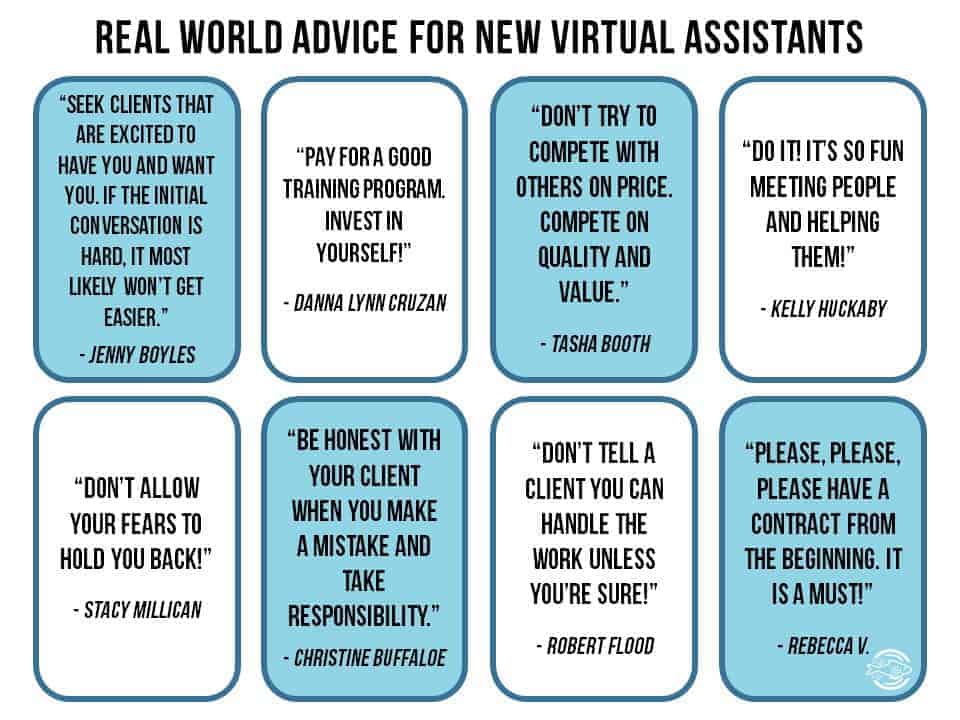 How Can You Become a Great Virtual Assistant Today?
Getting started as a virtual assistant can be as simple as picking what services you want to offer and getting your name out there! But if you want a helping hand to get started, almost everyone I interviewed sang the praises of Gina Horkey's courses and resources for virtual assistants.
If you want to jumpstart your virtual assistant business and have your first client in the next month, you want to take 30 Days or Less to Virtual Assistant Success. It walks you through building your foundation, launching your business, establishing an online presence, where to source clients, and how to keep your clients happy! You'll also get added to her Facebook group where you can network and have questions answered. Purchasing a course like this is an investment, but it often pays for itself once you secure your first client!
Other Resources: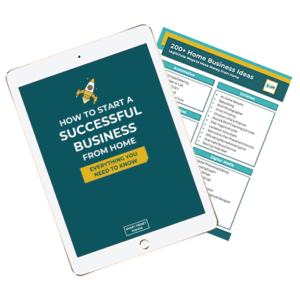 Want to Start a Business?
Download over 200 at-home business ideas with our complete guide on starting a profitable business!
Being a Virtual Assistant Can be a Great Side Hustle or Full-Time Business
I loved interviewing the virtual assistants for this piece. There is so much opportunity in this space. Whether you just want to put in a few hours a week to bring in $400-$500 a month for your family, or if you're going to build a business that can allow you to quit your full-time job, you can do it as a VA. It isn't a get-rich-quick scheme, but it is one of the best ways to start a profitable online business quickly. You just need to get started!
Thank you to all the virtual assistants!
It was incredible the time all the VAs put in to share their experiences and business insight. I really appreciate their help and hope you got a lot out of what they shared. If you want to connect with any of them, or are looking for a virtual assistant for your own businesses, be sure to check out the links to their websites and pages below.
Tasha Booth | Jenny Boyles | Christine Buffaloe | Danna Lynn Cruzan | Robert Flood | Kelly Huckaby | Dan Kellermeyer | Sareeta Lopez | Stacy Millican | Chris Mims | Cole Nemeth | Chelsea Ninness | Rebecca V.
What do you think about the virtual assistant space? Do you think it is a good business venture? If you still have questions, drop them in the comments below, and I'll be sure to get you an answer from Gina or one of the VAs!