Welcome to the first blog and online income report for 2018! If you're new here, you should know a few things. First, I love reading other bloggers and online entrepreneurs' income reports. However, some of them aren't incredibly insightful. As such, I want to keep my quarterly reports fully transparent. All traffic data, revenue and expenses, lessons learned, and goals for the next quarter.
Second, you should know why I am writing these reports. 2018 kicks off the first year of my two-year online income experiment. I have quit my full-time job and am giving myself two years to build an online business.
I want to share all the steps I am taking to reach my goals. I believe it will give me accountability. Inspire others to see what it takes to get things done. And make me step back and analyze what is working and what isn't each and every quarter.
Blogging is hard. Freelancing takes real hustle and work. But I completely love it. Let's dive in!
What happened in Q1'2018?
The first quarter of the year was an exciting one for me. If I'm honest, it was a stronger quarter personally than professionally. But I knew that would be the case going in!
Here are some top highlights!
Baby Minnow was born! He was, of course, adorable and Fuss Fish is loving being a big brother.
I was Rockstar'd twice in one month. I seriously thought I was dreaming.
I launched #WomenRockMoney with over 50 other female money bloggers on International Women's Day. I am now running a free Facebook group to help women learn more about money. In this group, I am doing a Facebook live on a specific money lesson every Thursday night to improve my skills with video.
I made it to the final four of the Rockstar Rumble.
I became a Forbes contributor. (The pay on this is insanely low, but from a resume building perspective it's fantastic.)
We sold our house! We are using our new-found location independence to rent a home closer to my mom and some of our old friends.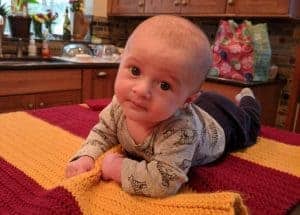 Quarterly Blog and Online Income Report
Let's get into the nitty-gritty. Each quarter in these reports I am going to give you a full, transparent look into how my blogging and freelancing business is going.
I want to show everything it takes to reach my long-term goals. As such, these posts may be a little long, but feel free to just jump to the charts and the bold sections if you are only curious about my stats. ?
Related content: Kicking Off Our Two-Year Online Income Experiment
Did I Reach My Goals?
My one and only goal for Q1'2018 was to post twice a week on the blog. I knew that with Baby Minnow born mid-January, I wasn't exactly going to have a ton of time. But even with only one goal, I missed it.
The two of the last weeks in March I missed three posts. One week I didn't post at all, and the next week I only posted once. I could beat myself up about this, but I am trying to acknowledge that sometimes other priorities have to take a front seat.
In those two weeks, a few things happened. First, my back pain from having two herniated discs during pregnancy reared up again. I was actually in so much pain I couldn't stand up for three days. I spent most of my time curled in the fetal position. Writing wasn't precisely my key priority at that point. I started seeing a chiropractor, and things are slowly getting better again.
Then, we decided to do something crazy and put our house on the market. We are going to be moving to Connecticut to be closer to my mom. But when the real estate agent suggested getting the house on the market before Easter, it became a scramble. Balancing my back pain with getting the house "show ready" was a challenge. Good news though! The house is under contract!
In the end, these are excuses. I intended to post twice a week, and I didn't. And going forward, I plan to stick to my two posts a week schedule. The key is going to be building a backlog of posts though. I lost my cushion right after Baby Minnow was born, which is why all this life craziness threw off my schedule. Oops.
Blog Metrics
When I started this blog in February 2017, blog metrics were my life. I think I checked Google Analytics 20 times a day. Since then, I've backed off a little bit from obsessing about the numbers. I care more now about email open rates and click rates, interaction with readers, and some other soft metrics.
Still, here is where things stand for the curious.
Posts – 19
If you pull out your trusty calendar, you would see that my target posting for Q1 should have been 24 posts. However, I missed three in March due to my back. I also had two weeks around when Baby Minnow was born that I only posted once instead of twice. Woops!
Traffic – 66,262 Pageviews | 50,921 Sessions
Starting in Q2'2018, I will show quarter-over-quarter growth (or decline) performance for a full picture of how things are going.
My blog traffic is still pretty much in an ebb and flow stage. On a day without a specific event, I average about 500-700 pageviews. Idiosyncratic things like a viral Pinterest pin, Rockstar Feature, or special event are typically what it takes to push me over 1,000-3,000 views in a day.
As for Pinterest this quarter, things really dropped off after January. Some commentary around the web is that the algorithm change threw a lot of people off. Some believe that February and March are just slower times for Pinterest. Who really knows. But I am continuing to plug away at the platform!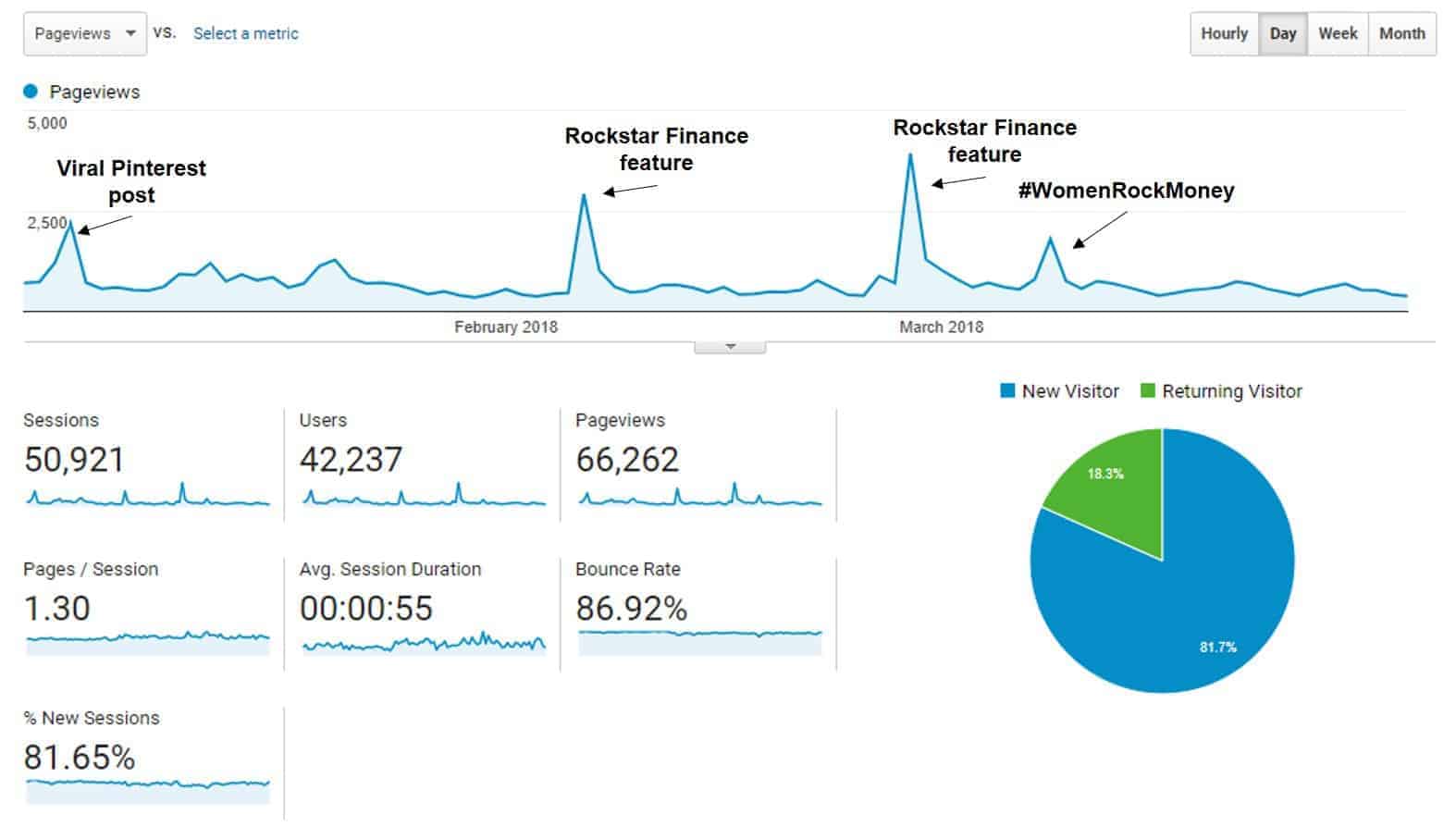 If you're curious about where my traffic comes from, I can break that down too!
My largest traffic driver by a significant margin is Pinterest at 45% of sessions. This was not the case prior to December when I took Breaking the One Percent's The Perfect Pin course.
(If you are a blogger interested in increasing your Pinterest traffic, I highly recommend The Perfect Pin course. Having higher quality images has had a massive impact on my traffic. You can get 20% off by signing up with my link and using the code GET20OFF here!)
My second largest traffic driver is organic search. Interestingly, this is much higher quality traffic than Pinterest. Readers visit more posts and stick around longer. To date, I've never really don't any real SEO work. That will be on the docket at some point this year.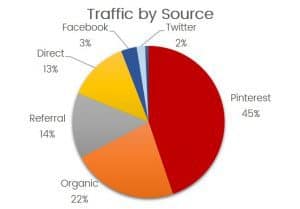 Most Popular Posts
Here is a quick look at what posts were really killing it for me this quarter. These are the top five highest traffic posts for January through March:
Note for other bloggers: Maybe I'm the only dope that thought this was the case, but if not, here is something comforting. I always thought that the average session duration (mine often only lasting around a minute), meant that the average reader was only on my site for 60 seconds. It made me very sad considering the hours I spend writing these posts.
However! I have since learned that Google Analytics only calculates session duration if someone visits two or more pages on your site. Otherwise, it records and averages in a zero. My average session duration this quarter was only about 55 seconds. But my average time on page was a much more respectable 3 minute. Score!
Email Subscribers – 1,484 subscribers
You may remember that in my one-year blog report in February I had 2,286 subscribers. So, what happened? Well, a few weeks ago I did something crazy. I deleted 837 cold subscribers.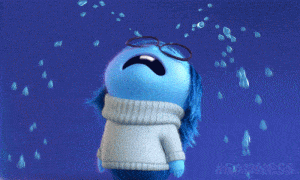 I took a look at those subscribers before I said goodbye to them and noticed that most came in through a meal planning giveaway I did back in August. While it was a product my existing readers were interested in, it wasn't a topic I regularly talked about. In the future, if I do any more giveaways, I will be more careful about how I choose the giveaway item. I may also work on improving my welcome series to prepare new subscribers for what to expect from me.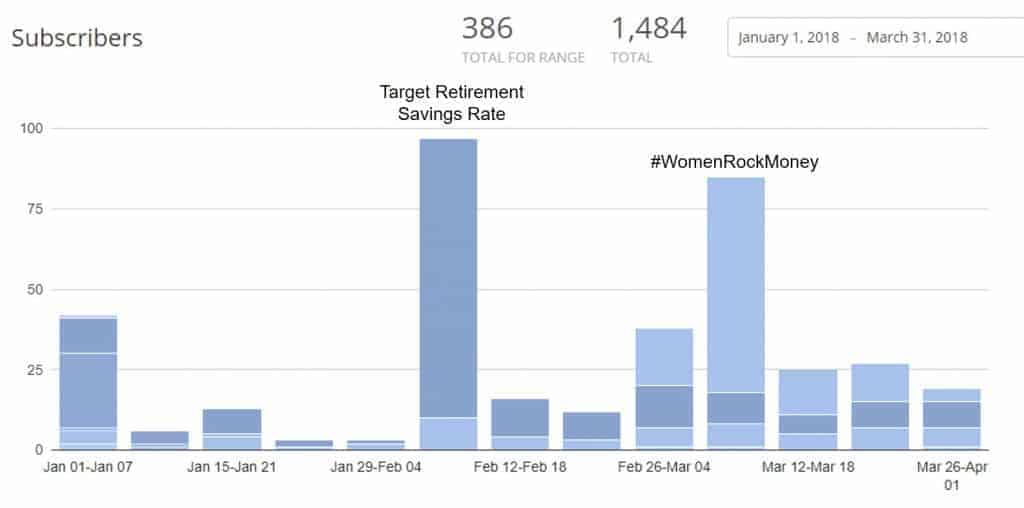 Income and Expense Report
Alright, be honest. Did you read this whole post until this point or just scroll to see the numbers? Ha!
What would a blog and online income report be without the actual income numbers? Nothing! Here we go…
Net Income –

$2,772
This was my first quarter since staring Mama Fish Saves in the black! Woohoo!
My net income could have been somewhat higher, but I had some freelancing work pushed out until April and took on some extra expenses. You can see the full breakdown below.
Revenue –

$4,127
As a reminder, my goal is to get to $12,000 in monthly revenue by December 2019. I averaged 11% of that goal in this quarter.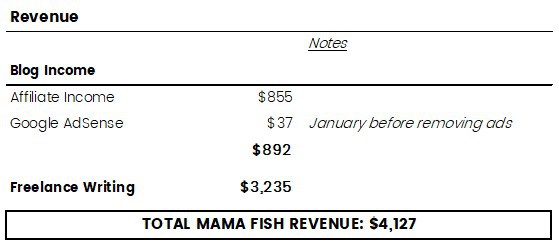 Freelancing: I didn't pitch any new clients in Q1'2018 because I wanted to focus on time with Baby Minnow. That said, freelancing still got off to a pretty good start in the new year, bringing in $3,235.
I did have my first lesson in freelancing though. $640 in articles got pushed from March into April. All of them were based on interviews that got delayed. The interviews were set up by the company I was working for so there is nothing I could do about it. Disappointing, but not the end of the world. It also starts me off in a solid place for May?
Blogging: The blog brought in $889 in revenue in the first quarter of the year. 96% of this was affiliates since I took Google AdSense ads off the site at the end of January. While these numbers are still paltry, it is more than I earned in my first full year of blogging so I will take it!
There is a ton more that I can do to increase affiliate revenue. I know many bloggers with less traffic than me generating higher income. You will see below that one of my goals in the second quarter is to improve my affiliate strategy.
For those curious, my best affiliates in the quarter were The Perfect Pin by Breaking the One Percent, the Work-at-Home Summit, Personal Capital, Ellevest, and Amazon.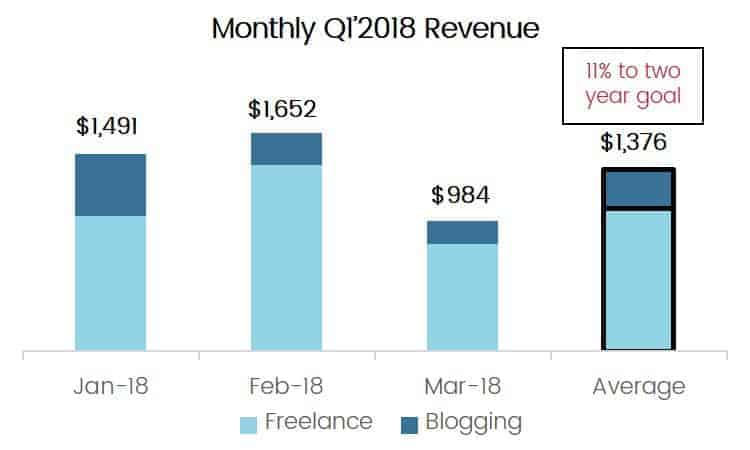 Expenses –

-$1,355
My expenses were elevated, once again, by my obsession with courses. I bought $603 in new courses in the quarter. However, I have put myself on a ban until I fully complete both Online Impact (formerly Blogger U) and Making Sense of Affiliate Marketing! Buying courses can really help ramp up growth, but only if you actually utilize them!
I also had $280 in expenses related to my new #WomenRockMoney initiative. I promised any female bloggers who participated a free t-shirt. But then we ended up with over 50 participants! Luckily only around 30 wanted shirts. Definitely added up a bit more than I thought, but entirely worth it.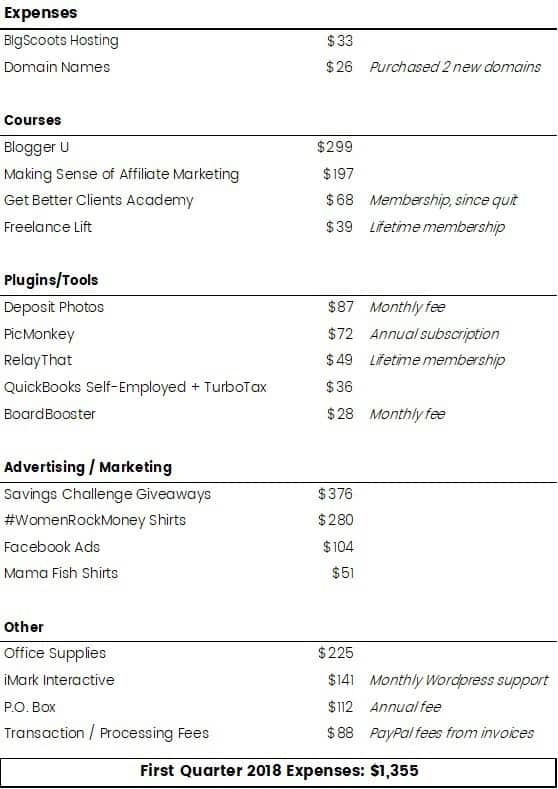 What Worked and What Didn't
Since I didn't commit much real time to the blog and freelancing this quarter, I don't have a ton to share here. However, over time I really hope to post a lot of lessons learned in these quarterly reports.
What Worked This Quarter
Batching: While I didn't write and publish for Mama Fish Saves as much as I hoped to this quarter, I did have freelancing clients to keep up with as well. I wrote 20 freelancing articles this quarter, including my first post for Forbes. I found that sitting down and outlining 4-5 posts one day and then writing them over the next day or two made me much more efficient.
SmarterQueue: On the recommendation of Pete McPherson from Do You Even Blog, I purchased SmarterQueue to help me schedule my social media. The service now runs all of my tweets, helps manage posts for the #WomenRockMoney group, and I can plan my every-other-day Instagram quotes on their platform. It saves me a ton of time. Thanks, Pete!
What Didn't Work This Quarter
Working from Home: Alright, so the whole point of an online business is working from home, right? Maybe. But it was just not working for me this quarter. I would hear Baby Minnow cry, or Fuss Fish would come in asking me to read him a book, and suddenly I would lose two hours. In April and May and I testing out a coworking space. I wish I didn't have to leave the house to work, but I think it will result in fewer hours where I'm half working, half parenting.
Goals for Q2'2018 (& How I'm Going to Get There)
I believe goals are useless without a plan. So, each quarter I am going to set 3 to 5 goals and share them in these reports. I will also lay out what steps I am going to take to get there, so I have a reliable way to review progress come next quarter. Sound good?
Goal 1: Create a Freelance Pitching Strategy and Increase Client Base (Secure 2 New Clients a Month)
I haven't pitched any new clients since December. A bit of a fail on my part, but I intentionally didn't want to get bogged down with the baby. Here is how I am going to add two new clients a month in the second quarter.
Step 1: Create a list of potential clients in my niche.
I will spend some time in the next two weeks compiling a list of potential clients I know pay writers, as well as some businesses I believe could benefit from a more active blog.
Step 2: Improve my pitch language.
I had a lot of success in December using the pitch language laid out in the Earn More Writing course by Holly Johnson. But I also recently signed up for Freelancelift Pro, and I want to commit some time to his learning modules.
Step 3: Send out regular pitches and network with other freelancers.
My goal is to send out at least three pitches a week. I will try to have at least one pitch a week be a "warm lead," where I either know someone who already writes for the company, have a connection with someone at the company or know the business well enough to identify a specific hole in their marketing.
The reason for networking with other freelancers is that the demand for finance writers is very high. A few of the clients I currently have were referred by a friend who just couldn't add anyone else.
Goal 2: Improve Affiliate Marketing Strategy (Increase Affiliate Income by 25%)
Affiliate marketing is a big part of my monetization plan for Mama Fish Saves. So, I suppose at some point I should actually learn how to do it properly!
Step 1: Compete Making Sense of Affiliate Marketing
I bought this course in January and had not opened it. Major fail. My goal is to make it through this course in April. No ifs, ands, or buts.
Step 2: Optimize Posts For Affiliate Conversion (At Least Top 10 Highest Traffic Posts)
After completing Michelle's course, I will go back to at least my top 10 posts and correctly format according to the course's guidance. Also, I will make sure new posts are using the strategies I have learned.
Step 3: Do One Email Based Affiliate Launch
Since everyone says email lists are king, I assume it is because at some point you want to turn these loyal readers into customers? Man, I am so new at this monetization thing…
At one point in the second quarter, once I have fully finished steps 1 and 2 of improving my monetization process, I am going to pick a favorite affiliate and run a launch for my email list. I have to research how best to do this. Is it just one email, highly focused on that affiliate and the value it offers? Is it three to four emails? Who knows. Certainly not me. But I'm going to test it out.
A big part of me being comfortable undertaking this step has to be making my newsletters more regular. I will also send a newsletter every Thursday morning in the second quarter. Just to make sure I don't hit my subscribers with a "buy this" or "sign up for that" when I haven't been giving them enough value for free!
Goal 3: Increase Email List (Grow List by 500 Subscribers)
After clearing out my list, I really want to get back up to 2,000 subscribers. I have one primary way I want to do that.
The other way, not listed in the steps here, is Online Impact. I signed up for Online Impact by Pete McPherson back in February and have loved the content. My goal is to dedicate at least three full hours a week through the second quarter to really working on that course.
Step 1: Turn $500 Savings Challenge Into an Evergreen Opt-In
My most popular opt-in over the first year was a 30-day, $500 savings challenge. This was a long-form opt-in that I ran twice. Once in July 2017 and once in January 2018. Both times engagement was high, and opt-in conversion was pretty good.
In the second quarter, probably around May timeframe, I will update the content to be more evergreen in nature.
Step 2: Create a Tripwire for the Opt-In
I plan to run some Facebook ads to drive traffic to the free challenge. To help pay for that traffic, I want to create a low-priced upgrade for the content.
This will be a PDF of all the days of the challenge, in case people don't want to wait for 30 individual emails. It may also include some bonus content and a video or two. We shall see!
Step 3: Set Up Landing Page for the Challenge
Just having a link to the course in the sidebar has never had an excellent conversion for me. Neither has embedding a form in a blog post. I think part of this is that my posts are very long – averaging over 2,000 words.
Either way. I am going to create a landing page just for this opt-in. I will also create some high-quality pins and graphics to help drive traffic.
Goal 4: Post on Mama Fish Saves Twice a Week (& Get At Least 2 Weeks Ahead)
This one is pretty straightforward. I just need to actually sit my butt down, write, and publish content. We all know the steps for that!
Final Thoughts on Q1 and My Q2 Plans
Considering that I was handling a newborn through the first three months of the year, I'm pretty happy with where things turned out. But I have a long way to go.
If I am going to reach my goal of generating $12,000 a month in revenue by December 2019, I have to commit. That means working full days, and probably many nights. It means not being distracted by Twitter and Slack and getting to work.
It is going to happen. I am going to lean into this.
The second quarter will be the first time in over six months I am going full speed on this thing.
So, watch out. The next report is going to be rocking.
Fellow Bloggers & Freelancers – I Want to Know What You Think!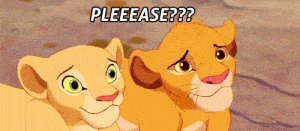 Please, please, please leave a comment below to let me know:
What do you think I could be doing better with Mama Fish Saves?
Do you think my goals make sense?
Did you find this report useless, mediocre, or helpful? (I really want to improve this reporting style over time to make it as beneficial as possible for everyone!)