Today, we're taking a break from the usual money conversation to talk about blogging. Specifically, my favorite blogging program (it's more than a course), Online Impact.
Now, I don't often blog about blogging. It isn't what Smart Money Mamas is all about and less than two years in I still feel like I'm early in my journey. But as many of you are interested in blogging, I wanted to tell you about Online Impact.
As always, I'm going to be honest with you.
Building a successful blog is hard. And it can be lonely. Dedicating hours to building your platform in the early days when it feels like you're talking but no one is listening. Spending (wasting) money on courses that promise an easy answer or riches. Wondering if you're doing the right things for your business and if you should keep going.
I believe Online Impact is the answer to those struggles. Let me tell you all about it.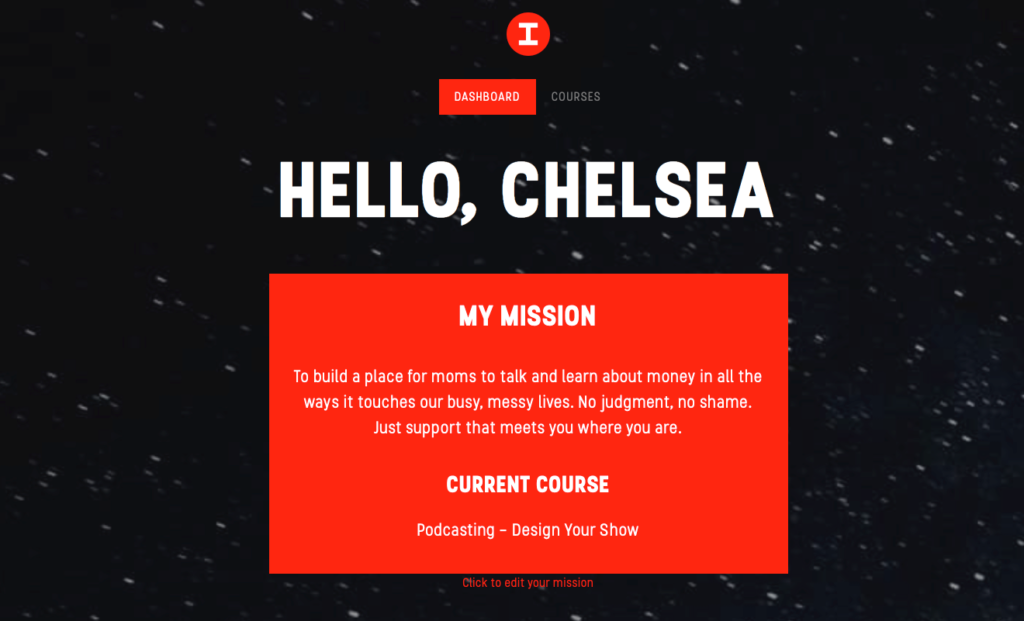 The Basics of Online Impact
Online Impact is a community for bloggers and a marketplace of top-notch blogging courses (and podcasting courses!)
Pete McPherson, the creator of Online Impact, believes that courses should be hyper-focused and actionable. So, instead of selling one mega-course, he's broken up educational content into multiple courses. Designed for you to access what you need when you need it.
New courses are being added all the time but currently include:
School of Content (That Works) – Easily the best course for new bloggers!
Beginner Email List-Building
Beginner Blog Monetization
Beginner Blog Traffic
Elementor for Bloggers
Facebook Ads
Beginner SEO
Advanced SEO
Podcasting – Design Your Show
Podcasting – Become a World-Class Host
Podcasting – DIY Editing
You can view the current course offerings here–and they are ALL included in your membership! (plus all future courses)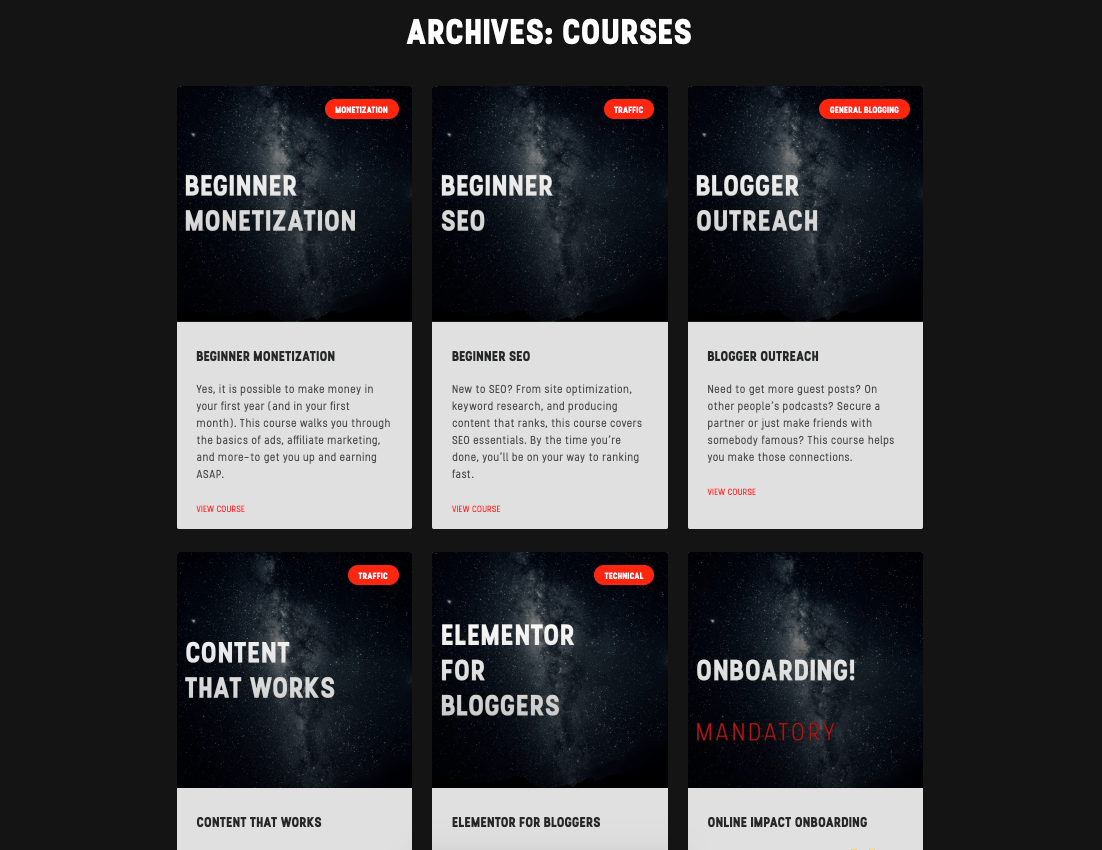 Online Impact Membership gives you lifetime access to all current and future courses.
Also, all of the Online Impact courses come with access to the program's Slack channel. This is a community of bloggers, podcasters, and online entrepreneurs looking to build impactful blogs that change people's lives and make money in the process. The Slack channel is where you can ask questions, celebrate wins, hear what is working for others, and chat directly with Pete. There are also regular challenges to help you focus and make meaningful progress in a short period of time.
Online Impact is about building your platform. It's about you and the changes you can make for your audience.
But it's made special by the community and by Pete.
He's passionate about blogging (seriously, see his I Believe in Blogging manifesto) and only wants you to buy courses from Online Impact if you intend to finish them and implement them. If you join, he'll know your name, the name of your blog, what you're working on, and will be cheering you on. As will the rest of the members of the Online Impact tribe.
My Favorite Part About the Online Impact Courses
While I think the community is the best part of Online Impact, the courses are also excellent.
Online Impact makes an enormous effort to have user experience front and center. All courses are video-based and split into 5- to 15-minute segments (there might be a few that are slightly longer). This means you have exactly the information you need to take action without getting overwhelmed. And, you can listen to a module in the random moments of peace your kids give you.
In addition, concepts are explained clearly and potential roadblocks are mentioned, so you don't get implementation and feel lost. Plus, the use of case studies in every course makes it easy to understand the different ways bloggers use the techniques and tips discussed.
Also, and this may seem like a small thing, but the platform has a note-taking feature. You can pop it upright on screen with the videos and take notes that are saved, organized by course, for you to reference whenever you need them. As someone who likes to be able to flip back to strategies and favorite tidbits without having to rewatch whole videos, this is awesome.
Finally, you'll be kept aware of the most current strategies and tips. When Pete hears something new and interesting about SEO, list building, Pinterest, or anything else, he lets the Slack group know right away. This is big, as there are some other mega-courses that are only updated every few years. And the internet changes much, much faster than that.
My Experience with Online Impact
I joined Online Impact in February 2018. I received Pete's last launch email (as I always seem to do with launches) and as I was struggling with the direction of this site, decided to join.
Back in February, I was seriously considering closing Smart Money Mamas (then known as Mama Fish Saves) and starting a whole new site. I didn't feel like I was making a real impact for readers and it felt like my growth had stalled. I believe my first post in the Slack channel after joining was whether I should start another site.
The community helped me find focus. I loved the Content That Works course and Beginner Blog Monetization. But it was the relationships I built with other bloggers in Online Impact that really made the difference.
So, what happened?
In the last year, I've…
📈 Gone from 6,000 monthly sessions to 69,000…
📧 Went from 1,000 subscribers to 3,900…
📒 I launched my first product…
💻 Got on Mediavine…
💰 And had my first $10,000 month!
That isn't all due to Online Impact, of course. Some of it is natural growth from a site in its second year with consistent content. But here is what I can directly attribute to Online Impact.
The fact that I didn't quit (that's a big one.) And the In Case of Emergency Binder.
Earlier this summer I sat down to write this post on our family emergency binder. And I wanted to create an opt-in for it. (Email list building for the win!) So, I started making a guide to help other families create their own emergency binders. 7 hours later I had a 60+ page workbook and I wasn't done yet.
So, I messaged Pete in Slack. I said something like, "I think this might be more than an opt-in." He encouraged me to make it my first product.
There's a long story about deciding how to launch it, inviting affiliates, and facing my fear of sales. But the long and short of it is this…
I've sold $90,000 in binders since that time. With a $19-$29 product and a list of fewer than 2,000 subscribers.
It wasn't a six-figure launch immediately. But it showed me in no uncertain terms that I can make money blogging. And that I can do it in ways that make a difference in people's lives.
The stories I've received from customers are amazing and heartbreaking. Things they've experienced where they wished they had something like the ICE Binder, and how grateful they are to have a guide to protecting their own loved ones.
Building blogger friendships and seeing the growth in the blog this year from joining Online Impact will help me keep growing for years to come. And I believe any blogger would benefit from it.
How Does Online Impact Compare to Other Online Courses?
I've purchased a terrifying number of blogging courses. From big ones like Elite Blog Academy to smaller specific ones on topics like affiliate marketing or Pinterest. And they all have their merits.
But Online Impact isn't like other blogging courses.
First, Online Impact is a community of bloggers who want to make a difference. One of the biggest benefits of Online Impact is having a group of other bloggers with different talents to bounce ideas off of, get feedback from, and commiserate with.
Blogging, especially early on, can feel lonely. People in your "normal" life don't understand why you're committing so much time to it. You aren't sure if you're doing the right things. You need a tribe. And Online Impact offers that tribe in spades.
Second, other blogging courses focus on giving you one path to success. Do this, then do that, then posts/products that look like this, and make money/see your traffic go/become famous/etc.
But Online Impact is different. You choose the specific courses you need when you need them. Want to learn about SEO before list building? Go for it. Want to learn blogger outreach to start building relationships? Dive in.
This model comes from a few core ideas, namely that the information you need should always be at your fingertips in a concise and actionable form. There are a few other things that make Online Impact different though. And that's rooted in philosophy.
After almost a year in Online Impact, I would bet you will never hear Pete or anyone in Online Impact deny any of these key things:
The impact you make on your audience matters. You can make money and not care about your audience. But it won't last long-term and it won't be fulfilling. If you're just in it for a "get rich quick" scheme, you're going to be disappointed.
Making money blogging isn't easy, but you CAN do it. You have to do the work and be willing to fight through the early days. But you can reach your financial goals, build a platform that you enjoy and that touches the lives of others.
There is no one path to success. There are strategies that can help you grow and ones that hurt you, and you can learn those. The Online Impact courses will teach you! But what your blog looks like will be dependent on your personality, goals, business values, and target audience. Make money through products, affiliates, sponsored posts, ads. Post once a week, three times a week, every day. It doesn't matter. Do what works best for YOU.
There's no flowery sales language from Pete or Online Impact. No one is going to sell you a false bill of goods. But it will give you the tools and support to reach your goals.
How Much Does Online Impact Cost?
Good question. Currently, membership starts at $50/month (or $500/year if you pay annually, giving you two months free). You can see the available courses and prices here.
If you want to double down, purchase the last course you'll ever need, and start growing your blog this is the option for you.
Is Online Impact Right for You?
You can take a one-off course like Advanced SEO or the Facebook Ads and have that be all you ever do with Online Impact. You'll learn a lot and have real strategies that actually have an impact to implement on your blog.
But getting the full impact requires a bit more.
Online Impact is so incredibly powerful because it is a community of like-minded bloggers. So, if you are serious about making a difference with your blog, growing a platform, and building a blogging business around your own unique goals, then Online Impact is for you.
Start with one course, or all of them, but get involved in the community. Introduce yourself, ask questions, make friends. It can make all the difference.
Who Is Online Impact Not For?
Online Impact is not built like a standard course. If you want to be told exactly what you need to do, following a specific formula from start to finish, Online Impact probably isn't for you. There aren't content locks that prevent you from skipping ahead. There isn't a finish line you're shooting for. (Because we're never done building our blogs.)
There's no one way to go through Online Impact. It has everything you need to chart your own path, find your voice, and build your audience. But if you buy the whole bundle, you'll have to decide which courses to take in which order, or reach out to Pete and the community on what you should focus on first.
If that sounds too overwhelming for you, Online Impact in its entirety probably isn't for you.
However, I recommend every new blogger complete "Content That Works." Setting up your blog, defining your avatar, creating content, starting an email list, learning how to promote, and more is hard. Content That Works will get you through those first six to twelve months with less overwhelm so you can focus on growth.
Getting Started With Online Impact
If you're ready to grow your blog with Online Impact, review the courses and bundles to decide which makes the most sense for you. There is a preview video for each course to let you know what it's all about and give you information about what you can find inside.
Once you join, be sure to get into the Slack channel and introduce yourself. Tell everyone about yourself, your blog, and your goals.
Can't wait to see you there!
What questions do you have about Online Impact? Drop a note in the comments or email me at chelsea[@]smartmoneymamas.com and I would be happy to give you more information!