With National Financial Awareness Day right around the corner, there's no better time to get a handle on your financial wellness— especially if you're a new mother in training. If you've had a baby recently or are preparing for his or her arrival, chances are you're experiencing a variety of emotions. From excitement to nervousness to feeling a bit overwhelmed, all of these feelings are normal, and there are ways you can improve or settle each with ease. Even though managing your finances may be a smaller thought over your baby's overall health and happiness, it's a task that can benefit both you and your family when it comes time to equip your household with everything you'll need as a new mom.
To increase the vitality of your financial status, here are some tips to take into consideration as you're transitioning into motherhood:
Determine Your Savings Goals
As a new parent, it may be difficult to think too far in the future with changing diapers and feedings constantly on your mind. But as time goes on and your child gets older, there are more activities and life events they'll be involved in. Doctors appointments, sports, and their education are all times in which you'll need to build a budget to organize each successfully and timely.
Before placing a certain amount of money into a designated savings account each month, it's imperative to evaluate your current saving and spending patterns. When opening another savings account for your child, you'll know how much to add per month without hurting your financial plan altogether. (Remember, an emergency fund is step number 1! Kids are unpredictable…)
With personal savings accounts and one for another, it can be difficult to manage your money and stick to the goals you've set for yourself. Be sure to take advantage of personal finance apps and other tools that can bring convenient financial management methods into your daily life, like a debit card without additional fees, or a high-quality budgeting app like YNAB. That way you can make referencing your financial status while caring for a newborn less overwhelming and possible from anywhere!
Protect Your Growing Family
We all hope that life carries on without accident or incident for many, many years. But as a mom, you've now got tiny humans who depend on you. And that means creating a safety net that protects your kids no matter what. (Please, be better at emergency planning than every character in Harry Potter…)
Creating an effective family emergency plan requires purchasing sufficient life insurance, naming guardians for your kids in a will (even a simple, free one), and keeping your finances organized so you or a loved one could handle any life upheaval without the additional stress of wondering when and how to pay the utility bill or how to contact your insurance companies.
Getting these things in order may seem hard, but the actual execution is quite straight forward. You can get life insurance in less than 10 minutes online with Haven Life or Bestow and create a will online with amazing guidance for just $69 with Trust & Will. Sure, it's not what you want to be doing with your time. It seems like you can surely do this later, right?
Maybe. Maybe not.
It's worth the slight inconvenience now for the peace of mind it will give you.
Are You Protecting What Matters Most?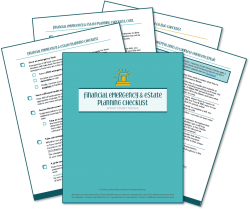 Grab our free Financial Emergency & Estate Planning Checklist to make sure you're prepared for anything life may throw at you!
Consider Reusable Goods and Hand Me Downs
Being cost-conscious with what you buy for your baby can be super effective in the long run. Before buying all the items needed to raise a child, reach out to relatives and friends to see what you can buy or borrow. Some items such as clothing, cribs, breast pumps, changing tables or bassinets can really add up. If the quality is in good status and the goods are clean, consider re-using them instead of buying these necessities brand new.
The excitement of buying cute clothing for your baby can become a fast and easy way to spend more than necessary— but don't buy baby clothes too far in advance! He or she could experience a sudden growth spurt and suddenly you have more unused clothing than you anticipated. As you're shopping, stick with a neutral color palette. That way, if you plan to have more children in the future, you can use those same items over again and avoid spending more money down the road.
Create a Grocery Store Spending Plan
Trips to the grocery store are going to become more frequent than ever with a new baby, and you may go through baby food, wipes, snacks and diapers faster than you think. Remember, the prices on baby items can change on a weekly or monthly basis, so before you enter the grocery store, write down a solid meal plan and establish a spending limit. When you plan ahead, you can choose the brands that not only are healthy for your baby but keep you from overspending, too.
Buy items in bulk to save money and time. In some cases, certain suppliers are happy to lower the price for items available in a larger quantity. Take advantage of these deals to reduce your excursions to the store, and spend less on gas driving back and forth.
If you and your partner share a vehicle, there are other options if the car isn't available to you during the time you're in need of food. Along with planning this list ahead of time, shop online for grocery items. If you know you're running low on baby food or formula, for example, designate a day to utilize online options to order your groceries, like FreshDirect or Amazon Fresh.
Finally, having a set of family favorite meals to pull from when you're struggling to come up with a plan means dinners everyone will enjoy. In our house, a quick chicken and asparagus pasta bake is always popular – and only dirties one dish!
Plan for Childcare
If you are a working mother, those 3 to 4 months of maternity leave may fly by quicker than you would have ever thought. This is a transition period in which you'll have to find someone responsible for your child while you're on the job, which is a large additional weekly expense in itself.
While determining your budget, be sure to include this payment for the times you're in need of a nanny or babysitter. These include fun things – like date nights – but also nights when you regularly have to work late. The more prepared you are with this payment, the less of a financial scare you'll receive when it comes time to pay the sitter.
You Got This, Mama!
Becoming a mom is hard work, but also the most rewarding experience. The more prepared and organized you are with certain areas of your finances, the more confident you'll be in caring for your mini you!
Just remember that this time with a new baby is amazing – but it's also really, really hard. Give yourself grace. There will be things you forgot to budget for. Tears at daycare dropoff (or tears on days you really miss going to work.) You're a rockstar. You and your growing family will find your balance.
What money moves do you wish you made when becoming a new mom? Share in the comments!