E-commerce is a blessing for busy parents, but are we taking the convenience for granted and not doing our best to save money online shopping? Besides groceries, Daddy Fish and I do almost all our shopping online. While we used to just automatically order through Amazon or during sales at online retail stores, we have learned some great ways to maximize our total savings. A few clicks save us hundreds of dollars a year, so I wanted to share our best ways for saving money while online shopping!
1 – Always get cashback for shopping online!
I have to be honest, the first time I saw a TV commercial for Ebates, I thought it had to be a scam. How could you possibly get cashback for shopping online? Well, earlier this year I decided to test it out. Now it is by far my favorite way to save money online!
Ebates offers cash back for over 2,000 online stores ranging from 1% to over 15%. The site will then show you various discount codes available for the site where you wish to shop. All you have to do to receive your cash back is to click through to your shopping destination from the Ebates site.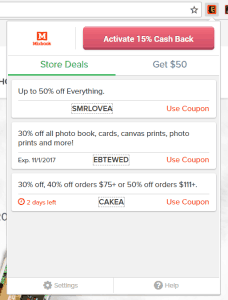 Pro tip: Download Ebates free Google Chrome plugin! The plugin flashes red to show you when you are on a site that offers cash back. All you have to do is click the plugin to activate, and the plugin can also show you coupon offers. It saves a step clicking around and makes sure you don't miss a chance for savings.
The best part of Ebates is when online stores offer increased cashback specials. Recently I ordered Fuss Fish's photo book for his first year. Typically, MixBook offers 5% cash back, but it was increased to 15% for a short period, and I was able to combine it with a 50% off the total site coupon! MixBook makes amazing quality photo books, but I like to put the books together then save them on the site until deals like this!
Join Ebates today! For joining Ebates, you get a $10 credit added to your account immediately. Ebates mails you a check with your total rebates every three months, as long as your cashback balance is over $5. My first three months I earned $30.19!
2 – Never miss a chance to price shop!
Once upon a time, Amazon was the cheapest online store for almost anything you wanted to buy – especially if you had free shipping with Prime. Today that is no longer the case. With other retailers getting more online savvy and other online discount retailers (Jet.com, ThriveMarket) popping up, the competition for pricing is fierce. That is why you need to always price shop online!
There are two great ways to price shop quickly and easily online. The first is good old Google. Google's shopping tab allows you search for an item and see the best prices Google can find around the web. While this is easy, Google doesn't sort their results by the best price available. They consider their view of the quality of the website, the number of product reviews, and more in showing you the ranked price compare list. You have to click to go to the compare price page and sort by total price to see the lowest cost website.
Alternatively, you could use PriceBlink. PriceBlink is a browser add-on that searches over 11,000 online stores to find you the best price. PriceBlink stays hidden until you are on a shopping site. Then, when you are on a purchase page for an item, it will automatically scan other sites and let you know if you can get that item cheaper somewhere else.
Recently, I was looking to purchase the complete box set of The Series of Unfortunate Events for my friend's son. They were some of my brother and my favorite books and great for reluctant readers. I first searched for them on Amazon, but the price was $108.82. PriceBlink found me a new set on eBay for over $45 less!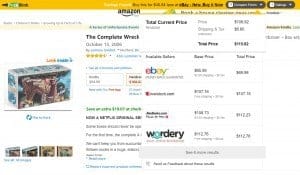 3 – Make sure you have the best discount offers!
There are many sites that show you coupon codes for shopping online. RetailMeNot, Coupons.com, Groupon, even Ebates! But how do you know you are seeing the best deal? Enter Honey!
Honey is a free plugin for Google Chrome that automatically finds the best coupon codes and adds them to your cart. All you have to do is have the plugin installed, then when you are in checkout, click the Honey plugin button in your toolbar. It will review your cart and add the coupon codes that will give you the most savings.
Personally, I hate searching for coupon codes. Before Honey, I just used whatever was available in Ebates. Sometimes, when I'm not on my home laptop, I still do. I hate when I find a coupon code on RetailMeNot and it is fake or expired. It seems like such a waste of time. But now, with Honey, adding codes is as simple as a click. With over 8,000 online stores in Honey's system, I never feel like I'm missing a deal!
4 – Don't get fooled by Amazon's changing prices!
Amazon regularly changes prices based on inventory, demand, and season; sometimes dramatically. If you are looking to purchase something on Amazon that you don't need immediately, make sure you aren't buying it at a peak pricing time!
camelcamelcamel is a website that tracks the pricing of Amazon products over time and helps you determine when it is best to make your purchase. You can then enter your email for that item to get notified of price drops or when the item hits your desired price.
Typically, I use this mostly for bigger ticket items or around major savings days, like Black Friday or Amazon Prime Days. I never want to buy something just because someone is telling me it is a great price, so I check on those sales days to make sure the "best price ever" is really the best price.
The other way to use camelcamelcamel is for items that you use regularly and can stock up on when prices are low. I use Amazon Subscribe & Save for the 20% discount on diapers, but this chart on the price variability of a case Huggies is a helpful guide. Over the last year, Fuss Fish's same diapers have ranged from $28.89 for a case to $48.49! You definitely wouldn't want to be buying at a price peak! I try to skip those months of my subscription.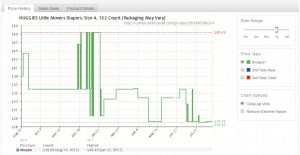 5 – Abandon cart!
When all else fails and you can't get the price you desire with the tips and tricks above, you can always abandon cart! Add the items you want to purchase to your cart, start the purchase process (the login or enter your email part), and exit the site. This serves two major savings purposes.
First, many sites have initiated "abandoned cart" savings, where 24 hours to one week after you leave your cart behind, they will email you and offer you a special discount for completing your order. This could help you reach a more desired price.
Second, abandoning your cart could make you think more closely about whether you really want that item. If a day or two after you leave the shopping site you forgot it was even there, it probably isn't something you really need or care about. The downside to online shopping's endless convenience is that it makes it too easy for us to pull the trigger. Make sure you're taking the time to consider whether you really need what you're purchasing.
Always get the most bang for your buck when shopping online!
Shopping online is so easy and convenient, but ensuring we are getting the best value online is simple as well. Overall, our biggest savings come from three browser plugins: Ebates, PriceBlink, and Honey. These three free services help me ensure I'm not paying more for the convenience of shopping from my couch. Make sure you're getting the best price too!
What is your favorite way to save money shopping online? Do you use any of the services or tips listed above? Share your tips in the comments so others can save more as well!