The grocery bill is the one part of our budget that I look at almost every month and cringe. I'm not a couponer, I find many things I purchase don't have regular coupons, and my meal planning commitment definitely ebbs and flows. So, when I heard about Ibotta I was skeptical at best. I figured I would download it, poke around, then never open it again. However, I could not have been more wrong! If you don't have the dedication to coupon or wish you could save a few bucks a week on your grocery bill, you need to download Ibotta today. Here's my honest Ibotta review, with details of what made me a flag-waving convert!
For a limited time, if you join Ibotta today you can get a $10 bonus! Not points or anything squishy like that, $10 of cash! Click here to join!
What is Ibotta?
Ibotta is a completely free cash back app that allows you to get rebates on items you purchase every day. While there are rebates on brand name items, like Newman's Salad Dressing or Bisquick Pancake Mix, you can also get rebates on generic or any brand items, even organic! Get cash back on milk, eggs, strawberries, cereal or more, regardless of its brand.
The best thing about Ibotta is that when they say cash back, they mean cash back. It isn't points or kicks or Chuck E. Cheese tickets. You get real cash back, within 24 hours of submitting your rebate, that you can easily transfer to your PayPal or Venmo account. If you don't use those services, you can also exchange your cash back for gift cards to Amazon, Whole Foods, Target, Walmart and more with no fee.
What made me love Ibotta, despite some initial skepticism?
I was skeptical of Ibotta when I first downloaded it. Yet, a few short months later, here I am singing its praises and telling you that you should download it now! So what about the app converted me?
It was so easy to use. 
The main reason I thought I wouldn't be a big Ibotta user is that I would forget to look for rebates before my husband hits the grocery store each week. And sometimes, I do totally forget. However, even when I don't pre-shop the app, when we scan our receipt Ibotta usually finds a few offers for us. It may only save us $1-$2, but that's a high return for the 10 seconds it takes me to scan the receipt!
Now that my husband has the app himself, he can scan the receipt as soon as he walks away from checkout in case we lose the receipt. I usually submit receipts as soon as I get in the car. Plus, for mobile app purchases like Amazon or Groupon, I can just click through from within the Ibotta app and not have to submit a receipt at all. 3%-5% back on Amazon pet purchases for our pup is a nice perk!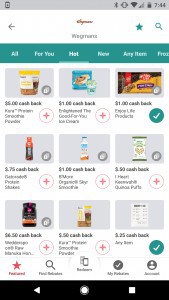 It's for more than grocery shopping. 
When I first downloaded Ibotta, I thought it would just be for grocery shopping. I wondered if an app that I would use about once a week would continue to make the cut on my phone. But, while groceries definitely are the focus of the app, they have added a number of other vendors as well. I've used offers at CVS, Jo-Ann Fabrics, Uber and Groupon. Just this weekend the app had a 10% cash back offer at Jo-Ann's! Paired with two 50% off in-store coupons, it made picking up some craft supplies for Fuss Fish super cheap!
Ibotta is also partnered with over 20 other mobile shopping apps to offer you cash back all the time. Rebates through mobile shopping partners are always on and can be used over and over! Some partners include Amazon, Uber, Groupon, Thrive Market, iTunes, Delivery.com, Jet, and eBay.
There are many opportunities to earn more. 
Ibotta always has a number of bonus promotions running to give you cash back above and beyond what you save on the items you purchase. Some of these are brand specific. For instance, you get $1 back on every Uber ride, but if you take 3 rides in July you get an extra $5 for a total of $8 in rebates. However, many are just based on your continued use of the app. This weekend I redeemed two rebates, one at Jo-Ann's and one at Wegmans. This earned me a "Weekend Warrior" bonus for an extra $2 in cash back. These bonuses are tracked automatically and placed in your account when they are completed, so while you can check for them in the "Bonuses" section, you won't miss out if you don't hit some super secret button.
You get bonuses for building your savings team! 
As many of you know, I think it is silly that we don't talk more about saving money and being financially responsible with our friends. So one of my favorite things about Ibotta is that you can earn extra bonuses by building your savings team and all redeeming rebates. You can connect your Ibotta app to Facebook to put your friends on your "team". Each month there are opportunities to earn extra bonuses, with multiple levels, if your team receives a certain dollar value of rebates.
I love the app and aim to redeem a few rebates each week. I think it would be amazing to have you on my savings team so we can earn together! You can join my team here!
Also, keep in mind that if you invite a friend to the app that redeems just one rebate, you get a $5 referral bonus and they get a $10 welcome bonus! Invite your spouse, parents, siblings, and friends to share the savings love and really grow your earnings!
How much do I really save?
This weekend alone I saved $6.22 from a Jo-Ann's run and a small "we ran out of eggs" grocery shop, along with that $2 Weekend Warrior bonus. Assuming I can continue to find rebates for brands that I use, which I have found to be the case, this would amount to $323 a year before team bonuses.
Even if you don't use the app as actively as me and only choose the "any brand" rebates, you could conservatively earn $2 in rebates a week or $104 a year! $104 is a pretty safe bet, as Ibotta states that their average user earns $20 a month, or $240 a year!
Keep in mind that my earnings don't include team bonuses, which can easily add $1-$5 a month to your pocket. It pays to be on an active team (which is why I would love for you to join my team!), both to earn more and help you find new ways to save in the app.
Ibotta is the perfect app for busy people
Using Ibotta takes me less than a few minutes a week. It is fast, easy, and has the incredible benefit of being completely contained to my smartphone. I don't have to worry about clipping coupons, remembering to bring them to the store, or catering my brand choices around a coupon.
Now, I don't mean to act like couponing doesn't have its place. I have a ton of respect for people who put in the time and effort to save with coupons. I am always shocked what real couponers grocery bills look like. But for me, I'm not willing to make the time for it in my schedule today. The mere thought overwhelms me. Probably not the most frugal thing, but with a full-time job, toddler, and blog, it is just where I'm at. If that sounds like you, Ibotta is the perfect app to help you get some cash back today!
If you already coupon, then Ibotta is the perfect add on to your store sales and coupons. Rebates are indifferent to what you pay for the product, just that you purchase them, so Ibotta is a great way to amp up your already stellar savings.
For a limited time, Ibotta is offering a $10 bonus when you submit your first rebate! Join with this link to grab your $10 today and let me help you earn more bonus cash through team savings!
Do you use Ibotta to earn cash back for regular purchases? What do you think of the app? Let me know in the comments!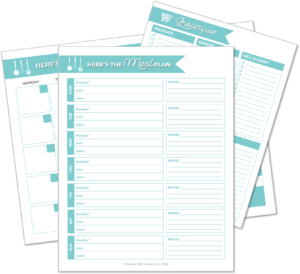 Grab Our Free Meal Planning Sheets!
Weekly & monthly meal planners and a simple grocery list to get a handle on your grocery budget.