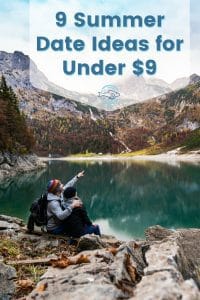 One of my favorite parts about summer is the multitude of cheap (or free!) date options. The beautiful weather is meant to be enjoyed, and so many outdoor activities are cheaper than the 'dinner and a movie' alternatives of winter. Even when you're on a tight budget, you want to invest in quality time with your spouse. So, to help you connect with your spouse on a budget, here are 9 of Daddy Fish and my top summer date ideas, all of which cost less than $9!
This post may contain affiliate links, for more information see my disclosure.
Cheap Summer Date Ideas
Almost every marriage counselor, couple's book, or lifestyle magazine will tell you the critical importance of date night. A study by the National Marriage Project at the University of Virginia found that husbands and wives who had couple time at least once a week were 3.5 times more likely to report being "very happy" in their marriages! Do you make time for date nights with your spouse?
Backyard Barbeque
The best part about having a 16-month old that goes to bed at 6:30 pm is that we always have a whole little evening to ourselves. In the summer, we love grilling and eating on the back deck after Fuss goes to bed. We can sit and chat without worrying about Fuss trying to crawl down the deck stairs or putting dirt from the garden bed down his shirt. Then, at dusk, we make a fire in our little fire pit and munch on a s'more or two. We don't have to go anywhere (or get a babysitter!), but it always feels a bit like our summer evening before kids!
Farmer's Market
I don't know about you, but I am a sucker for farmer's markets. The incredible fresh produce, local artisans, and great smells! Even though we already have a seasonal CSA, stopping by one of our local markets is a fantastic outing. We hold hands, stroll around, and pick up some fresh fruit or a baked good for a yummy snack. It is also one of the best places to pick up recipes! Chat with the farmers at each stand who will have some great ideas for all that arugula, beets, tomatoes, and kale.
Go Geocaching
Daddy Fish fancies himself quite the treasure hunter. Any show about shipwrecks and undersea treasure hunters has his attention. So when I discovered Geocaching a few years ago, I knew it would be right up his alley. I couldn't believe there were well over 2 million secret treasures hidden all over the world for players to find!
We went for the first time on his 30th birthday, but have since used geocaching to bring us out on fun hikes and city adventures together. If you've never checked it out, you should! Even if it feels silly at first, the excitement of finding that little cache gives childlike excitement every time. And if you find a small, cast acorn in your cache, Daddy Fish and I have been there!
Visit a New Museum
Did you know that your local library has free, or heavily discounted, museum passes? We didn't discover this until about two years ago, but our library has passes to 14 local zoos and museums! While we could technically use these passes any time of the year, we have found they are easier to get in the summer. Maybe it is that people are away on vacation, or that they want to stay outside, but in the summer we can almost reserve the one we want only a day or two before. A free museum visit, walking around in the AC, is a perfect summer date night!
Mini Golf or Driving Range
There isn't a more classic summer date night than mini golf! With all the technological advances of the last 20 years, most mini golf places near us haven't changed a bit. 18 mini holes always feels like stepping back in time. The blue water, windmill obstacle, and plastic greens are all you need for a little competition and a super fun night!
While mini golf at our local place is $9 per person, we can almost always find a buy-one-get-one coupon in the paper. And when we can't, a bucket of balls at the range is only $9!
Fly a Kite
Last year we were driving into Boston to pick up a friend from the airport when we saw a bunch of people in a local park flying kites. This spurred a discussion of how neither of us had flown a kite in years. So what could we do? We bought a kite and took it flying! It was a lot harder than we remembered, but so much fun. The difficulties meant lots of laughs and many cheers when we finally got it up in the air. (And, as Daddy Fish says, we need to get some practice if we want to teach Fuss in a few years!)
Go on a Bike Ride & Stop for Ice Cream
Ice cream is a delicious summer treat, but you don't exactly want to put on a few extra pounds during shorts and bathing suit season! So to offset those sweet calories, we try to walk or ride our bikes to our local ice cream shop. One of our favorite spots is actually about a half an hour away. It requires us to load the bikes onto the car rack and taking a drive, but it's a closed army base with lots of trails where we can ride without worrying about cars. If you don't bike often, or would just like a change of scenery, check out TrailLink to find some great options near you!
Picnic in a Botanical Garden
Picnics are a lot of fun and making sandwiches and treats at home first can make it a low-cost outing! My favorite place to have a picnic is a local botanical garden, surrounded by amazing flowers I would never be able to grow myself. They also tend to be quieter than a standard park which makes them great for some meaningful couple time.
At-Home Movie Theater Night
I couldn't put together a cheap date night list for any season without an at-home movie theater night. It is one of the easiest dates when you have young kids at home. Put them to bed, turn down the lights, and find a new movie on Netflix or Amazon Prime Video. Easy peasy! We've spiced it up by purchasing a Whirly-Pop machine to make fresh popcorn with real butter! It is infinitely better than any microwave popcorn we've found, and it is so fun to make together.
What is your favorite summer date with your spouse? Let me know in the comments! We are always looking for new ideas!