As a stay-at-home parent, you're responsible for spending the bulk of the money your family makes every week. From groceries and clothing to doctor visits and school fees, watching money leave your house without bringing any in can feel defeating.
But childcare is expensive, and many jobs don't offer paid parental or sick leave — making it essential for one parent to stay home. So what's a parent to do when the cost of living is rising and working outside the home isn't an option?  
Side hustle.
Gone are the days when your only hope to make money at home is hopping on the multi-level marketing bandwagon or crocheting hats to sell on Etsy. You can make consistent side income at home while keeping an eye on your little ones.
Here are some of my favorites that stay-at-home moms and dads alike will enjoy.
1 – Retail Arbitrage
You're shopping at a retail store, like Target, and you find the deal of the century. You want to buy the whole lot, but — for no lack of effort — you can't think of where in your home you'd put 15 spare ceramic vases.
What if you could buy those clearance-priced products, sell them for full price and pocket a percentage of the difference?
It's called retail arbitrage. Amazon's Fulfillment by Amazon makes it easy. You can send in your extra products, and FBA takes care of the listing, shipping, payments and returns, leaving you free to find more sweet deals.
2 – Freelancing
Don't let your education and experience languish in poopy diapers and tantrums. Keep your skills fresh and lucrative by freelancing. Some options are website design, graphic design, content writing, voice-over work, and bookkeeping.
You can use sites like UpWork, Fiverr and 99designs to offer your services. Facebook and the app NextDoor are also great places to find referrals.
Note from Chelsea: In addition to running Mama Fish Saves, I am a freelance writer. I booked my first job two days after sending out pitches and think it is one of the best ways to earn money online. I bought the course Earn More Writing by Holly Porter Johnson to get started and it paid itself back in one week! Holly makes over $200,000 just from freelance writing from home. I highly recommend her course!
3 – Thrift Store Flipping
You don't have to limit this to thrift stores. Really anywhere you can tote kids along works. Yard sales, flea markets, and Craigslist curb alerts are great places to get cheap or free items to flip on eBay, Amazon or Facebook Marketplace.
HGTV has some tips to make the most of your flipped finds. The key is to do your research and start small. Check recently sold items on OfferUp and eBay then use that as inspiration for you flips. Design what sells versus what you prefer, when you establish yourself you can take more creative freedom.
4 – Rent Out Baby Gear
Have you ever traveled with your kids and dreaded the inevitable equipment haul? So have other people. That's why Natalie Kaminski started goBaby, an Airbnb-style baby-gear rental service for traveling parents. The app currently has inventory in 27 states around the U.S.
I love this idea because it's such a passive way to earn income. Someone is using your old stuff that would otherwise just be sitting there, and you get paid.
5 – Being a Virtual Assistant
With the rise of online entrepreneurship, even if you don't want to start your own business, you can help someone who's doing well in theirs. You don't need any particular degree or training to do most virtual assistant jobs, just a computer and willingness to learn.
You can find opportunities through VA companies such as BELAY or go out on your own through UpWork.
Another note! If you are interested in becoming a virtual assistant but aren't sure what services you could offer my friend Gina Horkey has a free list of 150+ VA services to offer! She also offers a fantastic course on earning money as a virtual assistant in only 30 days! She has years of virtual assistant experience and has coached hundreds of people on how to follow in her steps.
6 – Teaching English Online
If you have a bachelor's degree and at least one year of teaching experience, VIPKID is a great at-home income opportunity. Teaching English online to students in China means classes are early in the morning or late at night.
You will have to invest in a good headset microphone. You can work as little as 7 ½ hours per week and make $14-$22 per hour while the kids are sleeping. So no more cramming work into unpredictable nap times.
7 – Child Care
If you've already got a few, what's a few more? Offering after-school care or watching someone's baby to give them a few hours off can bring in steady extra income without the commitment of nannying. It's also entertainment for your own kids!
Start by pricing out after-school care and nannying prices in your area, and ask friends if they'd let you watch their kids for cheaper. Or charge the same price, and offer an extra perk like dropping them off at home.
8 – Laundry Service
What's your least favorite mind-numbing chore? If you said anything other than laundry, I don't understand you. But lucky for your kind, a ton of people hate or don't have time for laundry.
Offer to wash and fold theirs for a fee, and you'll have strangers lining up at your doorstep with their unmentionables.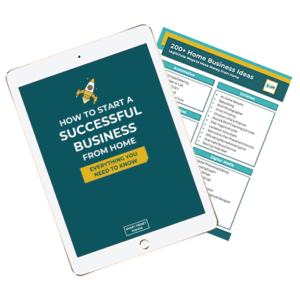 Want to Start a Business?
Download over 200 at-home business ideas with our complete guide on starting a profitable business!
Pick a Side Hustle
Whatever you choose to do, don't be overwhelmed at the thought of juggling everything. With so many options, it's easy to become paralyzed figuring out which side hustle is best.
Pick one and get started. The flexibility of these side jobs means you can stop if you don't like it or pause if life gets crazy.
Challenge yourself to pay your grocery bill with your side hustle, and see where it takes you.
Jen Smith is a contributor to The Penny Hoarder, one of the largest personal finance websites with more than 19 million monthly readers. In 2017, the Inc. 5000 ranked The Penny Hoarder the 25th fastest-growing private company and the No. 1 fastest-growing private media company in the United States.
Do any of these side hustles seem interesting to you? How do you balance caring for your kids from home and making money? Comment to share your ideas!