Is getting life insurance on your to-do list? If someone relies on your income, or you're a stay-at-home mom, it certainly should be! Luckily, you can buy life insurance online and all you need to do to get started is fill out a 10-minute application.
You read that right. An hour-long conversation with an agent isn't required to get life insurance. (Though unless you're in excellent health, you will probably need a quick health exam.)
Before you start, you'll want to determine how much life insurance you'll need. There are many rules of thumb, but they won't do a great job predicting your family's needs. Instead, take a few minutes to consider a few quick questions and work through our life insurance worksheet.
For most families, term life insurance is the best option. It's affordable and offers coverage when your family needs it most. And it's also easy to get online thanks to new underwriting algorithms.
The site or company that's best for you will depend on your situation and the coverage you're looking for. Let's take a look at the best places to get life insurance online.
Haven Life
Products Offered: Term life insurance
Term Options: 10, 15, 20, and 30 years
Coverage: Up to $3 million for adults under 60, up to $1 million for those ages 60-64
Age Availability: 18-64
Medical Exam Required: Yes, though those in excellent health may be exempt
Policies Issued By: MassMutual
Haven Life offers coverage up to $3 million for those under 60 years old and has a variety of term options.
They also have a couple of options when it comes to riders. They offer an accelerated death benefit rider and a waiver of premium rider, which allows for a 6-month premium free period if you get injured or temporarily can't work). A policy with Haven Life comes with an online will writing tool and an online safe deposit box service.
The application process takes about 25 minutes.
If you're under 59 years old, you can get up to $1 million in coverage that starts immediately. Haven Life also has a 10-day trial period, giving you some extra time to review their service and cancel your policy if you find a better fit.
Apply today and get coverage that starts immediately – you can even take time to shop around while you're already covered!
Bestow
Products Offered: Term Life Insurance
Term Options: 2-, 10- and 20-year term
Coverage: Up to $500,000 for 2-year term, up to $1 million for 10- and 20-year term
Age Availability: 45 or younger for a 20-year term, 55 or younger for 2- or 10-year term
Medical Exam Required: No
Policies Issued By: North American Company for Life and Health Insurance
Bestow offers up to $1 million of coverage for 10- or 20-year terms. A 2-year term policy is also available for up to $500,000 of coverage.
Two-year terms are rare and could be a good route if you're unsure about your needs but want to put something in place now. Bestow also offers a 30-day money-back guarantee so you have extra time to make sure the policy you get is the best one for you.
You can apply for coverage and receive an approval within 10 minutes. There aren't options for riders and their age limits are more restrictive than other sites. They also don't offer a 30-year term policy, which is one of the most common policies.
Ladder
Products Offered: Term Life Insurance
Term Options: 10, 15, 20, 25, or 30 years
Coverage: $100,000 – $8 Million
Age Availability: 20-60
Medical Exam Required: Yes, though those in excellent health may be exempt
Policies Issued by: Fidelity Security Life Insurance Co.
Ladder offers life insurance coverage up to $8 million and has the most options for term length. They also have adjustable coverage, allowing you to increase or decrease your policy online as your needs change.
This is great for people who may need more flexibility in their coverage, to accommodate for changing family size or other circumstances.
The application process is fast (15-20 minutes) and you won't find extra fees. However, if you're looking for a rider, you'll have to look elsewhere because they don't offer any.
Ethos
Products Offered: Term Life Insurance
Term Options: 10,15, 20, and 30 years
Coverage: $25,000- $10 million
Age Availability: 18-75
Medical Exam Required: Possibly, if the policy is over $1 million or you have health issues.
Policy issued by: Assurity Life Insurance Company
Ethos comes in at the top coverage level available with up to $10 million of life insurance. Ethos is also available to the oldest customers, with an upper age limit of 75 years of age.
Other bonuses include the availability of riders, such as a critical illness rider. Like most of the websites on this list, the application process is fast (10 minutes) and there aren't extra fees.
Ethos has limited customer support and an impersonal claims process. The only way to submit a claim is via email which might not be a good fit for some folks.
You can visit their site for more information and apply for a life insurance policy from Ethos online today.
Policygenius
The four companies above are great sources of affordable term life insurance. But one downside is that each of those sites only provides quotes from their own company. And when it comes to life insurance, especially if you have health issues, you may want to shop around.
This is where comparison sites are helpful. And of comparison sites, Policygenius is the best of the best. It allows you to quickly look at different companies, policies, and quotes side-by-side to make the best decision for your family. It also owns the process start to finish, instead of sending your info out to other companies. This is important, since other comparison sites distribute your info to dozens of potential insurance companies, crowding your inbox or resulting in lots of phone calls.
Policygenius is easy to use, has excellent support, and can get you estimated quotes quickly with limited personal information. Just remember, if you decide to move forward the application process you will have to add some more info about your history.
Once you finish your application, you will see real quotes and policy options from different life insurance companies. You can select the one that looks best to you. And finish purchasing the policy directly from Policygenius, at no extra cost to you!
Policygenius has recently added Brighthouse SimplySelect, a term life insurance policy for healthy individuals aged 25 to 50 that doesn't require you to go to a doctor. Using accelerated underwriting (fully underwritten, as opposed to some no-med policies that limit coverage levels and are higher cost) you can complete your health exam over the phone in about 10-15 minutes.
Shop for the best term life insurance policy for your family with Policygenius today!
Are You Protecting What Matters Most?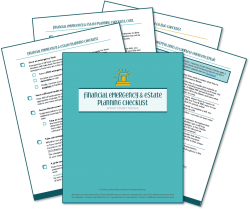 Grab our free Financial Emergency & Estate Planning Checklist to make sure you're prepared for anything life may throw at you!
No More Excuses. It's Time to Get Life Insurance!
Has "get life insurance" sat untouched on your to-do list? If so, that's okay. But, as you can see, there are many simple websites you can use to find the right life insurance policy for you.
I can't emphasize enough how important it is to spend 15-20 minutes on this. Not only will it reduce your stress knowing you've taken care of this important task, but it is also crucial for the financial security of your family.
If you still feel overwhelmed, start with the worksheet here, figure out your needs, and then get a policy in place!