Have you ever seen those adorable kids on Shark Tank and thought, "What unique and talented people! I wish I had that ingenuity when I was 10!"
Me too.
But what differentiates those kids isn't just natural talent. It's supportive parents, grit, an incentive that moves them forward, lessons about money and business that start young.
All things your kids could have too.
Maybe your child won't end up on Shark Tank. Maybe they won't grow up to become full-time entrepreneurs. It's not a life built for everyone. But the skills they will develop from trying?
Those are lessons every child should have the chance to learn.
Giving your daughter or son the opportunity to start a business – no matter how large or small – will let them develop independence, grit, and money and business skills. And, most of all, they will learn to see themselves as capable and driven individuals who can set goals and achieve them.
It was these beliefs about the benefits of entrepreneurship that led my friend, Leah Remillet, to encourage her children to start their own businesses. Leah's oldest daughter runs a babysitting agency, her son has an incredible drone photography business, and her youngest daughter runs an Etsy shop. And seeing the impact it had on their young lives, Leah knew she had to share her lessons and skills with as many kids as possible.
That's why she created her incredible online course, The CEO Kid.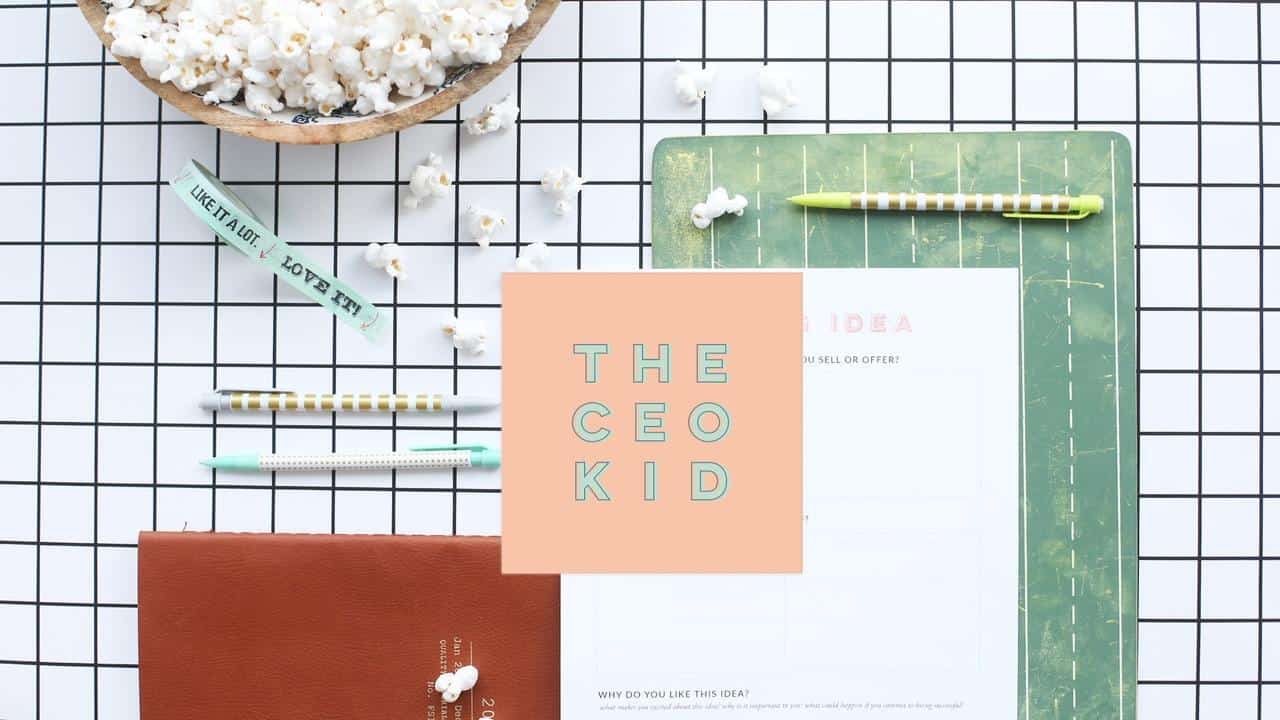 What is The CEO Kid?
The CEO Kid is an online course that helps kids aged 10 to 15 (though there are some younger students!) go from a big idea to a living business.
The course is broken into powerful, bite-sized videos with simple worksheets to help kids think through their idea like a seasoned entrepreneur. They will learn how to define their customer, determine their marketing and branding strategy, create an amazing customer experience, and set prices profitably.
The CEO Kid is a course designed for any child who has ever asked to have a lemonade stand, sell handmade bracelets door-to-door, or who seems curious about business. It's also the perfect way to build business education into their learning experience.
The course itself is just $49 – a steal of an investment in your child's financial education. But you can also get the course and an entrepreneurial Biz Box to help your kids through the course for just $79. Click here to learn more about The CEO Kid and register your young CEO!
Who is the Instructor, Leah Remillét?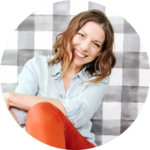 Leah Remillét is a business success strategist who has helped businesses all around the world thrive. She's an international speaker and trainer specializing in growth without compromise and has built four successful businesses, both online and offline.
Leah is fun, passionate, and on a mission to boldly inspire thriving, happy families. One of my favorite parts of The CEO Kid is that Leah is so passionate about helping kids find their confidence, in business and in life. She makes entrepreneurship approachable and fun!
City girl turned mountain-dweller, Leah lives in a little Bavarian town in the mountains of Washington state with her husband, and their three incredible kiddos. (Who all have little businesses of their own!)
What Will My Kids Learn in The CEO Kid?
Good question!
In The CEO Kid, your child will learn how to take their idea from random thought to full-fledged business.
Students in The CEO Kid will learn how to identify and clarify their idea, build a positive customer experience, create a well-thought-out marketing plan (starting with ways they can market for free!), how to set prices, effective goal setting and so much more.
The CEO Kid breaks down complicated concepts – like profit margin and price-setting – into bite-sized, powerful lessons that even a 10-year-old can easily understand. These are concepts that are crucial to success in business, yet plenty of adults wading into entrepreneurship haven't been taught this lesson in such a clear and approachable way.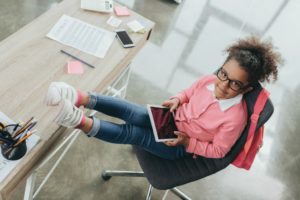 Your kids will walk away from The CEO Kid not only empowered about their own business, but looking at every business they walk into differently. They'll think more carefully about what makes businesses profitable, what it means to offer a positive customer experience, and with a better understanding of the value of every dollar they earn or spend.
Why Do You Recommend The CEO Kid For All Kids?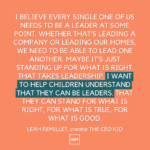 Because the basics of business is a lesson everyone should learn, and not many can teach it in a way that is as fun and as effective as Leah does in The CEO Kid.
Not every child will grow up to be an entrepreneur. But they will work for businesses, strive for promotions and increased leadership, interact with businesses as a consumer. It's part of everyday life as an adult and understanding how it all works – what drives success for the company your child works for or the company they run – will give them the elements of personal success. When they walk in to ask for a raise, they'll know exactly how their work benefits the business and what they're worth.
And Leah's videos on branding and social media? Pure gold. Every kid reaching the age of getting their first social media accounts should have to watch that video. Leah teaches The CEO Kid students how to identify their personal values and consider how any post, photo, or comment would align with those values. It's not just about branding or business reputation, it's about positive behavior and reputation management as a budding adult. All without sounding like she's lecturing or talking down to the kids going through the course. In terms of life lessons, I think that video alone would be worth the price of admission to many parents.
Sign Your Kids Up to Become CEO Kids Today!
If someday your child does choose to become an entrepreneur? Let them make mistakes, develop ideas, learn and fail while the stakes are low. When they're risking a $40 investment and not a $20,000 one when they're older and have adult responsibilities. The CEO Kid will give them the tools they need to succeed.
Plus, letting kids explore their creativity, take something from the idea stage to experiencing the joy of their first sale? That's just fun.
Has your child ever shown an interest in starting their own business? What ideas could you help them nurture with The CEO Kid course? Share in the comments!