This past December, eight months pregnant with our second child, propped up on a hospital bed, I signed the paperwork to officially leave my job. As the sole breadwinner, this should have been terrifying. But honestly, I felt for the first time in years like I was making a career move that was best for my family and my health. Ten minutes after signing the paperwork, I submitted the forms to create Mama Fish Saves, LLC. We were starting an exciting two-year journey.
Because my prior employer is pretty darn cool, I'm technically under contract with them through July. They agreed to pay me through my maternity leave even though I didn't plan to return. (If they hadn't, I probably wouldn't be sitting here writing this because health insurance is expensive.) Until my contract is up, I'm not going to write my manifesto on why I left my lucrative finance career. But, I didn't want to skip sharing the first six-months of our new journey with everyone. That is a quarter of the experiment!
So, in advance of the Q1'2018 blog and online income report for Mama Fish Saves going live next week, here is the scoop behind the goals of our two-year online income experiment.
Related content: Celebrating One Year of Mama Fish Saves
What the Heck Are We Doing?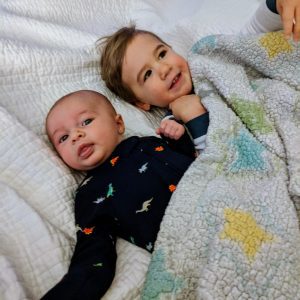 After starting Mama Fish, it didn't take long for my husband and me to realize that I had tapped into a passion. I loved the writing. Speaking to readers always put a smile on my face. And I got excited discovering the personal finance blogging community. I had found a money nerd tribe!
Seeing my excitement, my husband started to ask if this was something I could realistically do full-time. I began to dream about seeing my son for more than 30 minutes on a workday. And eventually, I broke out the spreadsheets.
My husband and I have saved 50%-70% of my pre-tax income since I started working. We aren't financially independent yet, but we are at a coast level. If we didn't put another dime into our retirement accounts, we could still early retire comfortably at 45.
This gives us an incredible amount of options. Despite my natural (compulsive) saver tendencies, I realized that we didn't need my substantial income to live comfortably. We could do well on less. And I could, potentially, build that income from blogging and freelance writing. I wanted to give it a shot.
We have enough cash set aside to give us living expenses – including health insurance (jeez, that's expensive) – through March 2020.
I have two years to take my online income from zero to a full-time equivalent. Otherwise, it is back to traditional employment for either Daddy Fish or me. Womp, womp.
How Will We Get There?
There are two branches of my online income tree. Let's break them down!
The first branch is freelance writing. Did you expect it to be blogging? I wish. But the truth is, my family does depend on my income. And while blogging can be a great way to make money online, it takes time. Freelancing is hard, but it is faster. It will allow me to build a solid foundation of income while I continue to develop Mama Fish Saves.
Which makes the second branch – you guessed it! – blogging and Mama Fish Saves. I want to continue to build the site and inspire more people to feel confident about their finances. How long it will take to become profitable, if it ever does, is still a mystery to me. But for the next two years, I'm going to do the work to find out.
Related content: How to Start a Blog the Easy Way
Why am I Sharing This Story?
Not everyone can just quit their job to build a business. But I believe everyone can earn an income online. There are money-making options for a wide range of skills and, if you are willing to put in the work, you can achieve great things. (If I didn't think that, it would have been pretty silly to leave my job.)
I hope that sharing all the gory details of my journey will allow others to see what it is really like to work online, from home. And to show how others can do it too. Here is what I will be sharing in my quarterly income and progress reports, as well as many other blog posts on the site:
What strategies, courses, tools, and more are working (or not working) for me.
Balancing motherhood and working from home.
Exactly how much money I am making and how.
With a growing freelance economy, remote work, and endless options for online entrepreneurship, the need of a job should not hold you back from living your best life. You can create your own financial freedom.
Two Year Goals
Alright, alright. Let's get down to the nitty-gritty. What do I need to achieve for this experiment to be a success? Well, it really comes down to two key things.
Goal 1: Revenue of $12,000 a month
This is a huge goal. Especially considering that in my first year of blogging the site made $284 a month. And on a profit basis, it lost over $300. Frankly, just looking at that number scares me a bit.
But this rate would cover all our expenses while we rent our next house in Connecticut. Once we find our forever home in the next two to three years, we plan to pay cash. Yay! At that point, this rate will put us back on the path of saving 30% of our income and hopefully pull our financial independence target forward from 45.
Freelancing will be a big piece of the puzzle here. But, if I'm honest, I really want Mama Fish Saves to become one of those big-name blogs. Helping people improve their finances and businesses so they can stress less about money is what I love.
I will share my revenue progress, along with all associated expenses, each quarter in a blog and online income report. I'll share the details of what I have done that quarter, what is and isn't working, and my goals.
But speaking of stress…
Goal 2: Improved health and reduced stress
This isn't a SMART goal. How I measure progress is probably going to change quarter-to-quarter. (Right now, I'm working on losing that pregnancy weight, oof!) But it is one of the biggest reasons my family is on this journey.
I want to live a long, healthy life. When my boys are parents someday, I want to be as energetic and youthful as my mom is now. However, stress over the last several years (with an assist from two pregnancies), has moved me farther from that goal.
If two years from now I have hit Goal 1 but am spending every day panicked about an irregular income, I'll go back to traditional employment. I truly believe stress, more than anything else, is killing us. I am going to make a real effort to reduce it in my life.
These next two years I need to commit to the business. But I am not planning on trading burn-out for burn-out.
Where Will You Be in Two Years?
Life comes at you fast. Two years ago, I didn't know people made money blogging. I had certainly never heard of freelance writing. Not as a viable career option, anyway. My husband and I were droopy eyed and in love with our seven-week-old baby boy. I had never seriously considered leaving my career.
Where will we be in two years? It is impossible to know. But I've got big dreams! And I hope you'll follow along on the journey!
Where do you want to be in two years? Do you have big goals you are working towards? Let me know so we can keep each other on track!