This weekend was officially my one-year blogging anniversary here at Mama Fish Saves. Time in the blogging world feels a little bit like time as a parent. I both can't believe it has already been a year, and am shocked that it has only been a year. This site has led to some incredible changes and opportunities in my life. Things I never imagined when I started Mama Fish Saves that snowy day last February.
So today, I wanted to take a moment to reflect back on the last year and give readers (and other bloggers!) some transparent, real-life insight into my experience. Why did I start? What happened? And where is this site headed? Without further ado, let's dive in!
Pssstt! This is a long post. I had so much to share about my blogging experiences so far! But don't miss the end where I'm announcing some special events and giveaways in celebration of the first year of Mama Fish Saves!
Why I Started Mama Fish Saves
I have been fascinated by money since I was a pre-teen. I was the weird 13-year-old reading books written by economists and professional investors. The first thing I did when I got my first job was save up to open a Vanguard account. Like I said, weird.
But in high school and college, I faced the pull between pursuing teaching or heading to Wall Street. The intellectual challenge of a finance career was incredibly appealing (and the money didn't hurt!), but I also wanted to help people. Fast forward to graduation, when Wall Street won out, and I headed to Goldman Sachs to work as a financial analyst.
Every year or two in my finance career, I considered leaving. I wanted to help people on the personal side of money, and I didn't feel like that was happening. These feelings only grew after Fuss Fish was born and heading to my job (no longer at Goldman, I had moved on to a hedge fund in Boston) meant only seeing him for about 30 minutes a day during the week. I was successful but unfulfilled. Something had to change.
Starting Mama Fish Saves
One year ago, a snowstorm hit Boston and I was stuck home from work. My husband and I were discussing my general malaise in my career. As a breadwinning mom, I couldn't just up and quit. We talked about my husband going back to work, entrepreneurship opportunities, and potential new career ideas. Until something struck me. What if I started a blog?
Now, let's be clear, I didn't know anything about blogging. I didn't realize people made real money at it. All I wanted was an outlet. A way to pursue something I loved, talking about personal finance, as a hobby while my husband and I figured out our next steps. I thought just helping a few people get a little bit better with money would feel incredible. (Spoiler alert – it totally does!)
I jumped on Facebook and asked my beloved mom group for blog name ideas. We settled on Mama Fish Saves. Then they sent me 47 (no joke!) unique questions they had about money. Just a few hours later, I had started a blog. Mama Fish Saves was born.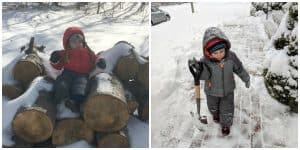 What I've Learned in My First Year
To say the last year has been a whirlwind is nothing short of an understatement. The goals I researched and set for my first year seem laughably easy now. Mama Fish Saves is far from some traffic and income powerhouse (I was definitely in the red for year one), but I've learned what is possible. And I'm going to run after it.
I could write thousands and thousands of words on what I have learned in my first year. Easy to do when I started out knowing nothing. So I won't dive into the nitty, gritty details of WordPress, SEO, Pinterest, email marketing, etc. here. Instead, here are the top three things I've learned about blogging, and about myself, in my first year.
1. Blogging takes a ridiculous amount of time.
When I started Mama Fish Saves, I naively thought blogging meant writing content, sharing it on a few social media platforms, lather, rinse, repeat. Ha! I quickly learned that there is so much more to blogging than writing content.
I maybe spend 20%-25% of my time writing the content. Then I have to commit time to creating high-quality images to share on social media and Pinterest, interact with bloggers and other readers, write email newsletters, respond to emails, take courses and more. Even when working full-time, I was committing 25-30 hours a week to the blog. And that wasn't about trying to create a profitable site. I was just trying to build a small following!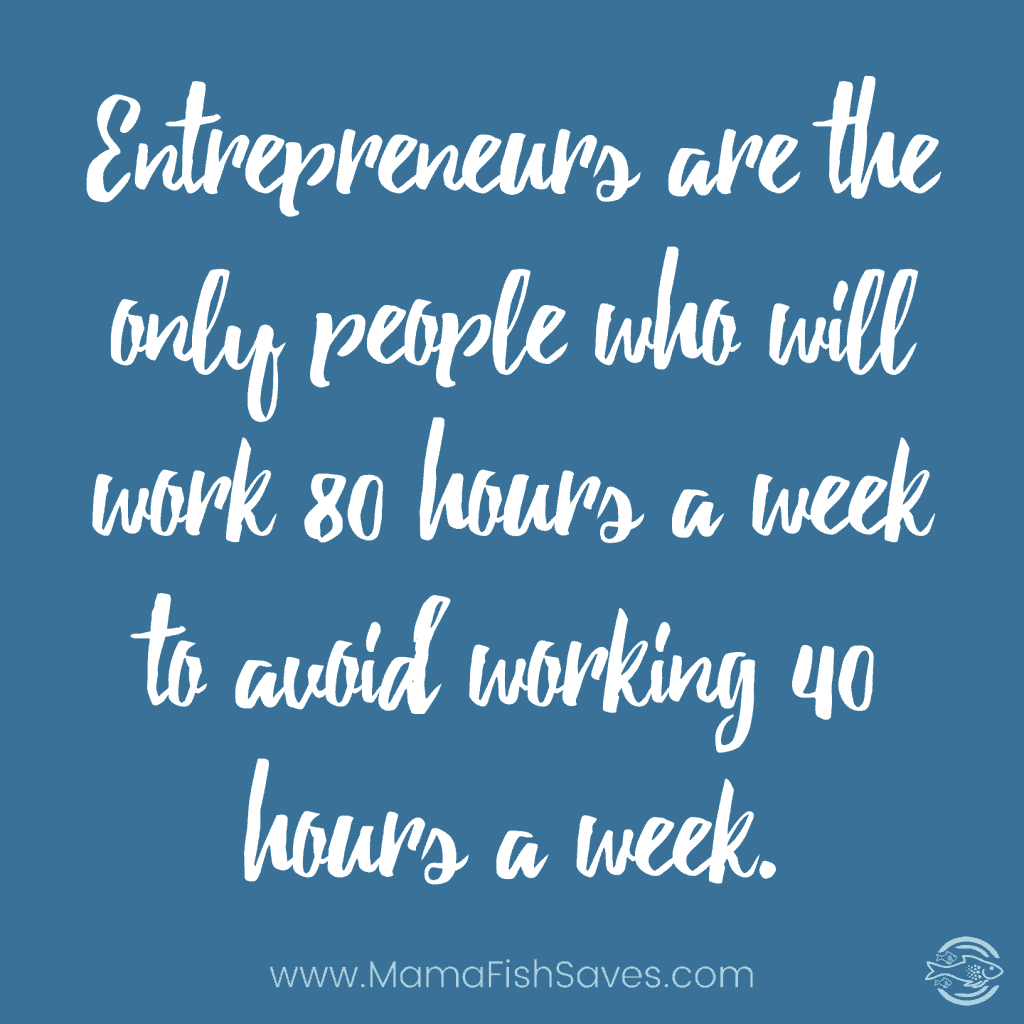 A few months in, I faced some personal challenges. I got pregnant with Baby Minnow and did not have the smooth, fun pregnancy I had with his brother. First, I had insane morning sickness, then had herniated discs in my back that prevented me from sitting at a desk for long periods for over three months, and finally, my water broke at only 32 weeks, resulting in a 10-day hospital stay in December. (Don't worry! Baby Minnow ended up staying put until 39 weeks and was born happy and healthy!)
This all meant significantly less time spent on the blog as I hustled to keep up at the office and focus on my health. I watched blog traffic and performance fall off which was frustrating. That's when I truly realized how blogging isn't something you can coast at. Performance correlates perfectly with focused hours put in and content generated.
2. Focus on the readers. Give them the experience you would want.
Given my total lack of knowledge starting out, I spent a lot of time reading content from other bloggers on how to grow your site. Things about getting people on your email list, increasing traffic, and making money on a small blog. Unfortunately, this led me to test out a few things I later regretted. For example…
Email list pop-ups – Ew! So many bloggers say that while email list pop-ups are annoying, they are alright to have because (1) they work and (2) everyone has them, so readers expect them. And maybe that's true. But I hate them when I land on other websites. I hated them even more when I saw them on my own site. Over time, I started to wonder if I hated them so much, how could readers possibly look past it?
Two months ago, I took all pop-ups off my site and my time on site went up. My suspicion? Fewer people are bailing out when that pop-up arrives. And lo and behold, my email list is still growing.
Display advertisements – No thanks. In month 8 I applied for Google Adsense and put display advertisements on my blog. Once again, the rationale I read was one of rationalization. Readers expect ads on websites, it won't make much money now, but your readers will be used to it when you're bigger and have more traffic, on and on.
In four months, I made $119 from the ads on my site. But my site speed also slowed down. And I wondered what ads people possibly saw that I didn't agree with. So, I took down the ads and went back to a cleaner website.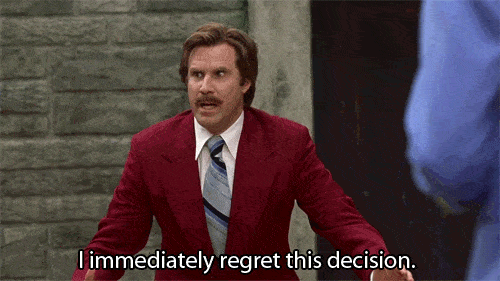 "Everyone is doing it," isn't a good reason to do something.
From now on, before I do anything on Mama Fish Saves, I'm going to think hard about how I would feel seeing it on another site. Yes, choosing not to have pop-ups or ads may mean slower growth or less revenue. But I'm hoping focusing on a better reader experience will benefit me over time.
3. This is what I was meant to do.
I started Mama Fish Saves as a hobby. I never meant to make money at it (so far, mission accomplished there). But I genuinely love it. Writing makes me happy. I find talking about personal finance way more fulfilling than managing investment portfolios. Interacting with readers, answering their questions and celebrating with them when they reach a goal makes me want to dance. And who can beat being able to take a break from work to have lunch with Fuss Fish every afternoon? Sure, Pinterest makes me want to slam my head against a wall. But nothing is perfect!
I am now a full-time blogger and freelance writer!
After all my health complications this year and my continued lack of enjoyment of my hedge fund job, my husband and I decided that I would not return to my prior career after my maternity leave. My focus will be growing Mama Fish Saves and expanding my client base for personal finance writing.
We have worked hard and consistently saved 50%-70% of our income since I started work, which puts our retirement savings at a "coast" level. My annual bonus from 2017 and my pay through maternity leave gives us almost two-years of living expenses. This means my husband can remain a stay-at-home dad while I focus on building a business. This cushion is the mega-gift that over seven years in the finance world has given us. I plan to make the most of it!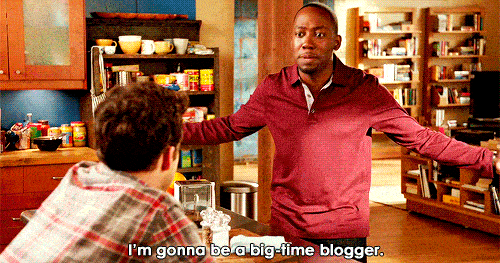 If you told me a year ago that I would have left my six-figure job to build a business from home, I would have laughed at you. Taking risk is generally not my forte. But blogging has introduced me to some incredible people who showed me what was possible. I know that if I put in the work I can create the life my family and I really want. That is more than worth the risk.
Highlights from Year One
Remember when I said that Mama Fish Saves blew past my early goals? How during my first year I got a taste of what was really possible with blogging? Well, here is what I meant!
Mama Fish Saves reached over 65,000 unique readers who spent over 1,770 hours reading the site. This seems incredible to me!
I was one of five finalists for the 8th annual PLUTUS awards for Best Family Finance Blog. Still having trouble believing that one!
I was featured on Rockstar Finance twice for my posts Why You Should Invest, Even in Peak Markets and How to Know Your Target Retirement Savings Rate. There is nothing like a Rockstar Feature for traffic!
I received a personal e-mail from Taylor Larimore, "The King of the Bogleheads" and author of The Bogleheads' Guide to Investing, complimenting me on my article about his favorite Three-Fund Portfolio! He even added a link to my post to the Bogleheads' thread on the three-fund portfolio!

To be totally honest, I seriously considered the possibility of this being some well-done spam email before responding. I just couldn't believe it. Trading a few emails with Taylor is possibly the giddiest I was all year.

I wrote a guest post for Budgets are Sexy about what I learned working on Wall Street and the post was picked up by Business Insider!
One Year Stats: Nitty Gritty Numbers
In the first six-months of Mama Fish Saves, I published monthly traffic and income reports. (You can see my month 1 report here!) I love reading the income reports of other bloggers and thought some insight into an early blog might be helpful for my fellow newbies. I ended up stopping because I was concerned about how it might look to my former employer. The site was a hobby, but I knew it wouldn't look that way if I were regularly publishing income (loss) reports!
BUT now that I am blogging full-time, I want to bring the transparency back. I am going to publish quarterly traffic and income reports from now on. So, to get everyone up to speed before the first quarter 2018 post, here are all the stats from my first year!
Posts – 144
I published a post every day in my first month of blogging to build a solid content library. Then, I lowered my post schedule to three times a week to maintain my sanity. This gave me a good rhythm of posting Monday, Wednesday, Friday until the impacts of my health stepped in. From September until recently, I was only posting once a week on Mondays.
Posting more definitely improves traffic. My goal for year two is to publish a new post at least twice a week. This is a compromise to give myself sufficient time to promote those posts while still generating high-quality content. Who wants to promote crappy posts?
Traffic – 125.2K pageviews | 85.7K sessions
Blog traffic forces you to face how you're doing, good or bad. I was getting some solid momentum on pageviews in my first four months of the blog and then saw things taper off as my health issues meant less time committed to the site.
However, the final quarter showed some real positive momentum. In early December, I decided to actually commit some time to Pinterest, which really boosted traffic! I took a course on creating attractive pins called The Perfect Pin and one on pinning strategy called Pinteresting Strategies, both of which I highly recommend! I'm still working on perfecting my plan there, but I definitely will keep working on it going forward.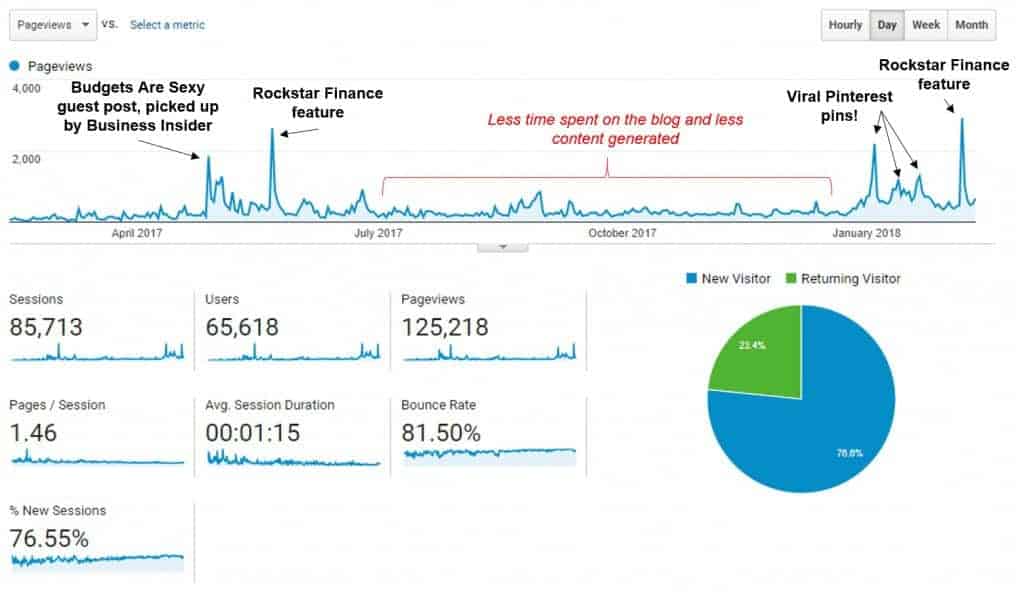 While the Google Analytics chart is great for transparency, it is pretty hard to see how things went month-to-month. Below is the pageview data for the first year, broken down by month.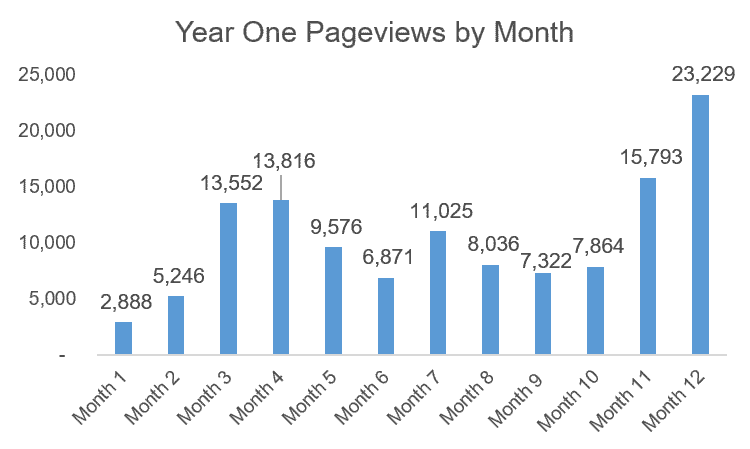 Email Subscribers – 2,286 subscribers!
My original year one goal was to have at least 500 email subscribers. Mission accomplished. But given that I reached that goal in the first six months, I had reset my target to 3,500 subscribers. Only to then mostly ignore building my list for the rest of the year. Oops.
I switched from the free MailChimp service to ConvertKit in early May. I love the tools ConvertKit offers to segment lists, tag subscribers based on interest, their "sequence" option to send a series of emails to a subscriber for different challenges/courses, and their new automation feature. All this was definitely worth the cost for me.
Below you can see my email list growth over time from ConvertKit, as well as what droves the spikes in subscribers. In general, I only average 1-3 new subscribers per day unless I've come out with a new freebie (you can get all my freebie worksheets and printables in the Freebie Library). Plus, I regularly get unsubscribes from my list.

My 30-day $500 Savings Challenge has been a very popular opt-in both times I ran the challenge. I am considering making it an evergreen freebie that people can take at any time, and then run it as a group event to kick off every year. But that is still in development!
Net Income –

($4,419)
Before we get started here, I want to emphasize that you do not need to spend a lot of money to start a blog. Hosting and a domain name is all you need. There are free website themes, free tools and plugins, and plenty of free advice online to get you started. I had budgeted for some more significant start-up expenses, which did lead to some overspending. Keep that in mind as you read below!
Revenue –

$3,284
Monetizing Mama Fish Saves gives me some pretty serious anxiety. My focus when starting the site was to help people, so I won't advertise sub-par products or become super spammy. I didn't even attempt to try and make money until the last few months. And even then, two-thirds of my revenue came from freelance writing as opposed to revenue directly from the blog. Here's how it broke down:
My biggest affiliates were Personal Capital, Ebates, Ibotta, FamZoo, and The Perfect Pin (a course on making attractive Pinterest images). I've started to add some more affiliate links to the site, but haven't done a full "launch" for any products or courses.
Since freelance writing will be a big part of my revenue and focus going forward, I will include it in these reports. I started pursuing freelance opportunities in mid-December, so this is the revenue from my first two months of work. While it isn't technically revenue from the site, running Mama Fish Saves and having the social media following does help me find and secure clients.
Expenses –

($8,153)
I chose to seed Mama Fish Saves with some investment to get started, even when it was just a hobby. My husband and I put $10,000 of my 2016 annual bonus aside for the site, just like we set aside money when he wanted to start his woodshop. Now that I am working on the site and freelance writing full time, I will look at expenses very differently as ROI will be more important. But, here is how year one looked for me!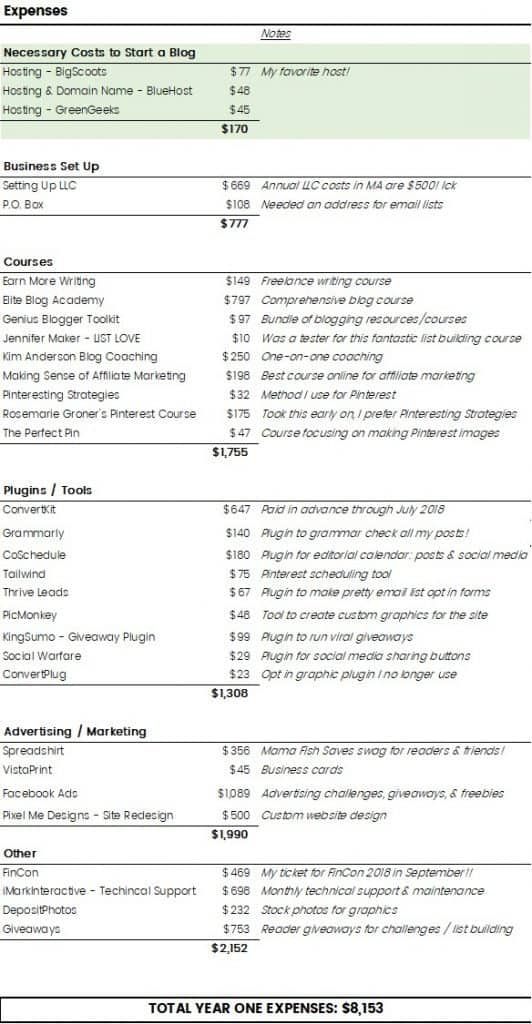 I tried to include short snippets on each expense in the table above, but I'll give a little more detail on a few critical costs below.
Hosting: For me, the third time was the charm when it came to hosting. I started with BlueHost and left due to site speed issues. Then I changed to GreenGeeks and left after less than a month when my site crashed while I was advertising a challenge and they couldn't provide weekend support. Finally, Grayson from iMarkInteractive moved me to BigScoots. I have

loved

their service and fast customer support. Instead of going through the headaches I did, I recommend new bloggers just start with BigScoots from the get-go.

I now have a monthly technical support and maintenance program from Grayson because I SUCK at tech stuff. If you need tech support, go to Grayson. He is incredible.

Courses: I am a bit of a course junkie. I know that I can get a lot of great information for free by searching around, but I love having someone just tell me what to do and follow a step-by-step plan. While I thought all the courses I took were helpful (I did a lot of research before buying any of them), these are my top 5.

Making Sense of Affiliate Marketing | Pinteresting Strategies | The Perfect Pin | LIST LOVE | Earn More Writing (<- EMW is just about freelance writing, not blogging)
If you're wondering why the super expensive "Elite Blog Academy" doesn't make my list, here's the scoop. That course is incredibly professional and well done. It helped me narrow my blog's focus and organize my site in a way that would have taken me ages to figure out. I do not doubt that if you followed the course to the letter, you would make money blogging. I mean, look at Rosemarie Groner and Busy Budgeter! BUT they lost me at the email list and monetization stage. Tripwires that asked subscribers to buy a cheap, $7 product immediately after they signed up seemed too hardcore. I prefer the softer, reader-focused methods of bloggers like Montana Money Adventures. Which might mean freelance writing remains my primary income source for a while…

Plugins / Tools: Alright, hold on tight, I'm going to do a shameless affiliate link dump for the plugins tools I actually use regularly. If you are a blogger and any of these tools look interesting to you, I would truly appreciate you using my link!
Facebook ads: There is no doubt in my mind that I didn't make the best use of Facebook ad spending. When I first started testing out Facebook ads I was really just throwing spaghetti at the wall. I used ads to drive traffic to giveaways, email challenges, and a few different blog posts with middling success. The times I used it for email list building, I averaged ~$0.90 a subscriber. Not terrible, but not cheap either. I will probably still use Facebook ads somewhat in year two, but I want to learn more about optimizing them.
Spreadshirt: After I had my site redesigned by Pixel Me Designs, I wanted some fun swag to give to friends and send to readers. I chose to use Spreadshirt because they offered no order minimums and I could set up a small shop. The print quality has been fantastic and the service makes it easy for me to send swag directly to one person, instead of getting a large order at my house and then having to organize shipping myself. If you want to see what a Spreadshirt shop looks like, or order your very own Mama Fish Saves t-shirt or water bottle, click here to visit the shop!
The hope is 2018 moves us solidly into the green. Fingers crossed!
My Plans & Goals for Year Two!
Now that I am blogging and freelancing full-time, I really need to dig in. While I have a million and one dreams for Mama Fish Saves, I had to spend some time creating real, measurable goals. Starting with the first quarter 2018 traffic and income report, I will have quarterly goals as well as these annual goals. I will also spend more time in those reports discussing how I plan to actually achieve these crazy things. But for now, here are my goals for 2018! (I will no longer be measuring year-end as February 11th. It will still be the blog's birthday, but golly that date makes tracking things impossible…)
Publish a new post at least twice a week.
Traffic: 50,000 monthly sessions by December 2018. (Stretch goal: This is a stretch…)
Email subscribers: 7,500 by December 2018. (Stretch goal: 10,000)
Revenue: $6,000 per month by December 2018, including freelancing. (Stretch goal: $10,000)
2018 will be the year of GROWTH and HUSTLE! Mama Fish Saves is a business, as well as a passion, and I need to treat it like one. I'll be putting in long hours, stepping outside my comfort zone, and chipping away at these goals. It is going to be awesome.
Celebrate My First Year With Me (+Giveaways)!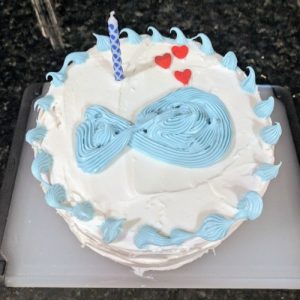 I couldn't let the first year of the blog go by without celebrating. I even made the site its very own birthday cake! (Fuss Fish was more than happy to help eat it!) But what would a celebration be without including everyone who has supported the site this year?
I will be hosting three Facebook Live events in celebration of the blog's first year. (This is the first push out of my comfort zone, by the way.) Each event will focus on a topic from one of the site's most popular posts of the year. And of course, there will be Q&A and giveaways throughout each live event!
The schedule for the live events is below, but be sure to follow the blog's Facebook page to RSVP to the events and be notified when they kick off!
First Live Event: February 15, 2018, at 8 PM EST – Habits of the Highly Frugal
Join me to talk about the top takeaways from the popular post, Habits of the Highly Frugal! (You can read the post here!) I'll be discussing the best ways to save money, how to cut your budget to reach your goals and the difference between being frugal and being cheap.
Click here to watch the video!
Second Live Event: February 22, 2018, at 8 PM EST – Investing in Peak Markets
Join me to talk about the top takeaways from the popular post, Why You Should Invest, Even in Peak Markets! (You can read the post here!) I'll be discussing the importance of investing consistently regardless of how the market is doing, what to do when you see the market fall (like the Dow has been testing out recently), and how to start investing with a small amount of money.
Third Live Event: February 28, 2018, at 8 PM EST – The Worst Financial Advice
Join me to talk about the top takeaways from the popular post, The Worst Financial Advice We've Ever Heard! (You can read the post here!) I'll be discussing common money advice that is holding you back and how to determine if someone's tips really have your best interest in mind.
And With That, It's Back to Work!
Writing this post made me even more grateful for everything Mama Fish Saves has brought me in the last year. I get so much enjoyment out of running this site. Thank you again to everyone who has supported me in pursuing this dream. I couldn't have done all this without you! I can't wait to experience what year two will bring. But if I want to keep growing, I've got to stop reminiscing and get back to work! 🙂
What was your favorite post from Mama Fish Saves this year? Drop a note in the comments and let me know as a little blog birthday gift!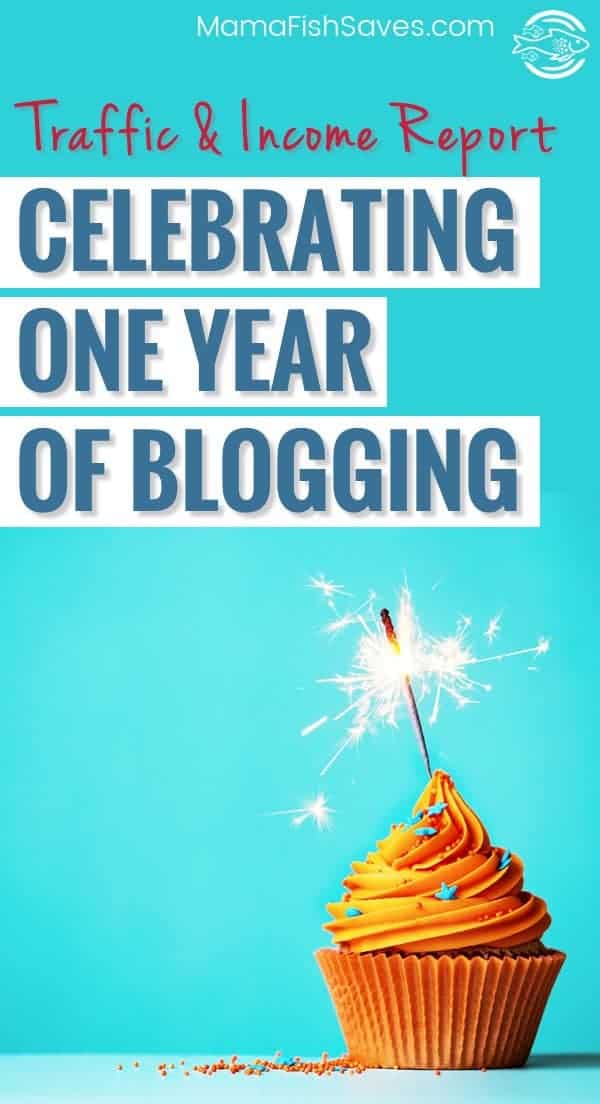 This post was proofread by Grammarly.