The Best Tips For Building a 6 Figure Digital Product Business
Why You've Got to Listen to This Episode...
In today's episode I'm talking with digital product coach for women, Monica Froese. She is the founder of both Redefining Mom and Empowered Business.  Monica is on a mission to help one thousand women hit $100,000 in their business.
We're talking about that one time she chatted with Barack Obama, why our money stories can help us understand our spending habits, and why you're already 100% qualified to create and sell a digital product.
Moments You Don't Want to Miss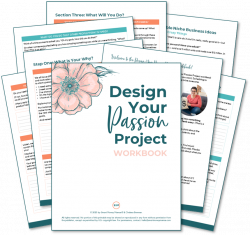 Ready to Discover Your Perfect Passion Project?
Take action on your dreams now by downloading our free guide!
Key Takeaways to Help You Build a Digital Product Business
As always, we've rounded up our top three takeaways to summarize what we believe are the core points to remember from Monica. 
1 - Having a Presence Online Can Open You Up to Amazing Things
Even if you don't want an online business, taking time to craft your LinkedIn profile, paying attention to your social media presence and your network can reveal incredible new avenues for you. If you decide to start a blog or a podcast, it's ok to start with a small audience. Starting small doesn't mean that the right people aren't going to find it at the right time.
Monica shared that she didn't feel like Redefining Mom was even really heading anywhere. Yet in reality it led to having some life changing conversations that led her to a whole new career.
2 - You're an Expert In More Things Than You Believe
There are so many things you do every day that you don't even realize you are an expert in. We're all on a journey. And on you're journey, you're already just one – or maybe even ten steps ahead of other people who would love your guidance. Think about what people ask you for help for most often. Find that thing that seems like it's hard for other people but actually lights you up. 
Then start to brainstorm small ways that you can make other people's lives easier. A digital product absolutely has the potential to blow up when you can take one problem and offer one simple solution. That's seriously all it takes to start your digital product business.
3 - It's Okay to Redefine Your Goals
Right at the beginning of the interview, Monica called out that she loved that she named her business Redefining Mom, since it fit with all the changes she brought her business through over the years. On top of that, it really is so perfect for how moms are constantly redefining themselves. If you try something new and it doesn't work, don't be afraid to pivot. If you try something new, and it works super well, but it just doesn't quite feel right – still, don't be afraid to pivot.
For example, Monica's Pinterest course was very successful and very popular. But that wasn't what she wanted her business to be all about. So she pivoted into Empowered Business Labs. We are all learning and growing. We can explore new options at any time and you can always change your mind until you find the right fit and the right success for you.
Links & Resources Mentioned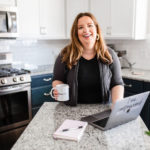 Monica is a digital product coach for women business owners. She has an MBA degree in finance and marketing and runs two brands Redefining Mom, a site for helping women thrive in both motherhood and business, and Empowered Business, where she empowers women to create financial independence through building 6-figure digital product businesses. 
She spent 11 years working for a Fortune 100 company running multi-million dollar marketing campaigns with large brands like Microsoft and HP. Now she provides online marketing education to small businesses that are looking to build a profitable revenue stream through digital products.
Other Ways to Enjoy This Podcast
Have You Subscribed Yet, Mama?
Are you subscribed to the Smart Money Mamas podcast? If you're not, I want to encourage you to head over to Apple Podcasts (or wherever you listen to your podcasts) and subscribe! I release episodes twice and week and as a subscriber, you'll be notified right away so you can take checking the feed for new content off your mental to-do list. 
Click here to subscribe on Apple Podcasts, Google Podcasts, or Spotify!