Ever have a witty t-shirt idea and think, "Hey, I could totally make money off that?" Or wanted to design your very own shoes or phone cases?
Now you can.
Print-on-demand sites allow you to create your designs online, set up a shop or get a link to share on social media and sell without ever owning inventory or managing a shipment. Whether you want to make simple text shirts or put your beautiful hand-drawn designs on water bottles or mugs, print-on-demand can bring your art to life.
The best part? Once you get the shop set up, it's basically passive income. If people find and love your designs, you can make and deliver sales while you sleep. No muss, no fuss.
There are numerous services out there offering print-on-demand, but quality, cost, and ease-of-use vary. So, we've rounded up 8 of the top choices to kickstart your new side hustle.
What is Print-on-Demand?
With print-on-demand, I can design and sell t-shirts, mugs, bags, and more without having to carry an inventory. Once I create the product, I outsource the rest to an e-commerce manufacturer. That company then prints, packages, and ships the order to the customer for me.
For instance, let's say I pay $13 for a t-shirt with my custom design on it. In my digital storefront, I list the same t-shirt for $25. When a customer buys this t-shirt, the order is sent to my printing partner who prints the t-shirt and ships it to my customer. Since I sold it for $25 and paid $13 to the supplier, I earn $12 profit that I get to keep.
And you don't have to be gifted with graphic design or art to make money with this side hustle. You need good designs, but often those designs can be text based or built around graphics that you purchase.
You can make designs in Canva, Adobe Illustrator, PowerPoint or right in the print-on-demand service for free that sell!
Also, check out our journey to creating a print-on-demand business from start to finish right here on YouTube.
8 Best Print-on-Demand Sites to Sell Your Designs
If you have a knack for catchy creations and are looking for a way to work from home, here are the best Print-on-Demand sites to sell your designs.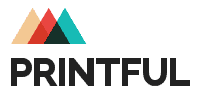 Printful is the service Smart Money Mamas uses for t-shirts and my print-on-demand shop, Kingdom of Threads. Setting up a shop through Printful is a painless process that gives you access to excellent video tutorials and a good resources page to help you get started.
Printful offers over 280 product types, from t-shirts to backpacks, and has over 15 printing facilities around the world to shorten shipping times and costs, no matter were your customers live. In our experience, turnaround time is 2 to 7 days. However, expect fulfillment to take slightly longer during the holidays.
But one of my favorite things about Printful that sets it apart from other printers is that they offer great branding customization – both free and paid – for a complete, seamless customer experience. With Printful, your customer won't even know you aren't creating the products yourself!
When connecting to Shopify or Etsy, you can leave the printing and shipping to Printful to free up more of your time to focus on creating. And, for a personalized touch, you can add a short message on your packing slips to your customers and place a custom sticker of your logo on all your packages, too.

Printify is another great print-on-demand provider with an even wider variety of items than Printful. Printify offers over 600 product types (I personally love designing the pencil cases) and they have 67 print facilities around the world.
In addition to all the usual print-on-demand product options, Printify offers bento boxes, pet items, hooded blankets, comforters, ornaments, puzzles, and more.
Quality from Printify is excellent and their average fulfillment time is about the same as Printful. You'll also still need to set up your own shop on Shopify, Etsy, or another platform to make sales.
Check out Printify's wide range of product choices and see if it is the best fit for your needs!

Looking to grow a more global business? Gelato is a European-based print-on-demand provider with over 100 product options and over 100 production facilities across 34 countries. With all those locations, fulfillment time is faster, shipping distances shorter, and you get less carbon emissions from long shipments.
Turnaround time for Gelato is also fast, with an average turnaround time of 2 to 6 days and most orders delivered within 72 hours. A great benefit when competing with the likes of Amazon!
The downside to Gelato is the narrower product catalog and production types. For instance, Gelato can't do embroidery or laser engraving. Also, the majority of its production facilities are in Europe.
So, Gelato is a great fit for European-based companies that want to focus on more common items like t-shirts, sweatshirts, wall art, mugs, etc.

Teelaunch is a smaller print-on-demand provider, with over 100 product options including some very cool products like headphones, Bluetooth speakers, laser engraved cutting boards, and high-end backpacks.
Teelaunch's pricing is reasonable and allows for a good profit margin. From product testing, I've found the print quality for t-shirts isn't as sharp as Printful or Printify, but the product still looks nice.
The downside to Teelaunch is that they use third-party manufacturers for some of their products, which can lead to inconsistent quality and longer fulfillment times. Especially during the holidays and for international orders, delivery times can be 2 to 3 weeks.
Many print-on-demand providers use Teelaunch due to good product pricing, especially for some of those higher-end products. Just make sure you're clear with your customers about the potential extended timeline to receive their orders!

Want to create products with an all-over print? Subliminator is the place to go! Sublimation is the process of transferring dye to a fabric using heat. It creates a vibrant, all-over print that actually becomes part of the fabric, making it longer lasting.
While all the other print-on-demand providers listed in this post can do sublimation, Subliminator specializes in the process, has a range of products available and has excellent product quality.
With Subliminator you can make swimsuits, leggings, microfleece hoodies, kids sweatshirts, jerseys and more.
The downside to Subliminator is that products are all shipped from China. So, while production times are usually quick, delivery times can be extended due to shipping time. However, shipping is included in Subliminator's pricing, so neither you or your customer are surprised by hefty shipping charges.
Hooded blankets, dog apparel, and leggings (with pockets) tend to be well selling items from Subliminator.

When people think print-on-demand, they usually think t-shirts. But even though we've seen some extensive product catalogs at the providers above, Pillow Profits takes things to the next level.
Create custom shoes (from slippers to work boots), shower curtains, umbrellas, car seat covers or organizers, quilts, laundry baskets, and more! While I haven't personally used Pillow Profits, many print-on-demand creators love the quality and use them exclusively for specialty products like shoes and car seat covers.
However, similar to Subliminator, products are shipped from China so fulfillment time to your customers will be extended. Shoes, for instance, should be expected to have a 10 to 25 day total delivery time to the United States. That won't necessarily hurt the growth of your shop, as long as you're clear about fulfillment expectations from the beginning.
Note that we have seen some reviews that customer support is not flexible. And that a product needs to be given 60 days to arrive at its destination before Pillow Profits will process a refund.
That said, custom Converse-esque shoes with a beautiful design could be a fantastic product to build a business around.

As one of the oldest sites, CafePress has an extensive assortment of products available to host your designs. They have options to print t-shirts, sweatshirts, mugs, and posters, as you'd expect. But customers can also choose to print your creations on stuffed animals, messenger bags, calendars, and even clocks.
One of the coolest features of CafePress is the Fan Portal, where you can create designs for your favorite movies, TV shows, and more. CafePress has negotiated with the copyright owners for the use of these characters, so you don't have to worry about stepping afoul of the law. But there are specific guidelines for each property, so make sure you read through them carefully.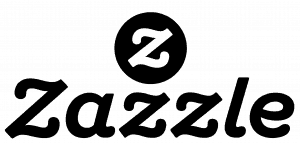 Zazzle is probably one of the most popular print-on-demand sites on the internet. Upload your designs, set your royalty rates, and earn referrals on any purchase. Payment is straightforward with no listing, monthly, or annual fees to pay. Your profit is whichever royalty rate you set.
You won't get your own shop front with Zazzle, instead your designs will be listed within the main site. But you can still share your designs on social media and with your network to drive sales.
Zazzle is well-known for quality products and a wide range of them. Design t-shirts, shoes, leggings, wallets, invitations, mugs, office supplies, bibs, and much, much more.
Host Your Print-on-Demand Business with Shopify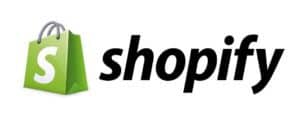 With most print-on-demand providers included in this post (options 1 through 6), you need to create your own site from which you'll sell your products.
Depending on which provider you pick, you'll see a range of options to set up your shop. However, Shopify integrates with all providers and is the absolute best choice on the market.
Shopify isn't free, pricing starts at $29 a month. But you can sign up for a 14-day free trial and experience all the ways you can customize your offerings. Sell in multiple places – from your Shopify website, mobile apps, or social media (a simple, free plugin lets you tag your products in Instagram posts!) Learn about growing your online store with their excellent educational resources. Plus, get advanced analytics on orders, the ability to offer discount coupons, top-notch customer service, and more.
Connect directly with services like Printful to turn your Shopify shop into a print-on-demand powerhouse. Don't forget though – Shopify can do more than print-on-demand! If you like to create digital printables (like meal planners or workbooks), sell handmade products, or really anything, you can do it on Shopify.
Which Print on Demand Site is Right for You?
Making money online with print-on-demand is possible. You don't have to invest in inventory, manage shipping, or worry about having the right size in stock. But to find success, you have to set clear goals, know how much you want to control your brand, and be ready to promote your product if you want to more than the occasional sale. Choose a niche and start creating your first designs. You really only need 3 to 5 designs to launch and start making money!
All the print-on-demand services mentioned above are great resources and have their own strengths. While we have had an excellent experience with Printful, other POD shop owners rave about the other choices. So, don't get stuck in analysis paralysis. Choose the platform that you believe will work best for you and jump in!
Then, next time you think of a witty t-shirt design, know that you can put it out into the world to make money for you – for free!
Want help setting up your print-on-demand business? Download our FREE Print-on-Demand Shop Setup Checklist!