There is a lot to consider when you're buying a house. And, as no one is surprised, money was front-and-center on my mind when we were house shopping. But making the right decision for your family doesn't just come down to dollars and cents. You need to know how your house spending will impact the other goals in your life. You need to know how happy you'll be living in that home for years. So, today, my friend Tamara from Better Buyer Savvy Seller is here to share how to find the perfect home without losing sight of the big picture.
Tamara is a licensed real estate agent who has always loved houses, and she is uber passionate about helping others find the homes of their dreams. Take it away, Tamara!
---
These days it's so easy to get swept up by what you see on in social media and reality shows. You see the perfect house on HGTV every night. You see your favorite reality star posting pics of her fancy vacations several times a year. And of course, you see car advertisements on TV. It's so easy to get swept away by what you see on a daily basis, that you forget what YOU really want. With society painting the picture for you, it's easy to purchase a home that doesn't stay true to your goals.
So below, I'd like to show you how to stay true to your future goals when purchasing a home. I'll walk you through the process of discovering your ideal life, so you can set authentic goals. Then, with the clearly defined goals, you'll see how to choose a home that supports your dreams. With housing being one of the top categories (housing, food, and transportation) in a budget, getting this "right" is key. You can avoid making a costly mistake and feeling the regret of purchasing a home that doesn't fit you, your lifestyle or your future hopes and dreams.
Brainstorm Your Ideal Life
Before you can stay true to your future goals, you have to discover what they are. Goals, dreams, motives, and desires change over time, but you can start thinking about how you want to your ideal life to look. For each category below, brainstorm your ideal situation, start by looking at your current reality. Think about what you like, dislike and what you tolerate now. Then, spend some time thinking about your ideal situation. Get detailed.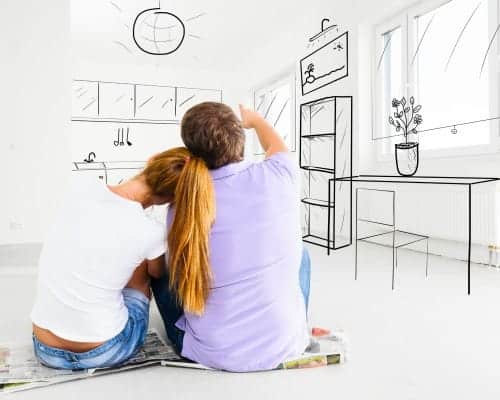 If you could wave a magic wand and live your ideal now, what would your housing look like? Ask yourself:
What location would you choose?
What's your preferred neighborhood and style of home?
How would you describe it?
If you don't define what your goals are, you'll just end up wandering around.
Now let's talk about what's going on in your career. Do you enjoy your career and find it fulfilling? If you don't, then you might want to consider how getting another degree, changing careers or companies might impact your housing choice. Ideally:
What do you do to earn a living?
Where do you work and how long is your commute?
Do you travel during the week?
How many hours do you work?
As you sit and think about your career, are you OK with having to maintain the same level of income until your mortgage is paid off, or is that too much pressure? Let's take a look at your finances. In your ideal life,
Would you like more disposable income?
Would you prefer to downsize or have a bigger house?
Do you want to spend more of your discretionary income for self-care, eating out and traveling?
You may discover you'd like a smaller loan, so you can get a more satisfying job even though it pays less.
To paint the picture for your overall ideal life, think about your current life in general. Is it hectic? What would you change if you could? Ideally:
What do you do for fun?
Are your kids in a lot of after-school activities and sports?
What do you really need to feel alive?
Now that you've brainstormed your ideal life, is there an area that you can positively impact by adjusting your housing situation?

Clearly Define Your Goals
The next step in staying true to your future goals is to clearly define them. While your house may not help you achieve your future hopes and dreams, it shouldn't get in the way of you achieving them. So, take a look at what you learned while writing down your ideal life and let's clearly define your goals.
Based on your ideal life, what are your housing goals? There should be a balance between making a smart financial choice and liking what you choose. You can regret a purchase because you dislike it just as much as you can regret it because it was a poor financial decision. So, take some time to really discover what'll work for you now and in the future. How long do you plan to you live in this house? How much do you plan to spend?
After looking at your ideal life, what are your career goals? Career goals can be anything from "I want to make partner with a salary of $155,000 a year" to "I want to leave corporate America and start my own business". Pursuing either of these is fine, but they will have you on different paths in terms of the house you buy.
For your financial goals, know that if you're far away from your ideal, moving to a less expensive house is a great way to hit the "reset" button. Look at how much of your take home is eaten up by housing. I know you can get a loan for 30% or more of your income, but you can set a better standard for yourself. Set a goal and create a draft budget and see what your finances would look like if you were to have a loan that's 25% or less of your take-home pay.
Based on your ideal life, what are your life goals? Think "what's important to us?" Not the world's vision for, but your vision for you. Visualizing your day to day life will help you set your life goals. For example, a goal of fostering a tight-knit community may lead you to host game night parties in your home every week. Setting this goal will help you determine what space you really need in a home for this to become a reality.
Connect Future Goals with Your Home Purchase
The last step in buying a home that's consistent with your future goals is to put all of this together. It's important to really take time to think about choosing the home that's right for you and your family.
So, now it's time to put this together. Goals will help you fill out the when, where, why and how of your housing choice. When you purchase, where you purchase, how much you spend and the why behind these decisions. After looking at your ideal life, housing, financial, career and life goals, keep them in mind as you think about the when, where, why and how of purchasing a home.
When is the right time for me to buy?
Where should I purchase my home (city and neighborhood)?
How much should I spend on my next home?
How much of a loan should I take? What loan product and term are best for me?
Why are these decisions important to me?
I know it's easy to fall into the trap of keeping up with the Joneses and doing what you see them do, but staying true to yourself is what leads to true happiness. Hopefully, you'll realize you don't necessarily need a home that's over your budget. You might even discover you prefer a smaller space where you can spend more of your time and resources turning your house into a home.
Ready to Set Meaningful Money Goals?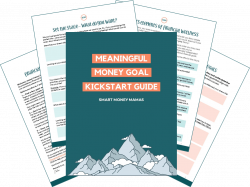 Grab our free Meaningful Money Goal Kickstart Guide and start setting goals you'll love and achieve!
Buying a Home While Staying True to Your Future Goals
Clearly defining your goals when purchasing a home will lead you to the right decision that brings a powerful sense of confidence.
Don't get caught up in what society says you should have or what you see others have. Stand confidently in your own truth and be comfortable with a house that fits your authentic self. Don't try to be someone you're not.
Tamara is a wife, mother, and lover of houses. She founded Better Buyer Savvy Seller to prepare women to buy, sell and decorate with confidence and clarity, and show agents how to level-up and deliver stellar service. Tamara enjoys sharing housing tips that she'd share with her friends if they were sitting across from her at lunch. Stop by, she'd love to hear from you!