Ever felt like you're just not doing what you're meant to do? Like your life is on autopilot and things are mostly great, but lacking that on fire, purpose-driven energy you used to chase? It might be time for a passion project.
A passion project is something that ignites your soul. A venture you care deeply about, either for how it makes you feel or how it serves a cause that matters to you. It can aim to make money, or not, but making time in your schedule to serve your desires can reduce stress, improve happiness, and help you find your purpose.
Less than two years ago, I lacked a passion project. But finding time for one, even as a sole breadwinner with a 50+ hour a week job, toddler, and baby on the way lifted me up. I had more energy, better quality time with my family, and ultimately found my path. This blog!
Not sure if you need a passion project? Here are five signs you might.
#1. You don't feel like you're being true to you
Most of the time I was working in finance I felt like I was wearing a mask. I was good at my jobs and often enjoyed them, but I felt disconnected from who I was. None of my colleagues dreamed of owning small farms. Our hobbies outside of work were completely different. I dreamed of a career with purpose and the constant pursuit of one more dollar of return felt like it lacked impact.
Sometimes, the paths we walk down in pursuit of other goals separate us from our core being. If you feel like you've lost yourself somewhere along the way, a passion project can help bring you back. It can be a space where you are uniquely you, without judgment, so that you can appreciate the other aspects of your life even more.
This is something I hear a lot from stay-at-home parents, Jeremiah included. They throw so much time into their kids, whom they adore, that they lose their feeling of autonomy and purpose. Or, their kids become their sole purpose and source of happiness. Then parents start to panic as their children approach adulthood. Full-time caregivers can almost always benefit from a passion project to reignite their sense of self.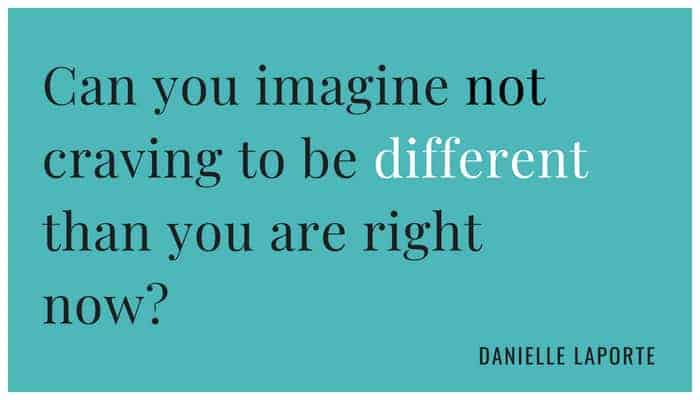 #2. You are overwhelmingly busy, but also bored
Have you ever looked at your schedule, filled to bursting with back-to-back responsibilities, meetings, and activities, and just thought, "ugh." Like not one of those things looks like any fun? That you'll be checking your phone over and over to see when one activity ends, just to get to the next time-checking activity?
I hate the word bored. But when we remove self and passion from our schedule too often, it gets taken over by things that sap our life energy instead of refueling us. A passion project can give us something to look forward to. A way to get back into a flow state where time flies, because what we are doing excites us.
People who are busy-but-bored often tell me that they don't have time for a passion project. To those people, I always recommend the book Essentialism. It discusses how we have gotten into the habit of adding things to our schedule because of a fear of saying no or missing out. Even when we don't think those tasks will add immense value to our or others' lives. Author Greg McKeown can teach you how to implement his concept of, "Less. But better."
#3. You have an idea you keep saying "someday" to
Want to be a writer? Photographer? A work-at-home parent who doesn't have to miss soccer games for last-minute calls? Or do you have a world-changing business idea you can't stop thinking about?
Chasing our passions, especially when it feels like there isn't an obvious or quick way to make money with them, can make it easy to fall into the "someday" trap. But if you keep revisiting the same idea over and over. If you read every article with a headline that relates to your dream. If you have a topic that you could talk someone's ear off about, you should consider dipping your toe in the water.
We can make time in our lives for the things that are important to us. Take a class to develop a skill you hope to pursue. Make your "someday" project a side hustle until you can give it even more focus. Block off an hour a week just to work on the thing that you're daydreaming about.
Making time for your dreams, even if it's just a few minutes, can reduce stress and crack the door to the true range of possibilities available to you.
#4. You dread going to work in the morning
Getting ready for work makes you irritable. The weekends are great but Sunday night the anxiety sets in. You just don't want to go. Every email from your boss seems annoying and your work seems pointless. In short, you're frustrated. And bored (ick, that word again).
Going through cycles at work of being engaged and then bored is completely normal. None of us like our jobs every single day. Bloggers have to deal with tech issues and constantly changing social media algorithms. Doctors have to deal with patients they know aren't following medical advice. Freelance writers have to write articles about things they couldn't care less about. But when that dislike becomes chronic, week in and week out, it is time to find something new.
Leaving your job to jump to something that seems more interesting is a risky move. Not just financially, but also for long-term happiness. Maybe the thing you're interested in is just shiny-object syndrome. Once you're in the middle of it, you might find out you don't like it at all. It might move you further from your long-term goals.
When you get frustrated at work, a part-time passion project can help you test a new path without abandoning ship. Serving a desire or pursuit outside of work might even make you appreciate your career more. And if not, it can use the time to discover what the next step really is.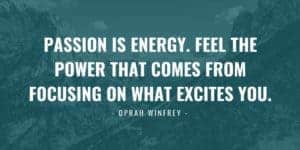 #5. You dream of being an entrepreneur
Being an entrepreneur isn't for everyone. It requires a certain comfort with the unknown, a dislike of being managed, and fierce independence. But if you're constantly playing the comparison game with your self-employed friends, sketching business plans and ideas on scraps of paper, and wishing you had more control of your time, income, and work – entrepreneurship might be for you.
Just having an entrepreneurial mind doesn't mean you have the financial security to jump ship and quit your job. Yet, you don't have to wait to quit your job to start the journey. Narrowing in on the business idea you are most excited about and committing just four to five hours a week to it can help you gain valuable experience, build a financial cushion, and be ready to hit the ground running when you are ready to go full time.
Discover & chase your passion
You might not be able to make your passion your full-time job. In fact, doing so might even make you enjoy it less. But finding time to connect with your true goals and desires can make you a happier, more fulfilled human being. And from that place of abundance, you can discover opportunities you would never have dreamed of.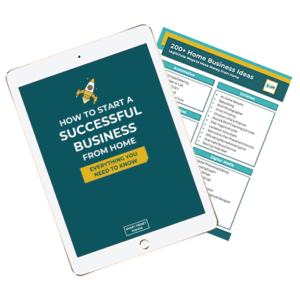 Want to Start a Business?
Download over 200 at-home business ideas with our complete guide on starting a profitable business!
Do you have a passion project or something you would love to pursue? Let me know in the comments!