What if you could save aggressively for retirement while you're young, then simply stop and let the power of compound growth do its thing while you pursued careers and businesses you loved?
That's what reaching coast level retirement savings is all about.
When I chose to leave investing to grow the blog, financial independence took a back seat. Five more years in that career and I would never have needed to work again. But those years would have meant missing some huge milestones in my boys' lives. And since we had been preparing for FI, we had frontloaded our retirement.
What does that mean? Well, if we don't add another penny to our retirement savings, we can early retire when I'm 45. The only money we need to earn is our current living expenses. When it comes to retirement, we're coasting. And that opens up a lot of options.
Frontloading Your Retirement Savings
The idea of frontloading your retirement is saving early. And in large amounts. Then invest that money where it can grow, with low fees, for years to come.
Personally, we saved 50% to 70% of our income since I graduated. I made a high income and we chose a house well within our means and didn't pick up expensive hobbies or tastes. It meant being careful not to fall for others expectations of 'normal'.
While it took planning, the ability to frontload your retirement is a privilege. It requires having a sufficiently high income early in life so that you can live well within your means and save large amounts when you're young. Can people making $50,000 to $60,000 a year do it? Absolutely. But they will have to make much more significant sacrifices.
However, if you can do it, frontloading allows you to take greater career risks. You can take a lower paying job in a career you love, as long as it covers today's expenses. You can start a business with your measure of "success" being significantly lower. Or you can take time off to make memories with your family.
For us, choosing to coast means I can work a job that allows us the freedom to live where we want, travel, and ultimately find a homestead. I don't need to be tied to major city centers for a job. I can work where ever my laptop is.
Setting a Frontloading Goal
Our original target was financial independence, but understanding coast level was easy from that perspective. We knew how much we wanted to spend in retirement. And how much we would need in assets to support that spending at my conservative 3.0% withdrawal rate.
So, instead of thinking about how to achieve that number, we started to think about when I might want to be truly retired. The FI/RE movement (financial independence, retire early) has a bit of a bad rap for calling oneself retired when you're actually still working. I knew I wanted to build my own business and would likely work for some time. But when might I want to be completely done?
For us, that age was around 45. Jeremiah would be 51, the boys would both be off to college. We would still be plenty young to enjoy the freedom of travel and I might be done with the stress (and rush) of entrepreneurship.
If I could earn, at the minimum, our living expenses from blogging and freelance writing, what would our assets be worth when I was 45? I did a quick calculation in Excel, and Chris from Keep Thrifty helped me transform it into the calculator below for you to check your own numbers.
For us, that calculator showed us that we already had enough. I could take a step back. But what if you weren't already preparing for financial independence? What if you wanted to set a savings target to make a career change or chase a dream?
The calculator below lets you set your target coast age – when you stop actively saving for retirement – and your target retirement age. Input how much you expect to spend a month in retirement. Then discover how much you need to have saved by your coast age.
Choosing to Coast
Making the decision to take a step back in your career is a tough one. Most people who have the option are naturally high achievers and walking away from a high salary is a difficult thing. Especially when colleagues and friends don't understand the choice to earn less through an alternative career, making space for family, or taking the risk of entrepreneurship. But when you have confidence that you've already protected your future self and your family, it is easier to make that leap. And your early saving efforts can give you more years of passion-focused work.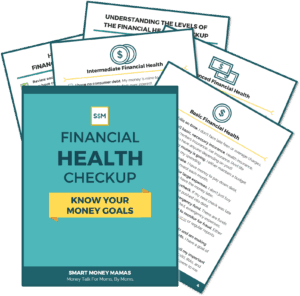 Wondering whether you're doing the right things with money or what you should focus on next? Download our quick financial health checklist and see where you stand!
What do you think about coast level retirement savings? Would you be able to leave a high-income career before being completely financially independent? Drop a note in the comments and let me know!