How to Be an Expert First-Time Homebuyer
Buying a house, especially for the first time, is one of the ultimate intersections between personal and finance. A house encompasses so much more than shelter. So much more than the massive chunk of debt that you'll take on when you buy it.
Owning a home is the American dream, family memories, stability, and promises of the future all tied into one neat little bow.
This very personal aspect of a major financial decision is what gets so many families in trouble. And, unfortunately, most advice for first-time home buyers doesn't help you navigate this personal and financial balance. So here is my advice for buying a first home you love without ruining your budget.
5 Must-Follow Tips for First-Time Homebuyers
When my husband and I were looking for our first home, we had a lot of questions. I understood the mechanics of a mortgage, but closing costs, home inspections, appraisals, purchase and sale agreements and so much more were entirely new to us. It was daunting, and we made mistakes.
We ended up under contract for a home without a real estate agent or attorney, only to back out due to some concerns from the inspection. Deciding not to move forward with that house was a tough decision, partially because we felt bad calling off the sale after many rounds of negotiations with the seller. (We were making it personal.) This experience became the dry run for when we would actually buy a house a few months later with more of the right help and guidance.
While we still don't consider our first house a good investment, we learned a lot and have numerous things we will do differently the next time around. After going through the process and owning a home for a few years, this is my best advice for first-time home buyers.
1 - Be In It For the Long-Term
Real estate is a long-term investment. If you're thinking about buying a house but already looking at listings saying, "We'll move when our oldest starts school," or "We'll make some improvements and try to sell when [insert desire 3-4 years in the future]," you're better off sticking to renting. Wait until you can afford what you really want and are ready to be in one place for at least 6-8 years.
For the vast majority of homeowners, there is no quick buck in your primary residence. There are numerous costs associated with buying and selling homes that create a significant headwind to getting to a breakeven selling price quickly. Here are the two biggest ones:
Closing Costs
When you buy a house, you'll have to pay for mortgage application fees, an appraisal, attorney fees, a home inspection, and numerous other small costs. On average, this amounts to 2%-5% of the purchase price of your home, according to Zillow. These costs should be included in your cost estimates.
Real Estate Agent Commission:
The seller pays the real estate agent's commission. So, while you pay 100% of the value of your home, the seller only gets 94%-95% of the value if real estate agents were involved in the transaction.
It takes about five years of mortgage payments before you get to the point where selling your home for your purchase price gets you back your original down payment and closing costs.  That will mean any home maintenance you did or improvements you made will be a loss, and you won't get a benefit from your 60 months of mortgage payments.
Now, you could argue that you'll see a rise in your property value over five years. However, since 1980 inflation-adjusted home values have only risen an average of 0.5% a year. Unless you live in a major metropolitan area, you probably aren't going to see home values jump enough in 4-6 years to make the purchase worth it.
2 - Know What You Can Actually Afford
If you don't already have one, now is the time to create a budget.
Before you start searching for the perfect house, you have to know how much you can really afford for housing costs. If you don't come to a real, hard number cost limit before looking at houses, you are much more likely to get swept away by the gorgeous fireplace and crown molding in the house that you may be able to afford – but at the expense of everything else you enjoy in life.
Take a hard look at your current income and expenses to determine what you can realistically afford to pay for housing. Be careful not to bank on future raises or job promotions. Account for home insurance, property taxes, higher cost utilities in a single-family home, lawn care, and general maintenance. Most costs you can get a rough idea on by looking online. On average, home maintenance costs run about 1% of the purchase price a year.
Make sure the peak of your range leaves you with some emergency fund after you make your downpayment. The hope is nothing bad happens in the first few months after you buy your house. But you could end up like us and have an insurance claim in your first week! You don't want to be taking out more loans or credit card debt right after signing on to a 15-30 year mortgage.
There are some general rules of thumb when it comes to housing expenses. The most commonly quoted is that you shouldn't spend more than 30% of your income on housing. You'll also get some guidance from the pre-approval level from your bank (though beware, their number is usually much higher than what you would actually be able to pay comfortably).  But I highly recommend building a range that is comfortable for you, based on your spending habits and preferences. One-size-fits-all rules fit poorly on everyone.
In general, you want to put down at least 20% on your mortgage. This lowers your interest rate, prevents you from having to pay PMI (private mortgage insurance), and protects you from ending up owing more on your home than it is worth. If you don't have 20% to put down, most banks take as little as 5% but be ready to include that PMI fee in your housing cost budget.
When looking for a mortgage provider, shop around. For a product that has largely become a commodity, there can be a lot of variability in rate and down payment requirements. Call your local banks and credit unions, and check out HUD for first-time homebuyer programs in your state.
Ready to Set Meaningful Money Goals?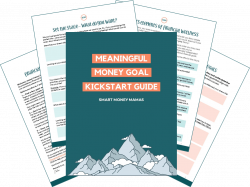 Grab our free Meaningful Money Goal Kickstart Guide and start setting goals you'll love and achieve!
3 - Get Help From the Experts
I am all for saving money and avoiding unnecessary expenses. But sometimes the most valuable move you can make is recognizing when you need help. Especially as a first-time homebuyer, you are going to encounter a lot of terminology, requirements, and negotiations that you don't understand. Having the right help, and high-quality help can save you a lot of money in the long term.
Real Estate Agent
Interview a few real estate agents until you find one you are comfortable with and seems to have a good understanding of your local market. You want an agent who is going to be honest with you and work to preserve you as a longer-term client instead of rushing you to buy something quickly.
Our real estate agent was able to quickly give us a price range on what it would cost to get a house with all our deal breakers and needs and was incredibly valuable in guiding us on resale potential and neighborhoods. Personally, we preferred someone who was going to be brutally honest with us. There was more than one house we walked out of that she turned to us and said, "You don't want that house," and explained her reasons.  Plus, the difference between the bidding process when someone was helping us and when it was just us negotiating with the seller's realtor was night and day.
Real Estate Attorney
How many times have you negotiated a six-figure loan? How well do you understand real estate contract terms and what a purchase and sale requires of you? Buying a home is a huge financial commitment, and you want someone on your team who can explain what you are signing.
Don't wait until you are ready to put in an offer on a house to find a good attorney. Start interviewing early. Ask your friends and real estate agent for suggestions, and if you use a local bank or credit union, ask who they prefer their clients use. Be sure to find someone who has significant experience in home sales and who seems willing to answer even your most basic questions. It might mean an extra couple hundred dollars, but it might save you thousands down the road.
Home Inspector
Any mortgage provider is going to require you to have a home inspection. These inspections check for code violations, structural quality, appliance function, and much, much more. But the difference between a good home inspector and a poor one is significant.
A good home inspector will be more thorough and will help you not only find what is wrong today but talk you through proper maintenance for the future. Ask friends and family for referrals, check Angie's List and other services for reviews, and ask any potential inspector for their standard checklist of what they will inspect. No inspector can see behind the walls, but the high-quality ones do a solid job of looking for red flags in finishes and structure.
We walked the property with our home inspector at both homes where we were under contract. He suggested easy fixes for things, showed us how to do some basic maintenance, and pointed out issues we should ask to be resolved before close. Down the road, we plan to have him walk through our current home 3-6 months before we list it for sale, so we don't face any surprises once under contract.
4 - Know What You Really Want
After breaking the contract on the first house we almost purchased, we got connected with an excellent real estate agent. She provided a ton of value, but the first meeting we had with her was one of the most valuable.
At our first meeting, she had us talk through what we were looking for in a house and then break it down into deal breakers, needs, and nice-to-haves.  Deal breakers were things that if a house didn't have them, we didn't even need to visit. It wasn't going to happen. Needs were things that were priorities, but if one or two of them were missing while our deal breakers and other needs were covered, we might be alright with proceeding. Nice-to-haves are pretty self-explanatory.
Having this list before looking at houses changed the game, and I highly recommend anyone who is shopping for a house make one. It helped us avoid making emotional decisions as we attended open houses and cruised through Zillow. We would fill out the checklist after looking at a house, and it was a black and white gut check on our priorities. For instance, I was always partial to the homes with beautiful wood burning fireplaces at walk-throughs, even though that was only a nice-to-have on our list and was usually found in houses that didn't fulfill our core needs.
5 - Ask All of Your Questions
The home search process is the time to ask your questions. All of them. Don't be afraid to be a burden or perceived as weird. If you found the right expert help, they will be more than willing to get you the information you need. And even if you come off as a little annoying, it is a lot harder to get your questions answered after you buy. (And you can't do much about it then either…)
Here are some questions we were glad we asked:
In retrospect, we wish we had asked our real estate agent to check if there were any apartments or developments happening in town.
It turned out that an apartment building had already been approved nearby when we were purchasing our home. A with a surge of apartments in our town, we have to wait and see how this impacts home values. But it would have been nice to know that 12-18 months after purchase you would be able to see an apartment building from our front lawn.
Overall, my biggest piece of advice for first-time homebuyers is to take your time. In real estate, particularly in hot markets, it can feel like if you don't move quickly, you'll just lose out. The reality is that you are making a long-term decision with significant financial consequences. Don't let yourself get sucked into the rush of it all. Make sure you find a home you are really happy with, can comfortably afford, and realistically maintain. Good luck!
Are you looking to buy your first house? What questions do you have? Let me know! If you own a home, drop a note with what advice you wish someone had given you when you were shopping for your first house!
Thanks to Our Episode Partner!
Bluehost is my absolute favorite web host for bloggers, podcasters, and small business owners. Get your website set up in just minutes, without the tech headaches! And as a Smart Money Mama, pricing starts at just $2.95/mo!