Fall is here! Or, at least, I'm acting like it is here even though Connecticut has decided to turn into the tropics with 90-degree weather and 100% humidity. But as soon as the calendar hits September, my husband is ready for stews, chili, and hearty meals again. 
We love spring and summer for the fresh fruits and veggies and light meals. Yet there is something so satisfying about the full belly feeling of a good fall or winter recipe. Which might be driven by the fact that most of our fall recipes are made in the slow cooker. And less work and delicious leftovers is definitely a path for happiness.
To welcome in the season (wink wink, nudge nudge, Mother Nature), I've rounded up 40 incredible Crock-Pot dinner recipes to add to your meal plan. But there's a twist. I've focused on recipes that cost less than $5 per person. Because the only thing better than finding a great new recipe is not blowing the grocery budget.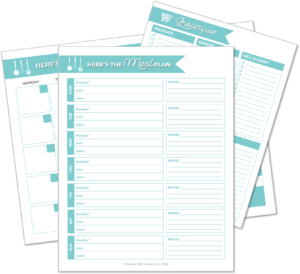 Grab Our Free Meal Planning Sheets!
Weekly & monthly meal planners and a simple grocery list to get a handle on your grocery budget.
Be sure to pin this list for when you need a great recipe fast!
Soups and Chilis
Soups and chilis are staples in our house in the cold-weather months! I can make a fresh batch of bread and the leftover soup tastes the same the next day (or two) so we can cook less while still getting amazing food. Here are some top recipes to consider for your fall rotation!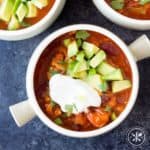 This recipe from Hungry Hobby is superb and I love that she made it in 100-degree weather in Phoenix. We usually only eat chili in the fall and winter, but my husband insists this is silly bias on my part and that chili is meant to be eaten year round. Plus, butternut squash in stew? Yum!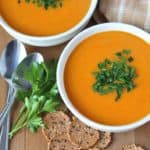 You won't believe this soup is gluten-free and vegan. It is so creamy and delicious! Don't be afraid of peeling a butternut squash either, definitely agree with Delightful Adventures that using a good vegetable peeler makes things easier. (Or you can buy some pre-chopped squash, #noshame)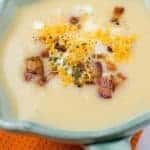 This incredible, rich soup is ultra simple. Just six ingredients. Add the main four for the potato base, cook in the slow cooker, then mash and mix in milk and cheese. Definitely add some crumbled bacon on top, though!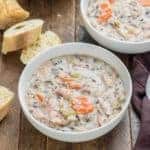 Just looking at this soup makes me want some warm bread with butter. And using wild rice always feels a little healthier than noodles. Perfect for when someone has the sniffles or just wants a cozy supper.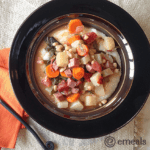 We eat a lot of stew in the fall winter and love this hearty, slightly different take. Plus, sneaking some kale into soup is one of the few ways to get my husband to eat it! The cheesy grits this soup is served over might offset the kale though…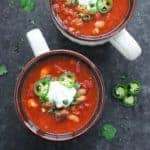 So much flavor in this rich, game day soup. Looks like a perfect dinner for nights when we are watching my brother's hockey games and would go great with some cornbread.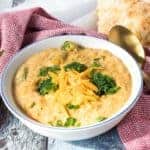 Alright, where was this amazing soup when I was gluten-free and craving Panera Broccoli Cheddar soup!? Oh well. I still make it now so I can have my fave soup without all the preservatives and such that must be in the Panera version.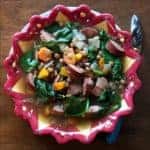 A healthy dinner with no browning meat or mixing in ingredients later. Just chop everything up, throw it in the slow cooker, and let it cook to perfection. Win!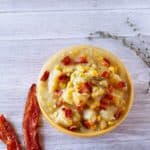 Corn chowder is absolutely a go-to here. It is vegetarian as is, but you can mix in some chopped up ham steak or sprinkle with some bacon if desired. That is what we always do!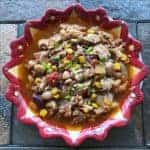 Chicken thighs, beans, and corn make this an extra low-cost, but super filling meal that makes for tasty leftovers. Serve as is, over rice, or with a side of cornbread. Naturally gluten-free! (But make sure you use a gluten free cornbread recipe if you want to keep it GF!..)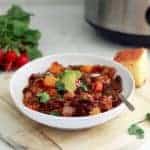 We eat a lot of meat in the winter. Like, way too much. It nice to have a filling stew that skips the meat without making us feel like something is missing. The chunks of butternut squash go a long way in this recipe.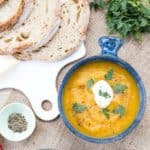 When I think of vegetable soup, I imagine a clear broth soup and noodles. But this twist with root vegetables is awesome. Another soup that is creamy without the cream, fat-free, and super filling.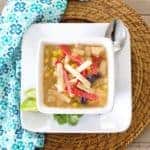 My husband's face the first time I told him I was going to make white chicken chili was priceless. He couldn't imagine why I wanted to screw with something as naturally awesome as chili. But he LOVED it. And now it is part of the fall and winter rotation.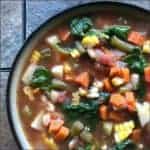 Looking for a good recipe for your next meatless Monday? Search no further! This recipe is healthy, easy, cheap, and so much more flavorful than the vegetable soup sold in a can at the grocery store. What more could you ask for?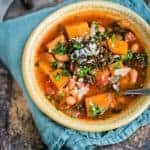 Super Golden Bakes is a genius. I never would have thought to put parmesan cheese on top of a vegetarian stew but, oh man, it's so good. Definitely try it so it can rock your world too!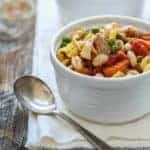 Score one for egg noodles! This recipe is so simple and features things we almost always have in the house. Great for when I'm trying to raid the pantry for something yummy to put something together because I don't wait to venture out into the cold, snowy, or wet.
Meatless Meals
We eat a lot of meat. And while our cholesterol and other health numbers are good now, we've been trying to mix in at least two to three dinners a week without meat for our budget and our waistlines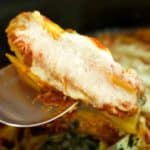 The fact that you don't have to cook the manicotti makes this recipe fast and easy. Plus, using the trick from Living Sweet Moments to fill the noodles with a Ziploc bag as a piper makes things way less messy.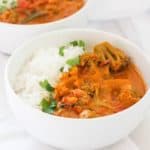 Only 5 minutes of prep time. Delicious with warm naan. What more could you ask for? This does take an Indian spice, garam masala, but if you don't have it Champagne Tastes walks you through creating a substitute.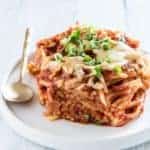 This is one of those recipes where you always have the ingredients in the house and you always have time to throw it together. There are some welcome surprises in the ingredients here, with bacon and maple syrup making a guest appearance.
Chicken
Chicken is so versatile and I use it way more often than beef in the crockpot because I'm usually too lazy to brown beef in the morning when I'm filling the crockpot to cook. (Sorry, not sorry.) Not to mention, chicken is cheaper.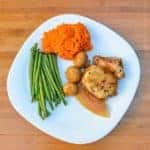 Balsamic vinegar is one of my favorite staples in the kitchen. This combination with chicken thighs, which always turn out so juicy (and they're so cheap!) is superb.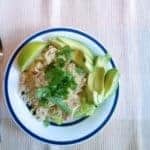 Shredded chicken recipes are great because there are always so many uses for leftovers. Topped on a salad, freezing burritos for later. But what I really like about this recipe is its use of tomatillos. I love growing tomatillos for salsa (and because they look fun), so it is nice to have another use.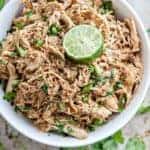 Many Mexican chicken recipes include sour cream or lots of cheese, which is a very American take. This recipe is all spices, fresh cilantro, onion, and jalapeno. A delicious dairy-free Mexican chicken recipe for your next taco night!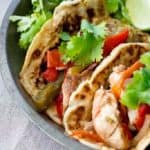 Before Fuss Fish was born, I tried freezing a bunch of slow cooker meals. Major fail. Most came out pretty tasteless or mushy and were pretty disappointing. Fajitas, however, are a great freezer meal. They came out very yummy. Try this recipe out to save you on days when you couldn't make it to the grocery store or you just don't have time to whip something up.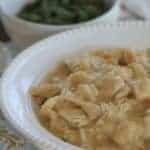 Chicken and dumplings are absolutely soul food. But for some reason, I always convince myself that it is complicated to make. Not anymore! This recipe is super simple, only has a few ingredients, and the dumplings are made from quartered take-and-bake biscuits that cook on top of the chicken in the Crockpot!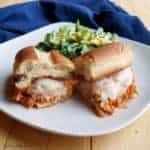 Chicken parmesan is one of my husband's favorite foods. Usually, it is reserved for nights when we have time to cook and make it properly, but this Crockpot recipe can give him the flavors he loves and it tastes awesome on a toasted sub roll.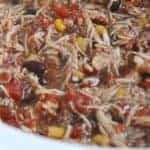 Chicken, black beans, corn, salsa, and cream cheese. That's it. With just those ingredients it can win over your whole family. We like eating it as a dip with chips or over rice, but it would also be great on a taco.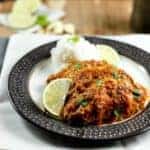 I love garlic. Love. Like, we bought a Costco size tub of minced garlic because I use it almost every day. So a garlic chicken that was low carb? I had to try it. And it is so good! It isn't too spicy (which we prefer), but if you like spice add some jalapeno or extra chili powder.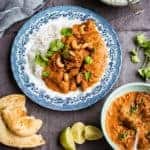 When we used to live in Jersey City, New Jersey, there was a lot of great Indian food. We couldn't find as much in Boston and now in rural Connecticut, we are mostly out of luck. Finding this Indian butter chicken curry was perfect for when we need a fix!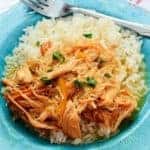 I try to skip soda most of the time (try to avoid high fructose corn syrup in general), but I have this weird love for orange soda. It's just delicious. Still, pouring some into my Crockpot felt like a stretch. Luckily, the final product is worth the slightly unusual addition!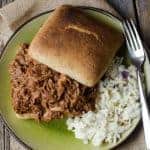 Pulled chicken is a meal prep staple. Whether to serve as BBQ sandwiches, over rice, or on a salad, a big batch of pulled chicken can go a long way. And since you don't add the BBQ sauce for this recipe until after you've shredded the chicken, you can save some plain chicken for other uses.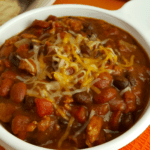 Alright, I'm going to let you in on a secret. I put this recipe on the list only because it looks yummy and I couldn't have a fall list without a pumpkin recipe. But pumpkin makes my mouth go numb and gives Baby Minnow a major face rash, so we can't whip it up anytime soon. Someone tell me how it is though!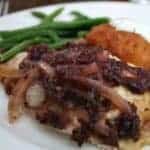 Once or twice a year, Papa Fish and I stock our drop freezer with a batch of whole chickens. And while cooking them in the oven is easy, we do have to be able to start making dinner a couple hours before we put it on the table. So discovering we could cook it in the Crockpot, and add some cranberry sauce (I LOVE cranberries), was a major revelation. Highly recommend.
Beef
One of the best things about the Crockpot is its ability to turn even the cheapest cuts of beef into tender, juicy, and tasty meals.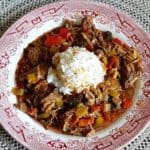 With mushrooms, steak sauce, celery, bell peppers, and roast this is the perfect hearty meal as it gets cooler outside. I love Julia from Simply Southern's suggestion of serving this with a scoop of rice. It fits the dish perfectly!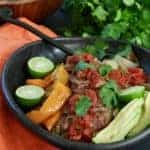 This is an awesome, flavorful Cuban dish that you won't want to miss. The sofrito flavors really meld well with the slow-cooked flank steak. Don't get thrown off though! This is one of those few crockpot recipes where you don't want to add extra liquid. There is plenty in the tomatoes.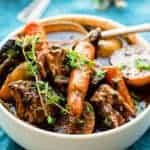 This was a go-to when I was gluten-free and is still one of my favorite crockpot recipes. We eat it with mashed potatoes or egg noodles and it always feels like a fancy meal. Even if it took just a few minutes to prep.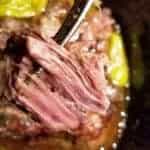 Chuck roast is such a well priced cut and can be great when cooked right. I always enjoy finding new flavors and recipes for it in the slow cooker and this one is so easy. You can use the ranch and au jus packets More or Less Cooking recommends, or mix up your own from the spice cabinet to avoid the extra salt.
Pork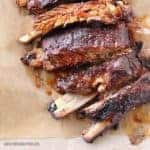 My father-in-law makes the world's best ribs. And the idea of cooking them in the slow cooker felt like sacrilege. But the idea of standing the rack up on its side keeps the meat from getting too mushy and you can do a quick sear on the grill if you want to get that crisp crust that's so delicious. Bottom line? This recipe lets you get fall-off-the-bone ribs without the prep time!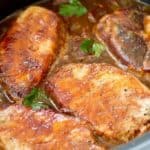 Just five ingredients, one of which is water. I think we can swing it even on our busiest days. The combo here of pork chops, apples, and barbeque sauce is divine. Naturally grain free, gluten free, and paleo friendly (depending on which barbeque sauce you use).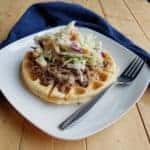 It's an apple-palooza! Apple cider pulled pork over an apple cider waffle with apple slaw sounds so good. And since my existing favorite pork chop recipe (decidedly not quick or slow cooker friendly) also uses apple cider, I had to try this. And I wasn't disappointed!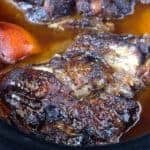 Similar to pulled chicken, this pork shoulder recipe results in pulled pork that can wear a lot of hats. Mix in BBQ sauce for pulled pork sandwiches, finish into carnitas tacos, or serve over rice. For that beautifully charred crust that The Rising Spoon gets, try cooking on high.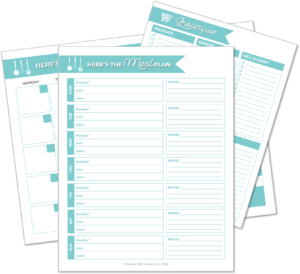 Grab Our Free Meal Planning Sheets!
Weekly & monthly meal planners and a simple grocery list to get a handle on your grocery budget.
Make the Most of Fall With Warm, Low-Cost Crock-Pot Meals
Fall is a busy time. You're getting back into the swing of the school year and cleaning up your budget in preparation for the holidays. You want to add back some healthy foods after all those hot dogs, hamburgers, and family pizza nights.
Luckily, you can save time and money with awesome, healthy slow cooker meals. Try some of the recipes above and let your taste buds celebrate the beginning of fall!
What are your favorite fall crockpot recipes? Share in the comments! And pin this post to revisit all the amazing recipes!