If you are looking for a salad ingredient that will be both tasty and satisfying, you can't do better than beans.
Beans are rich in fiber, which is great for your digestion but they are also low in fat, which is perfect for those who are trying to watch what they eat. A nutritious, filling, and cheap addition to your meals. How could you go wrong!
While many people are used to finding beans in chilis and burritos, beans are very versatile and can be used in many types of cooking. Personally, I love them in salads.
So today, I want to show you how to use beans in light, superfood-filled summer salads that make incredible lunches or dinners.
3 Delicious, Superfood-Filled Summer Bean Salad Recipes
Mexican Black Bean Salad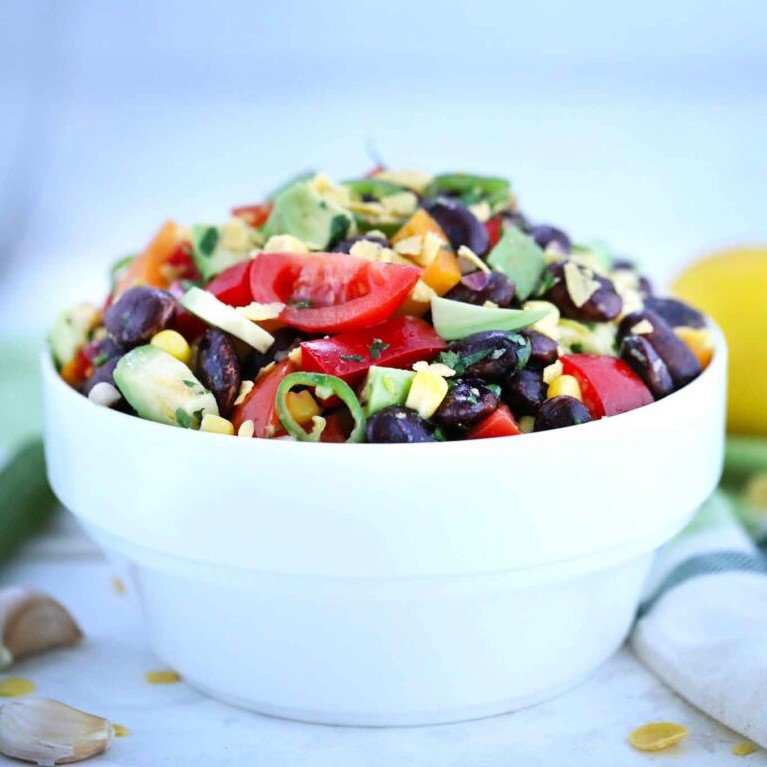 If you are a fan of black beans, we've got the perfect recipe for you. This Mexican Black Bean Salad combines ingredients like corn, tomatoes, bell peppers, avocados, and many more.
combines ingredients like corn, tomatoes, bell peppers, avocados, and many more.
It is also very easy to make and will only take you 15 minutes if you are using the canned beans. All you need to do is slice the rest of the ingredients and combine them with the red wine vinegar. You can store leftovers in the fridge for up to five days.
Easy Bean Salad
This Easy Bean Salad would be the perfect side dish on your next barbecue night. What you can do is combine cannellini beans, garbanzo, and some kidney beans.
Now what you will notice is that these beans are quite soft in texture, what you can do is add some crunchy ingredients to your salad. This can be some fresh red bell pepper and even some celery.
This not only adds texture and flavor, but it also adds color to your plate which will make the salad more appetizing.
Lastly, add some dressing that composed of red wine vinegar, honey, and garlic plus your choice of other seasonings.
Mediterranean Bean Salad
You can find beans in many Mediterranean dishes. This salad recipe uses garbanzos or chickpeas, some kidney beans, and green beans.
The crunchy texture of the salad will come from the cucumbers, onions, and some bell peppers. If you want to add some strong bold flavors, add some capers too.
As for the dressing, something as simple as a Dijon vinaigrette can do wonders. The simple dressing will highlight the natural taste of your ingredients. This salad would be perfect to pair with beef or pork kabobs or even baked fish.
Tips for Cooking the Best Bean Salad
Try Not to Use Canned Beans
If you want to have the best tasting bean salad, you need to make sure that you are not using canned beans. While they may be convenient as they've already been cooked, using dry beans will give you not just better flavor but texture as well.
Also, the canned variety has a lot of sodium so it is not advisable if you are trying to eat healthier. If you have no choice but to use canned beans, wash them beforehand as to get rid of most of the sodium.
Since cooking beans from scratch can be time-consuming, you can just cook a big batch and then freeze them for the next time you need them.
One thing you can do to ensure that they will not turn mushy is to add some vinegar before freezing.
Don't Be Afraid to Add Bold Flavors
Some varieties of beans do not really have much of a taste. What you can do is add ingredients that have a really bold flavor.
Some ingredients that go well with beans include garlic and onions. Of course, you should not forget to add some cheese and even other ingredients like chili sauce or hot sauce.
Add the Dressing While Your Beans Are Still Warm
If you cannot make your beans ahead of time and keep it overnight with the dressing for better absorption, then better add the dressing while your beans are still warm.
They are able to catch more of the flavors well when they are warmed. You can use a microwave to do this if your beans are already cold.
Make Your Bean Salads Ahead of Time
What's great about a bean salad is that they taste even better the next day. That is because the flavors you have added have been completely absorbed by the beans.
So if you are planning to have a bean salad for lunch or dinner, try to prepare it a day before. Include the dressing and then just keep it refrigerated until it is time to serve.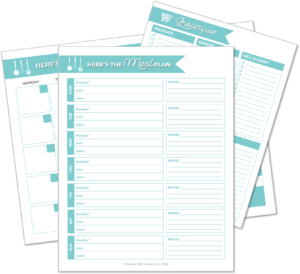 Grab Our Free Meal Planning Sheets!
Weekly & monthly meal planners and a simple grocery list to get a handle on your grocery budget.
Enjoy All the Varieties of Summer Bean Salads!
Whatever ingredients you choose, what is important is that you find the right balance of flavors. With beans, there are so many delicious combinations so keep experimenting with your favorites and enjoy!
What is your favorite bean salad recipe? Share in the comments!