140 Yummy Make Ahead Recipes for Meal Prep Sunday
Meal prep Sunday saves my family's sanity – and our grocery budget. We cook everything we'll eat that week in just a few hours and then it's like eating takeout every night of the week. 
But sometimes, it is hard to find recipes that reheat well. We love the convenience of make-ahead meals, but that doesn't mean we're willing to sacrifice taste!
So, to make meal planning even easier, we've compiled a master list of awesome make-ahead meals that you'll look forward to eating. Let's get cooking!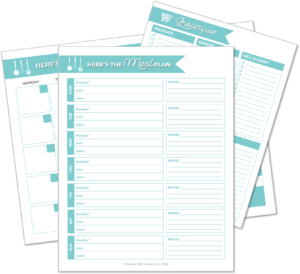 Grab Our Free Meal Planning Sheets!
Weekly & monthly meal planners and a simple grocery list to get a handle on your grocery budget.
Yummy Make Ahead Breakfast Recipes
Breakfast is the most important meal of the day. But between getting yourself ready, making sure the kids are out of bed and dressed, and hurrying everyone out the door in time for school drop off makes it hard to find time for healthy, satisfying food.
These recipes will make your morning routine a little smoother (and more delicious.)
Breakfast burritos are one of the best meal prep options. They are easy to make, freeze well, and just need to be popped in the microwave before they are ready to go. Plus, you can eat them one handed while chasing down your last morning tasks.
This baked oatmeal recipe is rich, comforting, and delicious. And the options for using it in your meal prep are multi-faceted. It freezes well pre- or post- baking to pull out on weeks when you have less time for prep. Or, it lasts for up to a week in the fridge after baking, so you can warm up a slice each morning!
My one year old wants breakfast the moment he wakes up in the morning. And a piece of fruit or toast usually doesn't cut it. It's eggs or bust. Making a dozen egg muffins on Sunday guarantees I can just pop one in the microwave for him while I finish wiping the sleep from my eyes.
These breakfast muffins are baked with simple ingredients like sliced almonds, dried cranberries, and maple syrup -making them both quick and easy to make ahead.
These overnight oats are what dreamed as made of. Pair banana, chocolate, nuts, and creamy oatmeal that can be stored in the fridge for a quick, healthy breakfast.
A cafe inspired breakfast is exactly what you'll get with this Bistro Box. A perfectly curated box that includes a muffin, eggs, and fruit that is sure to fill you up and get you moving in the morning.
Breakfast in less than 10 minutes that the whole family will enjoy? Yes, please! This DIY instant oatmeal combines rolled oats, chia seeds, toasted flax seeds, brown sugar, freeze-dried berries, and dried blueberries for a crowd pleasing breakfast.
Mornings can be crazy in our home and these egg and bacon cups keep me satisfied until lunch time. These portable egg cups combine whole grains and protein to keep you full longer.
Have you tried chia seed pudding yet? Soaking chia seeds overnight creates a thick delicious pudding that can be paired with raspberries for added flavor. 
Are you looking for a breakfast item that can be made ahead of time and frozen? These vegetarian breakfast burritos packed with nutritious ingredients and can be easily customized to your taste buds.
Yogurt is one of my favorite breakfasts when I am in a hurry. These parfaits combine fruit and granola to make the yogurt both filling and delicious.
These egg muffin cups are low carb and high in protein for the perfect keto breakfast. The best part is they are scrumptious and easy to reheat all week!
These muffins include pantry staples that you probably already have on hand. The Banana Oat Muffins are healthy and full of fiber to keep you and your family full for hours.
Steel cut oats add the perfect crunch and creaminess to your morning oatmeal. Pair your oats with your favorite mix-ins like butter or chia seeds for added flavor. Then top with a seasonal fruit for a balanced breakfast.
Lunches You'll Look Forward Too
At $10 to $15 a day, takeout lunches at work and school lunches for your kids can really add up. If you're new to meal prep, lunches are a great place to start setting up ahead of time. You'll save money while ensuring that you eat healthier during the day.
Do you love a colorful salad as much as I do? This salad is crunchy and creamy and can be made in as little as 10 minutes. A healthy lunch that doesn't even resemble a typical garden salad.
This lunch bowl is easy to assemble and can be stored in the fridge for up to three days making it the perfect lunch to pack for a long day at work. It's yummy warm or cold!
Switching up my lunch routine during the week keeps me from getting bored. This penne salad offers a variety of vegetables with an added crunch from toasted pine nuts.
When a burrito meets a mason jar you end up with this delicious combination of sour cream, black beans, lettuce, tomatoes, cheese and much more. You can even switch the ingredients in the layers for added variety.
Just thinking about this cobb salad is making my mouth water. Steak paired with hard boiled eggs, tomatoes, feta cheese, pecans, and spinach make this salad both nutritious and delicious. 
Are you looking for a kid-friendly option for lunch this week? Rather than a traditional pizza for lunch, switch it up with these pizza rolls made with freshly made pesto and chicken can be served warm or cold.
Are you short on time? This bowl can be created in just a few minutes by combining canned tuna, fresh veggies, and a zesty dairy-free yogurt. Healthy and high-protein without being bland! 
This pasta salad will bring you back to your childhood of prepackaged carbs with memories of Suddenly Salad and Tuna Helper on the dinner table. The best part – you can serve the salad hot or cold depending on the season. 
Ditch the traditional green salad and try this instead. With quick-cook vermicelli noodles, raw vegetables, and shredded chicken this mason jar salad will become a lunchtime favorite. 
Tired of the same old sandwich? Switch up your traditional lunch for these tasty pinwheels that will take you five minutes to meal prep at the beginning of the week. Perfect for adults or a child's lunchbox!
Who doesn't love a lifetime supply of burritos? Well, maybe not a lifetime supply – but this recipe will make 15 burritos that you can freeze to enjoy all month long for times when you just don't have time to make lunch or dinner.
Coconut quinoa paired with roasted vegetables and purple cabbage slaw create this healthy vegetarian meal that can be made ahead of time for your weekday lunches. 
When I used to think of salads, I imagined we would have to eat simple garden salads with lettuce, a few cherry tomatoes, cucumber, and Italian dressing every day. Now, I know that there are hearty and delicious salads out there that I actually look forward to gobbling down!
Are you looking for a meatless dish to enjoy? This salad is high in protein and packed with veggies to keep you full longer. And the peanut dressing is delicious!
If you are looking for a quinoa alternative, freekah is a great choice. Freekah has a smoky nuttiness that will elevate your salad. Enjoy this dish for lunch or pair it with your favorite greek inspired meal as a side dish. 
Want a quick to assemble and filling salad? Look no further! This 3 bean salad contains only whole clean ingredients and is nutrient dense to keep you full longer. Add greens or quinoa for a larger portion size and added flavor.
Are there meals you could eat every day and never get tired? This salad is one of those recipes you will keep coming back to. You can even substitute ingredients in the recipe to use what you already have on hand. 
What is better than kale, quinoa, avocado, and blueberries paired for a delicious salad? This salad is bursting with the flavors of summer we all love and enjoy. 
This salad will quickly become a lunchtime staple with it's crunchy cabbage, carrots, and tender chicken. You can even make substitutions if ingredients aren't readily available to you or if you taste buds prefer something a bit different. 
A layered salad jar is the perfect lunch on the go. Simply put your dressing on the bottom and layer the ingredients on top. When you are ready to eat, flip the jar over and enjoy your salad. 
Individually portioned salads in a mason jar make this salad both portable and easy to meal prep for the week ahead. Enjoy layers of fresh vegetables topped with you favorite sprouts. 
Pasta salad is one of my favorites but is often coated in a heavy mayonnaise-based dressing. This salad is heavy on the veggies and packs a punch with the homemade tahini dressing. 
Ready for a little sunshine in your bowl? These summer salads are quick and healthy while still being light and fresh. And it looks beautiful packed in a mason jar, lasting for 5 days in the fridge.
This is not your typical lunchtime salad! The noodles will marinate in your salad dressing creating an amazing flavor with every bite when served. 
This classic salad is addictively delicious with tender kale, feta cheese, and crunchy cucumbers. Assemble in your favorite container for an easy salad to take with you on the go. 
Soup isn't just for when you're feeling under the weather! The right soup can make a filling and cozy dinner – especially paired with crackers or warm bread. Plus, with most soups being one pot meals, you'll have minimal cleanup.
Pantry staples make this Instant Pot soup thick, creamy, and delicious. Pack it for an easy lunch or add bread and salad for a quick dinner during the week. We love it with a warm grilled cheese sandwich!
If you need a recipe for a large family or to pack for lunch throughout the week this chili is going to be a go-to staple in your meal prep. The best part is you can prepare this on the stovetop, in the slow cooker, or in an Instant Pot. 
This classic family recipe is easy to put together and can easily be made ahead of time to enjoy during the week.
Made with common pantry items, this soup is simple to prepare and is a warming meal for the whole family. Plus, it can be frozen to enjoy at a later date.
Are you looking for a soup that can be enjoyed all year round? This chicken tortilla soup can easily be made in the slow cooker and topped with avocado, cheese, and cilantro when serving. 
Roasted garlic and a bit of heavy cream make this soup better than any canned variety you will find at the store. The soup easily comes together in your slow cooker, so you can set it and forget it. 
With minimal effort, this soup is hearty and delicious. It is packed with fresh vegetables, lemon, rosemary, and lentils for added protein. 
This chili is not only gluten free but it is also vegan! With only a few simple ingredients you can easily make a large batch of this chili to enjoy all week long.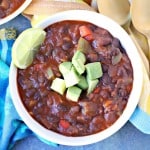 This family favorite is as easy as chopping vegetables and adding everything to the slow cooker. You can also freeze this recipe to enjoy throughout the month. Vegetable soup is our favorite way to get our kids to eat more veggies!
One pot chili is a classic family meal. It is loaded with flavor from the three beans, beef, vegetables, and seasoning. Pair with avocados and cornbread for the perfect meal.
Do you need to please a picky toddler? This soup is mildly sweet from the apple and with a hint of bacon it is sure to please the whole family. And getting them all the nutrients in kale is a major bonus!
Inspired by the streets of Tuscany, this soup is simple and delicious with only seven ingredients. Chicken stock, white beans, garlic, onion, bacon, and rosemary warms you up while still being filling.
This Asian inspired soup is full of texture with the fresh raw vegetables, soba noodles, and tofu. While this is soup is not authentic, it is satisfying and nourishing.
If you have picky eaters at home you can pack this soup with vegetables or not, depending on your families preferences. Be sure to make a large batch and freeze it into smaller portions to enjoy later. 
A weeknight dinner or a game day crowd pleaser – this soup is the perfect combination of spice and cream. Delicious with tortilla chips and sour cream!
From meatballs and lasagna to tacos, there is a lot you can do with beef. These recipes are family favorites that are quick and easy options for meal prep Sunday.
Spicy, sweet, and depth of flavor make these meatballs a go-to lunch that can be made ahead of time and enjoyed all week. 
Channel your childhood with this Instant Pot version of hamburger helper. For added flavor and nutritional value, veggies can be added for a complete one-pot meal.
Do you have leftover beef you need to use? Stretch your beef by adding rice and beans to the burritos and freeze a big batch for a quick and easy weeknight dinner. 
Spaghetti and meatballs are my go-to comfort food. This meal can be prepped in as little as 30 minutes and left to slow cook all day while you are at work. Pair with a simple salad to get your fill of veggies.
Add a bit of variety to your salad with this filling and flavorful taco salad jar. Assembling the salad in the jar allows it to keep in the fridge for several days and to take this recipe on-the-go for a simple healthy lunch.
Homemade bolognese paired with three kinds of cheese and noodles creates the perfect Italian style lasagna. The best part is that lasagna tends to taste better when made ahead of time!
My favorite recipes can be made in 30 minutes or less and tastes just as good when reheated. The best part of this recipe is the casserole assembly making it quick and easy to get on the table or prep ahead of time. 
These freezer-friendly meatballs can be assembled in a short amount of time and then paired with your favorite meatball friendly recipes for a quick and easy lunch or dinner. 
I grew up eating sloppy joes but never found a recipe I loved as an adult until I found this simple slow cooker recipe. They are messy and delicious just like I remember.
Roasted vegetables and steak always make a yummy meal. This easy dinner takes only one pan for easy cleanup.
Do you love teriyaki sauce? This sweet and spicy sauce is simmered in the slow cooker with the meatballs for a simple flavorful dish. 
With only three ingredients these burritos are quick to make. They freeze beautifully and can be enjoyed throughout the month as an on-the-go meal solution.
Perfect Poultry Make Ahead Recipes
Chicken is our favorite frugal, healthy meat option and always buy family packs of chicken breast or thighs when they go on sale. When cooked well, it reheats beautifully to be enjoyed all week and can take on many different flavors.
This chicken souvlaki is eaten every single week in our home. The chicken stays moist when cooked ahead of time and the flavors are incredible. Plus, the kids love dipping the chicken in tzatziki sauce! 
Grilled chicken, creamy garlic sauce, and sun-dried tomatoes paired with pasta will make this a new family favorite. Freeze to reheat anytime or keep in the fridge for several days.
Fresh herbs paired with turkey create a flavorful meatball that is air fried to perfection. Serve with your favorite sauce or as a sandwich to make a quick and easy meal.
Layers of vegetables, quinoa, chicken and a homemade dressing create a delicious combination for a grab and go lunch or a quick dinner.
This budget-friendly recipe can be prepared in 30 minutes and served throughout the week for lunch or dinner. You can even switch the marinade for the chicken to create variety in your meal! 
This stuffed chicken breast is packed with flavor without a marinade. While this recipe is the perfect dish for dinner it can also be enjoyed as a fancy weekday lunch!
This copycat recipe for Chuy's is filled with vegetables, garlic, and plenty of spice. Yummy with chips and on its own. It may even be better than the original.
Crispy tender chicken with an added kick of spice make this Korean chicken dish the perfect addition to your lunch. Serve it with rice and vegetables for a complete meal.
These chicken wraps are picky eater approved with just a hint of spice. Serve the wrap as an appetizer or to create a whole meal. Gluten-free too!
This 30-minute Instant Pot comfort meal is easy to make and can be served with spaghetti, rice, or another grain of choice. I love them on their own with a sprinkling of parmesan for a low-carb dinner.
Better than takeout teriyaki chicken bowls are great for lunch or a quick weeknight dinner. Even picky-eaters love this simple dish.
A classic recipe with a modern twist for the picky eater, this creamy chicken and broccoli dish a crowd pleaser. Reheats very well to be eaten all week long.
Chicken fiesta is both refreshing and scrumptious with the addition of grapes and apricot jam. Pair it with rice for a meal or use it as a sandwich filling.
When life gets hectic this recipe can be created in a large batch to be enjoyed as both dinner or lunch. Prep this bowl ahead of time and then bake when needed.
This lemon sauce is light and flavorful making it a healthy option your whole family will enjoy. If you want to grill the chicken the sauce makes the perfect marinade.
Grab-and-go meals are my favorite meal prep because the make the week ahead that much easier with our busy schedules. The fresh vegetables, vinaigrett, and chicken can be served on naan or over a leafy salad.
Combine your favorite salsa, spices, and chicken for this moist, gluten-free dish that will become a family favorite. Serve with rice or steamed veggies for a complete meal.
A twist on the classic shepherd's pie adds a bit of spice to this recipe. You can make subtle changes to this recipe to fit your families taste and dietary restrictions.
Skip the mayo for a healthy and easy chicken salad. This recipe is packed with fresh veggies and is allergy-free and gluten-free. You can serve it in a sandwich or over a salad for a quick lunch.
I love recipes that can be adapted based on our families tastes. This recipe uses turkey sausage as well as a variety of vegetables to create the perfect breakfast casserole.
This recipe is Whole 30 and husband approved! Enjoy slow-cooked chicken thighs served over a bed of cauliflower rice for a quick, delicious, and healthy dinner.
Do you need a no-fuss dinner option? Using a premade spice blend is an easy way to create a flavorful dish. Crock Pot meals are one of my favorites for hands-off dinners with plenty of leftovers.
Baked ziti meets chicken parmesan. Two of my favorite dishes paired together create this simple pasta bake that reheats well all week.
This quick and easy dish is packed with nutrients and protein to fuel you all day. Zoodles are a fun healthy twist on the traditional pasta served with meatballs.
When you are short on time this recipe takes only 5 minutes to prep. Simply store it in the freezer and cook when you need a 30-minute meal. Served over rice it is a warming recipe.
Short on time? That's okay, you can get this dinner prepped and in the slow cooker in just a few minutes. Cook on low and you'll have dinner almost ready when you get home from a long day at the office.
Do you want chicken pot pie made from scratch but are short on time? That's not a problem with this family friendly slow cooker recipe. The only canned ingredient is the biscuits – but you can make those from scratch too!
Pre-cooked chicken makes this recipe possible in only 30 minutes and with only one skillet to clean. The rice cooks right in the skillet and you can level up the dish with diced avocado.
Using chicken creates a lighter version of the traditional shepherd's pie. Assemble and freeze for a make-ahead recipe that can be served on a busy evening.
My husband grew up with this dish and I knew I needed to learn how to recreate it. It's now a family staple that comes together in about an hours time. So creamy and comforting!
Craving chinese takeout but would prefer a homemade version? This family friendly 30 minute meal is full of flavor without the refined sugars and is full your favorite veggies.
Take the stress out of your week with chicken and veggies. Add your favorite marinade or create a simple homemade italian marinade to flavor your freezer meal.
These juicy turkey burgers are perfect on the grill. Make a large batch and freeze the burgers to enjoy throughout the month.
Everyone loves bacon, but pork can also serve for a hearty and delicious meal at a cheaper price than beef. Add some yummy sausage, pork chops, or pork roast to your grocery cart and enjoy these awesome recipes.
I love that this one pot recipe cooks quickly and has minimal cleanup. It's the perfect recipe to make during the week or prep on Sunday for the week ahead.
Do you need a recipe everyone in your family will love? This pasta is delicious and hearty and will have everyone coming back for seconds.
These bowls are easy to put together and perfectly portion to make eating healthy throughout the week super easy. Prep on Sunday and enjoy for lunch throughout the week.
With only 25 minutes of prep time, this low carb bowl will make enough lunches for you to enjoy all week, a takeout substitute for dinner, or freeze it for later in the month.
This one pan favorite makes meal prep quick and easy with only a few simple ingredients. A delicious and filling dinner to reheat on busy nights.
Sweet pork and tangy slaw make this recipe a family favorite in our home. The best part is it can be made in the slow cooker so you can set it and forget it while you go about your day.
This kid-approved recipe is perfect for a weeknight dinner and holds up beautifully to enjoy as lunch throughout the week. We love that they get to enjoy mac & cheese while still getting some protien.
This Jambalaya inspired pasta dish is a crowd pleaser with its creamy finish and the assortment of herbs and spices. Not to mention you'll have minimal dishes, at this is a one-pot meal!
With less than 10 minutes to prep you can easily put together this fall apart tender pork shoulder. Serve as pulled pork or carnitas for a dinner the whole family will love.
Pick your favorite sausage and veggies for a quick and easy sheet pan meal. The roasted veggies are delicious and sausage adds great, rich flavor.
Roasted pork chops on a bed of potatoes and green beans make this 30-minute, one sheet pan meal a must have on our weekly dinner menu. Easy to prep and easy to clean are my favorite types of dishes.
This dish is thick and hearty – excellent for those cold winter nights or when you need a taste of your childhood. Enjoy this comforting dinner that comes together in less than 30 minutes for days when you don't have hours for your weekly meal prep.
Incredible Vegetarian & Vegan Recipes
Whether you live vegetarian or vegan always or just want some yummy and healthy meatless meals to add to your rotation, these options will get even an ardent carnivore asking for a second helping.
This salad is full of different tastes and textures from the raw vegetables to the noodles and dressing. Prep this salad on Sunday and enjoy for lunch or a simple dinner throughout the week.
Meatloaf is the perfect comfort food that can be enjoyed any time of the year. This meatloaf is full of lentils, oats, and veggies for a savory and hearty meatloaf that the whole family will enjoy.
This burrito is packed with flavor and loaded with black beans, cilantro-lime rice, pico de gallo and much more. Prep this for lunch or enjoy as a filling dinner option.
Sweet, savory, and spicy make this fried rice a family favorite that takes only 30 minutes to prepare and cook. The pineapple adds the perfect touch of sweetness.
With only nine ingredients this falafel dish is both hearty and healthy, coming together in less than an hour. Make a large portion to enjoy all week with pita bread or to make into bowls to enjoy for lunch.
This chili is wholesome, delicious, and easy to make. It can be prepped to enjoy throughout the week or frozen it to enjoy later. Place in the slow cooker to cook while you're at work or while you prep other meals for the week.
Enjoy authentic Italian flavors with this ultimate comfort food. Layers of eggplant, mozzarella, parmesan, and tomato sauce will have everyone clamoring for seconds.
This rich and healthy soup has a unique and perfectly balanced flavor. Roasting the carrots brings out a sweeter flavor than using raw carrots and the Moroccan spices in this recipe takes the soup to the next level.
Protein and good fats make this meal prep bowl extra healthy. It can be prepared in less than 30 minutes for a quick lunch option. We enjoy making larger prepared bowls for a scrumptious dinner.
Combine Indian spices and seasonal vegetables for a healthy curry that can be kept in the fridge all week or divided into individual portions and frozen to enjoy later as a microwave dinner substitute.
What is better than cauliflower and cheese? This side dish is bubbly and golden delicious when pulled out of the oven. Serve alongside your favorite main dish.
Trying to get your kids to eat more vegetables? This lasagna is easy to assemble and easy on the budget as well.
I love how versatile this recipe is. You can enjoy it as a sandwich, wrapped in a tortilla, or serve it for breakfast or dinner. This frittata won't disappoint.
Bursting with fresh and healthy ingredients this quinoa has hidden veggies and can be prepared in the slow cooker for a set it and forget it dinner. We love this recipe on chilly days.
Crispy tofu paired with a spicy sauce make this recipe healthy and delicious. It can be stored in the fridge for up to 5 days so you can enjoy it all week.
This produce packed stir fry makes the perfect plant-based lunch that can be made in only 30 minutes on Sunday afternoon. Our family will eat stir fry any time, so we often pack it in larger portions for dinner.
Packed with protein, fiber, and good fats this bowl is loaded with flavor and comes together in only 15 minutes. Simply add the avocado the day of.
These frozen pizzas are both convenient and ready when you need them. By pre-baking and freezing the pizza you can enjoy them in just a few minutes. Much cheaper than store-bought frozen pizzas or take-out!
Scrumptious Snack & Dessert Ideas
Snacks are one area we used to forget in our meal prep and it really weighed on the budget. (Why are Oreos and granola so expensive?!)
Now we make some quick and easy snacks and desserts to enjoy all week!
I love how versatile these granola clusters are. Enjoy a handful as a quick snack or pair them with your favorite yogurt and fruit for a parfait. Our kiddos love them with greek yogurt for a healthy snack.
The sweet mix of chocolate and strawberry with the creamy, healthy fats from avocado makes this one of our favorite treats. Make a double batch – these won't last long!
This trail mix is easy to customize and can be enjoyed as a breakfast or a snack. The frozen yogurt makes our kids believe they are getting a sweet treat when they're really getting lots of healthy ingredients.
Don't despair when your bananas go brown! Just make this no-mixer, seven ingredient banana bread. Sometimes we throw in some mini chocolate chips for an extra treat.
This nut mix packs a punch with its spicy seasonings. It will become milder as it ages so enjoy it soon after preparing for a spicy mix or in a few days for just a hint of spice.
I love this recipe because it is no bake and is a healthy afternoon snack the kids will love. Prepare it on Sunday and enjoy throughout the week. A great thing to pack for a post soccer snack!
This sweet and salty combo is made with pantry staples. If you don't have an ingredient on hand don't be shy with using a substitute. You're still going to get a small snack to give you that extra boost of energy.
Perfectly portioned for a boost of energy. These no-bake bites are packed with protein and have a bit of chocolate to satisfy your sweet tooth.
These kid-approved bars are made with peanut butter, Cheerios, and honey and can be made in less than 15 minutes. Healthier than store-bought cereal bars while still being delicious.
This take on banana pudding is filled with vanilla wafers, bananas, and vanilla pudding for a weeknight treat. Our banana loving monkey boys love it!
There is nothing better than a fresh batch of soft chocolate chip cookies. Fill your cookie jar and share with a glass of milk to hear about your child's day after school. It's sure to be a hit!
We love Chex Mix but it can be so expensive. That's why we like to make it ourselves. A large batch can be enjoyed with lunch, as a snack, or packed for road trips.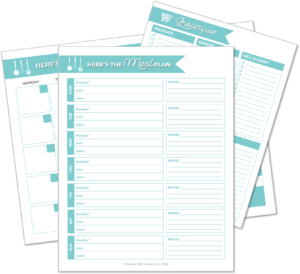 Grab Our Free Meal Planning Sheets!
Weekly & monthly meal planners and a simple grocery list to get a handle on your grocery budget.
Reduce Stress & Save Time With Make Ahead Meals
Cooking once a week, or only once every few days, can save you time, money, and energy while alowing you to still eat delicious and healthy meals. We hope having a great list to add to your meal planning rotation helps you stay on budget and find food the whole family will enjoy!
We want to hear from you! What are your favorite meal prep meals? Drop a note in the comments!
Love this post, mama? We've got more for you!