Who else is sick of the nightly dinner battles?
If your kiddo is like mine, they will go to any lengths to complicate a meal. Even one they enjoy!
I used to make pumpkin baked with cinnamon. My son loved it! He would even ask for it as a dessert. Then something happened.
He found out it was healthy.
Getting one of my sons to eat is a struggle. Seriously, he's like Randy from A Christmas Story. I've even used the piggie trick to mild success. I'll do anything to get him to eat healthy foods.
But what always works best is to simply be more creative with the vegetables.
With a few key staple ingredients, we can make multiple awesome meals that our boys will enjoy without a fight. (Or, at least, less of a fight.) They get the healthy food he needs and we get to keep our sanity. Win-win.
To avoid adding too much complication to our busy lives, we depend on three core ingredients that help us put together countless meal options.
Make The Most of
Cauliflower
The secret ingredient for many meals in my house is cauliflower. It's versatile – you can boil, steam, mash, or chop cauliflower and add it to potatoes, rice, or even mix it in with a hamburger patty. This adds a serving of vegetables to almost any meal we can think of!
Here are a few recipes we often make for our kids with cauliflower.
Cauliflower Pizza Crust
You may be a purist who doesn't want to mess with the sanctity of pizza. But this cauliflower pizza crust is truly delicious. And can make you feel good about giving your kids pizza for dinner. (Plus, it's a keto friendly recipe!)
When you replace the bread with a cauliflower crust, you significantly reduce the carb content, improve the nutritional benefit, and have a quick, healthy meal. As long as you do not go overboard with fatty toppings!
Cauliflower Gratin
Cauliflower gratin is a great side dish for healthy kids. Simply mix chopped cauliflower with milk and cheese and stir up in a skillet until lightly brown.
Even most vegetable-averse children will devour this cheesy treat.
Parmesan Cauliflower Tater Tots
Another good side dish that makes a great substitute for carbs is parmesan cauliflower tater tots. We serve them the same as traditional tater tots, with a little ketchup as a side dish. But our kids like them so much we can even use them as a yummy standalone snack between meals.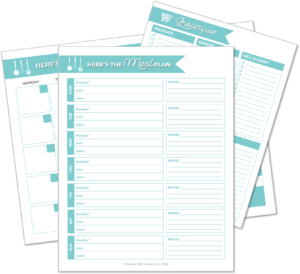 Grab Our Free Meal Planning Sheets!
Weekly & monthly meal planners and a simple grocery list to get a handle on your grocery budget.
Taking Advantage of Sweet Potatoes
The 'sweet' in sweet potatoes makes it easier to sneak past kids discerning palettes.
Substitute sweet potatoes for white potatoes in any meal. Mash them or bake them into fries for basic side dishes. And they are cheap! Important when you're trying to save money on groceries.
These are some of our favorite sweet potato recipes.
Maple Roasted Sweet Potatoes
One simple side dish that is actually so easy, you will be kicking yourself for not doing it more often is this maple roasted sweet potato recipe. It's even easier than mashed potatoes! You pretty much chop, add syrup, bake and serve! Excellent for a simple ingredient dish that needs almost no attention or planning.
Sweet Potato Frittata
For a little something different, we love this sweet potato frittata. The beauty of this dish is it is a complete meal in one pan. You can make it in under half an hour, and it is excellent for breakfast, lunch or dinner!
If your child is like mine and not a fan of red pepper, you can always substitute with shredded cauliflower. In fact, you can use spinach, broccoli, or any other vegetable at all your child prefers.
The Green Powerhouse: Spinach
Despite being the butt of many jokes, spinach is an excellent all-purpose vegetable – eat it raw, cooked on its own, or added into other recipes. It's high in crucial nutrients – folate, vitamin C, iron, fiber, and more – and can be hidden easier than you think!
Spinach Quiche
I can't talk about great spinach recipes for kids without mentioning our house favorite, the classic spinach quiche. While it's not the easiest dish on the list to prepare, it does stay well for leftovers!
And keep in mind, it's a one-dish meal makes meal planning more manageable. No need for sides! Egg, veggie, and flaky crust give this dish balance for dinner or breakfast.
Cheesy Spinach Bites
Need a healthy side or snack your kids will think is a treat? Try these cheesy spinach bites. They're incredible, hiding the healthy spinach among cheesy goodness, and so easy to make. Just throw everything in a blender, bake and serve!
Fruit and Spinach Popsicles
Finally, we have a sweet dessert treat that includes vegetables! Fruit and spinach popsicles are easy, fun, and delicious! Blend the fruit or juice of your choice along with a little bit of diced spinach. Place in a popsicle form and set to freeze and you'll have a satisfying and healthy treat for everyone! And who says it has to be summer to enjoy a frozen treat?
Helping Your Kids Eat Healthier Foods
These three vegetables are staples in our home and reduce our dinner time stress and arguments. My wife and I know that our kids are getting the nutritious foods they need and our kids are none the wiser.
But on the nights that it doesn't, we always have the old standby piggy trick.
How do you get your kids to eat healthy foods? Share your favorite tricks and recipes in the comments!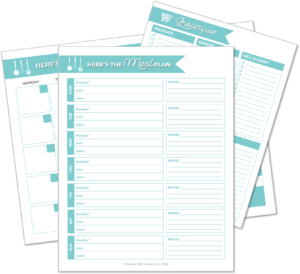 Grab Our Free Meal Planning Sheets!
Weekly & monthly meal planners and a simple grocery list to get a handle on your grocery budget.