Did you know you can earn cash and gift cards for completing simple tasks online?
I certainly didn't. Until recently, I thought all online survey sites like Swagbucks were a bit of a scam. But when I found out Swagbucks had paid out over $266 BILLION in cash and gift cards since its founding in 2008, I had to investigate.
I've used Swagbucks passively for the last month and earned over $100. I didn't commit hours to it, which I would consider a waste of time, but by just clicking in for a few minutes a day I was able to see the rewards add up!
Read on for a complete guide on how to make money online with Swagbucks, without ripping your hair out. Sign up for Swagbucks and receive a $5 bonus today!
What is Swagbucks?
---

Swagbucks is an online rewards program that combines multiple ways to make money online. The company rewards users with a digital currency called Swagbucks or "SBs" for completing tasks such as searching the web, completing surveys, watching videos, playing games, and printing coupons.
Each SB is worth $0.01, and you can redeem your SBs for gift cards to various stores, including Amazon or Walmart, or cash.
 Swagbucks is paid by retailers to drive users to their surveys, websites, and products. You don't ever have to purchase anything to make money with Swagbucks, but the company is paid by retailers because some percentage of users will take advantage of purchase offers and that is indeed valuable to businesses.
Is Swagbucks a Scam?
---
Nope.
As of this writing, I've received $100 in Amazon gift certificates through Swagbucks in just a month of using the site. When I redeemed the gift cards, I had to verify my order through my email address and then wait for it to process. I received my gift card codes after four days.
I'm storing my gift cards up in case we want anything new when we move into our rental house in July.
You aren't going to earn hundreds of dollars each month on Swagbucks (at least without committing a lot of time and undertaking some shady business that might get you banned from the site anyway). But you can certainly earn enough to help you reach a goal or save for holiday gifts.
How Does Swagbucks Work?
---
Signing up is easy and free. Pop over to Swagbucks, enter your name and email (or just sign up with your Facebook account), and you're off to the races. If you sign up with this link you'll add 500 SBs, or $5, to your account after you complete your first task!
After you create your account, Swagbucks will alert you to ways to fill out your profile and earn more SBs. These core demographic questions help Swagbucks determine which surveys and offers to show you. Plus, it's fast and easy rewards!
Earning Rewards on Swagbucks
---
Now that you're all set up, you're probably ready to start making some cash! So where to begin? There are many ways to earn Swagbucks, but don't get overwhelmed. I'll walk you through the nine main ways to earn Swagbucks, along with how much you can expect to receive with each strategy.
1 – Searching Online
Earning rewards usually requires some minor effort from you, but searching the web is where you can embrace passive income with Swagbucks. Setting Swagbucks search, powered by Yahoo!, as your default search engine allows you to earn SBs for your searches.
So far, I haven't been able to determine a rhyme or reason for which searches bring in the cash. However, I typically earn about 20 SBs a day just going about my usual business. Yes, it is pennies, but since it requires no change in behavior from me, I'll take it!
When you enter a search that earns SBs, you'll be given a code to enter. Just type in the 3 to 4 letter code, and the Swagbucks are deposited into your account.

2 – Shop Online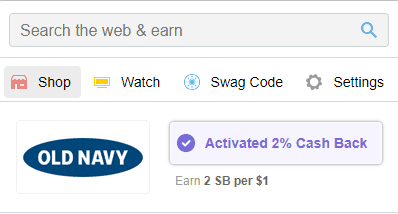 Similar to how you can earn cash back with Ebates and Befrugal, you can get SBs for shopping online with hundreds of retailers. In general, I found the cash back to be equivalent to Ebates and Befrugal, and in some cases, returns were higher.
I didn't order much online in the last month, but when I did, I chose Swagbucks rewards. While I typically use Ebates, since I don't need the intermediary of fake digital currency (SBs) and gift cards, I figured I would go whole hog into testing the method. It was simple, and I saw points awarded just as quickly as I would with Ebates.
I will talk about the benefits of the Swagbucks plugin below but having it installed ensured I didn't miss shopping offers.
3 – Swag Local
This one might give some people the heebie-jeebies, but I love it. You connect a credit card to your SwagLocal account, which offers Swagbucks the ability to see your transactions. They cannot process transactions or sell the data.
In doing so, they have partnered with local businesses and restaurants to offer cashback for local, in-store shopping. You don't have to activate the rewards for a specific store. No taking pictures of receipts. Just SBs straight to your account.
It turned out our favorite local BBQ place at our old house was enrolled in the program, so we received 5% back when we ate there! We only went once before we moved, but 161 SBs back on takeout night was better than nothing.

4 – Swagbucks Surveys  
Answer 5- to 30-minute surveys on a variety of topics to earn Swagbucks. At any given time there are over 50 survey options in my dashboard, with payouts ranging from 30 SBs to 1500 SBs or more.
However, you won't be eligible for all surveys. One of my biggest frustrations with Swagbucks was when I would enter a survey, answer questions for 10 minutes, then be told I wasn't qualified. In those cases, Swagbucks only gives you 5 or fewer SBs to compensate you for trying, and it just isn't worth it.
I would say about 20 days of the month; I completed at least one survey. On those days I earned at least 80 SBs. But on days I was busy or away from my computer, I didn't bother with this step.
Pro-tip: Do not fly through surveys or try to give responses you think the survey wants to hear. Providing inconsistent answers across surveys and going too fast can get you disqualified and can even flag your account to Swagbucks.
5 – SwagIQ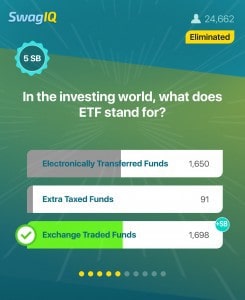 Do you love trivia? SwagIQ is built for you. With games once or twice a day, answer 10 questions correctly (or opt back in when you get one wrong) and win from a large pot of Swagbucks. If no one wins, the prize rolls over to the next game.
Even if you don't win, you can earn some SBs for every question you answer correctly. Just make sure to stick around until the end to claim your rewards! Exiting before the game is over will forfeit your SBs.
6 – Free Trials and Discover Offers
One of the juiciest ways to win SBs is to sign up for free trial offers of different products or services.
Some, like Paribus, allow you to earn 300-600 SBs just for signing up. Some, however, require you to enter your credit card information.
One of these offers I did sign up for was Dollar Shave Club. Costco stopped selling the razors Papa Fish and I use, so we were looking for a cheap alternative. Swagbucks offered 2,000 SBs for signing up for the $5 trial offer, and 1,500 additional SBs if you remained a member for the first month. We signed up for the trial, liked the razors, and have stayed a member. The additional 1500 SBs hasn't hit our account yet, but I'm watching for it!
Pro-tip: Do not sign up for any trial offers where you aren't actually interested in the product. And if you only want the free trial, put an alert on your phone to cancel it before the service charges your account. Never spend money on Swagbucks just to earn SBs. It makes infinitely more sense to just save that cash.
7 – Swagbucks Watch
If you enjoy watching movie trailers, news stories, and other random videos you might like this Swagbucks option in your downtime. But I really don't recommend it.
You get paid a certain number of SBs to watch a playlist of videos, and you are only paid out upon completion of the list. This has been the lowest paying option of any Swagbucks offer I've seen, with video playlists ranging from 10 minutes to an hour and only paying out 2 or 3 SBs. $0.03 for an hour of my time? No thank you.
You could always be stealthy and have a playlist run on your phone while you do other things. The playlists via the app did seem to be shorter and offer more movie trailers. But, in general, even that felt like a pain to me.
This method of earning maxes out at 100 SBs per day.
8 – Print Coupons
I'm not much of a couponer. Ibotta is more my jam. However, I did take advantage of Swagbucks partnership with Coupons.com twice during the month.
Swagbucks pays 1 SB per coupon print, for a max of 50 coupons a day. Plus, for each coupon you redeem at the grocery store you earn an additional 10 SBs.
Our local grocery store, Wegmans, doubles any coupon worth less than a dollar. This meant that a $0.75 coupon for Simply Lemonade gave me $1.50 back, plus 11 SBs ($0.11). All of the sudden our juice was 58% off!
When I saw offers like that, I pounced. But most of the time I left the coupon function alone. You can sort by category, but there is no search function for the available coupons which is a bit of a pain. You do have the option to "Clip All," but who wants to print over 100 coupons and sort through them once they've already wasted their printer ink?
9 – Play Swagbucks Games
Swagbucks has three free games that let you earn up to 10 SB per round for playing. Swagasaurus Run, Swag Jump, and Swag Memory. All other games shown in Swagbucks Games require you to pay to play. Please don't do this.
There are plenty of free games to play on your phone or the computer. Don't pay to play ad-filled versions of poker or Trivial Pursuit.
Sign up for Swagbucks today to start earning Swagbucks with any of the methods above and you'll receive a $5 sign-up bonus!
How to Earn Even More Swagbucks 
---
With all these ways to earn Swagbucks, how can you boost your earnings without rotting in front of the computer for a few bucks? Well, Swagbucks has implemented some cool, quick ways to earn a bit more.
Install the SwagButton
Swagbucks has a browser plugin from which you can search, watch videos while multitasking, enter Swagcodes, and activate rewards for online shopping. Adding this plugin earns you 1 SB a day each day that it is installed.
Enter Swagbucks Codes

Follow Swagbucks on social media and download the app on your phone to be notified of hidden Swag Codes. These codes highlight offers and give you the opportunity to earn 2 to 8 SBs just for entering the code.
If watching out for Swag Codes doesn't fit into your daily schedule, try the Reddit SwagCodeSpoilers page or SBCodez. Both of these sites instantly announce Swag Codes and by checking once or twice a day, you'll be sure you get most of the bonus rewards.
Play Swago
Once or twice a month, Swagbucks releases a new Swago board. Swago is a bingo-type game where you activate certain squares by completing different actions. Then, you earn bonus SBs for completing different patterns on the board.
You can usually get at least 25 SBs just by visiting all the sites in one row of the board. However, completing the whole board usually requires a $50 purchase from MyGiftCardsPlus.com, Swagbucks gift card business. Given that the prize for the entire board is often just 100 to 300 SBs, it is probably not worth the expense unless you actually need a discounted gift card for some regular purchase. (And even then, check Gift Card Granny first!)
Complete the Daily To-Do List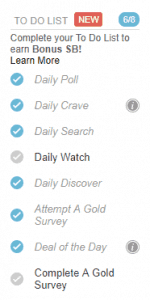 Swagbucks has an eight-item daily to-do list that includes accessing many of the different ways to earn each day. The list doesn't change, but if you complete it, you can receive an extra 1 – 4 SBs every day.
Most things on the daily to-do list only earn you a few SBs. However, completing the list doesn't take long. Three of the eight (Daily Poll, Daily Search, and Deal of the Day) only require you to click the item on the to-do list and launch the next page.
Achieve Your Daily Goal Bonuses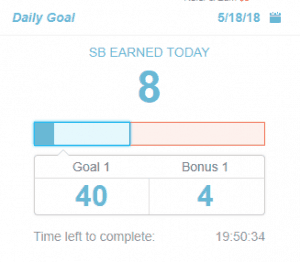 Each day, Swagbucks sets a goal number of SBs for you to earn. There are two levels, each offering a few extra SBs.
I've found that just completing one survey exceeds my daily goal so I pick up a few extra points. However, if you achieve your goal multiple days in a row, you become eligible for "streak" bonuses at the end of the month. These can boost your earnings by 25 to 300 SBs.
Birthday Bonus
Once a year on your birthday you receive a 55 SB discount on a gift card redemption. You have to use it within 30 days of your birthday though, so you have to make sure you have a redemption during that time.
Refer-a-Friend Program
Swagbucks Refer-a-Friend program can be another great way to generate extra SBs during the month without even having to spend time on the site.
For each new friend you refer, you earn a 300 SB bonus if that friend earns 300 SBs before the 1st of the following month. However, whether or not your friend hits that target, you will receive 10% of their lifetime Swagbucks earnings. This means if your friend earns 500 SBs, Swagbucks will also credit your account 50 SBs at the end of the month. (This does not come out of your friend's account.)
How to Redeem Your Swagbucks for Actual Cash
---
So, this silly digital currency is great and everything, but how do you actually get your cash out?
Luckily, it is rather simple, though it does take a few days.
Gift Cards for Major Retailers
The most popular way to redeem SBs is via gift card. Each month, your first redemption of a $25 gift card is discounted 12%. This means you can get a $25 gift card for 2200 SBs.
Swagbucks is connected with popular retailers like Amazon, Walmart, Target, Visa, Starbucks, and more. Gift card values range from $3 to $500, so you can start redeeming with only 300 SBs.
You order your gift cards by clicking the "Redeem" button in the sidebar of the website (or "Redeem SB" in the app). When you go to order your preferred card, you will be asked to verify the order either via email or by answering your security questions. Once the request is accepted, it can take up to 10 business days to receive your gift card code. However, this often happens much faster. I received mine after just four days.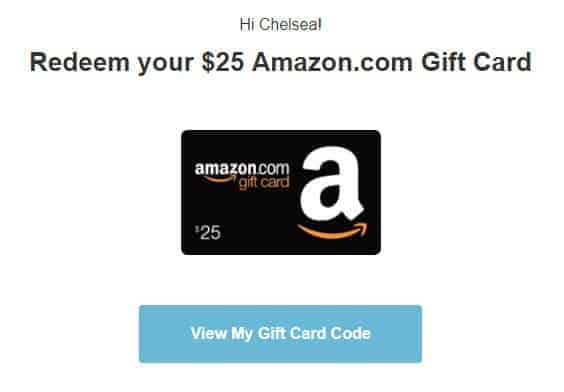 Get Cash With PayPal
Your other option is to get a cash deposit into your PayPal account. Then you can use your rewards for anything!
This takes 10 to 14 days and there are stipulations. Swagbucks will only send the payment to a PayPal account with the same email with which you registered for Swagbucks and your first and last name must be an exact match. Make sure all those things are aligned before redeeming a PayPal reward so that your transfer doesn't get rejected.
PayPal rewards also don't start until $25 increments, so if you are just using Swagbucks for Search and have a small number of points, it will be a long time before you can redeem.
Donate to Charity
While probably not a heavily used redemption option, Swagbucks does allow you to donate to various charities starting with as little as 5 SBs ($0.05). Organizations include the Wounded Warrior Project, charity: water, Doctors Without Borders, and more.
Do it Now, Don't Let SBs Pile Up
While Swagbucks gift cards and cash redemptions do go up to $500 increments, I don't recommend waiting that long. Your SBs aren't any more valuable if you buy a more substantial gift card (1 SB = $0.01 unless you are getting a gift card that is on sale).
There are some horror stories out there of people racking up thousands of SBs, only to see Swagbucks ban their account. While Swagbucks states they only do this when someone is violating the Terms of Service and there are some ways to appeal, you're better off avoiding the potential headache and just redeeming as you have points.
Make Your Rewards Worth Your Time
---
By setting Swagbucks as your default search option and committing 20 to 30 minutes a day to poking around the site you can earn $100 a month in rewards. And while this usually meant me playing on my computer while Papa Fish and I watched a show in the evenings, the hourly pay is still pretty low.
Half an hour a night for the month is 15 hours, or $6.67 an hour. Less than the federal minimum wage of $7.25. If you are going to commit your time to it, make sure you are getting the most out of that cash.
Set a goal for your Swagbucks earnings and put your rewards only towards that goal. Save for holiday shopping, a monthly date night, or a camp your kids have been asking to attend.
In general, I would use rewards from things like Swagbucks to create wiggle room in your budget for occasional happiness expenses. People always ask how they can work fun into their spending while they are actively paying down debt or focusing on other big goals. Extra cash from mini side hustles like Swagbucks are the perfect way to treat yourself or your kids without tapping into your regular budget. However, if you need money for day-to-day expenses, I would recommend getting a more consistently paying side hustle.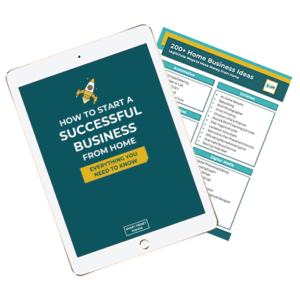 Want to Start a Business?
Download over 200 at-home business ideas with our complete guide on starting a profitable business!
Start Earning Money With Swagbucks Today 
---
Overall, using Swagbucks without making purchases at their partner companies will probably earn you around 10,000 SBs, or $100 a month. While the pay will break down to slightly less than minimum wage, you don't have to leave your house, keep to a specific schedule, or really do anything even mildly strenuous.
And at the end of the year? $1,200 is nothing to scoff at!
Sign up for Swagbucks with this link today to start getting paid for the things you already do online (& receive a $5 bonus!).
Have you ever used Swagbucks? What is your favorite way to redeem the most rewards? Drop a note in the comments!