This post may contain affiliate links. Please read my disclosure policy for more info.
Three years and three months after we bought our home we sold it. For $95,000 more than we bought it for.
We were over the moon excited about this selling price. A 17% increase in home value?! Amazing! But then I ran the numbers. Our actual annual return on investment was negative 6.9%. Negative. We lost $46,929 in owning our home in the suburbs of Boston.
Now, I can hear the homeownership defenders yelling at me already. You have to live somewhere! Certainly true. On paper, $1,235 a month to have a roof over our head doesn't sound bad. And a -6.9% ROI is better than the over 11% loss I expected after my analysis just two years after owning our home. (See this post -> Why Our Home Is An Expense, Not An Investment) But I wanted to know if we could have created wealth, instead of destroying it, by renting these last few years instead of buying.
So, I ran through a post-mortem of what our return was in our three years of homeownership. Because in the vast majority of markets in the US you can't expect a 5% annual return on property values. But even if you could, our experience shows you may still end up in the red.
Our Costs of Homeownership
In analyzing our costs of homeownership, I didn't want to be nit-picky. Could I go back through our YNAB budget and pull every trip to Home Depot. Most definitely. The little day-to-day costs of homeownership certainly add up.
However, I wanted to stick to the bigger things. Costs no one could argue you would face as a renter. For instance, down below when we compare these costs to renting, I assume we rent a home just like ours. This means I didn't include expenses like a lawn mower, snow blower, or outside patio furniture. Because even if we didn't' need them in an apartment, we would have in a single-family rental.
So, here we go.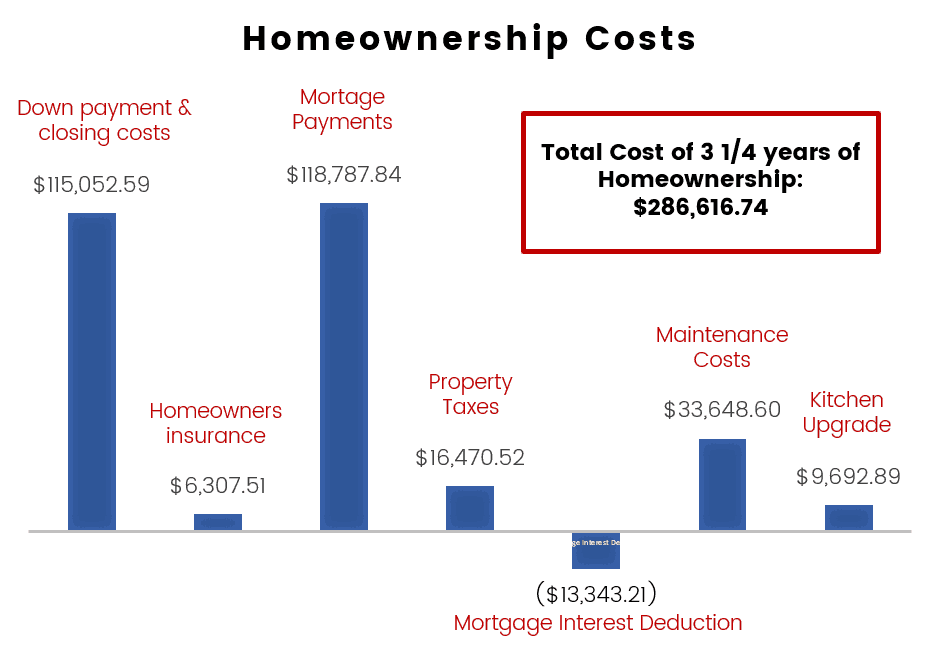 Down Payment & Closing Costs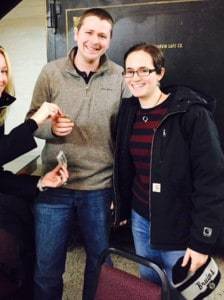 We put 20% down on house which equated to $109,000. This was the biggest check we ever wrote, and I was terrified. Jeremiah was happy the down payment would be wired because he wasn't sure I would be able to hand over the check. (See my compulsive saver lunacy.)
But in addition to the down payment, we owed $5,852.58 in closing costs. And had to pay a home inspector $200 to do a once over of our new abode.
Total Ownership Cost: $115,052.58
Homeowners Insurance
Not surprisingly, homeowners' insurance is significantly more expensive than renters' insurance. We paid just under $2,000 for homeowners' insurance through USAA each year we lived in our house. This includes savings from also keeping our auto policy with USAA and paying in full each year, instead of month-to-month.
While we did have one homeowners' claim after an ice dam issue a week after we bought the property, we never had to pay the deductible. The contractor never billed USAA, so after a year they took the claim off our account.
Total Ownership Cost: $6,307.51
Mortgage Payments
With 20% down, our monthly mortgage payment was $1,994.56. Also, we twice put extra chunks towards our mortgage in the first 14 months. An additional $26,000 in August 2015 and $15,000 more in April 2016.
Now, before anyone gets their panties in a twist, let's talk about including the full mortgage cost in this analysis. Yes, some of our mortgage payment went towards principle. All of our extra payments went towards principle. But until we sold the house, we wouldn't see a benefit for that. It was all just extra capital paid in. The total of that benefit will be reflected in our profits from the sale later on.
Total Ownership Cost: $118,787.84
Property Taxes
The only things certain in life are death and taxes, right? Want to own a property, you have to pay the tax man. Now, we chose a town that had almost half the tax burden of surrounding towns. We paid quarterly, instead of having this amount added to our monthly mortgage payment.
Total Ownership Cost: $16,470.52
Mortgage Interest Deduction
Now, I never would have bought a home if I truly thought it was a bad investment. At the time, I thought it would be more beneficial than continuing to rent. However, I never bought into the benefits of the mortgage interest tax deduction. This is like spending a dollar to save a quarter. But, alas, I will include the relatively small benefit here.
Over our three years of homeownership, we paid over $40,000 in interest expense. At our marginal tax rate of 33%, this saved us over $4,000 in taxes each year.
Total Ownership Benefit: +$13,343.21
Maintenance Expenses & Upgrades
Owning a home comes with maintenance costs. As one of my colleagues once joked, it is incredible how many things can break in something that doesn't move.
Like I mentioned above, I am only going to include things that cost over $100. I'm also excluding my husband wiring electrical for his basement workshop, even though it was an upgrade. The truth is, he did the work himself and it came out of his spending budget. Thus, I can't untangle what was what. Oops!
Birds in the wall: $225.00 – Patch venting they fell through, new outside vent cover, a piece of drywall to replace where we had to cut out and rescue the birds, putty, and paint.

Our feathery friends hanging out in their cozy wall nook

New Stove: $1,912.50 – When we moved in, two of the burners on our gas stove wouldn't light. Jeremiah ordered the parts to fix it (costs not included here), but even then, they wouldn't light. We found an awesome stove on clearance at Lowe's since it had been returned after it didn't fit in another customer's house and had a small dent. Cost includes installing our new stove and hauling away our old one.
AC Leak: $179.00 – Central air conditioning unit stopped working. It was leaking fluid and had to be refilled.
Covered Deck Rebuild: $13,780.00 – Called in multiple contractors for quotes on laying new Trex decking. Found out the deck was not even close to code (beams holding up the roof were bowing because they were too small and the deck was not connected to the house). A relatively small re-decking project became a total rebuild. Womp, womp!
New Central AC Unit: $12,000.00 – More fluid wasn't enough to save our AC unit. A new, energy-efficient system was put in.
Masonry on the front walk: $225.00 – The brick in our front walk was uneven and loose. Paid a mason to come level it out.
Kitchen Upgrade: $9,692.89 – Our kitchen was this wide-open void that didn't maximize space and made the house look pretty strange. So, we added an island, replaced the microwave to match the new stove and add real hood venting, and replace the dishwasher that had decided to pool water on the kitchen floor every time it ran.

We loved how the kitchen looked after putting the island/peninsula and new appliances!

Annual HVAC maintenance & repair: $662.10 – Since our systems were always on the fritz, we wanted an expert to come in and check our HVAC system once a year. And come back two different times something broke.
Pest Management – Ants: $245.00 – Our back patio and lawn became infested with ants. It was gross, and our Home Depot ant spray wasn't doing the trick. So, we called the pros.
Driveway Resealing: $400.00 – In the Northeast, it is advisable to have your driveway sealed every few years to avoid cracks and wear from ice. We had it done in the fall of 2017.
New Water Heater: $1,850.00 – In November 2017 our water heater died. It was 12 years old, beyond the average 8-10-year life of a water heater. And, thus, it was replaced.
Painting Baseboard: $2,170.00 – When we went to list our house, we asked our real estate agent if there was any work we should do to improve listing value. She recommended having the baseboard on the first floor redone. Could we have painted the baseboard ourselves for much cheaper? Of course. But with a 2-month-old and toddler, it just wasn't in the cards.
Total Maintenance & Upgrade Ownership Costs: $43,341
Adding It All Up!
Alright, so all in, how much money did we put towards owning our home, adding back tax savings from the mortgage interest deduction? $286,616.74.
Selling Our Home
We listed our home at $625,000 with insight from our incredible real estate agent that the market was booming in our area and price range. She wasn't wrong. The first open house saw 30 families come through and we had six offers above ask that day.
In the end, we sold our home to a cash buyer for $640,000. Out of this amount, we had to pay 5% in real estate agent fees, transfer taxes, and attorney fees which added up to $36,153.40. Plus we saw $796 of property taxes returned. Then, we had to pay off our outstanding mortgage balance of $364,730.29.
This meant that after all costs, $239,912.82 hit our bank account. We also got a rebate of $1,453 from our homeowners' insurance.
For you math masters, you will see that spending $286,617 and only getting $239,913 back means we lost almost $47,000. The annual return on investment from owning our home was negative 6.9%.
Opportunity Cost: Comparing Owning to Renting
Unfortunately for us, there is more bad news.
The money we lost in owning our home isn't the only financial hit we took. By owning instead of renting, we faced the opportunity cost of not putting all that cash into the market.
Before choosing to sell our house, we asked our real estate agent how much we could rent it out for. She sent us some comps that placed our rental price value at around $3,000.
So, to compare the cost of owning to renting, we used a $3,000 rental price and a renters insurance cost estimate from USAA. I have each line item expense summarized above in an Excel spreadsheet with the exact date it occurred. (Of course, I do, doesn't everyone?) So, all I had to do was turn expenses into investments in an S&P 500 index fund. I pulled the exact S&P 500 valuation at each date the costs occurred to make things accurate. For every month, I subtracted out rent and insurance expenses. This meant that in months when rent costs were higher than homeownership expenses, the analysis assumed we pulled money from the market to cover the difference.
After paying $3,000 a month in rental costs, plus insurance, we would have put $166,837.39 in the market over the past three years. This investment would have grown to $220,400.85. Three years of renting a home similar to ours would have netted a gain of $53,536 and a 9.1% ROI. Not bad. Not bad at all.
And what does a swing from a $47,000 loss to a $53,000 gain mean? Our opportunity cost of owning a home for three years was over $100,000.
What Will We Do Differently Next Time?
Once we were done sobbing in a corner after completing this analysis, we formulated our next steps.
First, we asked ourselves if we should become permanent renters. That was a big "no, thank you." We know we want a homestead someday, which is pretty hard to do in someone else's home.
Then, we thought about what we would do differently the next time we went to buy a home. The most significant change we would make would be to only buy for the long-term. While we moved out of our house sooner than we expected, we never planned to be there for longer than 5-7 years, which isn't nearly long enough.
Second, we plan to do a lot more market research. One way our home purchase worked out was that we bought in a town where property values were set to rise. Surrounding towns had already seen significant jumps, the city had decent schools, and was starting to see an increase in major home renovations. But this was more luck than proper research. Next time around, we plan to track more market stats for a more extended period before deciding where we want to settle down for the long haul.
Finally, we want to actually experience the location before moving in. We will be renting for the next 2 to 3 years while we do our research and find our homestead. Next up in the relocation series – How we chose where to go with full location independence!
So, Should You Never Buy a Home?
Maybe, mathematically. In fact, studies have shown that renting is better – if you have the discipline to invest the difference. But money isn't the only factor in a home buying decision.
Instead, you should buy a home if the benefits of homeownership offset the potential financial sacrifices for you. Do you want the security of not worrying if a landlord is going to up the rent or sell the property from one year to the next? Do you want to pay off a mortgage quickly to reduce lifestyle expenses longer-term and achieve financial independence? Do you want to develop a homestead and have pets or animals you can't have on a rental?
Your gap between buying and renting likely won't be as wide as ours if you choose to buy for the long-term. You will amortize closing costs, realtor fees, and abnormally high maintenance costs years over more time. And that smaller gap might be worth the benefits to you. Just be sure you are walking into things with eyes wide open.
What do you think about homeownership? Have you ever run the real numbers on the cost of your home versus renting? Let me know in the comments!