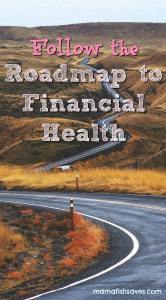 Money is complicated.  The world of finance is filled with jargon, untrustworthy characters, and our own emotional baggage. We want to get better and stress less about money, but googling "how to pay down debt" or "how to save for retirement" results in thousands of articles that make us want to curl up in a ball under our desk.  
I created Mama Fish Saves with the sole purpose of simplifying family finance for all parents and the Roadmap to Financial Health is one of the most important parts of that.  The Roadmap won't solve all your problems or answer all your questions, but it will give you a place to start.  It will help you prioritize what to tackle first and what should wait until you are on stronger footing.  It will create the foundation on which you can build your family's kingdom of financial health and success.  It will help you make open and honest money discussions a regular part of your relationship.
Before you dive into the roadmap, I have a few key suggestions on how to ensure your family's journey is as successful as possible.
"The best time to plant a tree was 20 years ago. The second best time is now" – Chinese proverb.  There will always be reasons to wait to make big financial changes but the longer you wait, the more cash you will be burning in interest and the deeper the hole you will eventually start your journey in.  Start small if you have to, but start today.
This is a journey, not a sprint.  There are no quick fixes when it comes to your finances. Achieving financial health and success is a lifestyle and unraveling where you are and chasing where you want to be will take time.  

Do not

rush any of the steps. Focus on and master each one in turn.
Money is emotional. Be honest about your feelings. We all have our baggage when it comes to money.  Personally, I have a tendency to be too conservative with spending and investments driven by a very real fear of failure.  As you talk through your goals and budget, don't be afraid to address the real "whys" of your habits and think about how you can change them.
Don't go it alon

e.

 If you are married or in a committed relationship, do not start this journey alone.  Dictating your family goals or budgets to your partner will almost never work. Instead, work through each of these steps together.  We only have so much energy to expend when it comes to our finances, don't let that precious energy be used up pulling against your spouse.




If you aren't in a relationship, I still recommend finding an accountability partner.  A close friend or family member you could be comfortable discussing money with and who can help you fight through the tough times.
So, lets get started!  Good luck and check the blog for lots of tips for staying on track!
Roadmap to Financial Health
Step 0: Turn Off Autopilot – The first step in the journey is committing to taking control of your money and spending & saving with purpose by defining your family's goals.
Step 1: Budgeting – Achieving financial empowerment and health is about knowing where your money will go, not where it went.  Learn how to start a strong budget in this two part step.

Step 1.1: Choosing a Budget Tracker

– Learn about our favorite budget tracking application, YNAB, and what to consider when choosing a good system to track your budget

Step 1.2: Build that Budget!

– A detailed walk through of how to define your spending priorities and allocate your income in a way that makes your money work for you.

Step 2: Grow Your Emergency Fund

– Emergencies happen whether we plan for them or not, so protect your family's finances by building an emergency fund you can lean on in tough times instead of having to take on debt.  Learn about how much you need and where to keep it.

Step 3: Destroy Your Debt 

– At Mama Fish Saves, we don't think you can achieve financial health without pursuing a debt free life.  Learn about the two main methods of debt reduction and how to determine which is best for you.

Step 4: Prepare for Retirement Early

– Preparing for retirement is the top priority of almost all adults but the vast majority of Americans are not on track to retire on time.  Learn how much you should be saving, how to use tax efficient retirement investments, and how to factor in social security and pensions.

Step 5: Save for Your Dreams

– This last step is the most open ended.  You live within your means, have reduced your debt, and are saving for retirement.  Get some tips on maintaining new goals and being responsible with your new found wealth.