Welcome back to the Roadmap to Financial Health!  If you are new to the Roadmap, we recommend starting at Step 0.
Hopefully, you have your financial goals spelled out and you're ready to make a plan.  As you certainly already know, a financial plan is called a budget.  Budgets have gotten a bad rap in a lot of households as people approach them the same way they approach diets.  "This is just going to keep me from buying [eating] what I want!"  The reality is, a budget helps you focus your spending on the things you truly want, instead of letting your hard earned money wander off to unnecessary expenses or short-term pleasures.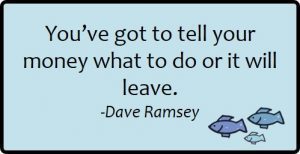 In the next posts, we will discuss how to build a lasting budget and the top ten budgeting mistakes people make.  But first, you have to determine where you are going to track and maintain your family's budget because failing to keep up with your budget is one of the top problems most families have.
There are endless options for maintaining your household budget: spreadsheets, envelope systems, websites and smartphone apps.  I originally intended to review some top options for you in this post, but kept coming around to my favorite option in the market.  I view it as the gold standard and its philosophy aligns closely with my own views on family budgeting.  So, here is my take on why you need You Need a Budget!
My Favorite Budget Tracker – You Need a Budget

You Need a Budget (YNAB)
Cost: Free for 34 days then $6.99/month, billed annually
What is YNAB: I have personally been using YNAB to track my household budget for almost eight years and am a huge proponent of the application, particularly since the rollout of its most recent web-based version that makes it easy to update your budget from anywhere you have internet and a computer.  
YNAB is a little more hands-on than other offerings, like Mint, and comes with an annual fee, but in gaining control of your financial health, I think hands-on is exactly what we need and $84 a year will feel like nothing if it means you maintain a budget long term, instead of for 3 months.  Maintaining my budget with YNAB takes me 10 minutes once or twice a week and I know where every dollar goes and how much money we have to spend.
YNAB operates on four basic rules:
Rule 1 Give Every Dollar a Job
Rule 2 Embrace Your True Expenses
Rule 3 Roll with the Punches
Rule 4 Live on Last Month's Income
These rules allow you to tell your money what to do, be honest about your spending, and be flexible when something unexpected comes up.  "Roll with the Punches" is one of the best budgeting rules to live by because none of us are fortune tellers.  Did you expect to spend $100 on baby formula this month but your toddler accidentally knocked the container on the floor and you had to buy more, putting you at $120?  No problem, move that $20 surplus you have in your Clothing budget over to Baby Food and move on!  No guilt, no stress.
You Need a Budget is an excellent service for people who need to get out of debt, build an emergency fund, or want a more hands-on budgeting experience.  If you already have great financial health, YNAB can help you save for quality of life goals.
What I love about YNAB:
Easy to use, spreadsheet-like format that is intuitive and fast.

Connects directly to bank and credit card accounts to make importing transactions fast.

Highlighted callout of money to be budgeted, encouraging you to put every income dollar to work.

Can set and track goals.  In budget categories set goals to reach a certain balance or fund a certain amount each month.

Incredibly helpful guides for budgeting, dealing with debt, and focusing on big goals.

Very strong site security. YNAB cannot access customer data unless requested by the customer or required by law, and data is encrypted with the same technology used by the CIA.
Where YNAB falls short:
You can't see investments in YNAB so you don't have a whole financial health picture.  Once you get focused on saving for retirement and investing for long-term goals, you will have to add a service like Personal Capital.

Can't import transactions and easily categorize them from the mobile app.

YNAB has told users an improved mobile app is in the works.
Other Options for Budget Tracking
Whether or not you choose to try YNAB, to have a successful experience gaining control of your finances you need to have a budget you actively track and maintain.  Below are some alternative budgeting tools, well-written reviews on each, and a short checklist to help you make sure a potential tool will meet your needs.  Don't be afraid to poke around on multiple sites, and if your first choice isn't working, switch it up!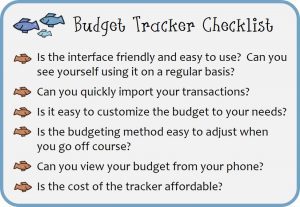 Have you tried You Need a Budget in the past?  Let me know what you thought! Do you use another application that isn't highlighted in this post?  Let me know what you love or hate about it!
Read the next step on the Roadmap to Financial Health here: Step 1.2 – Build that Budget.