Divorces mark a time of change and a renewed sense of self.
There are many articles that list all the struggles of divorce. But not enough that remind us of the positive elements you can find in the process.
We need to offer a greater support system and more cheerleaders for people going through this important time. And I want to help lift you up.
If you're looking for an area that can be fun and fulfilling after divorce, look no further than your finances.
I know, I know. You've always heard about how scary and difficult money is. But now you're in control. And there are steps you can take to enjoy your finances and thrive after divorce.
As a newly single mom, I can attest to the success of following these tips. I was married for 10 years. My role in the home was usually the stay-at-home-mom and I had no idea what I was going to do about money. There were growing pains, of course, but the freedom and confidence that comes from understanding your finances is incredible.
I want you to have that same confidence. Here's what you need to do.
Why Do You Need to Take Control of Your Finances After Divorce?
Let's start with the obvious reason – you need to understand and maintain your budget.
But taking control of your finances goes beyond understanding how much you're earning and how much you're spending. There is also a benefit to gaining some amount of control over your situation.
Once you're the master of your money, you can take the next step in your new life, set goals, and find financial freedom.
When you choose to take the steps to budget, plan, and set goals you create a secure future for yourself. And after a divorce, that security can really make you feel like you are moving in the right direction.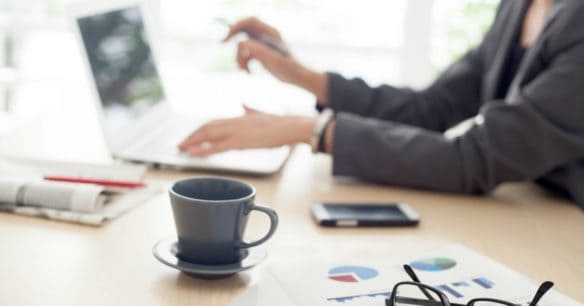 Taking Control of Your Money With a Budget
1 – Know What You're Responsible For
You can't know where you're going if you don't know where you are.
After you find out what debts, if any, you'll be responsible for after the divorce, you can get ready to create a budget.
When you first review your finances, make sure you get copies of all the latest statements. Then sit down with a list of bills, debts, and any other financial obligations you may have.
You can decide if you'll want to use old school pen and paper, an app like You Need a Budget, or a simple spreadsheet to keep track of your money. Whatever feels easiest to you, especially as you're first going through everything.
Get everything set out on the floor, table, couch, or bed. Wherever you feel the most comfortable! Make a cup of coffee or tea (or pour a glass of wine) and get started!
2 – Know Your Current Standing
You can't know where you're going if you don't know where you are.
Now that you have all that you need to organize your budget, start making a list. First, take a look at how much you need to cover essential bills and debts versus how much income you earn a month.
Next, make a realistic list of how much you spend on food, clothing, toiletries, Target runs, and other expenses. Create a full picture of how much money is coming in versus going out each month.
This will leave you with an understanding of your current situation. Are you spending more than you make? Do you need to cut areas of your budget or find additional income? Or do you have money that could be tucked away for retirement?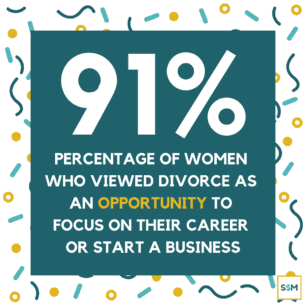 3 – Budget Time
Now that you know exactly where you stand per month, take the time to budget everything.
If you receive your paycheck biweekly, once a month, or on specific dates; you can decide how often you want to budget.
I receive my paychecks once per month but budget my bills for the 1st and 15th. This schedule allows me to break my bills down into easy sections for me to review.
When making your budget, keep in mind unexpected expenses that may come up throughout the year. For example, instead of struggling to buy gifts for a birthday or holiday, plan for it. If you decide that you can spend $300 a year on gifts, put $25 per month in a budget category for gifts. This will now be your gift fund.
I make a budget for gifts, toiletries, car maintenance, extra-curricular activities, and savings. Planning this way will keep stress to a minimum when trying to come up with the money for an unexpected expense.
You Need a Budget
 is designed to help you break the paycheck-to-paycheck cycle, get out of debt, and plan for long-term expenses with categories that grow through the year. We highly recommend it for anyone wanting to stay on top of their finances!
You Have a Budget, Now What?
Unfortunately, you can't just make a budget once and forget about it. You need to keep checking in, adjusting for the surprises in life, and moving towards your goals.
Save Your Account Information
Using a secure app like LastPass, web browser extension, or notebook kept in a safe place, organize your passwords and login information for all your accounts.
This will make it easier to access your accounts and remove one more hurdle that might make you say, "eh, I'll check it tomorrow."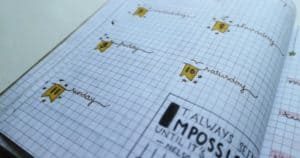 Schedule Time
You might not be ready to date again. But you can – and should – set financial dates with yourself.
Set aside time at least each payday to go over your budget and pay the bills.
You can also set monthly meetings where you take a look at your goals and savings to make sure you're on track. For annual meetings, dive into more detailed financial information that looks at investment performance, retirement savings, and other long-term goals.
Stay on Budget
This isn't always going to be easy. But managing finances when you only have to worry about your expenses is easier in some ways than doing it with a spouse. And staying on budget as much as possible will be less stressful than ignoring your financial situation.
Choose a budgeting system that works best for you. Some people use apps, others use a cash-based envelope system, others manually track every expense in a bullet journal. Don't be afraid to try different methods until you find your groove.
What Else Should You Do?
Financial health and stability goes beyond what you are earning and spending today. Divorce could have weakened your retirement savings or lowered your earnings. It might change your career path.
Take the time now to consider how things look, what you want for your future, and how you can get there.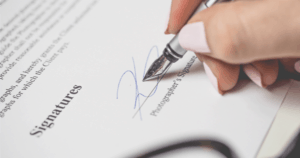 Update Important Documents
When you're single, being prepared for emergencies and disasters is more important than ever. There isn't another adult that will easily know all your financial accounts, how you do things, or who should take care of your child.
After a divorce, it is important to update the beneficiaries on any investment accounts and insurance policies, update your will, and create a family emergency binder.
Don't think of this type of planning as expecting the worst case scenario. Getting things in order is one less thing for you to worry about. It's an act of love for your kids or family members that would be handling things if you weren't available.
Plus, it's an excellent exercise to make sure you're aware of and up-to-date with all your accounts!
Get a High-Level Financial Picture
How's your credit score? Are you on track for retirement? Do you have enough saved for an emergency?
If you weren't managing the money while you were married, you might not even know the right questions to ask.
Take an assessment of your overall financial health (like our free Financial Health Audit) and discover what you're doing well and what needs to be improved. Find a financial blog, money book, or podcast where you can get more confidence with your money.
If you feel like you're in over your head, this can be a great time to
hire a money coach
. A good coach can be a positive investment in your future, helping you navigate your new life, teach you what you need to know about money and keep you accountable.
Set Your Money Goals
Your life has changed. Some days it feels freeing, others it feels like you're heart has been broken into a million pieces. But there's one thing you can do.
Decide what you want.
Would you feel lighter and more accomplished if you were debt free? Or ready for retirement? Or if you started a new business or career?
What is something that you've always wanted to do that you can pursue now?
Create your financial goals and decide what your priorities are. It will put you in the driver's seat and make staying on top of your money that much more fun.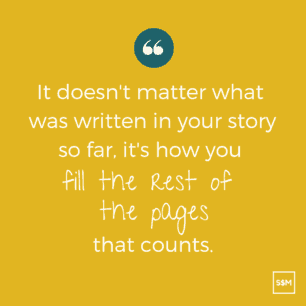 Becoming the Master of Your Money
Going through a divorce can be trying at times. But you can find a renewed sense of self by taking control of your finances.
Implement the tips above to gain confidence while improving your money situation after divorce. There will be slip ups and tough moments, but practice makes perfect. The more time you spend budgeting and reviewing your goals, the easier things will become.
You can do this!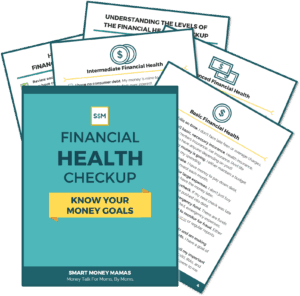 Wondering whether you're doing the right things with money or what you should focus on next? Download our quick financial health checklist and see where you stand!
Have you gone through a divorce? How did you get a handle on your finances afterward? Let us know in the comments!