There is something impactful and magical that happens when you put pen to paper. It solidifies your goals and ideas in your mind, helping you focus on them through the chaos of life. And it's one of the main reasons bullet journals are all the rage right now.
But bullet journals aren't just for logging your to-do list, calendar, and daily thoughts. In fact, using a bullet journal to take control of your finances is a trend that is taking the world by storm. Adding your financial goals, spending, and budget to a bullet journal can make you more conscious of your habits. This is especially important as one-click Amazon orders, credit cards, and direct deposit remove us more and more from the realities of our money.
Luckily, creating a bullet journal habit for your finances doesn't have to be complicated. You don't need to be an artist or invest in $100 special pens. All you need is a few simple layouts and to revisit your progress regularly. Here's how you can get started today.
How a Bullet Journal Can Help You Improve Your Finances
---
There is something motivating about checking off a bill that has just been paid. Or filling in a little chart as you watch your progress on any given goal. Nerdy number-crunchers can geek out about their trackers as much as they want, while creative free spirits can color-code and draw detailed images for each page.
However detailed your bullet journal, tracking your finances line by line can be very inspiring as you inch closer and closer to your goals. (And can be a great middle ground instead of diving into an all-cash budget!)
Track Your Budget
There is just no way around it. Having a plan for your hard-earned dollars is a MUST. But using a bullet journal makes this tedious task fun. Have a log for all of your bills and budgeted expenses. This way you control your money, instead of your money controlling you.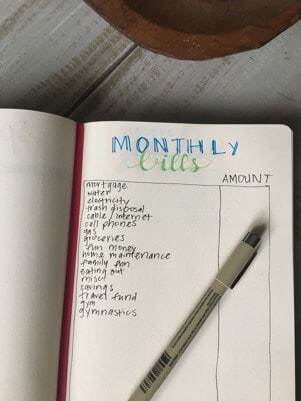 Log Your Spending
Setting a budget isn't worth a hill of beans if you don't follow through on that budget. Use your bullet journal to log your spending so you know where your money is going each month. Breaking your spending down into categories is even better. And definitely not as hard as it looks.
Record Your Savings
Are you trying to beef up that emergency fund? Do you want to save for a specific purchase like a car or a house? Would you like to take that vacation without putting it on credit?
Create a simple chart for each savings goal and track your progress as you save. It is super motivating to be able to color in more little boxes or lines in your chart. And it's also inspiring to look back after a few months to see how far you've come in your goals.
Track Your Debt Payoff
If you are still working on slaying the debt dragon, one of the first pages you should set up in your bullet journal is a debt tracker. Make a tracker for each debt you owe. Every time you make a payment, color in the principal amount that was paid. Watch how much progress you make in just a few short months!
This was something I did while paying off over $80,000 of debt in four years. If I ever became discouraged, I would flip to my debt trackers and look at how far we had come. It always inspired me to find even more things to cut from our budget, allowing us to throw more and more money at our debts each month.
Put Your Goals in Writing
There is something about putting your goals in writing that makes them feel more tangible. When you meet a goal and check it off of your list, you are even more amped to knock out the next goal.
At the beginning of every year, I sit down and goal plan for the upcoming year. I reference this list of goals regularly throughout the year. At the beginning of every month, I jot down 3-5 goals I want to accomplish in my finances that month. Then I check them off as soon as I accomplish them. Some of these could be as simple as "read a finance book," or as complex as "set up an IRA."
No matter what your goals are, just write them down. We are more apt to commit to a goal when we put it in ink and review it regularly.
Tips to Setting Up Your Own Finance Bullet Journal
---
Explore How Others Use Their Bullet Journals for Finances
Spend a few minutes and do some digging. Head to Google or Pinterest and search "finance bullet journals." Be prepared to see some amazing ideas that will help you improve your finances.
Searching for new bullet journal pages always gives me great ideas on how to better manage my money. I love the visual peek inside someone else's brain to see how others organize their finances. I'm always inspired to manage my money more effectively using the visual aids in my bullet journal.
Make a Finance Bullet Journal Work for You
The internet is filled with tons of inspiration for finance bullet journals. But don't let them intimidate you! Stick to easy layouts, especially if you are just starting out. Also, stick to pages that will help you in the areas where you most need accountability. Don't make lots of pages just because they look pretty on Instagram!
Maybe you stumble across an amazing layout for tracking your net worth every quarter. If you like it, add it your bullet journal, but only if you're ready. If it seems like a good idea, but maybe too much for you right now, tuck it away in your brain to do one day. That's okay!
Give yourself the grace to focus on the basics at first. Budgeting, tracking your spending and your savings goals. Once you feel like you've mastered those areas, then add in more complex page ideas.
Keep It Simple
On the same line of thinking, if you aren't the artistic type don't feel the need to create detailed drawings and diagrams. A simple chart will suffice. Add a colorful title and call it a day.
Also, keep your titles simple. If your page will track your debt payoff, title it your "Debt Tracker." If you are tracking your savings for Christmas or vacation, title it "Christmas Fund" or "Vacation Savings."
Over time, experiment with using different fonts in your titles and charts. Then maybe one day add a simple drawing as a symbol of your goal.
For example, I can't draw a stick figure to save my life. But last month, I started saving for a new car. I opened to a fresh page in my bullet journal, labeled it "Car Fund," and added a simple drawing of a car to the top. It was way less intimidating than I had made it out to be in the past and it really dressed up my page.
Do what works for you without the pressure of overdoing it! The simpler, the better.
Use the Right Tools for Your Bullet Journal
Investing in a good-quality bullet journal is a must. If you want to create a bullet journal habit, you want a journal with high-quality paper that you enjoy writing in. I bought this Leuchtturm hardcover journal and I love it. It hsa a table of contents page in the front which has been way more convenient than I ever thought it would be.
Also, make sure you have acid-free pens that won't bleed through your pages over time. I enjoy using these Micro Line Ultra-Fine Point pens. I have them in multiple colors and love the way they write. If you're new to bullet journaling, these Taotree pens are also great and somewhat cheaper.
Check Back In Regularly
Bullet journaling is a habit. To get the most out of it, you need to make it part of your routine. Checklists only keep you motivated if you use them. And budget trackers only benefit you if you log your progress as you go.
Get in the habit of glancing through your goals once or twice a week.
Take a few minutes to log your spending every day or every other day.
Set a time at least once a week to track your budget and make sure you are on the right target as the month goes on. Better yet, sit down to discuss your progress with your spouse.
Ideas for Bullet Journal Finance Pages
---
Your basic budgeting pages, spending logs, savings charts, and debt payoff trackers will be updated regularly and refreshed each month. But what about longer-term planning? How can you use your bullet journal to track progress towards larger goals?
Collections and challenge trackers can give you visual reminders of where you're headed. They can help you stick to the plan through setbacks by reminding you why you're doing the work. Here are some ideas for pages you may want to add to your bullet journal to make it a full-suite financial journal.
Net Worth Tracker
There is no better single picture of your financial situation than your net worth. It is simply all your assets (cash, investments, real estate) minus your debts (car loans, credit cards, mortgage). As you pay off debt or save, your net worth grows and moves you closer to financial freedom. Use a bullet journal to start charting your net worth each quarter.
[thrive_2step id='4209′]
[/thrive_2step]
Baby Step Checklist
If you are on the Dave Ramsey train, this will be an easy page to set up. Check off each baby step as you finish it. You can also have a Debt Snowball page with a graph for each debt. Goal Setting Pages
Have a plan for your money and work that plan!
Savings Tracker
Set your savings goals and watch them as they grow! These can be smaller goals, like an emergency fund, or big goals like a down payment for your first rental property or savings for your child's college. Color in your progress little by little and prepare to be encouraged.
Bill Payment Tracker
In addition to a monthly budget page, this one bill payment tracker can be used all year long. Write down all recurring bills so you remember to add them to your budget each month. This is especially helpful for bills that don't occur every month but come up in larger amounts every three, six, or twelve months.
After a bill is paid for a given period, check it off on the chart. That way you can know at a glance what bills are covered and paid, and what bills still need to come out.
No Spend Challenge Tracker
Ever wanted to try a no spend challenge to jumpstart your savings goals? Set your goals and mark your no spend days in a bullet journal to celebrate each day's progress.
Keeping a no spend tracker can help you visually see where your spending weaknesses are and show your streaks of no spend days.
Debt Payoff Charts
Have a simple log for each debt – an image like a thermometer or stack of coins can be fun – and fill it in with each new principal payment. At a glance, you can see how much debt you have already knocked out.
These charts are so motivating on the months where you feel like you aren't making much progress. You can see and appreciate all the work you've already done. Those little payments really do add up over time.
[thrive_leads id='5656′]
Mastering Your Money With a Bullet Journal
---
Bullet journaling doesn't have to be complicated. Especially when it comes to your money. But monitoring your progress and putting pen to paper often will help you keep your goals, values, and efforts front-and-center in your mind. Which can make all the difference when it comes to sticking to new habits through our busy, complicated days.
My bullet journal helps me monitor my progress and each page only sparks my desire to control my money and better manage my finances. I hope it does the same for you!
Have you tried bullet journaling to reach your financial goals? What are your favorite page layouts? Share in the comments!