How to Stop Dreading Your Cleaning Routine
Why You've Got to Listen to This Episode...
In today's episode, I'm talking with Becky Rapinchuk, founder of Clean Mama, who is an expert in simple systems that help you consistently maintain that cozy place between chaotic and spotless. We're talking all about taking a business from side-hustle to full-time income, how to get your whole family involved in your cleaning routine, and why cleaning just a little bit every day is a game-changer.
Moments You Don't Want to Miss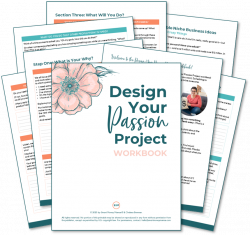 Ready to Discover Your Perfect Passion Project?
Take action on your dreams now by downloading our free guide!
Key Takeaways to Stop Dreading Your Cleaning Routine
As always, we've rounded up our top three takeaways to summarize what we believe are the core points to remember from Becky. 
1 - Do a Little Every Day
I loved that Becky didn't tell us we have to start from a perfectly clean home for her system to work. Because as she said, for some people, that is going to feel impossible.
Instead, make a list of clutter in your home and tackle one thing per day. You'll start to see progress and build a habit of regularly cleaning and decluttering.
But this idea of doing a little every day helps us in so many other areas outside of home organization. We've talked about it before with your money, right? Don't try to fix everything at once, just find the small steps to take and do a little every day.
Celebrate small wins and keep moving forward. It doesn't have to be perfect to be amazing.
2 - Make Cleaning Normal and Not Something to Dread
Getting your kids involved in the household cleaning makes everything easier. And let's be honest, it will make their homes more fun to visit when they're older.
Like so many things we teach our kids though, the language we use about it matters. And not just when we're asking them to clean, but when we're cleaning ourselves.
As Becky says, try to follow a system like the one on Clean Mama so that you don't approach cleaning as something horrible that's going to take all day, but just a normal task you're going to tackle and then move on. Make it a non-event.
And then appreciate how nice your home feels when things stay clean and aren't cluttered. That way, your kids start to appreciate a simple, clean space too.
3 - If You Want to Start a Business, Focus on Something You Love Talking About That Solves a Problem for People
Successful businesses solve problems. They make life easier or more enjoyable for people or for other businesses.
But a fantastic, profitable, thriving business happens at the intersection of passion and problem-solving.
Becky found joy in how easily her cleaning routine worked for all different families and stages of life. She loved talking about it and sharing it. And it solved a big issue for people -how to keep their homes tidy and clean and have spaces that were a haven instead of overwhelming.
If you want to start a business or a side hustle, look for that intersection. And practice explaining what you do in terms of the problems you solve. People will be more excited and ready to pay you when they see the benefit for themselves.
Links & Resources Mentioned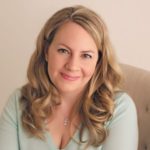 Becky of Clean Mama created the Clean Mama Routine years ago out of necessity. She was sick of cleaning all weekend long and living with the crazy during the week. Using a simple routine, she realized that just a little bit every day was helping me keep things clean most of the time. Then came three kids, different work schedules, traveling for work, running a business…..and guess what? It still worked. When she started sharing her cleaning routine online, it caught on quickly because it works in your homes too! Becky loves sharing her routine, homekeeping tips, and ideas for keeping our homes cozy and clean.
Becky Rapinchuk of Clean Mama can be found online at cleanmama.com, on social media as @cleanmama – don't miss her shop shop.cleanmama.com and her 3 (almost 4) books anywhere books are sold!
Other Ways to Enjoy This Podcast
Have You Subscribed Yet, Mama?
Are you subscribed to the Smart Money Mamas podcast? If you're not, I want to encourage you to head over to Apple Podcasts (or wherever you listen to your podcasts) and subscribe! I release episodes twice and week and as a subscriber, you'll be notified right away so you can take checking the feed for new content off your mental to-do list. 
Click here to subscribe on Apple Podcasts, Google Podcasts, or Spotify!