The Systems You Need to Make Your Home a Haven
Why You've Got to Listen to This Episode...
In today's episode, I'm talking with blogger, founder of I heart Planners, and host of the Get Organized HQ Summit, Laura Smith. Laura loves simplifying life with systems, but she understands how easy it is to fall off the wagon when it comes to keeping up with good habits. We're talking about where to start with systems when you're overwhelmed, how to feel more successful with your to-do list, and Laura's best advice for cleaning and meal-planning. If you love what she has to share, make sure to register for the FREE Get Organized HQ Summit she's hosting that starts September 15!
Moments You Don't Want to Miss
What Are Your Family Money Values?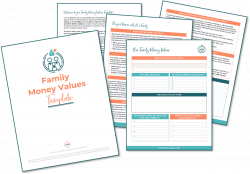 Grab our free Family Money Values Template and create a strong foundation for your family's healthy money habits!
Key Takeaways to Help You Use Systems to Make Your Home a Haven
As always, we've rounded up our top three takeaways to summarize what we believe are the core points to remember from Laura.
I loved Laura's point in this episode about going with what works and not overcomplicating things. We're more likely to be consistent with things if it's already in the flow of what we do.
For me, I had an "aha moment" when Laura was talking about the drawer for her kids art where it kept ending up, even though she'd designated a different spot. So, they just switched the designated spot.
I keep saying I want mail and papers to go in an inbox on my desk to go through on a regular basis. But, every time, that pile of papers goes on the kitchen counter. I think I'm going to put a hanging inbox in the kitchen, and I can simply grab the papers to go through before our weekly budget meetings. Way more straightforward.
Every family is different, and instead of trying to implement someone else's complicated organization strategy into your life, figure out what works for you.
2 - Less Stuff is Really the Answer
Clutter makes everything harder. It overwhelms our minds, creates piles we trip over and start little arguments over.
You don't need to go full-on minimalist, especially right away, but let yourself get rid of things you don't regularly use and be careful about what you let into your house. Once it's there, it can be hard to get rid of!
3 - When Creating Systems & Routines, Start Small
Pick one or two habits you want to start with and keep them small. Like Laura said, maybe your first goal is not leaving dishes in the sink before you go to bed. Then keep doing that thing until you feel like you don't have to think about it anymore. Then add the next thing.
Creating new habits and ingraining them to the point where they are truly automatic takes time and mental decision-making power. If we try to do too much at once, we'll almost certainly exhaust ourselves and fail.
Or, as Laura mentioned, we attempt to create habits that compete with each other. Like not leaving dishes in the sink and going to bed by 10 PM every night. Having to choose then makes us feel like we're failing and puts us off track.
So, start small. Identify what is most adding stress to your life and look to fix that with a simple routine. The first change is the hardest, but tackling it is going to feel so good.
Links & Resources Mentioned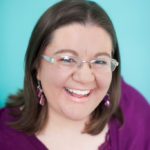 Laura is the founder of I heart Planners. She is an expert at creating organizing spaces that are beautiful, practical, and highly functional. Laura believes that by making our systems beautiful, we will stay much more motivated to keep up with them, and our lives will stay organized. When she's not busy organizing or scouring the web for new planners and printables, you'll find her writing on her blog, running her busy Etsy shop, or trying out a new dessert recipe in the kitchen. Laura is a mom to a four and five-year-old who teach her to appreciate the unplanned and unpredictable parts of life.
Other Ways to Enjoy This Podcast
Have You Subscribed Yet, Mama?
Are you subscribed to the Smart Money Mamas podcast? If you're not, I want to encourage you to head over to Apple Podcasts (or wherever you listen to your podcasts) and subscribe! I release episodes twice and week and as a subscriber, you'll be notified right away so you can take checking the feed for new content off your mental to-do list. 
Click here to subscribe on Apple Podcasts, Google Podcasts, or Spotify!