I love having a clean house. Nothing stresses me out like clutter or seeing dirty dishes in the sink. But, like most parents, I don't have a whole day to commit to scrubbing the house down every week. My husband and I rarely have more than half an hour at a time! With me working from home full-time, a toddler, and a newborn it feels like we are constantly running ourselves ragged.
So, to keep our house clean, we had to get organized. By simplifying our home cleaning schedule into small, manageable tasks cleaning didn't seem as overwhelming. Which meant we were more likely to do it, even after a long day. Here is how we ditched our weekly cleaning service, after multiple years, without losing our minds!
Bite-Sized Daily Cleaning Tasks
When we first stopped outsourcing our house cleaning, my husband and I thought we would just clean when we had a free moment and things would get done. Not surprisingly, we almost never had a free moment. And when we did, the obvious things, like wiping down the counters or vacuuming the living room, got done. Dusting the ceiling fan? Yeah, that never happened.
We realized that we needed a schedule. Something we could look at, see a quick 5-15 minute task, and tackle it. We also needed a way to include things that didn't have to happen every day or every week, but that shouldn't be forgotten throughout the year.
Of course, that meant visiting my trusty friend, PowerPoint! We split all our chores into daily, weekly, monthly, and yearly tasks. Then we broke down what day each week we were going to tackle everything. After a few rounds of edits, our chart now lives happily on our fridge. If we forget to do something, it is staring us in the face every time we want a drink or snack. (Yes, our family's life revolves around the kitchen. That's what happens when you always eat at home!)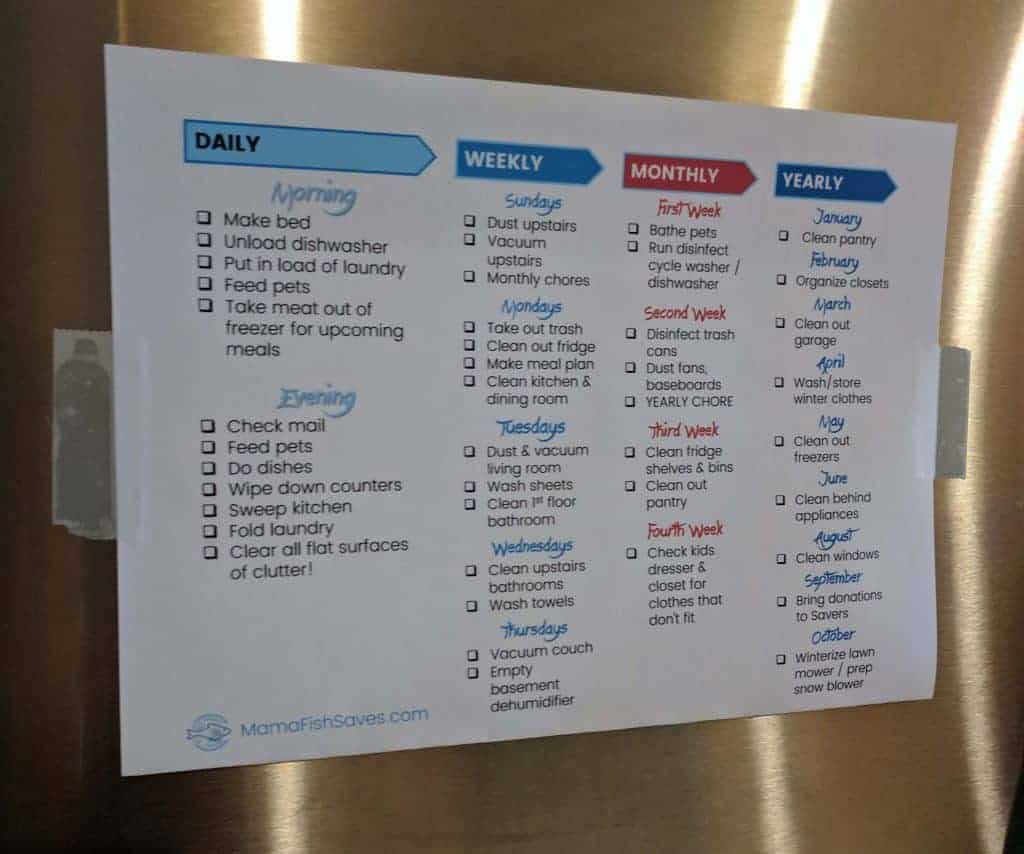 My husband and I each spend around 15 minutes in the morning and 30-45 minutes most evenings cleaning after the little ones are asleep. This includes laundry, dishes, general organization, taking care of pets, and actual house cleaning. Often, we can free up our evenings by doing a quick task during nap time or in any free 5-10 minute moment. Fingers crossed our time spent diminishes as Fuss Fish and Baby Minnow get bigger and start pulling their weight!
Simplifying Our Cleaning Products
With a toddler and a newborn in the house, I hate using too many chemicals in our cleaning products. Try as I might, I can't keep Fuss Fish from eating that piece of clementine he dropped on the floor. So, for a long time, we had a myriad of organic cleaning products. I would scour EWG for the safest products, try them out, and love some while relegating others to the back of the cabinet in our laundry room.
Over time, the cabinet was overwhelming. There were so many bottles it felt like we should always have what we needed. But when we went to mop the kitchen floor, we would be out of the good tile cleaner. So, we would either head to the store, eating up our precious cleaning time, or just skip that task for the week until we could get what we needed. Not ideal. Not to mention the fact that my husband thought none of these "organic" cleaning products actually cleaned anything.
Then, we discovered the beauty and simplicity of Branch Basics. Branch Basics sells a plant & mineral based, biodegradable, and preservative free cleaning concentrate that actually gets your house sparkling clean! Branch has a complete guide to using the concentrate by diluting it different amounts for every cleaning need under the sun. The best part is, the starter kit comes with bottles for each of your most common cleaning needs – bathroom, all-purpose, hand-wash, and glass cleaner. You can also add in their Oxygen Boost powder, which we love to use for stain removal and cleaning toilets.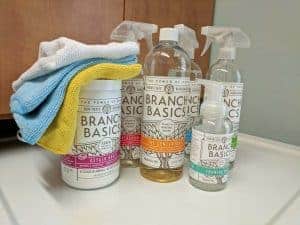 A $49 bottle of the concentrate easily lasts our family nine-months. We spend way less on cleaning supplies now than we used to and if we run out of a product, we can quickly make more with another splash of concentrate! And the best part? You can keep reusing the plastic bottles that come with the starter kit! Daddy Fish loves this as it means way less plastic that ends up in our oceans!
Click here to buy your Branch Basics starter kit and ditch all your household cleaning chemicals here!
Divide & Conquer
Whether you work full-time or are a stay-at-home parent, you shouldn't have the full burden of cleaning a home on only your shoulders. Your spouse and kids should be pitching in to help you stay on top of things! Keeping a clean and organized home is a big task. The more hands on deck, the easier it is to manage.
Unfortunately, I don't have a lot of advice on getting an unwilling spouse to help around the house. My husband and I divided household tasks early on in our relationship. Regardless of differing work schedules, we didn't want one person feeling like they were solely responsible for the house. (For those of you who don't know, we were roommates before we were dating! Nontraditional, but the best way to know ahead of time if you're going to be picking up someone's socks forever. Sorry, honey!)
The one tip I have is to take away the burden of each person's least favorite task. Ask your spouse what they hate doing and offer to always do that task. Then, see if they will conquer your least favorite cleaning event for you. If you both don't have to face dealing with what you most dread, you may be more likely to have the energy to tackle everything else.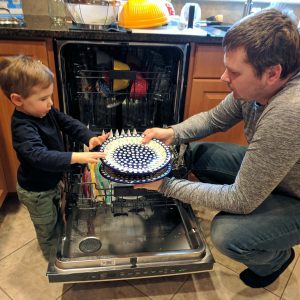 For example, Daddy Fish despises doing laundry. Sorting it, remembering to switch it into the dryer, folding it, putting it away. Every step annoys him. So, I do all the laundry. In return, he does the dishes, which is what I hate. Because he does the dishes, a lot of the other smaller items – like cleaning the bathrooms every week – fall to me. There are more hours spent in our house doing dishes than laundry. When he is doing dishes after the kids are in bed, I try to check off the last items on the day's chart so we can get some quality cuddle time once he's done!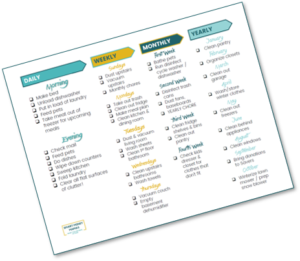 Get Control of Your Home with Our Free Cleaning Schedule!
Cleaning is a never ending battle (especially with kids) but you can break it down into small daily steps with this schedule!
You Can Keep a Clean Home in a Few Minutes a Day!
We used to pay over $400 a month to have our house cleaned every week. Now, we use reusable microfiber cloths, reusable Swiffer pads I made from cheap fleece, and about $4 a month in Branch Basics cleaning concentrate. Do we spend a little more time each day taking care of our home? Absolutely! But splitting it up into small items each day makes that extra time almost not noticeable. Plus, that extra $396 in our bank account feels pretty great!
How do you handle keeping your home clean and organized? Do you and your spouse have a set schedule to follow? Let me know in the comments! We are always looking to improve our strategy!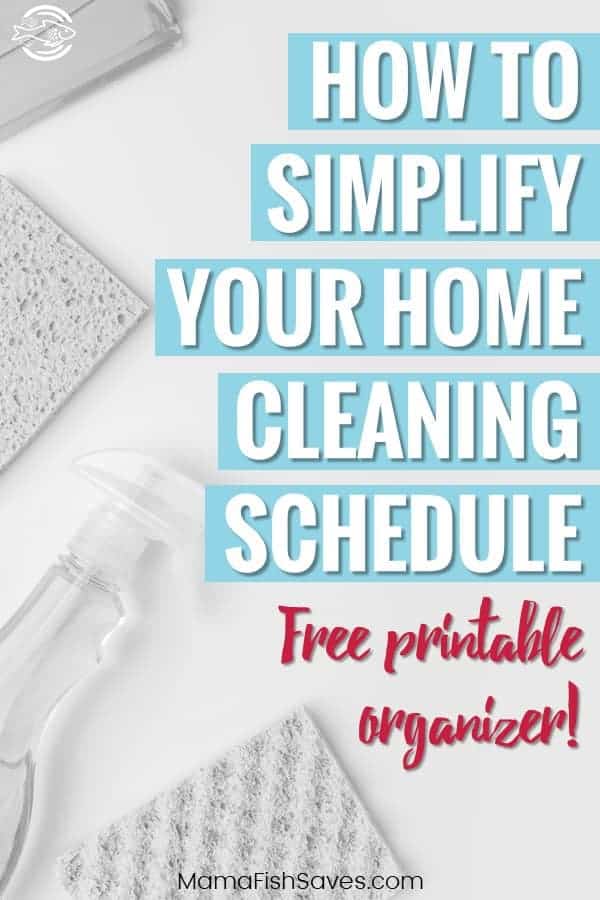 This post was proofread by Grammarly.