Would you quit a dream job at Google to build an online business of your own?
That's just what today's Profitable Passion interviewee, Masha, did! She's the founder of Coding Blonde, a blog and YouTube channel focused on empowering women in tech.
Masha loved Google and her job. But after discovering her passion for coding and the massive gender gaps in tech, she found her purpose. She was ready for a change. (Especially since she was living half the world away from her long-time boyfriend!)
Today, Masha is here to share how she left Google, built a bridge, and is transitioning to full-time entrepreneurship.
I love her story and her goals. Tech is a high-paying industry where women are sorely underrepresented and where the gender pay gaps are high. Masha is changing the face of women in tech and I can't wait to see what she does next. Take it away, Masha!
The Profitable Passion interview series will be a monthly segment on Mama Fish Saves where you can get an inside look at the entrepreneurial life. You'll hear how these individuals got motivated to make a change, actually took the leap, and what it meant for their lives.
Previously on Profitable Passion…
If you are interested in participating in the series, please email me at chelsea[@]smartmoneymamas.com
Profitable Passion Interview: Doing Work You Love
My questions are in heading form, Masha's answers (in her own words!) are below each question.
Tell us about yourself!
My name is Masha, I'm in love with exploring the world, technology, entrepreneurship and I'm a big fan of delicious food – both cooking and eating it. It's hard to fit all of my passions and interests into 24 hours each day, can you relate to that?
I run a blog called Coding Blonde while working as a Global Entrepreneur in Residence at a university in the US. My mission is to help as many women as I can to discover their potential in the tech industry and get excited about it.
I'm originally from Russia, but I've now lived in 5 countries. And I'm not done moving yet, I enjoy the challenge of adapting to a new place way too much!
What were you doing for work before pursuing your passion? Why wasn't it fulfilling?
I followed my parents' path when it came to my education: I studied economics for my undergraduate degree. I didn't really know what I wanted to do, but that sounded like a solid background for me and I wanted to go into marketing from then onwards. And while I found marketing a fun challenge, it was never fuelled by my real passion: empowering women in technology.
All of the achievements I've had didn't feel as personal or impactful as one would think. It was like eating a piece of tofu plain – there was no flavor to it. I hope that makes sense, I love food and hence I make a lot of food metaphors!
What finally made you realize something needed to change?
I was thinking of moving on to another job – one similar to what I already did and I wasn't excited about the opportunities out there. It felt "meh", plain and flavorless again. By accident, I started learning how to code to see what else I could get if I added these skills. This was when I've learned all about the gender gap and stereotypes in tech – and have found my passion and purpose
What is your current passion-based business and how did you decide on that business?
My blog, Coding Blonde, is my passion-based business. But I didn't see it that way when I first started in 2015, it was a way for me to document my journey and experience learning how to code. Soon after starting it I got a job at Google (my dream company at the time), so I wasn't taking it too seriously for a while and I didn't really have time to maintain it.
However, I never thought of quitting or closing it. That has never even crossed my mind, I knew it was "on hold" until the right moment. And that moment was last fall, when I had my last day at Google, moved to the US and started the program with the University. It's been a roller coaster ever since!
Did you start the business before leaving your prior job or did you save up to give yourself time to become profitable?
I technically still have a part-time job with the University, I'm in the Global Entrepreneur in Residence program, which was the most ideal situation for me to really kick-start Coding Blonde.
One of my goals for this year is for my business to make more money than the University pays me – as a sign that I can take it full-time once the program ends!
What was the scariest part of making the transition?
I would say the scariest part is stability. It's nice knowing that you have a paycheck waiting for you every month and that your medical insurance is also covered. As an entrepreneur, you don't always have that luxury. At the same time though, it feels amazing when your business is growing and is allowing you to be independent while doing what you love.
Who has been your biggest cheerleader in this process?
I think that I'd made the leap in my head when I left my role at Google. That was a shock to most people, to be honest, everyone was asking me "Why would you leave such an amazing company?".
And it is amazing. I just needed to see what else I could do.
In all honesty, the main reason for that move was to relocate to Denver for personal reasons – my boyfriend and I had been doing long distance Denver to London for over three years at that point. But it was also an amazing opportunity to see what I can do with Coding Blonde and whether I could become an entrepreneur. I saw that opportunity for myself, but it was hard to explain to other people why I was leaving such a great company for the unknown.
Some family members and friends didn't understand it and were pretty skeptical about this move. My biggest cheerleaders were my boyfriend and my dad, they really understood what I was trying to do with this career experiment and were excited for me. I'm very grateful for that support.
It's almost been a year now and I can say with confidence that all of my family members and my friends have come around and are now very happy for me. ?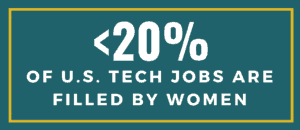 How long did it take for your business to become profitable? What did you learn about running a business in the process?
I'm not paying myself yet, so I don't know if you can count the profits as real profits at this point. However, it was about 7 months when I've learned how to properly make money and attract business. I was pretty lost at first, I'm not going to lie! I didn't know where to start, how to talk to businesses and was scared of trying. Slowly but surely, I've started trying things for the first time, learning and iterating from my mistakes.
I'm still learning every day while setting up systems and processes to scale. My biggest challenge right now is outsourcing and delegating some of the tasks. Check in with me in a few months and I'll tell you my best practices.
What has been your biggest accomplishment since pursuing your passion?
I feel like it's been a constant build up, to be honest. I've been very fortunate to have worked with awesome brands and organizations. That recognition and affiliation meant a lot to me.
I also love the fact that contracts don't scare me anymore. I read one over breakfast this morning! That was a huge milestone for me and I'm excited to become even more confident with my legal literacy.
And I think the next step is learning how to delegate, that's my next milestone and my Mount Everest.
What do you wish you had known before making the jump?
I knew that it was going to be uncertain and that it was going to be difficult. I knew that I would learn a ton.
But I wish I knew how much people would help me though. I wish I wasn't afraid of asking for help from the beginning.
I'm still working on that muscle, I'm not going to lie – it's hard to ask for help sometimes! But it's necessary, you can't master it all by yourself or know everything.
How does your work-life look today and what is your next big business goal?
Work/life balance is something that I'm still working on. I have a hard time disconnecting at times and end up working late or during weekends to get everything done that needs to get done. But this is why I'm also starting to outsource, to regain some of that time back.
But since it's my passion, I enjoy it all so much! And all of the challenges that come with it.
My next big goal is to set up systems, automation and outsource tasks in a smart way. It will take some time investment, but once I'm done, it will be so worth it!
What advice do you have for people who are unhappy in their current job or feel like they can do more?
Explore and try things, try to find what you enjoy doing. You don't have to change your job or career path to start doing what you love: maybe there's a project at work you can take on that resonates with you and your passions? Or maybe you can simply switch industries to be happier? Try to explore the overlaps between your passions and the skills you already have. That's the first step!
And of course, don't be afraid.
Where can readers follow you?
You can read my blog, watch my YouTube videos or follow me on Instagram!
Smart Money Mamas' Thoughts
Thanks to Masha for sharing her amazing story of throwing off the golden handcuffs to head out and discover her passion!
Just like I do in the Aha! Moment Debt Interviews, I want to share some thoughts:
You don't have to hate your job to need a change. Masha's dream was working at Google. But sometimes you're just ready for a passion project. Masha saw a place where she felt like she could make a difference and it was worth a major career change to empower other women in coding and tech.
It doesn't have to be all or nothing. Sometimes entrepreneurship sounds like jumping out of a plane without a parachute. Masha shows us that it doesn't have to be. She is an entrepreneur in residence at the University of Colorado Boulder, working part-time there, and making money from her blog and YouTube channel. This gives her the ability to transition more slowly over time, hopefully with less stress.
You're not going to have it all figured out. Masha refers to delegating as her Mount Everest. I feel you, girl! Taking the less traveled path, like entrepreneurship or a major career change, means you're going to be out of your comfort zone. You'll have to do things you've always thought of yourself as bad at. And that's okay! You'll make mistakes, grow, and figure it out. Good luck with delegating, Masha!
What did you think of Masha's story? Any thoughts you would add? Drop a note in the comments!