Are you thinking about not going back to work now that you're a mom? You aren't alone — and you couldn't be wondering this very thing at a better time. If you want to work for yourself or change your career to work online and have more flexibility and control over your income, you're in the right place.
It's easier than ever to start and run a profitable online business as a new mom. Tasha Booth, Founder and CEO of The Launch Guild, is here to break down starting a successful business as a new mama.
How to Start a Profitable Online Business as a New Mom
1 – Choose the Right Business
To build a successful business at home, you must choose the right business. In a sea of millions of existing businesses, this may feel impossible. But it's not as hard as you think.
Consider what you love doing or things others come to you for. What skills do you have?
For example, are you a pro at getting to inbox zero? Can you maneuver TikTok, Instagram, or Pinterest like a boss? Do you manage customer service and fix problems? Businesses will pay you to manage those things for them!
So, think about your skills and what you could do with them. Make a list of all the possibilities and run them past others.
Slowly, you'll come up with the perfect business for you. Then it's just a matter of building on your momentum.
2 – Tell Everyone About Your Business
Once you choose your business, it's time to shout it from the rooftops. This isn't a time to fear judgment — get rid of the naysayers! You've chosen your lane and now be proud of it.
Lean into family and friends who can be excited about what you're doing and support you. Even if they don't fit your ideal client, they might know someone who does.
There's always opportunity out there — get into the community, network as much as possible, and be proud of what you're starting.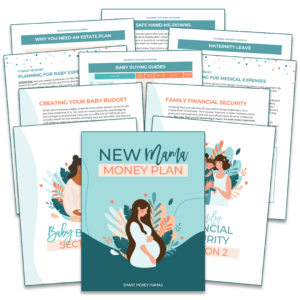 Get a clear picture of the money plan for your growing family – from onesies and daycare to estate plans – so you can relax and focus on your new bundle of joy.
Click here to grab your New Mama Money Plan now!
3 – Pricing: Know What to Charge
As you get closer to taking your first client, you must know what to charge. This can be the hardest part of starting a business. You hear the numbers you want to charge, and it takes your breath away – you think no one would ever pay those prices, but how do you know?
Start by looking at what others offer and what they charge. How does their pricing sit with you? Do you think the pricing could be higher? Remember, you must charge what you're worth, or you'll burn yourself out.
If you're scared about pricing too high, use this simple strategy:
Start with a 'lower' price (but not too low)

After you get 3 people to say yes, increase your price

Repeat
Keep increasing your price until you get to a rate that makes you feel like you're getting paid what you're worth.
One big question around what to charge is whether an hourly or project-based rate is best. If you're not sure, start with hourly — it gives you a chance to get paid for the hours you put into the work.
Since you're just starting your entrepreneurial business, you might not know how long a project could take. At first glance, it may look like a few hours, but when done, it could be closer to 10 or 20 hours. If you charged project-based fees, you'd come out losing.
Once you've established how long the average project takes, you can move to project-based pricing.
4 – What You Need Before Finding a Client
With your business idea and pricing nailed down, what else do you need before finding clients?
The good news is you don't need it all to get started. As long as you show up professionally and have something that shows what you offer, you can make changes as you grow.
Having a website is helpful. You can probably put together a website in as little as a weekend using a template — it doesn't need to be fancy, just professional.
You should also figure out how to get paid before finding your first client. But that's as easy as setting up PayPal, Square, or Stripe.
A contract is another must-have before you can take on new clients. Like your website, it doesn't need to be fancy, but it should include:
The timeline

The cost of your services

A detailed list of what you're getting paid to do
A contract helps you set expectations ahead of time and can ensure a good relationship between you and your clients.
5 – Consider How to Make your Business Work as a New Mom
Once you've got it all put together, it's time to figure out how to make your business work as a new mama.
With a needy infant and possibly other children running around the house, you might feel like it's impossible to manage your time right. The good news is millions of women just like you make it work. Here's how:
Honor what's going on in your life without comparing yourself to anyone else.
Know your limits and set boundaries.
Put self-care first — don't assume you have to put your business first to make it work.
Schedule downtime for family, eating, sleeping, working out, and other activities.
Remember the reason you started the business – to be with your family and bring in some money. Give both ample attention (and make time for self-care!) so you don't feel guilty in either aspect of your life.
Bottom Line for Building an Online Business
Running a business as a new mama is entirely possible. You might need to take it slow in the beginning — and that's okay!
The important piece is that you figure out what works for you and your family. Then just start. No matter what decisions you make upfront, know that your business is fluid — it can pivot at any time to meet your needs. So, have fun with it and enjoy being a new mom!