Many moms feel anxious about returning to work after giving birth. For some, they are not ready to leave their child. Others feel stressed about the workplace responsibilities they'll face upon return.
Lauren Smith Brody, the author of The Fifth Trimester, shares her experiences and the best tips on transitioning into a working mom.
Tips to Feel Confident Returning from Maternity Leave
Going Back to Paid Work – Mindset Shifts
If you were childless and career-focused, you may have an adjustment period when becoming a mom who works.
Many seasons of motherhood exist. Being a new mother is like your first day at work all over again, and you learn as you go.
It's stressful, and you will probably feel guilty about perceived failures. But here's the thing: You don't need to do it all! Working and being a mom is hard, and you shouldn't hesitate to ask for the external support you need.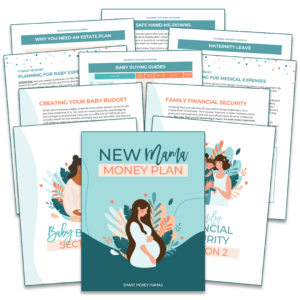 Get a clear picture of the money plan for your growing family – from onesies and daycare to estate plans – so you can relax and focus on your new bundle of joy.
Click here to grab your New Mama Money Plan now!
Things You Need to Know to Transition Back to Paid Work
As you begin your transition back to paid work after having the baby, find out how it feels to have your baby in someone else's care first.
Drop off the child with a friend or family member while running errands or taking time for yourself. It's a low-pressure way to get used to feeling separated from your baby before going back to work.
Setting up systems can also help — like planning meals and sectioning off a portion of your closet with premade outfits that you can wear.
There's also the issue of milestones and the inevitable realization that your child will say their first word or take their first step while they're in the care of someone else.
Talk to your caregiver about how to communicate those milestones with you. For example, do you want a text or call for every milestone your child makes while you are at work? Or would you rather wait to experience it the first time for yourself?
How Do You Decide Who Should Care for Your Baby?
One of the most stressful decisions you will make before returning from maternity leave is who will care for your baby while you are at work.
Will the baby go to daycare, or will care occur at home?

Can family members watch the child?

Can you and your partner alternate work schedules to care for the baby?

How many days per week should the child go to daycare?
It's a complex challenge to manage all of these scenarios.
First, you face the fact that daycare is a slower-than-average industry to recover after the pandemic.
Second, you might have different caregiving norms in your region. For example, moms in the northeast might feel more pressure to send their child to daycare than mothers in the south. Likewise, more traditional families may pressure moms to stay home when they would rather return to work.
Third, child care raises financial questions about affordability — a caregiver closer to home may cost more but can also be more convenient for drop-offs.
But there's good news for moms: All of the research supports the primary predictor of a child's success in daycare is how emotionally comfortable you are about the decision.
So, even if it seems like the "best option," it might not make sense for you. You're much better off doing what's right for your family.
The Family and Medical Leave Act
The Family and Medical Leave Act (FMLA) allows workers to take up to 12 weeks of unpaid time off work to care for family members or themselves. And how people are using it might shock you.
Lauren Smith-Brody shares that 25% of FMLA requests are for childcare, 25% are to care for other family members, and 50% are for self-care, such as physical and mental health.
Experts also question whether 12 weeks is enough. Peer research suggests that six months is the minimum time a mother needs to recover her physical and mental health and tend to the baby's health needs like doctor's appointments.
But many new parents don't have the luxury of taking paid time off — 25% of new moms return to work just two weeks after giving birth. Taking steps to financially prepare for a new baby can help.
How to Stop Attacks of Wanting to Quit
Many new moms consider quitting. It's typically motivated by one of two circumstances: Not feeling valued by your employer or feeling guilty about being a working mom.
"Mom guilt" can make you feel unsupported at work and at home. You might even feel guilty for enjoying the company of adults while at work.
Your feelings are normal. But you may want (or need) to continue working. In that case, there are things you can do to get more support from your workplace:
Research what systems are already available at your company to support parents.
Look into what your company's competitors or similar businesses do for new parents.
Ask your friends how their employers support them.
Finally, talk to your boss. Present them with a proposal that complements your job description and is predictable and dependable.
Your employer is likely to work with you because they want to keep you as an employee.
Final Thoughts on Returning From Maternity Leave
The most important factor to feel confident returning from maternity leave is figuring out what you want your post-baby work-life to look like.
What works for your neighbor, your friend, or your coworker might not work for you. And that's okay! Your best return-to-work strategy might mean stepping back, hiring more help, or coordinating a flexible schedule with your employer.
Above all, know that you're doing the best you can as you transition into your new role as a working mama. Give yourself grace, get the support you need, and find time for self-care.
What is your biggest worry about returning to work?