The entrepreneurial bug has always been a part of who I am. But after having kids, things really kicked up a notch. Did I really only want a couple weeks of vacation, forever? How was I supposed to raise kids that chased their own passions, when I wasn't chasing mine? I knew something had to change. So, I started thinking of ways to do it.
A question I get often is, "Why did you start a blog? Why not something else?" And it's a good question. Leaving a hedge fund to run a blog isn't a common life choice. (Trust me, the looks on some of my colleagues' faces were priceless.) But it wasn't a decision that came overnight. It took years.
If you've ever wondered what other business opportunities I considered, what I passed on, and why, today's your day. Here's the inside scoop.
Build Me a Budget
Let's start at the beginning, with an idea that is almost embarrassing to write down. In college, I started to think more about financial literacy and people's money problems. Building a budget, I already knew, was the easy part. Sticking to it was hard. I wanted to develop a way for people to have someone to lean on with more basic financial decisions. Things most financial advisors largely ignore.
I spent almost three years developing and tweaking a business plan for a company I tentatively named "Build Me a Budget." Even going so far as to buy the domain name, start a Twitter account in 2013, and scope out pricing for commercial rental space.
The idea was to create a WeightWatchers concept for budgeting, debt repayment, and basic investing. It was meant to have tiers of service, from a simple online and app-based module for goal setting and spending tracking – with a forum community to interact with others on the journey – up to in-person group or individual meetings with money coaches.
In the end, I got nervous. By 2013 I was at Goldman Sachs, making great money, and my imposter syndrome was strong. Who would trust a 22-year-old with an idea like this? Ludicrous.
I decided to wait. And the fact is, the giant notebook with all my detailed research has moved house-to-house with me for the last five years. I'm starting to see the idea in businesses like the Financial Gym. It has morphed into that "woulda-coulda-shoulda" idea I'll probably always wonder about.

Writer
I was a double major in economics and mathematics in college. I'm halfway through my MBA. Not exactly the credentials you would expect from a writer. Unless you were looking to read a super dry book about quantitative theories.
However, writing has always been a passion of mine. My minor in college was philosophy and I adore books. Both fiction and non-fiction. Libraries are absolutely my happy place.
Despite my desire to become an author, the idea of a starving artist was sharp in my mind. At this point in my life, I didn't know there were six-figure freelance writers. Self-publishing wasn't on my radar.
I filed this idea in the back of my mind as another "someday." When I did something that mattered, I would write a book. But until then, I needed a way to support my family.
(Silly old me, freelancing writing now makes up over half my income…)
Children's Clothing Consignment Shop
Ah, franchises. A business-in-a-box where the biggest concerns are choosing the right opportunity, having up-front capital and finding a good location. We had the capital. And my husband used to work in commercial real estate. Win-win. Now we just needed the business.
I pulled data on dozens of franchise model businesses and found a hole in our community when it came to children's consignment shops. I had grown up going to Once Upon a Child for clothes and toys with my mom. But when I searched for a location in Boston, there weren't any in the state. There was a Children's Orchard (a less successful and smaller competitor), but nothing else.
Once again, I ran the numbers. How much would we need to make to hire employees? How would we get initial inventory? Would my husband and I have to basically live there?
I still think this is a great idea and one sorely needed in the Boston community. However, retail? Not our game. Jeremiah and I are both introverts and having to manage a store, employees, and a business focused on buying from and selling to customers would not have been playing to our strong suits.
Just because a business idea can be profitable, doesn't mean it is the right idea for you.
Small Business Investor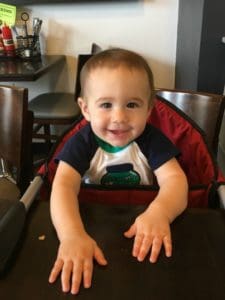 The reactionary response to our super hands-on business idea was to run towards passive income. What if we could find a small business we loved and help it grow? I could provide some advisory support about profitability, ROI analysis on expansion and capital investment ideas while staying out of the day-to-day. Jeremiah, with his real estate and construction management background, could help when handling site selection or construction for new locations.
We took a look at our own finances and determined how much we were willing to put into a first investment. Then, we reached out to a few businesses. Our favorite and the one that got back to us most quickly was a gluten and nut free café (with dairy-free options) that made phenomenal food. I was gluten-free at the time, and it was way better than any gluten-free restaurant or bakery in Manhattan. (I had tried them all.)
But they only had one location in a small suburban town. We went and had a meeting with them where we swapped backgrounds and ideas. Then we had another meeting and traded many emails.
My opinion was that this business was perfect for franchising. They had a cute brand, great recipes, and a fast-casual business model that was growing rapidly in the food industry. Food allergies were a pain point for more and more families.
Ultimately, however, we backed out. Again.
Why? There were just too many red flags. The business owner hadn't taken even a two-day break in five years. She had never been able to keep a pastry chef for more than six months.
She blamed turnover on "standards for the industry" and lack of work ethic. But I had worked with enough CEOs of very large businesses to recognize one that couldn't let go. Scaling – and especially franchising – wouldn't work if she wasn't willing to put in systems for the company to run without her. And, for the most part, she wasn't.
Etsy Shop Owner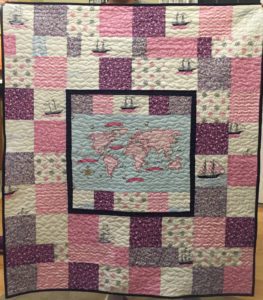 Not every idea I had was some big business concept. Sometimes, I just wanted to dabble and do something I loved. Thus, my first Etsy shop idea.
I had made a few quilts and many baby blankets and sweaters for friends and family. Sewing, crocheting, and crafting were creative outlets I loved. I started to look into Etsy as a way to generate some extra cash.
First, I set up the shop, read all the FAQ for new shop owners, and built a business budget for materials to get my first items listed. Then, I started to work on projections and time commitment.
Years spent in finance had made creating a financial model for any business idea automatic. What would my profit margins be? How much time would I need to commit to each project? Could I scale the shop with any consistency?
For me, the answer became clear. This could be a fun creative outlet. A way to not drown my family in random crafting projects and fund my hobbies. But not much more. My time was worth more than I could earn with handmade products on Etsy.
Financial Advisor or Money Coach
A natural choice for someone in the financial industry who wants to go out on their own is to become a financial advisor. By moving from managing institutional money to individual money, you can gain more control over your schedule and ditch the frustrating bureaucracy of hedge fund life.
But financial advisors have a bit of a problem. The traditional model of managing people's assets and selling them products like insurance doesn't typically allow for you to give advice to your clients that you would give to a family member. You simply can't earn enough.
I could have become a fee-only Certified Financial Planner (CFP) and still consider it sometimes. It is far more suited to giving quality advice. However, you need a solid funnel to consistently bring in new clients and your exit strategies are limited. Because you don't have the same recurring income from ongoing clients, the valuation of your business tanks when it is time to sell.
Money coaches and fee-only CFPs primarily sell their time for money. Which can set the hourly rate outside what an average family could afford. I want to provide advice that is accessible to everyone and expands beyond the basics to the psychology of money issues and connecting your financial goals with your true dreams.
I could make money as a financial planner. Yet, it wasn't going to fulfill all my needs.
Start-Up CEO
Stuck with me this far? You're amazing. Here is the very last money-making idea I had before starting Mama Fish Saves. Become a start-up CEO.
Nope, not joking.
One thing I really enjoy is that I have a large network of smart, business-savvy, entrepreneurial friends. About once a year, I hear from one of them about starting a business together or stepping in as an advisor or CFO.
Considering the Medical Business
In November 2016, I got one of those calls. A very close friend with whom I had worked at Goldman was starting a new business. He and his friends had a mini private equity firm, running a few different businesses. But he had also been running three medical practices with his uncle (a doctor) for the past three years.
He noticed a trend. Doctors wanted the freedom of private practice, but they didn't want the overhead of payroll, benefits management, billing, and more. Physician management companies, which bought out practices, had struggled in the past. But what about a business that allowed a physician to remain the owner while subbing out the entirety of its backend management.
There were some competitors in the market. However, they either weren't as robust as what my friend had developed or were only available to larger practices with several doctors. This system could be rolled out to even a true private practice with just one doctor.
While my friend loved this idea, he knew he wasn't a natural CEO for a business like this. He was a visionary and a marketer. What he and his partners needed someone who could pull it together and keep the business focused and on track. (Score 1 for major self-awareness!) He hoped I was that person.
I wasn't.
Knowing When to Say "No"
I spent three months vetting the business model. After stress testing the financial forecasts, I made trips to NYC to meet with my friend and his partners. I spoke to doctors who already wanted to hire the company. We discussed health insurance and whether I would have to move my family. I dove deep into physician practice management research.
Then, I made the tough call to tell my friend no.
The legal risk with a business like this one was sky high. Not to mention regulatory risk as health insurance and other medical privacy laws changed constantly. I saw that the team's communication and vetting on these issues was minimal. When raised, I got a lot of, "Well, let's just get to market and we'll figure that out later."
I still think this business could work. But with a major idea like this one in an incredibly complicated industry, rushing to launch with minimum product viability is a bad idea. If the team couldn't listen to my input on that, how would I ever be an effective CEO?
Starting a Blog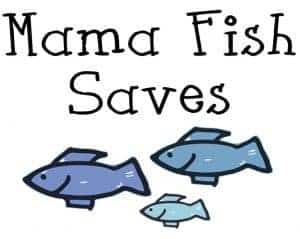 Turning down a CEO position with a business with existing funding, ability to be an equity partner, and an opportunity to work with a close friend was disappointing. Diving back into my hedge fund career seemed more depressing than ever.
So, one snowy winter day in February, I had an idea.
What if I combined my passion for financial education – as seen in Build Me a Budget, financial advising, and my current career – and my desire to write and started a blog. I didn't know how blogs made money. Frankly, I never thought mine would. I didn't create a business model or any real plan.
Instead, I started with my passions. I decided to finally give my desires an outlet. Maybe, I hoped, just putting fingers to keys would unlock something and help me find what I was meant to do. It would, at the very least, stop my cycle of telling that entrepreneurial, creative part of my brain "no."
This site has a long way to go to fulfill all my business dreams. What it has done, however, is given me a platform. A place to develop other business ideas, work with like-minded individuals, and answer only to myself.
Starting a blog might not have been the best idea I've had. It certainly wasn't the most likely to make a livable income. However, I could start without taking a major risk. Which as the primary breadwinner for my family was hugely important. It let me crack the door and find my way.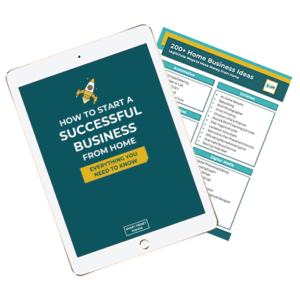 Want to Start a Business?
Download over 200 at-home business ideas with our complete guide on starting a profitable business!
Never Be Afraid to Explore Your Options
When I talk to readers who want to change careers or become entrepreneurs, often they are afraid to crack the door. They wonder if taking the time to flesh out an idea will either make them lose confidence in its viability or be too tempted to just jump ship with their current career.
Yet, if you want to make a major change, you need to give yourself space and time to consider your options. Not from a place of imposter syndrome and doubt – as I have too often done – but from an honest place. One that focuses on what a business would actually look like. Why it's more attractive to you than where you stand today. And how your life would change if you really dove in.
Then, test it out. We all have commitments we can't just bail on. Our kids need to eat, we can't risk massive amounts of capital. But we can start with a hobby or side hustle and give it space to grow. You never know what you'll discover.