You might be a master of your budget with savings goals firmly in place. But there's one piece of your financial picture that often gets overlooked: insurance.
I'm not talking about health insurance, although that can be an ordeal all by itself. What I mean is life insurance, home insurance, and disability insurance.
Shopping for a policy can seem overwhelming. It's time-consuming, and a lot of us mamas don't have much time to spare. Plus, sorting through options when you're unfamiliar with the choices can feel uncomfortable.
But it doesn't have to be intimidating. Policygenius is a company that provides insurance solutions in a way that's easy to understand.
It's an online marketplace that allows you to shop around for all sorts of insurance policies. You can get access to life insurance, home insurance, disability insurance, and more.
Is Policygenius right for you? Let's find out what sets it apart, why you might need a policy, and how much it might cost in this Policygenius review.
This article may contain affiliate links. We only recommend products that we love and use ourselves. Click here for more information.
Policygenius At A Glance
Takes the headache out of buying insurance
Quick online insurance comparisons and recommendations
Excellent customer service, including live online chat
Licensed in all 50 states plus Washington, D.C.
Policygenius Review: What is Policygenius?


Policygenius is an online tool that lets you shop for insurance policies. One advantage of it being an online marketplace is that you can compare quotes and policy options from multiple insurers in one place.
It's also an independent broker, which means the company doesn't provide insurance policies themselves. Instead, it connects you with the best carrier for your situation and helps you through from start to finish.
What Sets Policygenius Apart?
Insurance can be tedious. But it doesn't have to be dry as dust. And that's part of what sets Policygenius apart from other companies.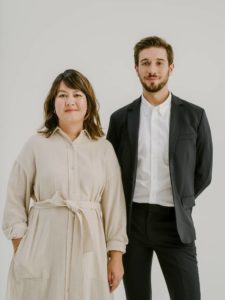 Founders Jennifer Fitzgerald and Francois de Lame were fed up with how insurance companies treated customers. They saw a gap in information, communication, and policy options.
So they launched Policygenius with a goal to make it easy for you to understand your options, compare quotes, and buy a policy.
It isn't like other online insurance comparison companies. Some sites are merely aggregators. That means they take your information and sell it to insurance providers.
But not Policygenius. Sure, they collect your information and connect you with an insurer to complete the policy you need. But they never sell your info. Instead, the company gets paid by the insurance provider if you buy a policy through their platform.
What Types of Insurance Does Policygenius Offer?
Policygenius simplifies insurance by offering several types through one easy-to-access platform. You can browse and buy policies, including:
Life insurance
Disability insurance
Home and renters insurance
Auto insurance
Pet insurance
Policygenius is licensed to give advice and sell policies in all 50 states plus Washington, D.C. Keep in mind that all policies might not be available in every state. Some insurance providers might not offer policies where you live.
But don't worry. When you enter your info, you'll only see policies that are available in your area.
If you haven't shopped around lately, take a minute to enter your info and get a quote. You might be surprised to find a better deal that lets you keep more money in your pocket.
Get a quote from Policygenius and make sure you're getting the best policy for your money today!
Why Use Policygenius If You Already Have Home and Auto Insurance?
When's the last time you got a quote for home or auto insurance? If you're like me, insurance is one of those things you like to set and forget.
I'm guilty of paying the premiums without thinking about it every time the bill comes in the mail. If you have coverage and are happy with your insurance company, taking the time to shop around for a new policy can seem like a waste.
But hear me out. It's easy to save on home insurance and auto coverage. And saving money is the name of the game. When you're a busy mama, every little bit helps whether you're trying to make ends meet or figuring out how to max out your retirement savings.
And Policygenius takes the work out of shopping around to compare quotes. On the site, you can shop for auto and home insurance at the same time.
It might be surprising, but bundling policies isn't always the cheapest option. But the site will show you bundled plans and standalone plans to make sure you get the best price.
Why Mamas Need Life and Disability Insurance
No one wants to think about their demise. You've got precious children to take care of and plenty of plans and goals to meet. But here's some real talk: You won't be around forever.
Accidents happen. It doesn't matter how young you are, what stage of life you're in, or how prepared you might (or might not) be.
If the worst should happen, you want to make sure you take care of your family.
If you're married or live with someone in a home you own together, your loved one could struggle to afford the payments on their own.
There's also the issue of childcare for your kiddos. That can add up to a big chunk of money when there's only one person around to foot the bill.
I'm not trying to scare you. Accidents are a fact of life. It's better to face the possibilities head-on and have peace of mind. That way, you know your family will be taken care of if you become disabled and cannot work or pass away unexpectedly.
How Policygenius Works
Buying insurance is never fun. But at least Policygenius can take the headache out of it.
Imagine having to visit ten different insurance sites, entering your information into each one separately, and toggling back and forth between browser windows to compare ten different policies.
Luckily, you don't have to. With Policygenius, you enter your information once, and it shops policies from various companies for you. A huge timesaver!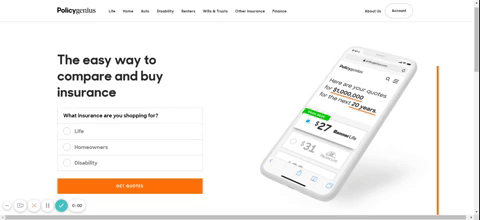 For example, if you need disability insurance, the platform will walk you through the steps to determine how much coverage you need and the potential cost of buying a policy.
Many companies give you an instant online quote. But sometimes, you may have to make a phone call to get your rate.
It can seem annoying, especially if you have a hungry toddler tugging at the hem of your shirt. But it's worth a few minutes for the possibility of saving a good amount of money.
Best Features of Policygenius
Life, disability, home, and auto insurance are fundamental pieces of your financial toolbox. But it's called "personal finance" for a reason: It's personal.
Plenty of options exist, but what works for some might not work for you. Here are some ways Policygenius helps to personalize your experience.
Multiple Insurance Options
Because Policygenius is an insurance broker, you get access to various insurance companies for every type of insurance – from life and disability insurance to home and auto insurance. You might think of it as a one-stop shop.
If you're shopping for life or disability insurance, the site will help you calculate how much coverage you need. That can take the guesswork out of knowing if you have enough insurance to cover your family if something bad happens.
It also compares bundled options to the cost of buying separate policies for home and auto insurance. You can see at a glance how much you might save by buying policies together.
Live Help
If you have questions, you can get answers in real-time. Policygenius has a live chat feature on their website, and it's available 24/7.
Some companies make you dig into layers of menu options to access customer service. But Policygenius' live chat is easy to find.
Customer Service
The customer service has gotten rave reviews. The comments left on review sites like Trustpilot and Consumer Affairs show that Policygenius treats their customers well.
It's also easy to get help. Besides the live chat option, you can call (855) 695-2255 Monday to Sunday from 9 am to 9 pm ET. Customer service by email is also available. Send an email to [email protected] anytime, day or night.
Insurance Checkup Tool
Insurance can be confusing. How do you know if you have enough? Or the right type of policy?
The online Insurance Checkup tool can help you discover what insurance you need and what you don't. After answering a few questions, you'll get a custom to-do list and Policygenius will help you follow through on each step.
Security
Policygenius doesn't sell your personal information. The company is also bound by the Health Insurance Portability and Accountability Act (otherwise known as HIPAA).
You might be asked to sign a HIPAA waiver to allow access to your medical information by the insurance company. But because of HIPAA, they can't sell your information or share your health history.
Mobile Access
Many mamas surf the web, shop, check email, and more from their phone. If that's you, Policygenius has you covered.
The mobile app from Policygenius is available on Android and Apple products. You can shop for life and home insurance right from the app.
How Much Does Policygenius Cost?
Using Policygenius is free. Policygenius is compensated by the insurance providers that list on their marketplace. There are no fees or higher prices passed on to customers. In fact, the marketplace helps you find the best prices!
When it comes to how much you'll spend on your policy, it will depend greatly on the type of policy you're shopping for and individual factors like coverage amount, location, gender, and risk factors.
For instance, a healthy 30 year old woman might pay $18 per month for a $250,000 life insurance policy.
The easiest way to know how much you might pay for life, disability, auto, or home insurance is to get a quote.
Think about it: There's no risk and no strings attached. Quotes are free with Policygenius. They have online tools to help you get the coverage you need and will compare rates for you.
Why You Should Use Policygenius
Policygenius has many great features. First, it streamlines the process of buying insurance, which is especially important because buying a policy has a lot of variables to consider.
More than that, Policygenius goes above and beyond to make their interface easy to use and understand. For example, you'll see many "?" icons when filling in your information. Each one is designed to explain exactly what that question or term refers to.
The Insurance Checkup tool can guide you toward the policies you need and steer you away from ones you don't. That way, you're only paying for insurance that's a good fit for you and your family.
Finally, their customer service is top-notch. You can contact a representative by live chat or email at any time. It's available 24/7. And their phone support is helpful, too.
Why Policygenius Might Not Be Right for You
There's a lot to love about Policygenius. But it isn't the right answer for everyone.
For instance, talking to someone face-to-face might make you more comfortable if you have a particularly complicated situation. Policygenius is online-only, so you can't meet with their representatives in person.
Policygenius also may not be the best fit for you if you have health issues that make getting life insurance difficult. It might be better to have someone that can work with you in person to help you determine your options and secure a policy.
Getting Started with Policygenius
Starting an insurance quote is a cinch. Even if your understanding of insurance is rudimentary, you'll find that Policygenius is easy to use.
Open Policygenius.com and enter some basic information, like:
Your name
Your gender
Birthdate
Zipcode
Employment status
The type of policy you're looking for can determine other questions they might ask. For life insurance, they'll ask about your income and dependents, but it's unlikely they'll ask about those things for a home or auto insurance quote.
After completing the short questionnaire, your insurance matches will pop up. You can review plans, premiums, and options on the website.
If you're not ready to complete the transaction, go ahead and save your results. Then, you can come back to it later for more information or to finish buying your policy.
One thing to note: A Policygenius representative will probably call you to go over your options. But I've found that the representatives aren't pushy like typical salespeople are. And if you're not interested, just say so. You can always go back and review your results online when the timing is right.
Policygenius Review: Is it Right for You?
Life is constantly changing. Even if you had the right insurance in place two years ago, your circumstances might require you to revisit your options.
Life insurance and disability insurance is a crucial consideration for mamas. Your family relies on you. Policygenius can make sure you have the right policies in place to take care of your loved ones if the worst should happen.
And if you're shopping for auto or home insurance, they've got you covered there, too. A simple online form is all it takes to compare companies and quotes.
No matter what insurance you're looking for, Policygenius can help to make the process easier. That way, you can get back to what matters most: Raising your kiddos!
Head to Policygenius today to make sure you're getting the best price on the insurance you need!