How to Get Rich & Manifest the Wealth You Deserve
Why You've Got to Listen to This Episode...
In today's episode I'm talking with money mentor for world changers and author of Get Rich, Lucky Bitch, Denise Duffield-Thomas. She helps women charge premium prices, release the fear of money and create First Class lives.
We're talking about how to start uncovering into your money story, how to start up-leveling your life in increments, and how to stop being the bottleneck in your own life.
Moments You Don't Want to Miss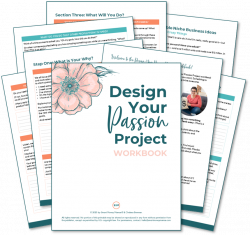 Ready to Discover Your Perfect Passion Project?
Take action on your dreams now by downloading our free guide!
Key Takeaways to Help You Get Rich & Manifest the Wealth You Deserve
As always, we've rounded up our top three takeaways to summarize what we believe are the core points to remember from Denise.
1 - Money Mindset Work Is Never Done
First, money mindset work is never done. We can't just dump all of our money memories and process them all in one two hour period as Denise called out. It's an ongoing process and things will come up or might be sparked by moments or conversations when you least expect it.
Take note of what comes to the surface, especially as you grow as a person. Follow the thread – or follow the heat, as Denise said and see where it leads. Remember that this is a process. This is about getting a little better a little truer to yourself every time. None of us has this 100% figured out.
2 - Asking for What You Need Doesn't Make You a Diva
That part I highlighted in the book, Get Rich Lucky Bitch is really just making sure you've set good boundaries so that you can show up as your best self all the time. Does that mean you need twenty minutes in the morning for a morning routine? Does it mean that you need to get your exercise?
Not everyone in your life needs to understand why some routine or rhythm makes your work smoother for you. But you shouldn't be in a position where you're explaining the same things over and over. 
You also shouldn't feel like you're constantly frazzled because you know what would make your day better, but you're just stuck not getting the help that you need. Vocalize what you need. Vocalize what can make your systems better. Communicating these things will not only make you a happier, richer person, but will make you better for everyone around you.
3- Practice Being Reverse-Paranoid
I absolutely love this phrase reverse-paranoid, but it's a matter of remembering that the universe is conspiring to help you. This is such a mind shift for so many people who might be in a little bit more of a pessimistic place. 
Try to trust that there are reasons for things and look for the ways that things ended up positively for you. That empty parking space right out front. That bill reminder that you saw just in time to make it before a late payment. Look for those things and be grateful when they appear.Try to always look for the opportunities because they are there. The universe is conspiring to help you. You are worthy of the success and the life that you want.
Links & Resources Mentioned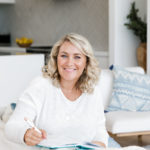 Denise Duffield-Thomas is the money mentor for the new wave of online entrepreneurs who want to make money and change the world.
She helps women charge premium prices, release the fear of money and create First Class lives.
Her books Lucky Bitch, Get Rich, Lucky Bitch, and Chillpreneur give a fresh and funny roadmap to living a life of abundance without burnout.
Her Money Bootcamp has helped over 6,000 students from all around the world.
She's a lazy introvert, a Hay House author and an unbusy mother of 3. She owns a rose farm and lives by the beach in sunny Australia.
Other Ways to Enjoy This Podcast
Have You Subscribed Yet, Mama?
Are you subscribed to the Smart Money Mamas podcast? If you're not, I want to encourage you to head over to Apple Podcasts (or wherever you listen to your podcasts) and subscribe! I release episodes twice and week and as a subscriber, you'll be notified right away so you can take checking the feed for new content off your mental to-do list. 
Click here to subscribe on Apple Podcasts, Google Podcasts, or Spotify!