IRAs, or individual retirement accounts, are a popular investment option if you're saving for retirement. Vanguard has some of the lowest-costs you'll find. It also has a wide selection of funds to help you meet your investment goals.
If you're thinking about opening an IRA at Vanguard, we've got you covered. You can open an IRA in three steps: set up your account, choose your account type, and start investing.
It's pretty straightforward. Vanguard makes it as easy as possible to invest, even if you don't understand how the stock markets work. But as you move through the steps, you might come across some questions you aren't sure how to answer.
Fortunately, we put together this guide that's perfect for smart money mamas just like you. Ready to open an IRA at Vanguard? Let's do this!
Prefer to watch us open, fund, and invest an account step-by-step? Check out our YouTube video below 👇
Step 1: Set Up Your Account
Vanguard is a well-known investment platform, and its website is simple to navigate. To open an account, visit Vanguard.com and click on "Personal Investor." This will take you to the login page, where you'll see the option to create a new account.
If this is your first IRA, you'll select the option to open a new account. But what if you already have an IRA, 401(k), or brokerage account? You can transfer those funds to a new account at Vanguard by selecting "move an account or assets to Vanguard."
Choose Funding Options
Funding your account is the process of transferring money into your new IRA. You have three options:
Electronically transfer money from your bank account or another Vanguard account
Rollover funds from an employer plan, such as a 401(k) from a previous employer
Deposit money from another financial firm like Betterment or Fidelity
If you're not sure, opting to transfer money from your bank account is a safe bet. You can always rollover funds or transfer from another investment account later.
Create a Login
You probably don't have a current account with Vanguard. That's why you're here learning how to open an IRA, right?
Some companies use the platform for their employer-sponsored retirement programs. If your company uses Vanguard, you might already have a login. Choose "yes, I have a login" to link your existing account with your new IRA.
Most mamas will choose "no, I'm new here" at this step to create a new account.
This is the point where you'll need to gather your bank account information. You need your account number and routing number to transfer cash from your bank to your new IRA. You might also need your current employer's name and address, so have that handy, too.
Step 2: Choose Your Account Type
Choosing your account type is a crucial step. It determines what you'll use the account for, how you'll invest your money, and the tax benefits that might be available.
Vanguard has a few options:
Retirement
General investing
College savings or investing for a minor
Small business investing
Because an IRA is a retirement account, select the retirement option. From there, you can choose between a traditional IRA or a Roth IRA:
A traditional IRA gives you the tax benefit up-front. The money you invest may be tax-deductible, and your earnings are tax-deferred. You'll pay taxes when you withdraw funds in the future.
A Roth IRA gives you the tax benefit later. You can't deduct the money you invest now, but your earnings grow tax-free, and you won't pay taxes on the withdrawals you make in retirement.
Enter Your Information
After selecting the account type, enter information about yourself to complete your application. Vanguard will ask for your name, email, date of birth, social security number, mailing address, and phone number. You'll also create a username and password as part of this step.
Vanguard has the option to receive notifications and account documents electronically. It's recommended that you choose e-delivery. Think about it: having your statements, tax forms, and more available in your online account at the click of a button can save a lot of time and hassle later on.
You're doing great so far, mama! So take a deep breath, and let's go to the next step.
Enter Banking and Regulatory Information
You've finally made it to the part of the process where you fund your account. You can pull money from a checking or savings account. Enter your bank account number and routing number to continue.
Vanguard also collects information for regulatory purposes. So you'll want to have the name and address of your employer, your income, and your net worth on hand.
The platform needs to know where you'll get the money that you'll invest in the account. This helps to prevent money laundering and other illegal activity. For example, your funds might come from your salary or income, social security benefits, investment gains, or other sources.
For retirement accounts, the money should come from your salary or income.
Submit the Application
Vanguard will ask you to review the information you've entered so far, including your personal details, source of the funds, and employment information.
Then, you'll review and sign new account agreements. This is done online, so you'll read the information and sign electronically.
Congratulations, mama! Your Vanguard Roth IRA is open, and your funds are on their way to your new investment account.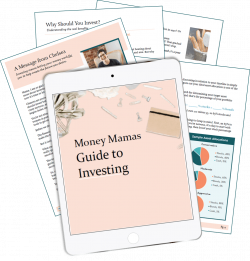 Ready to Start Investing?
Grow your wealth with confidence by downloading our free guide!
Step 3: Start Investing
Your funds can take a few days to reach your account, so you might not be able to complete this step for five to seven days after submitting the application.
Once your money arrives, it's in your account, but it's not yet invested. You must choose where to invest your funds.
Choose Your Investments
It's normal if you feel overwhelmed at this point. Choosing your investments is a big deal! But don't worry. We're here to walk you through it. We recommend you choose one of two options:
Buy Vanguard funds
Trade Vanguard ETFs
If you want to buy individual stocks, you have that option, too. Just click the option to trade stocks and listed securities.
There's in-depth information about when you might choose each investment type, how they work, and the ins and outs of buying shares in the how-to video. Spoiler alert: it's easier than you might think!
Future Investing
Your first investments are done. But what about investing in the future? Vanguard makes that easy, too.
You can add funds automatically. For instance, maybe you want to take advantage of dollar cost averaging (DCA) and contribute a fixed amount every month. You can also add funds manually by transferring from your bank account or sending Vanguard a check.
Remember: as you contribute to your account over time, you need to choose where to invest your money.
Fortunately, it's simple. First, log into your account and select the option to contribute to your IRA. Then, choose where you want your funds to go. The process is the same as when you initially invested your funds, so it should be familiar.
The Bottom Line
Opening an IRA at Vanguard is an excellent option to make your money work for you. It allows you to grow your wealth over time. Because it has some of the lowest fees around, you can keep more money in your pocket.
If you're brand-new to investing, the best way to start is with DCA. Set up automatic transfers to invest a certain amount of money each month. The market will go up and down, but DCA with a Vanguard IRA can help to reduce your risk over the long term.