In this month's side hustle showcase, I have another great guest! Megan Loftin is here to share how she brings in over $1,000 in profit a month selling private label products on Amazon. All while managing a full-time job and motherhood!
In this interview, you'll learn:
How Megan got interested in private labeling
The basics of how private labeling and selling online works
How much she invested to get started
Whether private labeling might be a good side hustle for you
And more! This interview is full of fantastic information.
P.S. While Megan is early in her journey selling private label products on Amazon, the longer-term possibilities for growth are boundless. Another Amazon seller, Jessica, makes over six-figures and now teaches others how to do the same. If you are interested in learning more about selling on Amazon, I highly recommend checking out Jessica's FREE webinar on 6 Steps To Starting a Profitable Amazon FBA business! Sign up now, then read on to see how Megan is rocking her first two years as an Amazon seller!
Previous Side Hustle Showcases:
VIPKID | Pretzel Kids Yoga | Etsy | LuLaRoe | Usborne Books
Let's get started…
---
How to Make Money Selling Private Label Products on Amazon
Hi, Megan! Tell us a little bit about yourself and your side hustle!
I work a busy day job (and am entering the height of business travel season) and have a young family at home.  Back in 2016, I started my private label business and a complimentary YouTube channel that documents each step and misstep that I take along the way.
What made you interested in private labeling?
I've looked on and off for small businesses that I could work on as a side project for years.  I had started a few things in the past but they really never went anywhere. When I heard about private labeling, first on a blog called MyWifeQuitHerJob.com and then on The Amazing Seller Podcast, I knew that this was something I could do.  It just all made sense to me and I jumped in. I also started a YouTube channel, The Bootstrap Boutique, around the same time (just a little before I began private labeling) because I knew that if I wanted a different outcome, I would need to do something different and get accountability.  
Can you explain a little more about how private labeling on Amazon works?
On a basic level, a private label is a product for sale under the name of a retailer instead of a manufacturer.  So private label sellers find products they want to sell, contract with a manufacturer to create it, and then sell it under their own brand.  The Kirkland's brand at Costco is a great example of a private label.
Private label goods may be sold in a brick and mortar retail store, on an e-commerce store, or in my case, on the Amazon platform.  I use a popular service called Fulfillment By Amazon, or Amazon FBA, where they store products at a fulfillment center, and when a customer buys my product on their website, they will pick, pack and ship on my behalf.
How many hours a week do you work on your private labeling business?
I work on my private label brand and my YouTube channel about 15 hours a week, mostly on weeknights.  I do have both a full-time job and a family, and sometimes I do put too much on myself to get everything done.  When I'm feeling crazy, these side hustles are the first thing that gets crossed off my list. I've got to give my attention first to my family and second to the thing that actually pays the bills!  
I get up at 5 AM each morning for about an hour and a half of work before everyone else is moving.  Then after my son goes to bed, I finish up anything from the morning and run my group coaching program.  I also am lucky enough to work from home, which means I can shoot my YouTube videos on my lunch break.  I've gotten pretty quick at running through a bunch of videos and batching.
How much did it cost to start your private labeling business?
I've invested about $5,000 into the business.  This includes software, LLC expense, production and shipping of my products, label design, and Amazon fees.
How long did it take your business to become profitable?
When I can keep my product in stock, I run about $4,000 a month in sales. The profit margin on that is around 30% before fees, so I'm making over $1,000 a month.
I sold out of my first production run in about 10 weeks, and that has been reasonably consistent over the first year of business. I just launched a second product but don't have a full month of sales on it yet.  I've been running PPC (Pay Per Click advertising) aggressively as well as using discounts to get people to buy as part of the launch strategy.
However, I don't consider the business "profitable" yet because I've invested every dollar I make right back into ordering new products.  For me, I'm doing this as a side business with no real expectation of income for a few years. I don't plan to pull a profit from it for quite a while.  I've found that this strategy gives me a lot of freedom to make sure I'm building something smart for the long term as opposed to what can make me "quick money."
What has been your favorite part of working on your private labeling business to date?
My favorite part is definitely product research. I love looking through items for sale on Amazon and dreaming up ways to make them my own.
How could others get started with private labeling?
I say that you should start private labeling by starting small but thinking big.  If you're interested, come check out my YouTube channel, The Bootstrap Boutique. It's very beginner friendly. I post frequent updates on what is happening with my private label brand so others can see what it's like in the trenches.
What is the hardest part of running a private labeling business?
The hardest part for me has been balancing cash flow with inventory.  I could not keep the first product that I launched in stock. I could not order enough inventory during each production run because I didn't want to commit more cash to the business than the initial $5,000. It hurts to know that I could have doubled my sales in the first year just by keeping my product in stock!
Is there an ideal personality type that you think is well suited for this type of business?
As I get to know more people in the private label / Amazon FBA world, I am finding that there is a wide range of people succeeding with this business model.  You do need to be comfortable with a certain degree of uncertainty because there are no guarantees of success with this business, but I think that's true for any type of business you may want to start!
What are your current goals for your private labeling business?
I hope to grow to over ten private label products spread over a couple of brands.  I am interested in exploring partnerships off the Amazon platform to grow the business, although I'm not entirely sure what that looks like yet.
If you could give one piece of advice to others considering starting a side hustle or passion project, what would it be?
What I hear most from people is, "I am afraid I'm going to make a mistake." And my response is always, "I have great news for you.  You ARE going to make a mistake. So don't be afraid of it because it's going to happen. Embrace it and know that you can mess up and still succeed."
Where can readers see your business or interact with you?
Come find me on my YouTube channel – The Bootstrap Boutique or on Twitter @megloftin.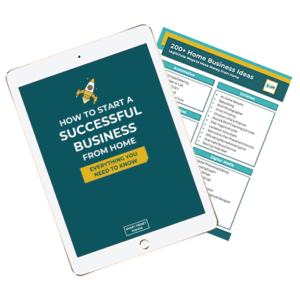 Want to Start a Business?
Download over 200 at-home business ideas with our complete guide on starting a profitable business!
---
Smart Money Mamas' Thoughts
Megan is showing some serious hustle! Running a private label business as a mother with a full-time career is impressive!
A few quick takeaways from me:
Megan is playing her side hustle smart by being in it for the long-haul. It must be difficult for Megan to choose not to take profits today for her hard work. But she knows passive income never starts passively. By investing in building a brand, she will have more success with less work in the future.
Private labeling requires up-front capital. Unlike some side hustles, like teaching for VIPKID, private labeling does require you to spend the money up-front to purchase the products. This means two important things. First, you're taking a reasonably large risk to get started if you choose a product that doesn't sell. Second, if done correctly, the upper limits on your hourly earnings are much, much higher if done right. By selling products, instead of your time, you can scale more efficiently.
To make sure you end up on the right side of that line, I recommend getting help from the experts. The Selling Family offers a free webinar on selling private label products on Amazon profitably. Sign up before deciding if Amazon FBA is for you!
Amazon makes private label selling easier by managing your inventory. I've always been a bit daunted by private label selling. The idea of filling my garage with hundreds of items that I then had to sell and ship seemed crazy (and time-consuming). But selling through Amazon means you don't have to deal with any of that.
For anyone who enjoys finding products that are on-trend and flexing their marketing muscles, selling private label products can be a great side hustle! With only a couple of hours a day for Megan, it certainly seems like it is working for her!
What do you think of Megan's experience with private label sales? Are you interested in selling on Amazon? Drop a note in the comments and let me know!