My monthly Side Hustle Showcases are one of my favorite things to write about on Mama Fish Saves. Most recently we talked about how to make over $25/hr as a virtual assistant, as told by virtual assistants. Today's interview is with Robyn, who transitioned her Boston yoga studio into a business training others to make money teaching kids yoga.
Robyn Parets is the creator of the rapidly growing business, Pretzel Kids. After years running her own yoga studio, she saw the high demand for kids yoga classes. She offered them at her studio, the local YMCA, and other locations but quickly couldn't keep up with demand. Yoga has incredible benefits for kids, but there aren't many instructors out there who understand how to safely and efficiently run kids classes. So, her business is filling the need!
I am so excited to have her here during Women's History Month and after kicking off #WomenRockMoney last week. She is a top example of a female entrepreneur!
In this interview, you'll learn:
How Robyn founded Pretzel Kids
How Robyn is growing her business through partnerships
How you can make over $50 an hour teaching kids yoga and offering birthday parties
Why kids yoga may be a good side hustle for you
And more! This interview is full of great information. If you enjoy yoga and want to make some more money, you don't want to miss it!
P.S. At the end of the interview you'll find an exclusive offer for Mama Fish readers who want to make money teaching children's yoga!
If you have started a business or have a successful side hustle would like to be considered for an interview, drop me a note!
Let's get started…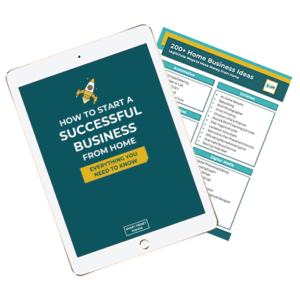 Grab Our How to Start a Business Guide + Over 200 At-Home Biz Ideas
Everything you need to choose and start a profitable business from your couch.
The Founding of Pretzel Kids
Tell us a little bit about yourself and Pretzel Kids!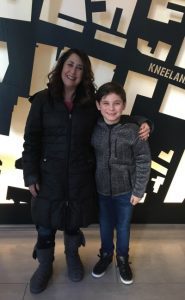 I founded Pretzel Kids in 2005 as a kids yoga program under the umbrella of my yoga studio in suburban Boston (which I sold in 2016 to focus on growing Pretzel Kids.) I began by offering kids yoga classes in my studio and at local YMCAs, gyms, recreation centers, and schools. Before I knew it, I was getting more requests for classes than I could handle. Right then and there I decided it was time to bottle the curriculum and train others to teach Pretzel Kids classes. I teamed up with two school teachers – also yoga instructors – to create a curriculum and training manual and in 2008, I began running weekend teacher training courses so that others would have the tools and skills to teach Pretzel Kids classes.
In 2015, after a decade of successfully running Pretzel Kids certification courses and kids classes, I decided that it was time to take Pretzel Kids to the next level. In 2016, we introduced our new online Pretzel Kids school and flagship Pretzel Kids Teacher Training. This gives yogis, moms, fitness enthusiasts, school teachers, and anyone else the ability to take the course online in the comfort of their own home – at a fraction of the price of our live teacher training course.
In addition to our training courses, classes and events, we also wanted to become a one-stop resource for information on yoga for children, youth wellness, creating a successful side hustle, and other topics.
A bit more about me:  Before I opened my yoga studio and created Pretzel Kids, I was a journalist and business writer. In fact, I still am a writer and editor, specializing in wellness, personal finance and entrepreneurship. So, I decided to blend my interests and skills and created a Pretzel Kids blog – offering stories about everything from top yoga poses for kids, to how to become more mindful, to how to cook up healthy snacks with your kids. We also run stories on how kids yoga teachers can run successful classes and expand their businesses.
What made you start Pretzel Kids? Were you working full-time when you started the company?
As I stated above, I originally started Pretzel Kids as a way to expand my offerings at my yoga studio (called Breathe Joy Yoga). My full-time job at the time was running the studio. I knew there was a need for kids and teen yoga classes in the community and this was why I started Pretzel Kids.
How many hours a week do you work on Pretzel Kids?
I spend about 20-25 hours a week on Pretzel Kids. I spend the rest of my work week on my freelance writing and editing. After I closed my studio in 2016 – deciding at that point to focus on Pretzel Kids' growth – I went back to writing and editing to help supplement the income I earn from selling online Pretzel Kids courses, teaching weekend Pretzel Kids trainings, and running special events. It is necessary for me to do this while I am ramping up Pretzel Kids and building out our online platform. Plus, I love to write and work with my financial clients. I also teach two evening adult yoga classes a week because I love teaching yoga!
Do you still run Pretzel Kids on your own?
Right now, Pretzel Kids is just me, but I outsource some tasks. For example, I hired a freelance agency to create graphics and work with me on my social media. I also hired two content writing interns to help me with blog content. In addition, I have a network of Pretzel Kids teachers who have taken my training and I often hire them for special events, classes and to assist me in trainings. Lastly, my husband is an attorney and handles my intellectual property and trademark work, as well as any contractual agreements that I need.
[Chelsea here! Just wanted to jump in to say that being a solopreneur doesn't mean you can't have any help! If you're going to start a business, don't fall into the trap of feeling like you have to do it all yourself. Choosing to outsource to contractors and part-time help allows you to focus on the critical parts of growing your business!]
How long did it take Pretzel Kids to become profitable?
Pretzel Kids was profitable since day one, especially as it was started as a program versus a company. I now fuel all of my profits back into the company as this is necessary for growth.
What has been your favorite moment working on Pretzel Kids to date?
I would say that my favorite moments occurred over the past two weeks. After months of discussions, we announced a deal on Feb. 28 to provide Pretzel Kids yoga and mindfulness trainings to Wonderschool teachers, directors and parents. San Francisco-based Wonderschool has more than 150 partner schools and this deal marks the first of what we hope will be many partnerships.
[Chelsea again! I think this partnership is super cool. Click here to see the press release!]
Secondly, less than a week after this announcement, on March 5, our project to roll out a pilot program to train public school teachers was funded! We have raised more than $5,000 in less than 45 days through the iFundWomen crowdfunding platform.
Our funding, combined with the deal with Wonderschool, is proof positive that the Pretzel Kids brand and yoga training platform is indeed in high demand.
[iFundWomen is one of the excellent organizations #WomenRockMoney supports. It helps raise funding for women-owned start-ups!]
How You Can Use Pretzel Kids as a Side Hustle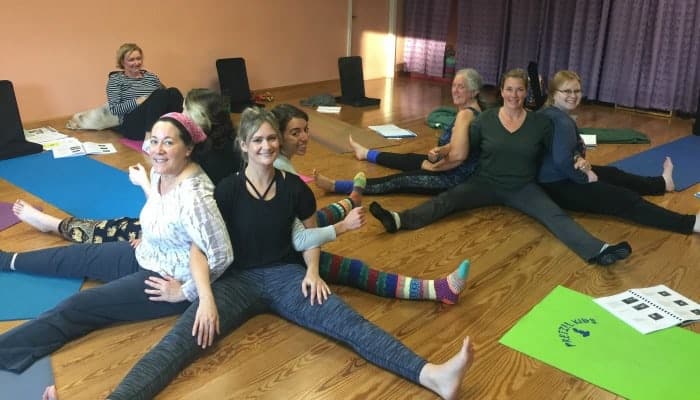 Pretzel Kids trains new teachers both online and in person. How much does this training cost? Who is the training good for?
Our online Pretzel Kids Teacher Training costs $298. Our weekend training costs $449 (early bird sign up discount is $399). But, we now give all weekend registrants the online course as well, so they essentially pay for the live course and get the online course for free. Our next weekend training is on April 7&8 at South Boston Yoga.
[Robyn has offered Mama Fish readers an exclusive 20% discount on the Pretzel Kids Teacher training!]
I would say 50% of the students are wellness professionals and yoga teachers. The other 50% are people who enjoy yoga, moms, fitness enthusiasts, therapists, teachers, daycare providers, musicians, nannies and those with other diverse career interests and hobbies!
Some come to the training planning to start side hustles. Others want to volunteer in kids' classrooms or just want to enhance their knowledge of kids yoga and mindfulness. Oftentimes, those who didn't know what they want to do with the material decide to start side hustles!
Do you need a studio to teach kids yoga? What start-up costs would you expect for a new instructor?
No, you don't need a studio. You can teach anywhere kids congregate (schools, after-school programs, rec centers, gyms, etc.) You can also form your own classes or run birthday parties!
There are no start-up costs required. Some instructors purchase mats, music and other fun props to use when teaching. But again, this is not required.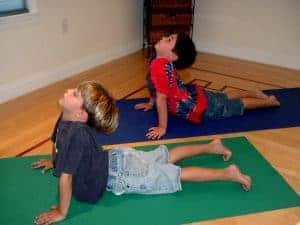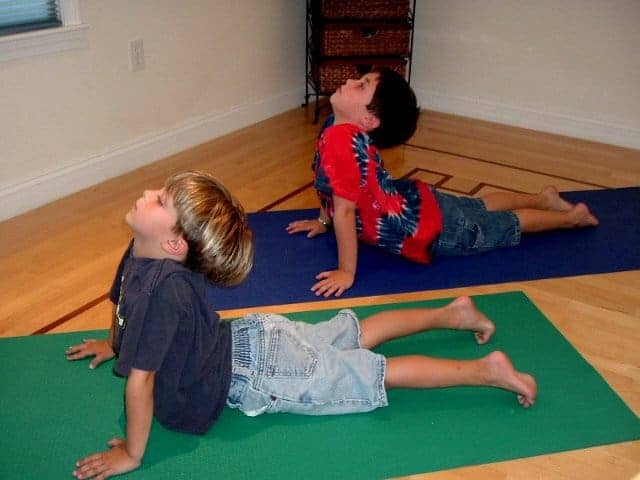 How much do your trained instructors charge, on average, to teach a kids yoga class?
Since Pretzel Kids is not a franchise (in fact once you take our course, we collect no further fees for anything you earn), we don't set prices for classes and instructors can charge whatever they want.
Generally speaking, fees vary market to market. We go over this in training during our segment on "The Business of Running Classes." Instructors can either set their own fees if running their own classes or they work it out with the owner of the location hiring them. Depending on where the instructors are located, they can expect to earn $25 to upwards of $150 per hour-long class and $150-$300 per birthday party.
[I am impressed by those class rates! $25+ for an hour-long class is a top-notch rate for a side hustle! You could also consider reaching out to your local YMCA or gym to offer classes for their members and connect with interested families quickly.]
Why would you recommend becoming a Pretzel Kids instructor as a side hustle?
Teaching Pretzel Kids yoga can be financially lucrative and personally gratifying as you are helping improve the lives of children.
There is a huge demand right now for kids yoga teachers so this is a fabulous skill to have. Not only that but it's an easy way to earn extra money while you are helping children get fit, stress less and develop positive self-esteem.
For those considering this as a side hustle option, the cost to start a kids yoga business using the Pretzel Kids curriculum is less than $300. And there aren't many side hustles you can start for less than that!
Is there an ideal personality or skill set that makes this a good fit for someone?
Although there are no prerequisites to becoming a Pretzel Kids teacher, it helps if you enjoy working with children and teens. With that said, patience is a virtue if you want to be a kids yoga teacher.
If you could give one piece of advice to others considering starting a side hustle or passion project, what would it be?
Don't give up! I started Pretzel Kids more than a decade ago. I knew I was onto something but the company has evolved tremendously and we have even tried out different business models over the years. Despite our setbacks, we persevered. As soon we launched our online training school, I knew that this was just what we needed to offer an affordable and accessible course that anyone could take from anywhere in the world. From there, I could focus on providing the tools and support to those wishing to create their own successful kids yoga business. This pay-it-forward business model is fueling our growth. When our teachers succeed, Pretzel Kids succeeds. We now even offer a coaching and business-building program for only $19/month. This comes with your own featured teacher page on our website! This is a loss leader for us but we offer it because we truly want to help our teachers achieve success.
To anyone wishing to start a side hustle, don't be afraid to pursue your passion. Seek out advice from others, find a mentor and stick with it!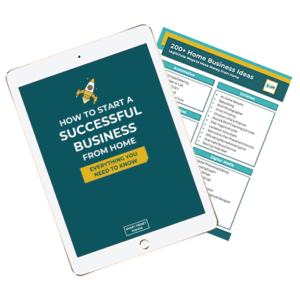 Want to Start a Business?
Download over 200 at-home business ideas with our complete guide on starting a profitable business!
---
Smart Money Mamas' Thoughts
Robyn is a fantastic example of a female entrepreneur who is out there chasing her passion and making a difference in the world. Thank you, Robyn, for sharing your story and side hustle opportunity with us!
A few quick takeaways from me:
Online businesses make growth significantly easier. Robyn has been working on Pretzel Kids for over 10 years but has been able to reach far more customers with much lower overhead costs by offering classes online. If you have a business idea or passion, carefully consider how you could leverage the power of the internet to reach your ideal customer and grow.
You can start or run a business in addition to a full-time job or as a stay-at-home parent. Robyn works 20-25 hours a week on Pretzel Kids and she is running the whole organization! If you have an idea, don't let time hold you back. A couple of hours each night after the kids go to bed and hustling during your lunch hour or naps, and you can do amazing things!
Teaching kids classes is a great side hustle. It is why tutoring, babysitting, and music lessons always top lists of ways make money quickly. You can set your own schedule; you don't need to invest large sums of money, and (if you like kids) it can be a lot of fun. Plus, seeing kids doing yoga is incredibly cute.
Robyn is offering 20% off her Pretzel Kids Teacher Training Course just for Smart Money Mamas readers! This lowers the cost of the course to $238 from $298. One or two birthday parties and you will have paid back the cost of the course. Or, take the class and learn the skills you need to give your own children the many benefits of yoga!
What do you think of Robyn's journey with Pretzel Kids? Are you interested in becoming an instructor as a side hustle or full-time business? Drop a note in the comments and let me know!