This post may contain affiliate links. If you click & make a purchase, I receive a small commission at no cost to you! For more information, read my full disclosure policy.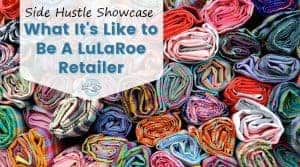 The Side Hustle Showcase is back for its third entry in the series to discuss another opportunity to make money from home, LuLaRoe! For those of you who haven't seen the series, we have so far tackled Usborne Books & More and Etsy. The intention of the Side Hustle Showcase is to discuss popular ways to start your own home business or earn a little extra cash. We talk to people who are doing the work to find out how much they make, what they love & hate, and whether it could be a good opportunity for you! Let's dive in!
LuLaRoe, best known for their fun patterned and soft leggings, busted onto the scene in 2012. In the past five years, it has grown to one of the largest direct sales (or multi-level marketing, MLM) companies in the country. If you spend any time on Facebook, you've probably gotten more than one LuLaRoe group invite or found at least one friend who is selling for LuLaRoe. Given the business' growth, size, and popularity, I thought I would be remiss to not include it in the Showcase.
As a disclaimer, while I had heard of LuLaRoe before putting together this behind-the-scenes look, I had basically no exposure to the company. I've never purchased a LuLaRoe product or attended an in-home or online LuLaRoe party. I had seen the press, both good and bad, and wanted to learn more. This piece is entirely based on my independent research and interviews with 19 consultants. 18 of these individuals are active LuLaRoe retailers/representatives today and one has recently left the company.
What is LuLaRoe?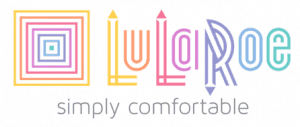 LuLaRoe is a national fashion brand selling leggings, dresses, tops and some children's clothes. It is a direct sales company, meaning the clothing is sold through a national network of individuals, who the company calls "Independent Fashion Retailers". The company has over 80,000 retailers across the United States and it is estimated that the company is onboarding over 150 new retailers a day.
LuLaRoe was started in 2012 by a DeAnne Stidham, a mother of seven children who wished to balance spending time with her children and providing for her family. The guiding principles of the company are "I believe in you" and "you can do it,"  as DeAnne aims to inspire women to create their own business success.
How do you use LuLaRoe as a side hustle?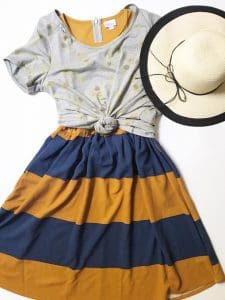 LuLaRoe is a direct sale, or multi-level marketing company (MLM), and sells its clothing through tens of thousands of independent retailers across the U.S. To become a retailer, you must find a current retailer to be your upline or "sponsor" and purchase a starter set of inventory that costs $5,000+. There are usually additional personal costs for at-home supplies like hangers, lighting for photos (many sales are done online on Facebook), and miscellaneous needs.
In August of 2017, LuLaRoe updated its policy of what it takes to remain an active retailer. Now, if you are a retailer who has not sponsored anyone (you don't have another retailer as your downline, or working beneath you) you only need to sell 1 item a month to stay active. If you have sponsored anyone, you still need to meet the old sales requirement of 30 items a month. The higher threshold for people working as sponsors is intended to ensure they stay more highly involved in their business and more likely to be a resource for their downline retailers.
Your inventory is purchased at wholesale prices and while LuLaRoe has suggested pricing, each retailer is allowed to set their own prices and profit margins. On average, the product is sold for a 50%-60% gross profit.
There are limits on how you can sell your product (a personal website is out!) and most retailers do the majority of their sales via Facebook groups and in-home parties.
If your LuLaRoe business does not perform as you expected, the company will buy back your inventory at cost when you cease to be an independent retailer. LuLaRoe reports that over 90% of their retailers that have ever signed up are still active. This is very high for a direct sales business, particularly considering the monthly inventory purchase requirement to remain active.
How are sponsors/uplines incentivized?
When I first started researching LuLaRoe, I was taken aback by some press articles that indicated that sponsors or uplines for the business are compensated based on the inventory their downlines purchase, not their sales. This system would, in theory, incentivize uplines to encourage their downlines to purchase inventory, even if their businesses were struggling. However, in speaking to retailers both before and after the August 2017 retailer changes, this has never been the case.
For a LuLaRoe retailer, their direct upline (known in LuLaRoe as a "sponsor") receives 5% of the wholesale value of the products they sell. For instance, let's say a retailer sold a $25 pair of leggings. They bought the leggings from LuLaRoe at a wholesale price of ~$12.50, 50% off. So, when the LuLaRoe home office system recognizes the sale, that retailer's sponsor receives ~$0.63 from LuLaRoe.
LuLaRoe sponsors, and other higher ranks (your sponsor's sponsor, etc), do not get paid, receive bonuses, or receive any other incentive for the inventory orders their downlines place. They are only paid when their downline actually sells a product. While this doesn't mean that there aren't bad sponsors out there, there certainly are, at least their incentives are aligned with their downlines.
Important Note
Many new LuLaRoe retailers are encouraged to put the up-front cost for their new LuLaRoe business on a low-interest credit card. While all of the retailers I interviewed paid off that debt in the first 3-4 months, I would not recommend this practice, especially as LuLaRoe gets more saturated with retailers. If you wish to start a LuLaRoe business, I strongly encourage you to save up for the initial cost and research closely how many of your friends/neighbors are already sellers in your market. While it is common to take on debt to start a new business, direct sales is a little different. You don't have full control over your sales practices, you have numerous direct competitors online, and low-interest credit card debt is still higher rate and shorter term than most traditional small business loans.
A Behind-the-Scenes Peek at the Life of a LuLaRoe Retailer
Before we get started, I want to thank the 19 LuLaRoe retailers who participated in this Side Hustle Showcase! It is incredibly valuable to have their hands-on insight into the business. If you enjoy hearing their stories and want to learn more about LuLaRoe and their products, please stop by the end of this post to visit the retailers' personal LuLaRoe Facebook groups.
Who makes a good LuLaRoe Independent Retailer?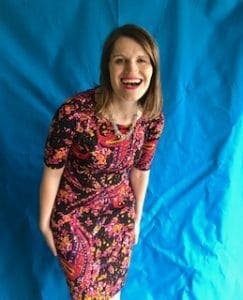 All 19 LuLaRoe retailers I interviewed were female and 17 were parents. These women all discussed a desire to either make extra money while staying home with their kids or an ability to have income from a venture they controlled. Many also noted a love and passion for the clothes and their message, as LuLaRoe's tagline is "I believe in you!"
In speaking with these women, I think a few skills are important to becoming a strong consultant. First, organization is key. You are managing and photographing inventory, keeping track of invoices, and running in-home and online parties. Especially as competition gets tougher with more consultants, you have to be ready to run your LuLaRoe business as a business. A good upline, known in LuLaRoe as a sponsor, can help you learn the ropes but you need to be willing to put in the time to learn.
Second, you have to be comfortable, or willing to get comfortable, with sales. They don't call it a "direct sales" business just for laughs! Some of the most effective selling methods are things like Facebook parties, where the retailer is live on video in her Facebook group sharing products.
How much do you really make as a LuLaRoe consultant?
One of the interesting things about direct sales businesses is that they don't have to disclose average earnings of their retailers the same way a franchise business or other investment opportunities would require. That is part of what spurred me to include these ventures in the Side Hustle Showcase. While the 19 women I interviewed may not be a perfect sample of the thousands of LuLaRoe sellers out there, it can help give you a sense of the potential.
Profits for the retailers I surveyed ranged from $0 (three women putting all profits towards the debt from their up-front costs and new inventory) to $6,750 a month, with median profits at $1,500. Profits were driven by average monthly revenue ranging from $750-$16,500, with $4,000 of monthly sales at the median. These retailers have been with LuLaRoe for an average of 9 months, ranging from just over 1 month to 18 months.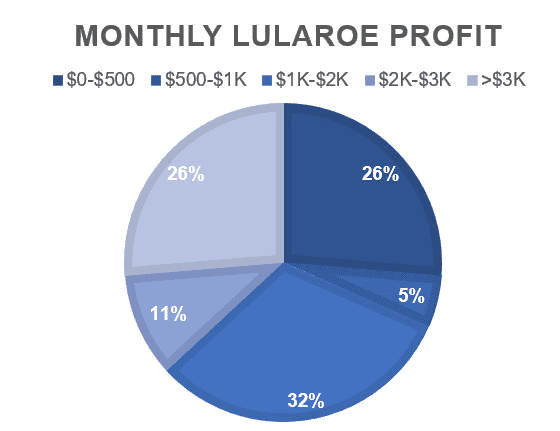 The average retailer I interviewed spent 32 hours a week working on their LuLaRoe business, with a median hourly earnings rate (excluding those not turning a profit) of $12 an hour. Hourly profits ranged from $4.61/hour to $64.95/hour. For the three women currently not turning a profit, based on their current sales and margins of their peers I estimate they would each be earning about $4.62, $4.95, and $9.24 an hour after they were done paying down debts.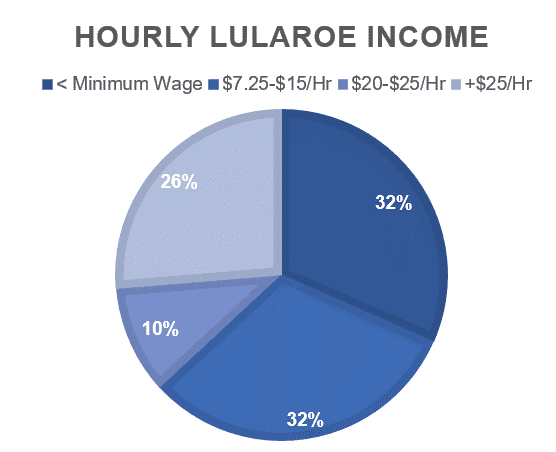 With almost a third of respondents making less than the Federal minimum wage of $7.25 an hour, and over half making less than $15 an hour, I was surprised by the earnings rates for LuLaRoe retailers. This is likely driven by high competition, increased back office work in managing inventory and invoices, and one-off sales through Facebook groups.
Remember that the lowest earning Usborne Books consultant I interviewed made $17.50/hr, with median respondents making $40.83/hr, even though they only make a 25% margin on their sales. A potential primary difference being that these consultants don't have to purchase or carry inventory, meaning they typically only have to work around parties.
With almost half of the LuLaRoe retailers in this survey putting in 35 hours or more a week in work, it seems a successful LuLaRoe business falls more on the side of career versus side hustle.
What is it like to run a LuLaRoe Business?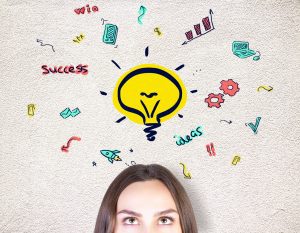 Running a LuLaRoe business is basically managing a retail store out of your home. You sell primarily through social media, largely Facebook, and in-home parties and events. The retailers in this survey spent, on average, $7,300 in initial start-up cost for inventory and supplies. Supplies included decor, shipping needs, hangers, bags, business cards, thank you notes, and more.
On average, the 19 LuLaRoe retailers surveyed held 7 parties a month, with 4 being online via Facebook Live events and 3 being in person. The vast majority of retailers said word of mouth and referrals has been their most effective advertising method, along with wearing the clothes and talking to people about LuLaRoe. Social media, primarily Facebook, came in a close second for advertising.
The average retailer in our survey carried 1,000 pieces at any given time, though one carried as few as 100 and one carried over 3,000 pieces.Managing inventory is a big part of the job. Retailers told me that LuLaRoe has an internal inventory management system called Bless, open to consultants, but that it doesn't have a way to keep track of pictures to match that inventory. About a quarter of the retailers used a service called Shop The Roe, which helps with inventory tracking, invoices, Facebook ordering, and more for $9.99 a month. Other retailers used Shoppe, Swiftorder, or a simple spreadsheet to track inventory.
Finally, LuLaRoe allows retailers to set their own selling prices, which means complete control over any promotions or sales you run. When I asked the retailers about sales, only two seemed to use them on a regular basis with any success. Many had tried offering discounts but found that it meant short term customers who only wait for more sales, negatively impacting longer-term profits. Successful promotions were less focused on all-out sales, but more on loyalty and referral programs. For example, gift certificates or free product for hosting in-home events or referring your friends who then make a purchase.
What do LuLaRoe retailers love about the business?
There were an incredible number of things the LuLaRoe retailers loved about their businesses, but for many being a LuLaRoe retailer meant an outlet where they could develop and be proud of their own creativity, business skills, and success. They had made great friends, given themselves financial and scheduling freedom, and operated a business selling clothes they loved.
Below are some of my favorite quotes from the retailers that reflect the positive sentiments from all participants.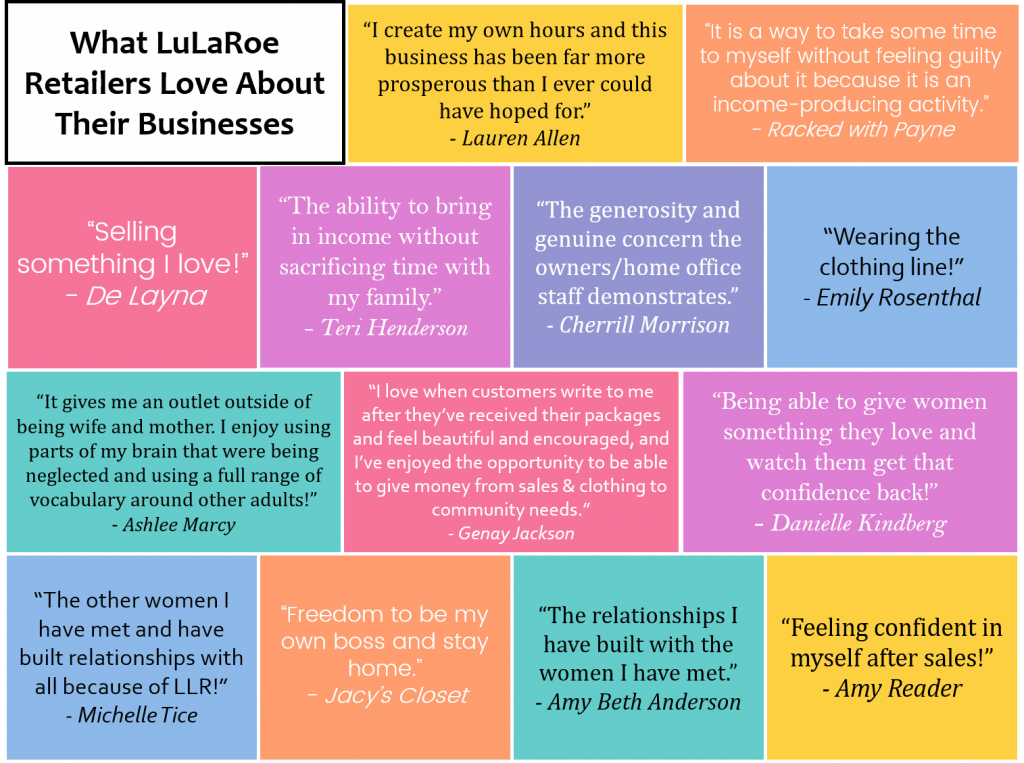 What frustrates LuLaRoe retailers about the business?
While it was difficult to get the retailers to open up about their difficulties with the business, most did have something that frustrated or surprised them about working with LuLaRoe. Below are some direct quotes from participants that are representative of some of the sentiments from the retailers.
3 of the 19 retailers commented that if they could go back they wouldn't have started their business and 1 has since quit her LuLaRoe business. While these women's businesses were profitable, they weren't as lucrative as they had hoped and they wanted to commit time to other things.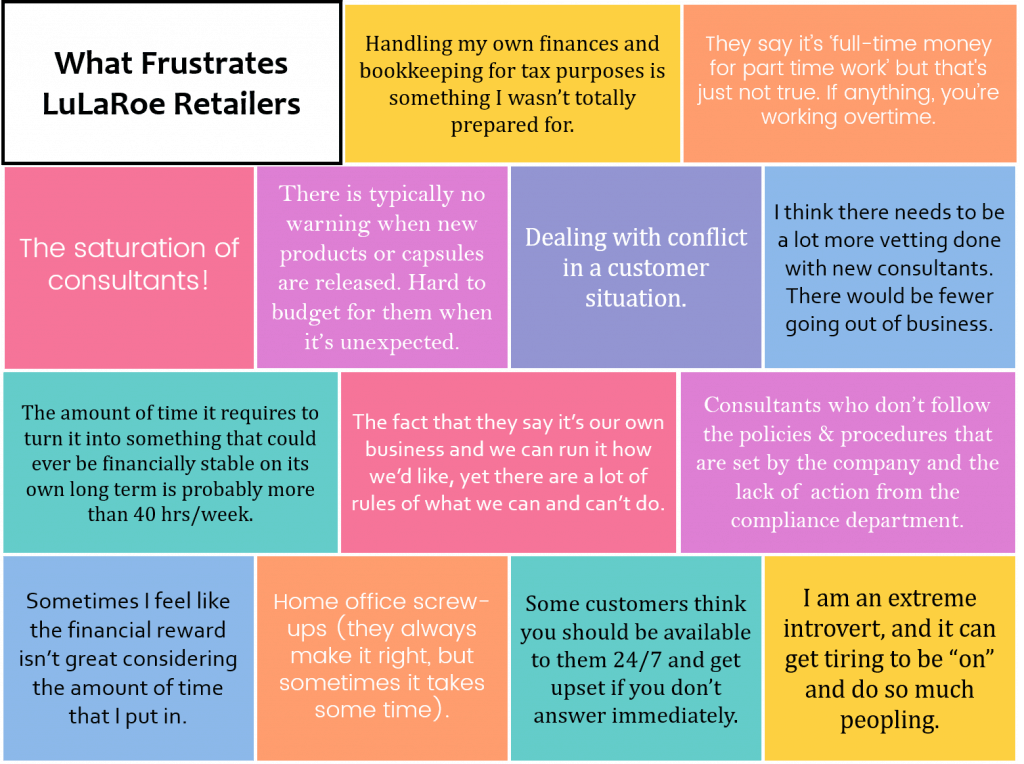 Advice from the retailers – How can you become a great LuLaRoe retailer?
The LuLaRoe retailers who participated in the survey had so much incredible information to share with potential newbies. I truly enjoyed reading their thoughts and attempted to do their knowledge justice by boiling their thoughts down to 5 easy tips to take away.
Tip #1: Be prepared to work. Almost every LuLaRoe retailer in the survey found that the business took a lot more time than they expected. If you want to succeed and earn a return on your upfront cost, be ready to work hard!
Tip #2: Amp up your business skills. A LuLaRoe business is a real small business. That means bookkeeping, sales taxes, insurance, LLCs, and inventory management. If you don't have prior business experience, you aren't alone, but put in the time to learn the basics.
Tip #3: Find a good sponsor. Not all LuLaRoe sponsors are created equal. Get to know your sponsor before signing up under them. Make sure they have good resources for their downlines, are available for advice, and that you have similar personalities and business morals.
Tip #4: Run your business debt free. Many consultants noted that having credit card or other business debt caused unnecessary stress in their first several months. Save up the cash to invest or don't invest at all. You don't want to be making decisions between paying down debt and purchasing necessary inventory.
Tip #5: Scale responsibly and have fun! 

The main takeaway from almost every retailer was to have a business plan, stick to it without comparing yourself to others, grow inventory with those early profits, and have fun! This is a relationship-based business and focusing on that will increase your enjoyment and your success.
Keep in mind, these tips are just the basics. In an effort to manage the length of this showcase, while also preserving the value of all the thoughts from the retailers, I compiled a deeper dive on advice for starting on the right foot with LuLaRoe. If you would like to download the short, free eBook; enter your information below.
Also, if you have more questions, links to the retailers' Facebook pages are at the end of this post. Please reach out to any of them for their thoughts – they are all such amazing ladies!
Download more tips for new LuLaRoe Retailers
You can get the password to my freebie library that has ALL of my free resource files, including a printable guide for new LuLaRoe retailers in it by filling out this form:
Resources to get started on the right foot
LuLaRoe offers numerous courses and videos for new consultants, covering topics from styling tips to business techniques. Almost all the retailers surveyed recommended taking full advantage of these resources. The second crucial source of information is your sponsor, or upline, who can help coach you and introduce you to great selling techniques. However, like any business venture, it pays to keep learning. Here are some books and courses recommended by the retailers in the showcase.
Direct Selling for Dummies – Don't laugh, but a handful of retailers recommended this book! Covering basic selling techniques to billing and taxes, this looks like it could be an excellent resource for anyone interested in getting into a direct sales business.
Get Noticed: A No-Nonsense Guide to Standing Out and Selling More for Momtrepreneurs Who 'Ain't Got Time for That' – When it feels like there are hundreds of LuLaRoe Facebook groups out there, it can get help to find effective and profitable ways to stand out. The author, Lindsay Teague Moreno, is leader in MLM strategy. She also has a great blog and podcast you can check out here.
Power of TED: The Empowerment Dynamic – Recommended by one retailer who thinks this book should be required for all business owners. The Power of TED is a fable on self-empowerment 
Sassy Suite offers numerous courses on direct sales social media strategies, personal branding, monthly challenges, and more. Also, check out Brenda's blog and free Facebook group to ask questions and learn from other direct sellers!
Thank you to all the LuLaRoe retailers!
I greatly appreciate the time the 19 LuLaRoe retailers took to share their business experiences and tips. Without them I wouldn't have been able to give the fulsome, inside-look at what being a LuLaRoe retailer is like. They truly helped provide real information for anyone considering becoming a consultant!
If you are interested in learning more about LuLaRoe's products or becoming a consultant, please visit any of the retailers' shops below. I know they will be happy to help!
Always, Always LuLaRoe – Amy Beth Anderson – Amy Reader – Ashlee Marcy – Cherrill Morrison – Danielle Kindberg –  De Layna – Emily Rosenthal –  Genay Jackson  – Jacy's Closet – Lauren Allen – Lisa Payne – Melanie & Marissa – Melissa Sall – Michelle Tice – Sarah Peete – Teri Henderson
Mama Fish's Main Takeaways
Personally, I am not a fan of direct sales businesses that require you to invest in significant up front inventory or have monthly sales requirements. However, the new 1 item sale policy to stay active makes LuLaRoe more likely to be something you could reasonably do part time (if it wasn't for all the competition!).
If you are interested in starting a LuLaRoe business, be realistic about your earnings potential, do not take on debt to get started, and be ready to put in a lot of hours. Also, consider the fact that there are likely more lucrative and flexible ways to make less than $15 an hour that won't require you to put in over $5,000 up front.
Many women swear by LuLaRoe and how the ability to make money from home has changed their lives. For some motivated and passionate new sellers, LuLaRoe might be a path to success and a work-at-home business. However, as the market gets more saturated with retailers it is only natural that sales will be harder to come by. As with any business venture, make sure you understand the risks and have a plan before you get started!
Are you a LuLaRoe retailer or considering becoming one? Do you think it is a good business model? Let me know!
This post was proofread by Grammarly.