How 3 Fierce Women Are Closing Funding Gaps for Female Entrepreneurs
Why You've Got to Listen to This Episode...
In today's episode, I'm talking with Kate Anderson, co-founder of IFundWomen, a flexible crowdfunding platform for female business owners. Kate is going to share the founding story of IFundWomen, the current funding gaps between male-founded and female-founded businesses, and why it's so important to invest in women-owned businesses.
Moments You Don't Want to Miss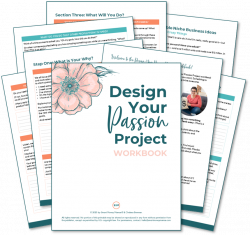 Ready to Discover Your Perfect Passion Project?
Take action on your dreams now by downloading our free guide!
Key Takeaways to Help You Close the Funding Gaps as a Female Entrepreneur
As always, we've rounded up our top three takeaways to summarize what we believe are the core points to remember from Kate.
1 - Women-Owned Businesses Are Simply a Good Investment
Kate shared some enlightening data that female-founded businesses generate $2 in revenue for every $1 invested, a better return than the average male-owned business. And that's not the only piece of research that implies women-owned businesses are a good financial investment.
Research by Quantopian found that women-led companies have tended to outperform companies led by only men, generating up to three TIMES the returns of their male-led counterparts.
Isn't that badass?
Investing in women-owned businesses isn't just about equality—it's actually a wise money decision. How much money as an economy and as communities are we leaving on the table by letting the funding gap between male and female businesses continue the way it is?
A lot. Especially considering how much more money stays in local communities when women-led businesses thrive. Find ways to support women-run businesses locally, consider backing a campaign on IFundWomen, and if you're an entrepreneur looking for funding—don't let biases get you down. Pitch with the passion we know you have for your idea. There is support out there and you'll find it.
2 - Get Clear on Your Pitch
If you're an entrepreneur, a side hustler, a business owner—no one is going to be more excited about your business than you are. You have to show others that passion and present what you do in a way that makes people want to get involved.
Practice that elevator pitch. Clarify where you need help. As the ever incredible Brene Brown says, "Don't shrink, don't puff up."
Listening to Kate talk about the importance of pitches reminded me of all Meredith Fineman's advice about bragging better in episode 41. Go listen to that episode and then draft your pitch.
And if you want to practice? Record yourself giving your pitch and tag us on Facebook or Instagram with it. You can use us as an excuse for sharing what you do with your network, and I'd be happy to watch, cheer you on, and provide any feedback I have!
3 - Network, Network, Network—and Ask for Help
This is a crucial piece of advice from Kate for everyone—not just business owners. We never know which people we meet will support us, open doors, create great friendships and relationships where you can vent or trade ideas.
Keep an eye out for people with interesting backgrounds or shared connections. Don't be afraid to reach out and schedule a coffee or Zoom date. Send a few emails.
Networking can feel so awkward. Especially when you're honest about the areas where you're struggling and need help or advice. But doing that work is an investment in yourself. It's making the journey less lonely and developing more people who are in your corner when you need them.
Don't shy away.
Links & Resources Mentioned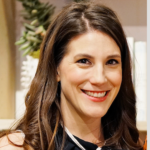 Kate Anderson is a leader in generating change and gender equality within the private fundraising space. As co-founder and Operations Director of IFundWomen, she has driven millions of dollars into the hands of female founders. IFundWomen's flexible crowdfunding platform combines a pay-it-forward model, expert startup coaching, professional video production, and a private community for its entrepreneurs, all with the goal of helping female entrepreneurs launch successful businesses.
Prior to launching IFundWomen, Kate spent four years at Hines Interests, one of the largest and most respected real estate organizations in the world with more than $116 billion under management.
Kate earned her BA from Colgate University and received a Masters of Professional Studies from Georgetown University.
Other Ways to Enjoy This Podcast
Have You Subscribed Yet, Mama?
Are you subscribed to the Smart Money Mamas podcast? If you're not, I want to encourage you to head over to Apple Podcasts (or wherever you listen to your podcasts) and subscribe! I release episodes twice and week and as a subscriber, you'll be notified right away so you can take checking the feed for new content off your mental to-do list. 
Click here to subscribe on Apple Podcasts, Google Podcasts, or Spotify!