How to Own Your Success as a Breadwinning Mom
Why You've Got to Listen to This Episode...
In today's episode, I'm talking with Sarah Li-Cain, finance writer and host of the podcast, Beyond the Dollar. Sarah's approach to personal finance – blending practical tips and mindset strategies – has led her to become the breadwinner of her family. So for today's topic, we're going to discuss why there are still taboos about breadwinning moms, how Sarah's career grew to take her from teacher to stay-at-home mom to breadwinner, and why she wants more moms to feel confident becoming and being a breadwinner at home.
Moments You Don't Want to Miss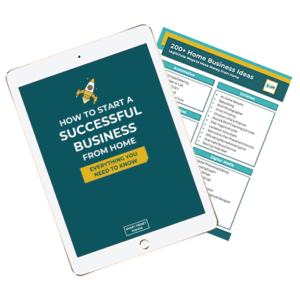 Want to Start a Business?
Download over 200 at-home business ideas with our complete guide on starting a profitable business!
Key Takeaways to Help You Own Your Success as a Breadwinning Mom
As always, we've rounded up our top three takeaways to summarize what we believe are the core points to remember from Sarah.
1 - If You Have a Partner, Keep Open Communication About Money & Home Management
Everyone's experience of being a breadwinning mom is going to look different. Some partners – like Sarah's husband and my own – will celebrate it and be constant supporters. Some will struggle with it. Social norms about who should earn more are alive and well in our society and many of us have internalized them.
Whether you have always had an income disparity or it is new, keep talking. Make sure you are aware how you both feel, addressing any concerns and that you are asking for the support you need. Whether it's encouragement of your goals or help around the house or with childcare.
If you and your spouse both work, check out Episode 30: 3 Powerful Transitions That Challenge Working Couples with Jennifer Petriglieri to make sure both of your careers are being taken care of.
And if you're growing a business, like Sarah, or trying to go back to work or get a promotion, needs will change. For a while, Sarah could keep her son with her. But as her business grew, she needed help with childcare and they decided to put him in half-day pre-school.
Be flexible and keep talking.
2 - If You're Interested in Freelance Writing, Just Get Started
Sarah didn't start as a personal finance writer. She didn't start as a professional writer. Instead, she used her teaching background to land a few gigs with textbook companies and educational platforms. Then once she found a topic that interested her – personal finance – she pivoted.
Freelance writing is one of those things that is interesting to many people – especially as the pay can be great in certain niches. But often I hear, "I'm not a writer. I'm not an expert in the topic. I don't know how to get clients."
If you're interested, dive in. You won't know if it's for you until you get started.
Like Sarah said, pitch some smaller blogs first, start your own blog and write a few articles there, then as you build a portfolio pitch bigger and bigger companies. Join communities of freelancers in your desired niche and ask for feedback and advice.
Do your research on your topics and learn from each assignment. Who knows – you could build a career.
And if you do want a little hand holding, I'm a huge fan of Holly Porter Johnson's Earn More Writing course.
3 - Own Your Earnings Power and Success
Breadwinning moms are more common than ever before. Including single moms, 40% of US families have a breadwinning mama. Yet we still have this automatic assumption that men make more money – and it pervades workspaces and hiring, expectations of who is taking care of what at home, and more.
And breadwinning women often internalize that and worry about what people will think if they say they outearn their spouse. So they diminish their own accomplishments. In almost one-third of heterosexual married couples, the woman makes more. Yet, if you talk to those women, only 38% will identify themselves as the breadwinner when asked.
The only way we can start to change the narrative – to start to normalize breadwinning women – is by talking about it. By celebrating it.
Your skill sets are amazing. Your ambition is amazing. You are amazing. Revel in it.
Links & Resources Mentioned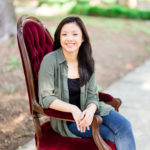 Sarah Li-Cain is a finance writer and a AFC (Accredited Financial Counselor) candidate whose work has appeared in places like Bankrate, Business Insider, Redbook, Financial Planning Association, Stacking Benjamins and Redbook. Her work blends practical tips and mindset strategies so that those trying to change their financial life can see themselves in the starring role. She is also the host of Beyond The Dollar, where her and her guests have deep and honest conversations about how money affects their well-being.
Other Ways to Enjoy This Podcast
Have You Subscribed Yet, Mama?
Are you subscribed to the Smart Money Mamas podcast? If you're not, I want to encourage you to head over to Apple Podcasts (or wherever you listen to your podcasts) and subscribe! I release episodes twice and week and as a subscriber, you'll be notified right away so you can take checking the feed for new content off your mental to-do list. 
Click here to subscribe on Apple Podcasts, Google Podcasts, or Spotify!