How to Make Motherhood, Work, and Life More Sustainable
Why You've Got to Listen to This Episode...
In today's episode, I'm talking to Blessing Adesiyan, a mother of three, career professional, and the founder & CEO of Mother Honestly, a solution-driven platform and ecosystem that propels women forward in motherhood, work, and life.
What I love most about my interview with Blessing is her commitment to promoting better policies and systems to support working moms. She's passionate, ambitious, and I'm so excited to share her story with you. We'll get into the details of how she's been able to juggle it all as a mom with a full-time job and business while staying ambitious, what her upcoming free conference is all about, as well as her best advice for listeners who are wanting to make an even bigger impact in the world.
Moments You Don't Want to Miss
Key Takeaways To Help You Make Motherhood More Sustainable
As always, we've rounded up our top three takeaways to summarize what we believe are the core points to remember from Blessing.
1 - Racism Starts at Home, Which Means Anti-Racism Needs to Start at Home
We need to come together as mothers and understand the current state of affairs and the disadvantages faced by black mothers. We need to chart a way forward that doesn't leave black mamas fearing for their children and one that closes gaps in healthcare, wealth, business funding, and more.
And we need to parent in a way that changes the patterns and narratives, that is actively anti-racist, and raises kids who stand up for equality and justice.
That is why Blessing organized The State of Black Mothers in America mini-conference. Because we need to come together as moms, listen to the support and changes black moms need, and take action.
2 - Motherhood, as It Stands Today, is Unsustainable
The majority of moms work and are trying to take care of kids and everything involved in running a home. Plus, with our definition of "full-time" creeping more and more towards 50 to 60 hours than 40 hours, things are out of control.
Blessing is right that something has to give. That if we try to do it all and avoid ever saying "no" or asking for help, we're going to burn out.
Just like we talked about in episode 37 of the podcast, you have to define what "having it all" means to you.
Make choices about what matters most to you, be honest with yourself and with your partner about what you want your life to look like, and then ask for help or say no to the things that aren't a priority to you.
We have to commit to not burning out and not just keep hoping we can figure it out.
3 - Your Ambition and Your Passion Matters!
When we have kids, it's so easy to start putting our needs last. We make sacrifices in our career and our self-care. We see the struggle of trying to balance it all and discover the easiest place to start saying, "No" is to ourselves. We say, "Well, maybe later."
But your passions, your goals, do matter. They let you live a full and happy life. They let your kids see a mom who is motivated, energized, and thriving. They let you fill your cup. And when it comes to career and business goals, they let you build wealth and financial security.
Have regular family meetings and conversations about your values and what you want to achieve. Create systems and structures at home that give you space to pursue the things that are important to you.
But most importantly, we need to learn to center and be clear on our own definitions of success—in work, in parenting, in life. We have to ditch the external expectations and the mom guilt because it's not serving us. And the only thing that should matter is—does your life work for you and your family?
Links & Resources Mentioned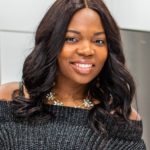 Blessing Adesiyan is a mother of three, a career professional and the Founder & CEO of Mother Honestly, a solution-driven platform and ecosystem that propels women forward in motherhood, work and life. Blessing is a trusted expert in work-life solutions for working parents and has helped transform the role of mothers in the workplace and home, engaging over 300,000 ambitious women through her platform, podcast and conferences. Her passion to call women to their truest and limitless potential in motherhood, addressing challenges and crafting sustainable solutions, while combining work and life helps women, their family and their employers achieve long-term success.
Blessing is no stranger to big ideas and even bigger to-do lists, but her passion for solving challenges that millennial women face in the workforce and the cultivation of their ambitions is what led her to launch MH as a response to a "gaping hole" in culture. A global citizen who resides in Houston, TX, she obtained her B.Sc. In Chemical Engineering from the University of Florida, an MSc. in Energy Management from the New York Institute of Technology and an MBA from UNC Kenan-Flagler Business School.
Other Ways to Enjoy This Podcast
Have You Subscribed Yet, Mama?
Are you subscribed to the Smart Money Mamas podcast? If you're not, I want to encourage you to head over to Apple Podcasts (or wherever you listen to your podcasts) and subscribe! I release episodes twice and week and as a subscriber, you'll be notified right away so you can take checking the feed for new content off your mental to-do list. 
Click here to subscribe on Apple Podcasts, Google Podcasts, or Spotify!