3 Powerful Transitions That Challenge Working Couples
Why You've Got to Listen to This Episode...
In today's episode, I'm talking with Jennifer Petriglieri, an Associate Professor of organisational behaviour at INSEAD business school and the author of Couples That Work, a book about how working couples can thrive in their careers and relationships. Creating healthy, lasting relationships while allowing your career to thrive is possible. And it's Jennifer's specialty.
Jennifer will take us through the 3 major transitions that dual career couples face throughout the course of their relationship—from how to have those first conversations and the concept of "couple contracting" to making a habit of treating your partner with kindness and how to handle logistics once the foundation for your long-term goals has been set.
Moments You Don't Want to Miss
What Are Your Family Money Values?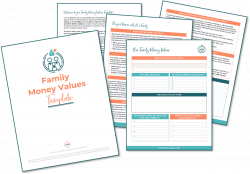 Grab our free Family Money Values Template and create a strong foundation for your family's healthy money habits!
Key Takeaways on the Steps to Take to Reach Financial Security
We've rounded up our top three takeaways from today's episode to help you focus in on Jennifer's main points. Every relationship is different—but keeping these tips front of mind can help you thrive in both your relationship and at work.
1 - Conversation Between You and Your Spouse is Paramount
We all have visions about what our careers, relationships, and family will look like. But we don't always share them with our spouses. And worse, we often assume our partners want what we do out of life and work.
Jen shared that the most happy, fulfilled couples are the ones who learned to make communication a regular habit. Sharing what they wanted, what boundaries were important to them, and then found ways to work together.
Succeeding as a dual-career couple isn't about the decisions you make once and stick to forever. It's about the ongoing narratives that continue through the twists and turns of life. It's knowing where our spouses need to be supported and what they really want.
If you're already through the first transition—or even the second—resentment may be showing its face in your relationship.
Start talking. Be honest. Create an interdependent relationship where you can create the work and family structure that truly works best for you both.
2 - Don't Let Yourself Get Too Caught Up in Near-Term Logistics
When something isn't working and we're overwhelmed, we don't want to dive into the nitty gritty. We just want to fix it. We just want a way out.
It's part of the reason why so many divorces happen in the first few years after a couple has kids. Their worlds have changed and couples think the problem is each other, instead of realizing that major change is hard for all of us.
But go back to your values and goals. What do you want long term? How can you make decisions today that relieve some pressure, without hindering your bigger vision? The logistics you can figure out. Even if it just means outsourcing a few tasks you both hate.
3 - Make it a Habit to Treat Your Partner with Kindness
I was so glad that Jen added this as her last piece of advice. Balancing parenting, careers, relationships, self-care, and more is hard work. Things will fall through. Things won't always pan out exactly how we want them to.
Making our baseline, constant assumption that our spouse loves us and has our best interest at heart will allow us to give our partners more grace. It will stave off resentment and bickering arguments. And it allows us to approach all our conversations with our spouse with love—not preparing for an argument.
Remember that most couples do want to support each other. Your spouse does want you to be happy and to succeed, just like you want them to. You can navigate the details together.
Links & Resources Mentioned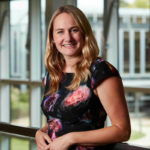 Jennifer Petriglieri is an Associate Professor of organisational behaviour at INSEAD business school and the author of Couples That Work, a book about how working couples can thrive in their careers and relationships.
Other Ways to Enjoy This Podcast
Have You Subscribed Yet, Mama?
Are you subscribed to the Smart Money Mamas podcast? If you're not, I want to encourage you to head over to Apple Podcasts (or wherever you listen to your podcasts) and subscribe! I release episodes twice and week and as a subscriber, you'll be notified right away so you can take checking the feed for new content off your mental to-do list. 
Click here to subscribe on Apple Podcasts, Google Podcasts, or Spotify!